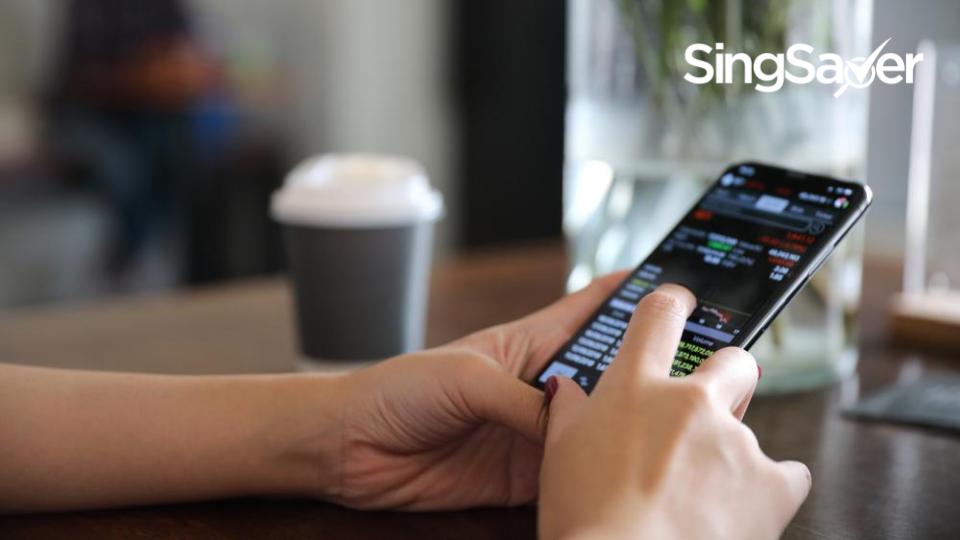 Rewarding investors with dividend returns and the potential for capital gains, it's easy to see the appeal of stocks. Here's a guide to get you started on your stock-picking journey.
Robo-advisors and cryptocurrencies have been the investment classes dominating our conversations over the past year.
Robo-advisors continue to expand their offerings, targeting different investment objectives investors have. Cryptocurrencies have been volatile (as usual), but also constantly breaching new highs, most notably rocketing to more than US$60,000 per Bitcoin in April 2021, but also plunging to US$30,000 in May 2021 — yes, that's just a month apart.
But that's not to say that stocks have completely taken a backseat. The Nasdaq Composite had its best year yet in 2020, gaining close to 44% thanks to the tech stocks. The S&P500 also reached record highs in 2020, rising 16.3% for the year.
To help you open your account (quite literally), here's a guide with all the stepping stones in place.
But first, why invest in stocks?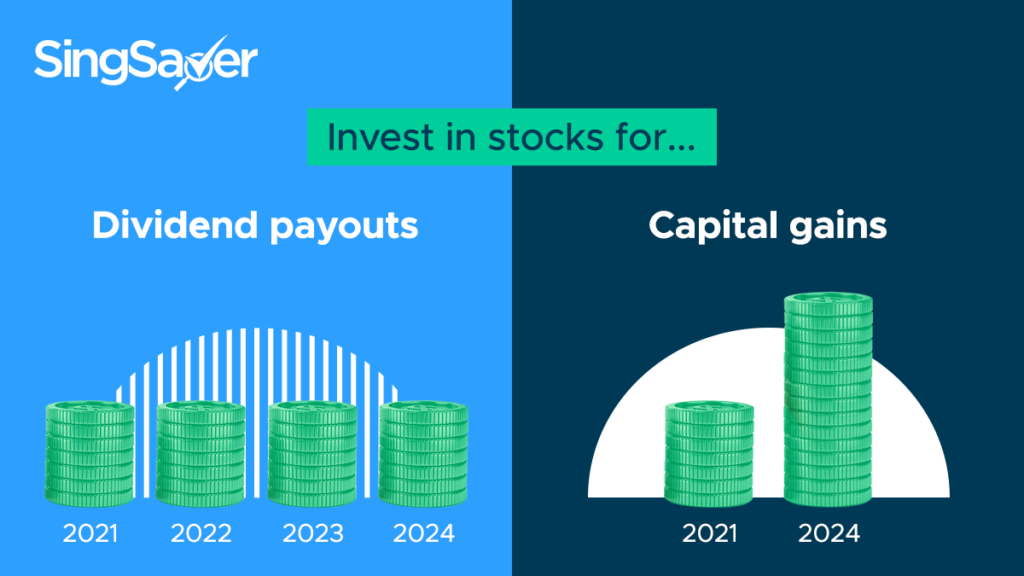 As a retail investor, you can purchase the shares of companies listed on the stock exchange. Investing in shares of companies you believe in is one way to ride on the company's growth over the coming years. It can reap handsome returns, be it in terms of capital gains or dividend yield.
Excited at the thought of owning a Tesla car one day? Buy Tesla shares (which are far more affordable in quantitative terms than an actual car).
Shop for groceries at Sheng Siong every other day? Check out Sheng Siong shares.
Loyal user of DBS since your primary school days? Put your money in DBS shares.
If you're not confident of stock picking, you can always opt to purchase Exchange Traded Funds (ETFs) instead, which are low-cost funds that track a particular index. ETFs can also be purchased in the same way as stocks, so read on.
Step 1: Open a CDP account (for SG stocks)
Why do you need a CDP account? A CDP account is an account to store and safekeep your Singapore securities. This includes stocks, bonds and other securities listed on the SGX as well as Singapore Government Securities.
You will also need to link your bank account to your CDP for dividends to be credited into it.
But if you're asking if this step can be skipped because account openings can be a hassle at times, the answer is yes, you can.
That's provided that you plan to:
Use a custodian brokerage account (rather than a CDP-linked brokerage account). You'll notice that the CDP account usage is specific to Singapore securities, which means to say that if you're purchasing overseas stocks, having a CDP account or not won't matter. Instead, the broker you open your account with will act as the custodian for your overseas stock purchases.


Set up a Regular Savings Plan. A regular savings plan is one way to buy shares in Singapore without a broker. You can set up a regular savings plan easily online with a provider that offers it, such as DBS, OCBC, UOB, POEMS and FSMOne. Read more about regular savings plans here.
However, if you're unsure or undecided if you need a CDP account, there's absolutely no harm in creating one anyway. It costs nothing but a few minutes of your time! Open your CDP account here.
(Fun fact: A few years ago, this was more cumbersome because you had to go down to the CDP branch physically to have it set up.)
You can read more about the CDP account and the fringe services it offers here.
Step 2: Open a brokerage account
Your brokerage account is the platform in which you'll be making your 'Buy' and 'Sell' trades.
This begs the all-important question: Which brokerage account should you choose?
That's a question worth an entire article, so check out our article on the best brokerage accounts in Singapore. It covers all the brokerage fees, whether you should choose a custodian or CDP-linked account, what to look out for when choosing one, and finally, the best ones in town today.
Alternatively, you can use SingSaver's comparison page to filter for you!
When you've decided on the brokerage account to go for, simply follow the steps of the application process. These days, the signup process is quick and your account can be set up in minutes — especially for the newer brokerages such as moomoo and Tiger Brokers.
(Pro tip: Use Singpass when you sign up! This will speed up the process by reducing the manual information inputs required.)
Step 3: Fund your account
If you're using a custodian or pre-funded account, you'll need to fund the account in order to be able to purchase your stocks. It's just like how you'd have to top up your e-wallet before you can make a purchase.
Another reason to fund your account (even if you don't have plans to buy a stock immediately) is that it could be an eligibility requirement for signup rewards, much like how some credit cards require a minimum spend. (Psst, check out some of the best credit card promotions here!)
So how much money should you put in? S$100, S$1,000 or S$10,000? This depends on:

How many shares you want to buy and how much they cost


The funding requirements in the terms and conditions for the signup promotion. For example, to earn yourself a free Apple share on moomoo, you'd have to fund your account with S$2,700. Similarly, Tiger Brokers requires you to fund your account with S$2,000 to enjoy a free Starbucks share.


How much money you can afford to invest. Don't forget to set aside enough money in your emergency funds!
As a rule of thumb, it's always better to have slightly more than what you think you'll require in your account, because there are also fees to factor into the final amount, such as the commission fees.
Once you've funded your account, you're ready to go!
Step 4: Choose a stock (or stocks)
How do you find a stock to purchase?
One way is to look at the everyday companies around you. Big names like OCBC, CapitaLand, Dairy Farm, Keppel, Singtel and more are all companies listed on the SGX. Looking abroad, companies like Facebook, Apple, Netflix, Nike, Coca-Cola are all companies that are well-known and tradable on the market.
What are some safe stocks in Singapore to invest in? You can also consider larger, more established companies that have been around for years — the blue-chip stocks.
Rather than making a snap decision to buy a stock, you should take some time to read up on articles to beef up your knowledge. This means understanding what the company does, how their financials are, looking at their historical data and the plans the company has for the future. This would also help to reassure you of your investment choice.
Check out SingSaver's one-stop investment shop to help you grow your wealth!
Step 5: Purchase the stock
When using your brokerage platform to purchase the stock, there are two key things to look out for:
Price: What price are you buying the stock at?


Number of lots/units: How many units of the stock are you buying? Is there a minimum number of lots to purchase? The minimum number of shares to buy for Singapore stocks is typically 100. So what this means is, if you're buying DBS shares at S$30 each, 100 lots would cost you S$3,000 (before fees).
These two factors (along with the fees charged), would determine the final price you'll have to fork out to own the shares.
Too many, too soon?
Rather than sitting on idle cash months on end while deciding which stock to choose, you can reduce the opportunity cost by first investing in an ETF that tracks an index. Here are some of the best Singapore ETFs and best US ETFs to invest in.
Alternatively, there's always the option of investing with a robo-advisor.
Step 6: Check your to see if the stock is in your account
Once you've made the purchase, the final step is to check if your order has been triggered. Once the order goes through, you should be able to see the stock in your account.
If you're using a custodian account, you can easily check if the stock is in your wallet. This is typically under the section called 'Trade', for platforms like moomoo and Tiger Brokers.
If you opened a CDP account and used a CDP-linked brokerage account, you can check to see if the stock is in your CDP account. The CDP account is great because you can see all your consolidated Singapore securities purchases in a single place, even if you used different brokerage accounts to make the purchase.
In summary, here are the steps you need to take.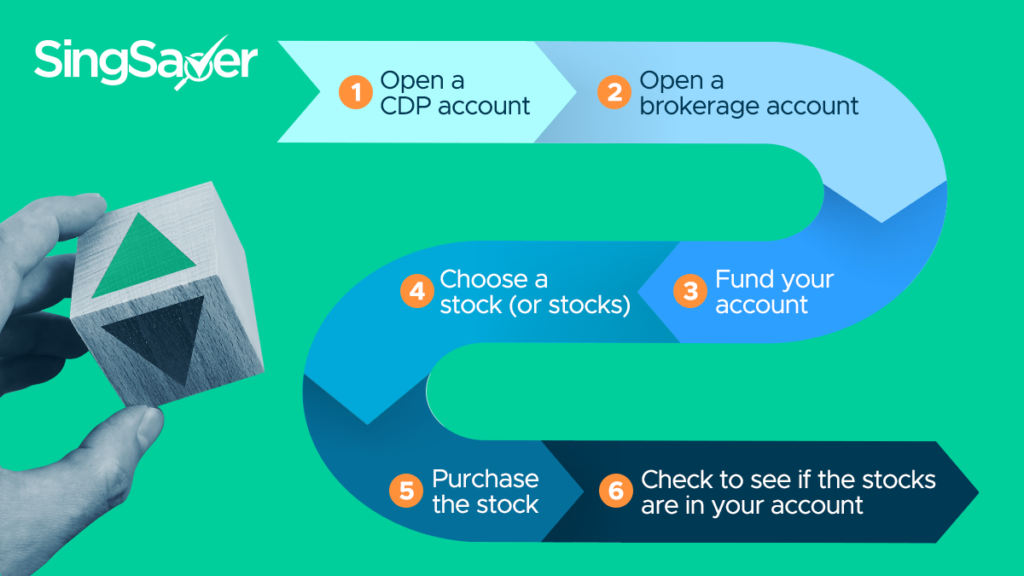 How do you receive the dividends?
Some companies reward their shareholders with dividend payouts — also the reason why you invest in some of these stocks. This could be given annually, semi-annually, or even quarterly.
If you used a CDP-linked brokerage account to make the purchase, the stocks will be held in your CDP account and the dividends will be credited to the bank account linked to your CDP.
This is what it would look like:
If you used a custodian account, the dividends would be distributed into your custodian account. You can log into your brokerage platform to check for transaction notifications, such as the one below given by Tiger Brokers.
So, should I buy stocks now?
Now is as good a time as any, particularly if you're in it for the long haul.
Time in the market is more important than timing the market. For long-term returns, the key is to stay invested in the market. Having a long-term mindset also allows you to tune-out to the volatility and noise in the market, focusing on holding your stocks and allowing it to compound over time.
Read these next:
Investment Guide: SingSaver's One-Stop Investment Shop
Best Brokerage Accounts To Start Your Investment Journey In Singapore
Robo-Investing vs DIY Investing: Which One Should You Choose?
7 Popular Types Of Investment In Singapore (And Tips To Use Them For Optimal Gains)
Best Robo Advisors To Auto-Pilot Your Investments In Singapore
---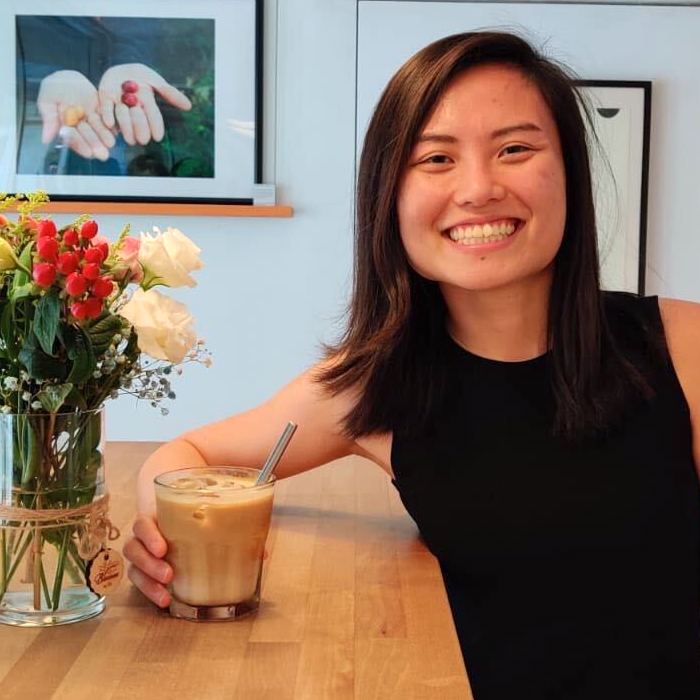 By Ching Sue Mae
A flat white, an adventure-filled travel and a good workout is her fuel. This Manchester United fan enjoys sharing knowledge on personal finance while chasing the dream of financial independence.
---