Gen Zs, listen up – the OCBC FRANK Card is back with refreshed offerings and bigger rewards for you.
For those who adore cashback, you'll likely be familiar with the titular debit and credit card rolled out by "FRANK by OCBC". But for the uninitiated, these cashback cards are back and better than ever before: the OCBC FRANK Debit Card is out here promising unlimited cashback with even bonus cashback at Apple and Samsung stores for a limited time only! (Did you know that it also comes with an exciting array of debit card designs to customise from? ✨)
Meanwhile, the OCBC FRANK Credit Card promises attractive cashback on online, mobile contactless, foreign currency spend, and even bonus cashback on select eco-merchants – effectively reclaiming its throne as the cashback card for every spend-thrifty Gen Z out there.
Curious to discover what else these cards have to offer, both functionally and perhaps, aesthetically? Then keep on reading! 🤓


Table of contents
---
Why is the OCBC FRANK Debit Card great for

Gen Zs

?
OCBC FRANK Debit Card product summary:
1% unlimited cashback on fast food dining, online shopping, entertainment, eco-friendly merchants, transport, and convenience stores
Bonus 1% cashback at Apple and Samsung stores (till 31 Oct 2023)
Over 60 customisable card face designs to select from
No annual fees
Two free card replacements within first 12 months from first card replacement

S$30 replacement fee thereafter per calendar year

Age eligibility: 16 - 25 years old
Foreign currency transaction fee: 3.25%
Currency conversion fee: 2.80%
Earn 4X more interest with the OCBC FRANK account with no hidden fees


No initial deposit amount
No fall below fee until 25 years old; S$2 fee per month thereafter
Reason #1: Earn 1% unlimited cashback (& bonus cashback) on your favourite merchants
From the overview alone, the OCBC FRANK debit card looks pretty straightforward, doesn't it? It earns 1% unlimited cashback on everyday spend merchants.
The eligible merchants and their respective categories are as follows: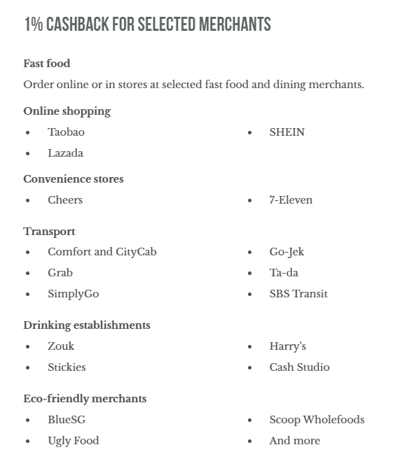 Source: OCBC
All things considered, this limitless 1% cashback rate is actually quite respectable because keep in mind, this is a debit card for youths after all; pitting its cashback rates against other cashback credit cards wouldn't be fair game. In fact, unlimited cashback cards already earn between 1.5% to 1.7% cashback, so the OCBC FRANK debit card is really not too far off!
Here are some other credit card options in these categories:
💡Pro-tip: The UOB One Credit Card offers up to 15% cashback at 7-Eleven specifically since the convenience store operates under Dairy Farm International.
Meanwhile, for those who've been hyped for the Apple iPhone 15 launch, the OCBC FRANK debit card's right up your alley! From now till 31 October, enjoy a bonus 1% cashback on Apple and Samsung transactions, both online and at physical stores!
Do note that to earn both the unlimited and bonus cashback, you'll need to spend at least S$400 per month on eligible transactions to qualify. Otherwise, you will not be eligible for any cashback whatsoever.
Yes, you read that right, not even any base cashback, so that's quite a bummer. Nevertheless, that doesn't mean the debit card and savings account are entirely useless, because, they'll still perform their primary functions (building and spending on savings) – just without the added bonus of cash rebate.
Yet at the same time, as a Gen Z, we believe you should more or less be able to hit S$400 every month, isn't that right? 😜
Reason #2: Customise your debit card from over 60 designs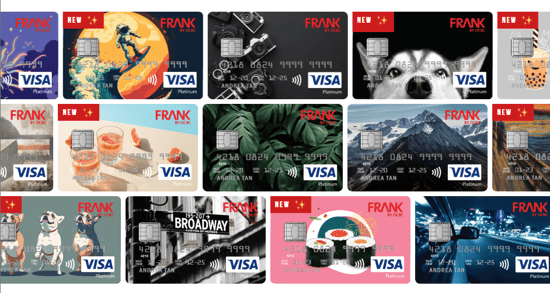 Source: OCBC
Which other bank allows you to customise your debit card with such cute, stylish, and trendy designs? 'Nuff said. Express yourself to the fullest with the card face of your choice, with a selection of over 60 designs available. They've even recently collaborated with local artist, Cliothewindow, to create K-drama-inspired designs that are perfect for every young couple out there!
Easily appealing to the Gen Z crowds, these debit card designs are enough incentive to apply and open an OCBC FRANK savings account itself. Our personal favourites are the Gilded Goldies, Ok Boomer, Lofi, Flow of Life, Fuji, and any of the couple's designs! 👀

See also: Best Savings Accounts in Singapore to Stash Your Cash
---
Why is the OCBC FRANK Credit Card perfect for

Gen Zs

?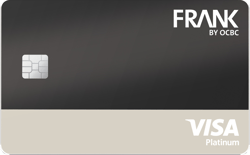 OCBC FRANK credit card product summary:
8% cashback on online, mobile contactless, and foreign currency transactions
Extra 2% cashback on selected eco-merchants
Minimum S$800 spend per calendar month required
Cashback capped at S$100 total per month, or broken down into S$25 per category
First 2 years annual fee waiver
Now for the debit card's more "adulting" counterpart, the OCBC FRANK Credit Card is a popular cashback card among many millennials and for good reason! While we won't go into the details (because we have its card review for that), here are some of our favourite advantages of the card.


Reason #1: Attractive 8% cashback on a wide range of categories
The OCBC Frank Credit Card features a highly attractive 8% cashback on online, mobile contactless, and foreign currency transactions. This proves fairly convenient given the widespread prevalence of online shopping and transactions nowadays.
Payments included range from clothes to gadgets, or even flights and hotels to movie tickets and even Grab rides! Talk about covering all bases of a Gen Z's lifestyle spending habits!


Reason #2: Go eco-friendly with extra 2% cashback
As the saying goes, "A little goes a long way" – and the same applies to contributing towards our environment. For the eco-conscious Gen Zs, the OCBC Frank Credit Card is like a breath of fresh air because it rewards you with an additional 2% cashback on selected eco-merchant transactions from supermarkets to eco-retailers.
While it may initially appear contradictory or counterintuitive, considering that credit cards do encourage consumerism, the extra 2% cashback does incentivise cardholders to shop more environmentally, so that does count for something.
⭐ Read our complete OCBC FRANK credit card review for the full run-down on utilising this card to its fullest!
---
OCBC FRANK Credit Card: Good upgrade from the debit card
All in all, if you're familiar with cashback cards and their mechanics, you may have already made your mind up on the OCBC FRANK Credit Card two paragraphs ago.
However, for those holding the OCBC Frank Debit Card, you'll find the OCBC FRANK Credit Card a close cousin.
Both the credit and debit versions of the FRANK Card work similarly, giving you rebates as you spend, ultimately saving you money over time. However, the FRANK Credit Card gives you much better rebate rates (up to 10%) compared to the Debit Card version (albeit unlimited, only 1%).
The key difference here is that the FRANK Credit Card will incur interest if you fail to pay your statement in full. (Whereas for the FRANK Debit Card, you won't incur interest charges simply because you're limited to the funds you already have in your account.)
Overall, upgrading from OCBC FRANK debit card to credit seems like the next logical step, rewarding you with better rebates while learning the finer points of money management.


Read these next:
OCBC FRANK Credit Card Review: 10% Cashback On Online Spend
Credit Card Comparison: DBS Live Fresh vs UOB EVOL vs OCBC FRANK
Best Credit Cards For Young Adults in Singapore
5 Tips For Millennials to Start Adulting Financially
Why A Young Working Adult Should Build A Strong Credit Score
How to Start Investing in My Teens, Twenties, Thirties, Forties