Being cash rich, or having a large investment portfolio doesn't necessarily mean you have high net worth. Here's how you can calculate your net worth and why it's important.
Driving a posh car, having a sizeable investment portfolio, or living in a private property doesn't automatically mean someone is wealthy in Singapore. While these might be signs of wealth, a metric that is more accurate to determine whether someone is well-off is their net worth.
Here's why net worth is important and how you can calculate your own.

SingSaver's Exclusive Offer: Apply for our exclusive credit card, travel insurance, car insurance, personal loan, investment, savings account, and priority banking deals to enter our 101! Milestone Giveaway.
Enjoy up to 3x chances to win your share of over S$200,000 worth of prizes, including S$5,000 bonus cash each week on top of ongoing promotions!
Valid till 20 December 2023. T&Cs apply. Click here to check out our past Lucky Draw winners!
What exactly is net worth and why is it important?
Net worth is one way to measure how much wealth you have. It is a metric that encompasses the many different types of assets that someone can amass, including cash, investments and insurance.
Because it comprises many different asset classes, this makes it a better indicator of one's wealth compared to other metrics such as annual income or investment portfolio size.
Knowing your net worth will help you to better understand your overall financial position, and how close or how far you are from your goals.
How to calculate your net worth
If you're looking to calculate your net worth, here's the formula:
Total Assets - Total Liabilities = Your Net Worth
While that sounds straightforward enough, there are many sub-categories under assets and liabilities that need to be factored in.
Here are the assets that should be included:
Cash savings, such as the cash in your wallet, savings account and even fixed deposits
CPF balances in all accounts — Ordinary Account (OA), Special Account (SA), MediSave Account (MA) and Retirement Account (RA)
Market value of all investments, such as stocks, bonds, unit trusts, exchange traded funds (ETFs), cryptocurrency holdings, robo-advisor portfolios
Insurance cash value
Property
What counts as a liability?
Loans, such as home loan, car loan, renovation loan and more
Credit card bills
While this process of calculating your net worth might sound tedious, you can always use a shortcut. Check out this handy net worth calculator by MoneySense.
---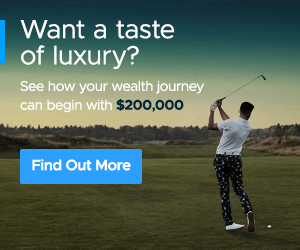 Ready to level up? Find out how you can make your money work harder and smarter for you. Enjoy your own dedicated relationship manager and privileged access to a whole suite of preferential rates with Priority Banking. Compare your options.
---
What is the average net worth in Singapore?
Just like how everyone has different financial goals, there isn't a one-size-fits-all answer to the net worth that one should have. How much net worth you aim to have would also depend on your financial goals, standard of living and general goals in life.
You should also consider the potential growth of this net worth, for example, how much passive income you will continue to receive over the years and how much income you can continue to earn.
However, if you're looking for reference points, here are two according to the Credit Suisse Research Institute's Global Wealth Report 2021: Singapore's mean net worth per adult in 2020 was US$332,990 (S$451,321), up US$25,460 (S$34,507) from the previous year, while the median net worth per adult was US$86,720 (S$117,536), up US$6,660 (S$9,026) from the year before.
If becoming a millionaire is one of your financial goals, according to the report, Singapore had 270,000 millionaires in 2020 and this is set to go up to 437,000 in 2025.
How to increase your net worth
To increase your net worth, you'll have to increase your assets, reduce your liabilities, or both.
To increase your assets, you can make a conscious effort to save up more money, be it in your savings account or CPF. You can also make your money work harder for you, by investing your idle cash, be it with robo-advisors, or doing it yourself via a brokerage account.
Compare the best online brokerages in Singapore now.
You can try to pay off your loans as soon as possible, especially when you have cash to spare. This not only reduces the interest payments you incur, but also lowers your liabilities.
One last thing you can do to help your own finances is to regularly review your net worth, in order to take stock of your financial situation. For example, you could do this at the start or end of every year as these values will change over time.
As you're calculating your assets, if you realise you have S$200,000 or more available, you can consider opening a priority banking account. Such an account will put your net worth to good use, helping you unlock exclusive perks, including having a personalised relationship manager to help you grow your wealth and luxury lifestyle benefits.
Read these next:
Being Rich vs. Being Wealthy: What's The Difference?
Financial Independence vs Financial Freedom: What Are You Looking For?
8 Ways To Accelerate Your Wealth In Singapore
How Much Do You Really Need To Afford A Landed Property In Singapore?
How To Build The Best Passive Income Portfolio For Your Future Self