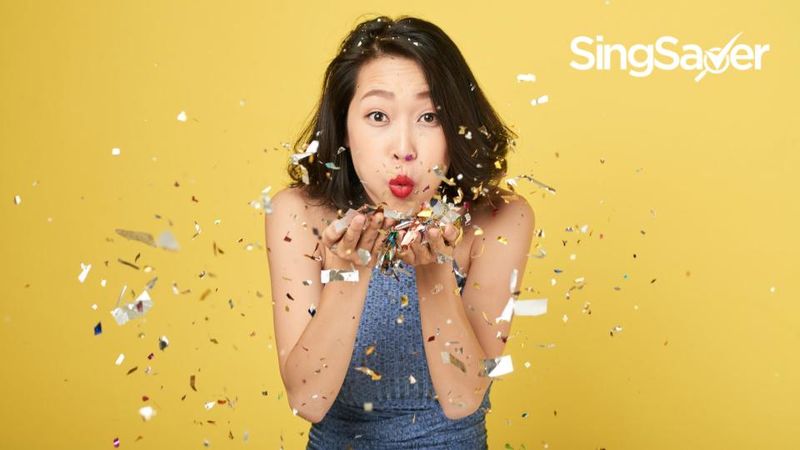 Winner takes all, and by that we mean cold hard cash and attractive prizes!
Here's a list of winners from past social media giveaways and campaigns. So if you have participated in any of our giveaways on social media or signed up for a credit card, personal loan or travel insurance during a promotion, scroll down to find out if you have won!
Social media giveaways and campaigns
Citibank Flash Deal (20 to 21 May 2021)
Were you fast enough? Find out if you are one of the lucky 120 to have won in Citibank's Flash Deal.
Please note that due to international stock shortages and long waiting period, winners have the option to choose between receiving S$499 in cash (fulfilled by end-November 2021) and Apple iPad (worth $S499). Redemption emails will be sent to each winner by 4 October 2021.
Prize: Either S$499 in cash (fulfilled by end-November 2021) or Apple iPad worth S$499 (stock will only arrive in March 2022).
Irish Manipis
Heidi Toh
Lilian Ang
Ryan
Lim Kang Ming
Wang Minjin
Lau Wei Le
Lai Si Hua
Hu Zhenyu
Millie Mun Yee Lau
Loy Zhi Jun
Esviyola Debrila
Angela An
Lee Juin Jie
Tan Min Xuan
Freston
Koh Ling Xin
Kenny Lim
Liew Jiun Hau
Prescilia
Dylan Lim
Wong Qing Le
Wendy Aw
Tay Kim Yen
Yap Yun Ying
Duncan Leo
Alison Wong
Ong Jun Jie
Ng Siew Hui
Aditya Mallik
Yeo Sing Ning
Tan Ke Wei
Edward Pereira
Chan Jun Ying
Li Xiaoyi
Jonathan Wong
Adriana Tan
Poh Kok Soon
Loo Gui Yuan
Wong Siong Yee
Nga Lee Boon
Lee Bee Wah
Tay Jing Wen Aveline
May Tan Xun Yu
Lim Kok Hee
Galvan Goh
Kuek Qi Min
Shawna Dharan
Tay Si Yuan
Chuah Sun Chin
Winston Fong
Gem Paula
Ow Shu Yu
Bryan Long
Patsy Pooh
Ron Ong
Chong Kwong Lin
Daryl Woo
Zhang Yingdi
Yeo Jun Hao
Audrey Lim
Jolene Ng
Ho Kang Shen
Brendan Wong
Albert Suryanto
Jolynn Lim
Rashpal Singh
Estella Liew
Ang Wei Sheng
Stefanie Feng
Lim You Tian
Saurabh Abhishek
Felix Shang
Muhammad Sayyid Aly
Nabilah Tan
Chou Guo Siong
Connie Ip
Koh Sian Keng
Rachel Quek
Ho Kuo Jung
Anita Chan
Shirlynn Ngoh
Lee Man Fai
Aybel Seah
Christine Yau
Heng Qiu Ming
Syahri Ikram
Zanna Teh
Rachael Yap
Tan Jia Jun
Leanne Tan
Low Guan Liang
Wang Jian Ann
Phuong Nguyen
Sung Hong How
Lee Jiayi
Andy Teo
Chee Shi Pei
Cecilia Zhao
Teo Kay Sin
Chan Meaghan
Shi Zhenhui
Ong Wen Da
Chen Yin Kang
Johan Chandra
Goh Shin Yi
Wong Chong Luk
Lim Jin Hui
Mark Seguerra
Ian Tan Wei
Eve Sim Lin Yi
Zhuang Bao Kun
Gregory Chan
Ser Wei Qi
Teo Loo Ping
Neo Ee Hua
Wahono Tjokro
Grace Sudarma
Chang Jia Xun
Caroline Pua
---
Standard Chartered Flash Deal (23 to 24 June 2021)
Did you manage to snag the grand prize during Standard Chartered's Flash Deal in June 2021? Find out if you are one of the lucky 60 to have won.
Please note that due to international stock shortages and long waiting period, winners will receive S$499 in cash instead of an Apple iPad (worth $S499). Redemption emails will be sent to each winner by 31 October 2021.
Prize: Each winner gets S$499 in cash instead of an Apple iPad of the same value.
Sum Yun Keit
Poh Geok Lian
Soh Chor Kiong
Low Khoon Wah
Lee Wei Qiang
Sze Kun Cheng
Lim Ming Kit
Lam Zhi Hou
Chong Pei Yun
Soh Mei Qi
Crystal Yeo
Fiora Ngeo
Ng Chow Meng
Zhuang Baokun
Heah Jian Chern
Lawrence Chong
Quek Jian Xian
Ang Koon Aik
Lim Tze Xian
Lee Jian Hao
Chen Ziliang
Lim Lay Xuan
Lim Yi Rong
Ng Yong Qiang
Lim Geok Soon
Madeline Soong
Christabel Liew
Sebastian Gan
Jiaqi Ngeow
Ho Hui Xin
Chong Jia Wen
Khoo De Wan
Soo Choon Shern
Jessie Teo
Jerome Lek
Ariel P Cesante
Khoo Kai Le
Tok Yun Kai
Kerlyn Kam
Lee Yee Soon
Christopher Tong
Ng Su Lin
Chris
Zhou Mo
Dilys Woo
Looi Boon How
Chew Zhi Wen Cyril
Low Xin Yi
Lim Jia Ying
Henry Goh
Ng Yong Sheng
Sarah Swee
Marion Lee
Tang Wai Han
Heng Boon Teck
Andrea Tan
Jeremy Tan
Wong Kok Yi
Ke Yingrong
Wang Hui
---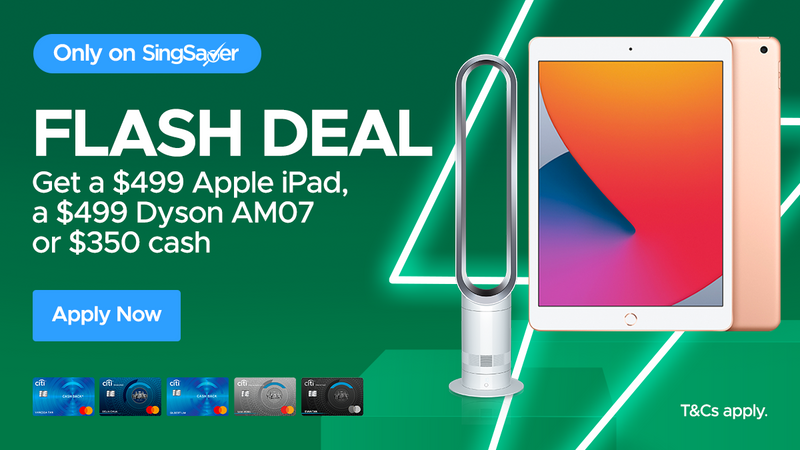 Citibank Flash Deal (29 to 30 April 2021)
Were you fast enough to snag an Apple iPad 8 during Citibank's April Flash Deal? Check if you won in the list below.
Redemption emails will be sent to each winner by the mid-August 2021.
Prize: Each winner gets an Apple iPad 8 (worth S$499).
Lau Xin Wei
Vanessa Koh
Chia Yun Ting
Tan Xin Hui
Ng Hsin Kai
Ngooi Syn Dee
Michelle Kuan
Lee Yong Wen
Koh Hwee Chong
Clarice Tan
Teo Chin Tat
Lee Kai Xuan
Huen Lock Pung
Tan Ai Kuan
Kuntal Mitra
Katherine Ler
Tham Jia Jia
Finney Neo
Leochinjohn
Ho Zhen An
Alex Ng
Gabriel Ng
Tan Li Yi
Choon Shan Lum
Tan Si Ying
Esther Liang
Fiona Soh
Chia Bing Xiang
Oey Jing Xian
Cheok Bernard
Chua Pei Ling
Juki Tantra
Han Xinyi
Phoo Ngon Lin
Theong Guek Hwa
Khoo Nee Kong
Alan Quek
Cheong Xue Li
Yong E Foong
Liew Kern Chuen
Deb
Lin Yanxiang
Rebecca Lim
Yiong Cher Hian
Lee Wei Bin
Ang Jing Hao
Tan Mui Ling
Peck Sze Yoo
Ong Wee Jun
Jingwen
Szetoh Wei Wei
Chew Yang Jek
Seah Siew Fun
Yeow Ling Fern
Cheng Sok Yee
Lee Long
Dickson Ng
Poey Mun Onn
Hooi Toong Wan
Lim Haw Keat
Yeo Ah Tai
Sun Sige
Goh Seh Phing
Kian Hou Thong
Naomi
Patricia Gan
Xue Li Heng
Delphine Keng
Teo Seok Hui
Lin Meiqi
June Mak
Houng Yee Tan
Foo Chih Chiao
Yeap Hai Hung
Yon Lan Tan
Chan Siok Hoon
Amanda Ng
Lim Hui Ying
Amanda Chua
Lian Zhe Guan
Ter Yao Xiang
Liau Madeline
Patrick Chan
Chan Wai Sze
Yoon Kin Ho
Ng Li Ting
Wesley Chong
Tan Teck Kiong
Kok Zi You
Tan Chee Yae
Christine Tin
Yingting Ong
Michael Lim
Puneet Gupta
Lee Lin Hee
Edmund Ng
Lim Qinghuang
Yip Wing To
Chan Jing Ting
Eng Yee Chong
Chua Zheng Yang
Andrew Tionardy
Ng Jia Hui
Rajasekaran C
Pung Wei Chien
Khairiahni
Pow Poh Wun
Foong Wei Ting
Koh Lai Siong
Thia Jee Choon
Mcgraw
Clara Wong
Kathlyn Chong
Leo Wen Wen
Tan Siew Kian
Wenbo Xu
Chen Jiahao
Ho Rong Feng
Seah Jin Feng
Neo Chia Lee
---
Citibank Flash Sale (16 to 18 December 2020)
Applied for a participating Citibank credit card during their flash sale last year? Check out if you're one of the lucky winners below.
Redemption emails will be sent to each winner by the end of April 2021.
Prize: Each winner gets an Apple Watch SE.
Goh Yan Yi
Kenneth Lim
Abhishek Agarwal
Lai Tsae Lee
Joanne Lim
Cheung Miu Ling
Joshua Leow
Daryl Koh
Abdul Rashid
Gaston
Soon Wei Jian
Hank Yeo
Cheryl Ng
Nalluri Vijaya Sankar
Glenda Yang
Nicholas Low
Christelle
Jill Toh
Ivy Lee
Oh Wan Lin
Kee Swee San
Renee Chan
Thong Sha Fei
Alex Chang
Choo Mee Ing
Ko Yah Wen
Prethivika Srinivasan
Norsyda Abdul Rahman
Tee Ying Chian
Sharat Patil
Quan Yajing
Tan Jia Hann
Yuichiro Hara
Cheok Chuan Hock
Alvin Toh
Muhamad Zulkarnaen
Brian Loh
Felix Leo
Fiona Lim
Loy Kah Yin
Tang Wei Loong
Ngoh Chin Hwa
Marina Chua
Bryan Chan
Michelle Lim
Yap Lay Tin
Tan Bi Qi Joan
Chen Pinyi
Pang Siew Chin
Li Yaojun
Khoo Li Chu
Adeline Low
Aaron Chew
Sim Wei Liang
Ho Hock Kheng
Lam Wai Meng
Elaine Tan
Tan Raeann
Chew Yen Fen
Yan Wending
Koh Wen Yeow
Eileen Khor
Ong Yin Sin
Chua Chang Yi
Kendy Lee
Leo Ding Yang
Chai Wei Feng
Jennifer Nathania
See Chee Qing
Looi Khai Chern
Tan Kailin
Lee Hyun Seong
Kelly Tan
Tan Poh Guan
Yeo Wen Yi
Benjamin Liau
Priscilla Lee
Oor Eiffel
Yumi Tee
Dustin Lim
Lee Shi Hui
Koh Yew Seng
Lee Chuen Nam
Sim Weijie
Kavin Chong
Bai Fengjun
Tan Jia Hui
Jacyn Chua
Foo Chee Ying
Chen Shuyu
Babitha Jeeevith
Neo Shu Zhuang
Daniel Lasnitzki
Celeste Teo
Leong Yuan Chen
Lois Belle Wong
Chang Han Yun
How Qi Yang
Yu Xiaoling
Jessie Joose
Mohamad Ariff
Wong Jing De
Siew Shuk Ying
Ng Pei Qi
Ong Chong Maan
Lim Zong Yi
Malcolm Low
Tang Hui Qin
Inez Gn Xue Fen
Tonglin Fan
Annamalai Alagappan
Zhang Yang
Ong Hui Yan
Fabian Lee
Li Zirui
Kok Lih Chinan
Adrian Lim
Angelina Gerard
Dillon Low
Winston Ng
Zhang Ze
Tay Pei Lei
Rayney Teo
Wong Jieh
Chai Xiao Yan
Gin Kam Choo
Jermaine Loh
Gan Lay Eng
Wong Yeluan
Shawn Tan
Chin Fui Ching
Wilson Kang
Ngo Bang Hur
Chong Wei Keng
Janet Chang
Mavis Chin
Sherine Tan
Jonathan Lim
Yap Sue Li
Winson Sim
Jonathan Lim
Lee Xin Wei
Ernest Tan
Yvonne
Erwin
Khu Say Li
Lee Boon Ping
Neo Bee Yong
Chan Wenli
Sharin Keong
---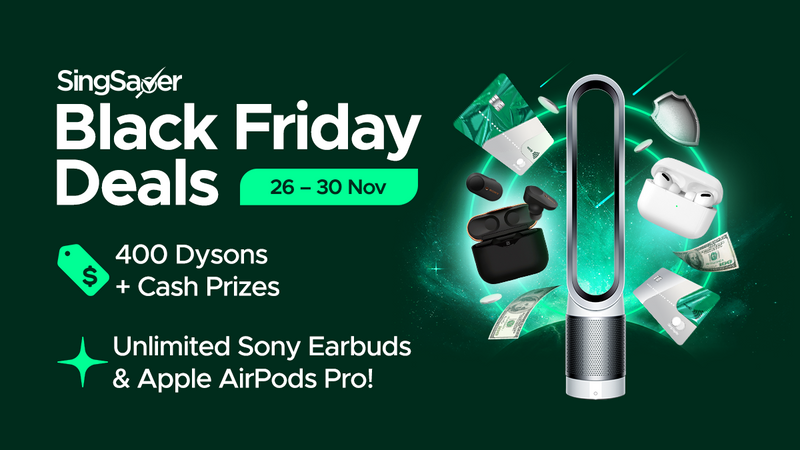 Black Friday Deals (26 to 30 November 2020)
If you've applied for a participating credit card or personal loan during our Black Friday Deals campaign, check below to find out if you are one of the lucky few to walk away with a swanky Dyson Pure Cool Air Purifier Tower Fan (worth S$549).
Prize: Each winner (credit card and personal loan) gets a Dyson Pure Cool Air Purifier Tower Fan (worth S$549) or S$35 cash (insurance).
Winners who applied for a credit card
Arnold Lim
Mohamad Faeez
Look Yin Fei
Loh Eu Jin
Ng Zhi Wei
Ng Shi Qi
Dean Tan
Aristides Bambang
Soh Thiam Poh
Chan Lai Fei
Teo Wei Zheng
Akshay Mamidi
Huang Jiacheng
Laura Chong
Felisha
Yang Xueying
Tam Jun Ting
Guan Shen Hoong
Joey Chia
Ang Ye Shuen
Loke Mun Chong
Ng Wei Yun
Chuang Jing Yu
Marcus Tan
Lance John
Joshua Chan
Roslyn Cheong
Wong Bein Shu
Pek Jing Siang
Chang Wei Fen
Wilfred Chan
Wong Shun Li
Ng Chong Ming
Edwin Tan
Daryl Chui
Seth Lim
Jasmine Loke
Kelvin Fu
Dana Lo
Suen Kok Hwa
Ong Ah Chuan
Jian Kang
Lim Wei Hao
Choo Seng Kiat
Mark Nazareno
Tan Choon Yong
Emerson Sng
Chua Mei Ling
Aw Sandra
Shankar Ramkirthika
Abel Lim
Goh Wei Jie
Daniel
Ren Suheng
Goh Sau Hong
Liang Kaiying
Marcus Chow
Chua Wei Jie
Tan Jun Hao
Rosanne Lim
Yuan Shuai
Seow Kian Seng
Ho Kok Wah
Sharon Chang
Chua Boon Kiat
Lau On Sun
Gary Ng
Esther Au
Yaw Kah Weng
Justine Min
Sun Chenyu
Tan Bee Ngoh
Chua Shao Heng
Chin Zhao Yuan
Priscilla Sim
Jade Wong
Goh Kuen Luen
Soo Choon Shern
Khoo Kim Yoon
Debbie Huan
Wong Yu Ling
Siok Xue Yuan
Kerk Kok Hui
Calvin Tsjim
Choo Poh Ling
Lee Zhi Peng
Goh Kok Sheng
Zi Guan Guan
Kennedy Boh
Sherlyn Lim
Shianne Goh
Ong Xin Kai
Sean Koh
Lai Asih
Ong Kah Ping
Vanessa Teo
Yap Mei Mei
Lim Pei Jun
Shannon Peck
Stacey Yong
Marcus Neo
Zhu Hongguang
Anand Goud
Lim Rui Ming
Tee Shi Qi
Kenneth Phey
Samantha Ong
Gao Wenjing
Teo Suet Teng
Koh Shuyi
Tan Li Rui
Sharon Simon
Ng Zhi Pei
Gwee Chun Xian
Ruth See
Enzio Hong
Stephanie Sim
Wong Wai Lun
Nicholas Tan
Elvin Lim
Xin Kai Luah
Ng Ghim Chew
Chia Min Yi
Padillo Mark
Jonathan Koh
Lloyd Chua
Ang Zi Qun
Tan Eng Liat
Duan Ying
Joey Lee
Allan Teng
Eugene Guo
Ophelia Ng
Wei Mei Wan
Chin Voon Sin
Yang Qi
Tang Huimin
Ong Yao Wei
Justin Goh
Tan Chun Jin
Hong Haojie
Kimberly Fang
Chen Wenjie
Choo Chow Fei
Ng Jia Xin
Lim Sio Kuan
Fong Sau Yee
Timothy Ang
Lim Jun Xian
Li Wei
Tung Kok Siong
James Hern
Chong Sin Hui
Ashiq Rasool
Jeric Tan
Anuruddha Premalal
Jessica Toh
Charlene Lim
Kenrick Low
Gujjala Reddy
Darren Liew
Wei Ling Gwee
Melvin Loh
Wong Tze Boon
Siow E Hunt
Angelina Toh
Im Tae Wong
Mathew Ang
How Shu Ying
Zheng Xiaomei
Pradeep Rajamohan
Tan Keng Wei
Zon Seah
Tey Horng Jye
Low Chen Wah
Lukas Lee
Nadia Tedjaseputra
Phua Wei Ting
Aiw Jia Hui
Tay Yi Fen
Ardi Firmansyah
Han Junyao
Tan Jun Ren
Hsieh Chaomin
Wang Weijie
Lee Soon Cheong
Tan Boon Joon
Low Teng Keong
Chee Jing Hui
Cheung Kai Dick
Chu Jia En
Ooi Jiun Shen
Chiam Ming Yang
Shawn Lee
Joel Tang
Teresa Koh
Nicholas Yan
Chee Yan Jing
Wu Cham Chiu
Ang Jing Yee
Winners who applied for a personal loan
Randall Villasenor
Khoo Kang Ming
Tan Teck Thong
Jacob Josiah
Tan Kian Wee
Winners who applied for an insurance policy
Handy Wijaya
Fauziana Azman
Kok Hui Lai
Pameline Ong
More information on Black Friday Deals 2020 can be found here.
---
SingSaver Flash Deal (24 to 27 September 2020)
Participated in our SingSaver Flash Deal? Find out if you've won a swanky Dyson Pure Cool Me (worth S$499) below.
Prize: Each winner gets a Dyson Pure Cool Me (worth S$499).
Winners who applied for a credit card or insurance policy
Liu Jicheng
Peh Chee Wei
Kevin Lim
Justin Wong
Chua Kian Jin
Tan Hui Hoon
Benjamin Toh
Lin Xueqi
Dave Yeo
Yeo Wei Jiang
Cheryl Kang
Lim Kean Boon
Wang Yongfa
Kelvin Tong
Samantha Baey
Eugene Hong
Renny Susanti
Gareth Chan
Tee Jine Xian
Jovin Ang
Basil Chua
Zhang Shaoxuan
Zhong Mingna
Lek Chun Kuan
Wong Wai Mun
Wong Pei Xu
Lee Geok Cheng
Herbert Goh
Ho Renee
Ang Chen Xiang
Kong Jian Feng
Tan Hock Choong
Tiong Ting En
Poh Yu Jie
Abigail Khoo
Ho Weng Fei
Zhou Liling
Joanne Woo
Tee Lai Hiong
Amy Koh
Benjamin Tan
Tan Yi Ling
Lee Yi Chern
Goh Shi Yee
Roger Look
Lee Suen Yon
Adelaide Ang
Tan Xing Zhao
Nga Ge Liang
Loo May Eng
Indira Dandibhtla
Lim Jin Ming
Melvin Gan
Kenny Lim
Liu Xuan Juin
Ying Xiaojun
Sudeep Chakravarty
Li Zhihui
Bahari Bin Haron
Tang Shenghong
Sharon Wu
Ryan Cheng
Benjamin Lee
Ong Chen Tat
Kevin Leong
Adrian Ng
Yap May Ling
Ong Chee Siang
Lim Ai Yi
Goh Yushan
Kelvin Soh
Siow Rui Qi
Jason Chiu
Lionel Ong
Elieen Wong
Ng Hai Ming
Chai Jie Wei
Sun Yu
Eugene Tan
Ho Jin Hao
Darren Tay
Diong Chi Yao
Wong Shin Ren
Yvonne Ng
Soh Wai Kiat
Han Xiaowei
Janslle Ong
Martin Fum
Lin Xiaocong
Kerk Jinn Siang
Rahul Oza
Kim Jixian
Nur Hijazi
Yeo Zhi Wei
Ricky Soh
Koh Esther
Li Dejin
Manali Paras Mehta
Song Chengyue
Lin Zheqin
Robin Chia
Ho Weng Fai
Han Dongding
Chua Yi Xiong
Kevin Lim
Lim Yen Koon
Gan Yue Sern
Ang Kah Yee
Lau Pei Hoon
Neo Ting Ting
Teh Yu Xiang
Goh Han Hian
Theodore Hagi
Winnie Lui
Gwee Jun Kiat
Eugene Teo
Seow Guan Wen
Tan Junjie
Chuang Jing Yu
Gan Hao Zhi
Seak Wei Tang
Teng Weng Woh
Teo Wee Keat
Ng Li
Chua Seng Kiat
Nathaniel Ng
Cheong Wei Yih
Lee Shan Wei
Lee Jun Da
Tan Jun Teng
Chakravarthy Namburi
Jacqueline Sng
Soh Jie Min
Koh Tai Xiang
Christopher Gunaretnam
Laou Philippe
Benson Gan Kar Kiat
Feng Chong We
Puttipon Vattanaktsangdao
Chua Chong Hooi
Chong Yung Huat
Timothy Chow
Lin Yong
Dareen Ong
Tan Xing Cun
Alson Ngian
Tan Jin Shui
Alan Tang
Lim Wei Neng
Chew Jia Liang
Neo Hui Min
Clement Chan
Smith Chua
Sia Wei Yee
Cristabelle Lee
Sun Chenyu
Dannel Low
Tan Thiam Shui
Sharon Phang
Caleb Ling
Chuan De Yan
Joshua Seetoh
Ku Chee Seng
Vincent Hong
Wilson Tan
Premila Sivalingam
Daniel Tay
Jeffrey Heng
Lim Zheng Yu
Brendan Dean
Joseph Heng
Fabian Tan
Jiangtao Li
Chong Zhikang
Soh Siang Hun
Yuchen Wang
Daniel Koh
Wong Nyuk Shiew
Zhao Lifan
Jun Kiat
Ong Shu Hui
Tay Kai Xian
Yap Wei Zi
Bervin Manoharan
Ong Yee How
Lin Weiliang
Evelyn Teo
Tea Eng Peng
Sze Kai Ping
Yuan Shuai
Ng Jia Xin
Toh Li Ling
Kareen Chin
Neumann Watt
Ng Cern Yang
Koh Hui Yi
Leong Lai Ying
Kenneth Tan
Teo Cher In
Firmin Yau
Toy Junwei
Nicole Toh
Jan Cheo
Lim Wei Yang
Lim Leong Aik
Daniel Toh
Jee Xu En
Ong Kok Soon
Derrick Tan
Tay De Jing
Chin Zhao Yuan
Ying Sheng Lee
Ng Zheng Nan
Michelle Ang
Jethro Wong
Arnaud Paul
Lee Wen Lin
Edwin Lim
Gabriel Choo
Cheung Lap Pong
Neo Keng Siong
Desmond Yeow
Soh Seok Hian
Nicholas Ng
Weng Fei
Zhu Le Goh
Ng Seng Ming
Marcus Ng
Bai Jingzhi
Toh Cheng Leong
Joshua Kong
Saqib Malik
Elaine Ng
Ang Yu Ying
Antonius Tio
Tomy Rusli Ho
Ng Seng Hong
Teo Lan Dan
Chong Hong Jie
Ong Zhang Yi
Tan Yark Jui
Lee Si Hui
Su Yung Chi
Kenneth Koh
Wong Kah Chou
Marcus Neo
Low Sze Ting
Andrew Soh
Clement Auo
Seah Hui Yun
Goh Wan Xin
Toh Chun Hong
Koh Hock Guan
Sandra
Herbert Tan
Ho Kum Hong
Nigel Cheok
Jansen Khoo
Eric Chan
Lee Keat Hong
Christopher Cheow
Yeo Tin Koon
Edmund Ng
Zhu Hongguang
Eunice Liu
Wong Lok To
William Lee
Terence Lim
Khor Weizhong
Lim Wan Lin
Farand Chen
Winners who applied for a personal loan
Karthik Raghuram
Teh Sheng Qiao
Chong Lian Siong
Daren Ong
Teo Bee Hong
Indira Dandibhtla
Tay Wan Xuan
Raya Jayachandra
Chu Voon Fui
Chit Yee Shon Lei
Gwenn Tan
Valentine Chua
Sally Yeo
---
Citibank x Dyson Giveaway (September 2020)
Find out if you are one of the lucky few to bring home a Dyson Pure Cool Me (worth S$499) below.
Prize: Each winner gets a Dyson Pure Cool Me (worth S$499).
Jonathan Ng
Lee Wei Hao
Tan Jian Jia
Chow Shally
Foo Shun Rong
Ong Se Ya
Loo Jia Yee
Daniel Ling
Soo Jun Voon
Nadia Habiballa
Wong Jiamin
Ng Lim Seng
Patrick Jayson
Farhana Saini
Hong Kah Man
Khaing Nwe Nwe Ko
Phuah Yew Guan
Lau Chen Ting
Yang Weili
Nicklaus Yip
Mayur Bhalotia
Branzann Chia
Mohd Yazid
Andre Low
Chong Jun Zhao
Haymalatha
Tim Yi Hao
Toh Zi Qian
Fan Zhang
Goy Poh Chin
Tan Si Min
Siew Wei Fang
Tan Kening
Tan Jia Wei
Teo Huailing Lisa
Lee Peng Yang
Edmund Goh
Loo Jian Hong
Jeremy Low
Chua Wei Jie
Carlton Chng
Gareth Tan
Wang Xiaoyun
Wong Woaw Ching
Ang Siew Yen
Chua Seng Chor
Han Yichou
Erlin Diana
Chen Zhideng
Connor Larkin
Daniel Yeow
Bogdan Dinu
Rebecca Sim
Yang Rui
Fong Chui Lin
Rafal Krzysztof Kawka
Avan Quak
Chua Hui Ling
Hoe Sin Hong
Tan Hui Teng
Law May Ning
Sheryl Foo
Pralhad Pawar
Joshua Krishnasamy
Tan Yeong Sheng
Jerome Loh
Lim Wei Yan
Darren Tong
Toh Ern Chong
Vernon Koh
Xiaoxuan Lin
Kassandra Ong
Tang Choon Meng
Sim Wan Ling
Thakur Pankaj
Audrey Tey
Lau Leon
Andrea Lin
Siaw Hing Wong
Loh Yong Jian
Anthony Tan
Chay Whye Yin
Wong Kee Seong
Nadesha Prabhu Krishnamurthy
Hue Swee Chin
Ang Si Ying
Moses Tan
Tuen Yin Qing
Annabel Tan
Koh Jye Wei
Tan Ping Li
Karen Tan
Abdul Qayyum
Amrit Singh Gill
Jas Loo
Li Qian
Julian Ong
Xu Yufang
Vanganoor Hymavathi
Ng Wei Teng
Tan Yi Xin
Lee Yi Shiou
Bellenger Alban
Kristin Choo
Yeoh Yun Qian
Marcus Lee
Gergely Varga
Ainslie Kua
Nur Suriani
Wang Lian Rui
Wong Sei Fern
Chong Han Boon
Cheng Mei Xian
Kenneth
Kester Chew
Tran Yu Bang
Tay Yee Keong
Jefferson Chua
Peck Shaojie
Teo Peng Hui
Guo Yanling
Tan Jun Hui
Koh Mui Hui
Benjamin Tan
Lee Sia Wei
Trislyn Oh
Linette Tan
Jian Ming Goh
Elgin Ting
Michelle Yi Tan
Tan Si Jing
Goh Wei Ting
Low Yuan Yih
Teo Wei Siang
Gilbert Khoo
Kan De Yong
Mayuri Chatterjee
Zhang Shuoyang
Bryan Lim
Ling Yi Low
Chew Zhi Jie
Sze Pui Kwan
Christabel Liew
Lim Yee Wuen
Melody Chau
Weijie Huang
Sarah Lim
Doreen Yan
Sunny Sachdeva
Nursyawalina
Chong Xin Wei
Edmond Low
Parvin Manoharan
Agnes Chua
Foo Shin Yee
Mah Wezen
Siva Rajakumar
Lim Hong Jun
Rishi Kant Gupta
Desmond Teo
Baey Kok Chin
Chew Swee Meng
Yvonne Ng
Yeo Geok Eng
Nguyen Thi Hang
Kang Siak Seng
Chuan Yeong Tan
Jitin Jayakumar
Ong Chang Wei
Yeoh Sie Yong
Liu Wei
Yong Kiat Ee
Lin Che Yu
Syafia Naniesya
Elaine Chua
Agarwal Varad
Huang Hao
Lee Yi Won
Ter Zhuang Yi
Rachel Liam
Yang Jing Xi
Choo Hwee Meng
Ji Tianjiao
Sandra Tay
Cheah Xin Ni
Natasha
Chong Hui Yao
Nahid Tahrima Rashid
Yap Jia Hao
Muhammad Syafiq
Loo Yee Shuen
Jaslyn Tan
Edward Leong
Caius Tan
Haw Wan Ting
Tay Jun Kiat
Lin Qilan
Samantha Ow
Bao Wei
Lee Boon Yan
Lixin Yu
Yeo Peng Shi
Ong Carrie
Chow Siew Peng
Hazel Chen
Tan Yit Yeung
Koh Chuan Lian
Choo Wee Beng
Lau Jia Hui
Tan Jie Ming
Quek Kai Zhi
Patricia Pang
Jovy Li Yuhui
Febiola Chaiyadi
Spatika Narayanan
Goh Kun Hong
Kong Jo Anne
Chua Li Ru
Jason Neo
Aik Kian Meng
Chong Yong Jie
Esther Chua
Tay Nicholas
Ng Poh Choo
Sng Gian Kian
Koh Meng Kiat
Chiah Tong Eng
Tang Hongyi
Tan Rui Siang
Rachel Tan
Chan Chee Jie
Heng Jian Siong
Krithika Prasad
Theresa Tay
Joseph Felicio Avestruz
Foong Mei Mei
Arif Eman
Jerlynn Tan
Wang Sheng
Cheong Pei Qi
Wendy Tok
Yong Jia Qin
Vijay Gadepally
Lee Pei Ying
Kor Li Xin
Ting Wen Yi
---
SingSaver Mid-Year Deals
Participated in our SingSaver Mid-Year Deals and want to see if you're one of the lucky 10 winners? Take a look at the list below!
Prize: Winners get a Nintendo Switch each.
Amanda Lau
Marie Lai
Keh Wen Xiong
Chen Chia An
Eric Low
Guilherme Asckar
Gan Kok Keong
Chew Yuan Chao
Sherry Lim
Arthur Goh
---
Standard Chartered CashOne Loan Promotion Winners (April to June 2020)
Prize: Winners get up to S$10,000 each. 3 Winners chosen at random each month, for 3 months starting from April 2020.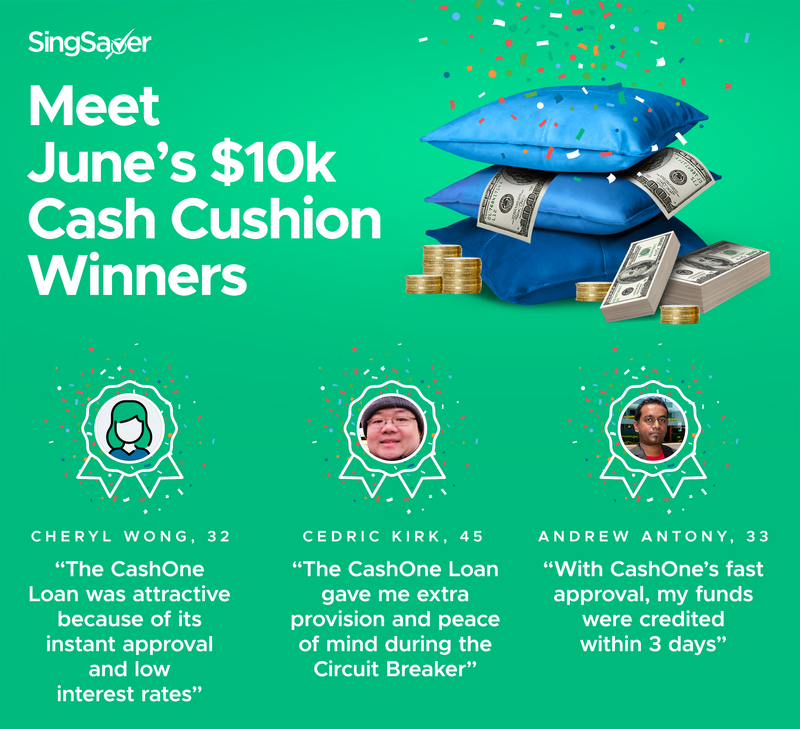 The final results for June's S$10,000 Cash Cushion are in! See what each of our 3 lucky winners had to say about why they chose the Standard Chartered CashOne Personal Loan and what they plan to use their prize money for.
Cheryl Wong, 32: "Instant approval and super low interest rate of the CashOne Loan were the key standouts for me, which helped my family tide through the pandemic. I plan to use my prize money towards my house renovation fund."
Cedric Kirk, 45: "With fast and immediate approval, I was able to secure the extra cash needed to cushion myself during the Circuit Breaker. With my prize money, I'm planning to purchase a new laptop as well as new furniture."
Andrew Antony, 33: "The fast approval meant that funds were credited into my bank account within 3 days, which helped cushion the blow to my finances, especially family expenses. I plan to use my prize money to help family and close friends, as well as help extended family overseas."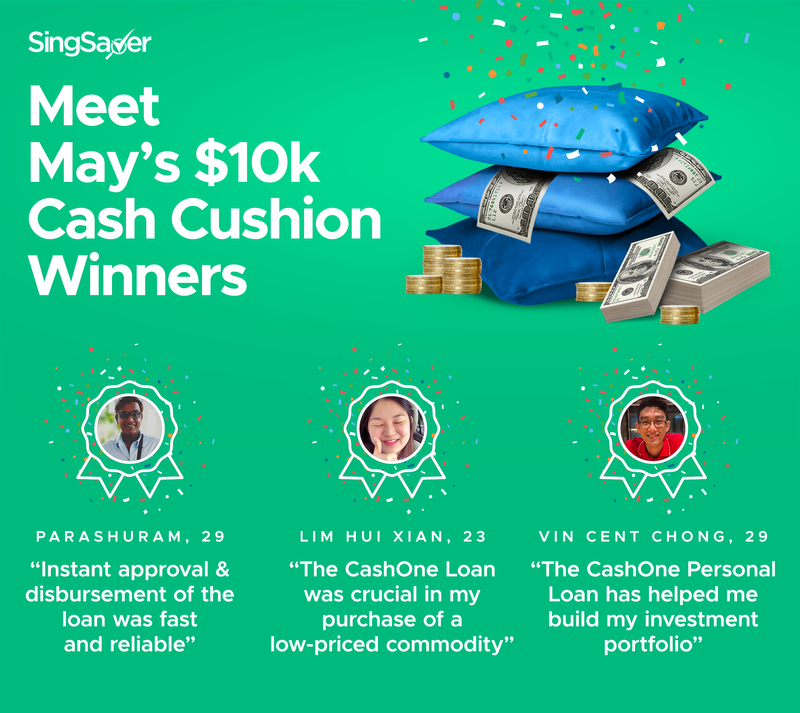 May's S$10,000 Cash Cushion winners are in! See what each of our 3 lucky winners had to say about why they chose the Standard Chartered CashOne Personal Loan and what they plan to use their prize money for.
Parashuram, 29: "The instant approval & disbursement of the CashOne loan meant that I had the emergency funds to cushion me just in time. I plan to spend some of the prize money on my family while saving."
Lim Hui Xian, 23: "The flexibility and quickness of the funds received meant that I could immediately catch and purchase the low price of a commodity. I plan to invest most of my prize money while spending the rest on family."
Vin Cent Chong, 29: "The instant approval and disbursement of the loan within 10 minutes meant that I could build up my investment portfolio. I plan to use the prize money towards marriage."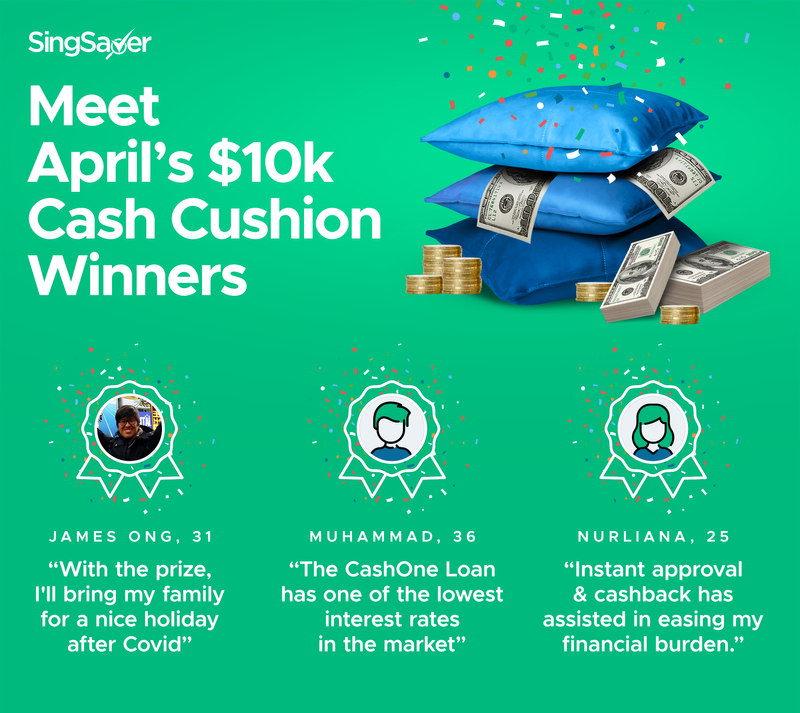 See what each of our 3 lucky April winners have to say about why they chose the Standard Chartered CashOne Personal Loan and what they plan to use their prize money for.
James Ong, 31: "The INSTANT approval & disbursement of the loan was attractive to me as there is no WAITING TIME! With my prize money, I plan to bring my family on a nice holiday once the COVID-19 situation is over."
Muhammad Bin Abdul Karim, 36: "The CashOne Personal Loan, with one of the lowest interest rates in the market, has helped me to tide out the pandemic with extra cash."
Nurliana, 25: "The instant approval & cashback received has assisted in easing my financial burden during this trying period. Some of my prize money will be used to travel with my family once international borders open up."
There are 3 more winners-to-be remaining for the final round of our lucky draw, so be sure to secure your chance at winning up to S$10,000 by simply applying for the CashOne Loan by 30 June 2020. YOU could be the next winner featured on our blog!
For more information on our Standard Chartered CashOne Loan Promotion, click here.
---
Standard Chartered Credit Card Promotion (April 2020)
Participated in our 10-day Standard Chartered Credit Card Promotion and want to see if you won an Apple AirPods Pro? Take a look at the list below! To help you save time, do use the search function. Thank you for participating and we look forward to bringing you more exciting promotions!
SCB Apple AirPods Pro Winners (April 2020)
Koh Kaijie Derrick
Poh Chee Kai
Wong Zi Sian
Ng Zhong Sheng
Lee Wei Liang
Lee Wei Jie Basil
Goh Fu Shen
Dominic Leong
Jimmy Wong
Andy Ker
Muhammad Arshad
Mohamad Ferrino
Tham Yun Yee
Joanne Quek
Lim Fung Wei
Phua Guan Wei Astley
Zhang Zhongmin Marc
Chua Xuanmin
Kam Pei Yan Michelle
Khoo Yoong Khean
Lee Shih Chin
Lee Yew Chuang
Tan Zhuo Yen
Wang Yi Xin Eleanor
Tan Chee Fan
Ong Rong Sheng
Yeoh Wee Teck
Tan Yih Ru
Janelle Elise Tan
Wilfred Lua
Lim Leong Aik
Chua Kiah Ling
Kaviel Teo Zhi Xiong
Koo Jing Wen
Sakktivel Elangovan
Hillary Tam
Lim Meng Whee Adrian
Ding Foung Chen
Yu Shao Bin
Muhammad Uzairee
Irene Tan Siew Ling
Mok Woei Jiuan
Pooja Mahtani
Lim Kian Chong
Joe Lee
Ou Shaoting
Lau Eng Heok Melvin
Joshua Tang
Loo Shen Kang Nelson
Tan Poh Yee
Koh Seng Huat
Hue Jiunn Jye
Eric Tay Ching Hock
Angie Koh
Emilyn Low
Cheong Wei Pin
James Chin Peng Yin
Yap Peck Yee
Tay Hong Liang
Seah Keng Leong
Teo Boon Kiat
Tay Hui Min
Shannan Wu
Alvin Lim Wei Sheng
Teo Jing Yi
Jasmine Lim
Tan Shi Min
Cheong Kin Chew
Lim Yong Chin
Jeryl Soh
Chuo Kee Teck
Zach Teo
Lim Wei Jie
Koh Wee Luan
Leong Dick Long Ivan
Mohammad Firdhaus
Sim Pau Rei
Patricia Ochoa
Gan Li Ping
Navneet Kumar
Peh Peng Hong Ian
Winson Phua
Peh Jia Ying
Ang Zi Qi
Cody Teo Wei Hao
Goh Shuan Fung
Lew Kar Wai
Tan Shu Teng
Liow Shi Han
Lum E Ling Serene
Tan Said How
Sophia He Yindi
Tan Jiaqi
Fabian Lim
Chia Po Jian
Ho Ching Ying
Foo Suan Tien
Clarin Tan Si Min
Kimberly Guo
Koh Chun Kiat
Chan Yan Wen Leonard
Amos Lim
Lim Jie Sheng
Gary Leow
Heng Kim Ye
Lim Kai Ming Shelson
Shen Shengshan
Loo Sze Yin
Tan Li Xian Daniel
Ng Jing Han Derrick
Zhang Yunfan
Ng Aik Leng
Mohammad Isa
Tan Seet Wee
Joyce Oh
Beh Cheryl
Chithra Chinnraj
Yap Shuang Yu
Allan Tan
Seah Nan Piao
Cai Fujie
Aloysius Ong Wei Le
Liu Xing
Joel Chow
Lee Wen Jie
Zion Chee
Cecilia Yohan
Gayle Meredith Basapa
Singh Ghia Mae Gengos
Sylvia Ang Yu Hui
Muhammad Muhsan
Tan Chui Hoon
Wangwenjie
Buay Jun Guang
Cheh Siew Loong
Leong May Yin
Neo Chan Loong
Tan Wen Chuan
Kaikeat
Jane Swe Yan Mei
Eugene Kwek Jin Fa
Shen Lisi
Tan Yi Hui
Too Ker Wei
Pau Jin Kuang
Ho Yan Yi
Lee Lung
Lee Seh Chian
Kym Seah Wen Qi
Chong Zun Yao
Pou Kiet Ming
Denise Goh
Lynthia Chen
Babau Jeganathan
Lee Shan Wei
Shaun Cheong
Ong Wei Xiang Keene
Feng Junhan
Silas Neo
Lim Shu Min
Ong Chin Zhun
Lin Xin
Praveen Kumar R
Seet Chen Hoe
Maria Goh
Lee Li Ying
Andy Wai Chiang Yeo
Nazia Amira
Wesley Wong
Chin Pei Yik
Ho Lian Jong
Olivia Tan
Tan Yee Ling
Lin Wan Shi
Chan Wing Git
Teoh Sze Tat
Nur Hazwani Hasim
Regina Phay
Chew Jun Hong
Stephanie Khoo
Beh Sin Tee
Cheah Yit Weng
Hee Zhi Xiang
Ang Wei Hor
Aw Lay Yan
Heah Lheng Lye
Joyce Tan
Ong Yao Ting
Lim Jie Ting
Zeke Lee Zhen Ye
Tan Cheh Chun
Choo Duong Seong
Tay Wei Hong
Readon Teh Long Hua
Kho Yi Ling
Ho Jun Hao
Eunice Bek
Han Peijin Anthea
Du Quancheng
Ong Kei Kei
Ng Chong Ren
Pauline Tang
Adelene Yem
Ong Kian Yu
Han Siaw Lin
Glen Aw Yu Rui
Teo Wei Jun Jeffrey
Kam Shay Fong
Tristan Tan Ru Long
Seah Ningsui Adeline
Kang Hock Seng
Peh Qian Wei
Xie Anqi
Koa Xin Yun
Lin Zi Ang
Wong Siow Ghin
Ng Chwee Cheng
Gan Bee Lin
Lim Hui Xian
Chng Wei Zhi Valeska
Ferreolo Ladioray
Tan Yong Zeng Melvin
Gregory Pek
Belinder Ng
Wu Yiliang Daniel
Sangeetha
Regina Tan
Benjamin Hoe Wen Tao
Teo Ken Yih
Pariya Yaemmoon
Soh Chih Yung
Tan Yong Sheng
Lim Mei Jun Janyssa
Duraisamy Thenmoli
Owais Farooqi
Seah Raynian
Wong Jia En
Moo Kee Khong
Tay Kok Fong
Poh Ching Hong
Lee Wen Liang
Muhd Sairi
Tan Mei Hao Cheryl
Lim Yu Kai
Cruz Danna Roselle Ong
Tan Guo Quan
Michelle Wong
Tan Chin Gee
Tee Mong Kai
Tan Ming Zhe Ernest
Ooi Shao Xian
Siew Jia Hui Elson
Gladys Lim Xin Yi
Austin
Yeung Wai Keung
Tee Reng Hong
Abdul Rashid
Poh Kok Hui
Lee Mun Yee
S Michael
Yap Kian Loon
Ernest Quek
Hang Heng Tow
Yu Ju Tzu
Carlene Foo
Lee Yin Peng Joanne
Lim Swee Leng
Cheong Ah Peng
Nicholas
Ho Jun Wei Shawn
Gamboa Dennis Aquino
Amanda Wong Mei
Goh Ying Hao Aaron
Bryan Choy
Tan Kian San
Lim Hui Xin
Tan Shuan Gin
Mark Lim
Marcos
Sant Ruengjaruwatana
Yeo Tee Kun
Jue Ming Shen
Low Pui Pui
Tan Heng Gee
Jaslin Soh
Tan Sze Ying
Timothy Chong
Darren Lee Zhen Hao
Muhammad Shidiq
Fong Yong Chuen
Ho Jun Hui
Subeer Dutt
Koh Tong Shen
Marlene Heryanto
Chua Sing Lu
Teh Chiew Ming
Nelson Portillo
Kong Yew Kan
Sohyung Kim
Ker Hong Wei
Sameer Gupta
Sunoj Kumar Yeluru
Tan Yew Aun Jeremy
Jason Law
Jayden Aw
Woon Wei Xian
Wong Sei Yee
Wong Kwok Swan
Janaky Devi
Ang Sze Qin Hester
Lam Jing Xiong
Teo Yong Shun
Ong Eng Chuan
Frederick Yeo
Yvonne Tan
Yap Shok Pin
Lee Zhe Kai
Joyce Teo
Chua Kin Yang
Lim Shiao Wei
Tianle Chen
Mark Ethan Lim
Bell Ndo
Wan Chenxin
Paramanik Sambit Kumar
Cheng Wee Woon
Doreen Teoh
Goh Soon Liang
Subodana Herath
Teo Haopin
Hysen Lim
Irene Yeo
Leng Siew Sun
Ouyang Kejie
Goh Hui Min
Ker Wan Ting
Yap Li Peng
Mohammad Habeeb
Wong Xin Hui
Jeremy Yeo
Huang Weiting Rae
Loy Wei Wan
Sun Weixin
Andrew Chandan Devasagayam
Han Dongding
Cheng Yi Sheng
Teh Theam Seong
Huang Zixiang
See Ting Ting
Kan Mun Hoe
Aw Yong Lai Fong
Pauline Tan
Wong King Fai
Tan Liang Xian
Raylon Wee Yang Zhan
Darren Foo
Sky Ee Say Yong
Goh Siew Lynn
Eric Yang Nengzhou
Tan Khai Wee Kelvin
Lim Yong Hock
Phang Wei Jian
Satish Maurya
Larry Ho Rui Hao
Wong Foong Ling
Muniappan Shiva Shankari
Tan Boon Hock
Tan Bih Jaw
Jenny Tan
Lam Su Ying
Lee Wanyun
Koh Chit Song
Yow Jia Wen
Chang Yoke Fong
Tan Mei Zheng
Julie Tay
Tang Hock Huat
Soh Xinghao
To Kai You
Tay Shun Min Jasmine
Wang Zhen
Prabu
Ang Shu Zhen
Chua Ying Jia
Wang Jun Lem
Lyman Ng Quan Li
Ong Wei Jie Bryan
Jacob Alvarez
Aron Choong Yong Hao
Wan Kok Mun Jacky
Chia Chen Wei
Teo Kar Lien
Cheong Nian Ting
Lim Lay Tin
Charmaine Loh
Choo Sweet Mun Mandy
Tan Li Geok
Li Junyi
Ho Si Qi
Evelyn Djuhari
Jonathan Tan
Lee Weng Yew
Ang Hui Min
Teo Shau Chuan
Khng Jun Jie
Ng Ming Hui
Koh Chay Noi
Koh Cheng Yu
Benedict Lee
Chia Xilin
Chen Xin
Vinodhinee Thyagarajan
Boo Teng Ting
Seow Joo Heng
Yang Yun Xuan
Sim Jinwei
Lai Jian Qin
Tan Yoke Weng Kevin
Chen Jiaquan
Wong Weng Kimm
Alice Ooi Shui Lien
Ng Jae Szen
Chia Shi Ying
Ong Shun Hong
Jensen Lee
Sim Tiong Hai
Valerie Chia Si Min
Teoh Zhi Sheng
Tan Phue Koong
Lim Wei Qiang Edwin
Beh Kiat Seng
Leong Sook Cheen
Derron Tan
Amanda Chia
Leong Yik Yong
Tong Jin Kiat
Bernard Koh
Chan Chuan Choo
Yeo Kim Hwee
Ong Juey Chin
Peh Wan Hao Keith
Jin Xiaoxi
Kuah Shi Qin
Shawn Yong Yi Wen
Mohammad Syafiq
Wong Khong Nung
Loh Hong Hui Hadley
Ryan Lim Seng Ling
Samuel Chen Weiliang
Wong Yu Ling
Samuel Tan Yong Hung
Yeo Qin Jia
Zhang Rongrong
Ew Geik Kuan
Tang Wai Kuan
Chong Chuen Chyau
Zaw Ye Lwin
Ng Pei Qi
Tay Ziyang Stephen
Chew Heng Thye
Liang Xuanlin
Loi Cai Zhong
Leong Boon Keang
Jessie Ng
Dean Tan
Edwin Tejakusuma
Look Wei Sin
Tan Sok Ying
Lau Woei Gann
Leow Chuan Yi
Lee Woon Keat
Tan Seek Hao
Teo Ghim Chuan
Edwin Huang
Ng Wai Kit
Cassandra Chua
Chong Saw San
The Siew Yie
Nur Diyana Ahmad
Yap Khai Seng
Ng Jing Jie
Wong Kum Yoke
Liew Shah Yu Grace
Heng Li San
Wu Yongxiang Caleb
Doan Huy Dung
Tan Jing Wen Noel
Toh Sin Gui
Chow Wai Tung
Lua Yong De Alfred
Tan Yee Hang
Chua Yan Li Karine
Shahari Anshari
Lee Jun Hao Joel
Chua Bee Ping
Lim Si Hui
Yeong Wei Rong
Lee Jia Min Jasmine
Cheryl Lim
Lim Fung Wei
Chong Wei Rong Ivan
Tan Hong Siang Mason
Ho Wei Xian
Lin Dongcheng Alvin
Shi Xiaoteng
Ong Bo Xian
Nai Wei Yang
Lin Panling
Tan Liang Beng
Kuek Yu Xi
Yeo De Yuan
Charmaine Neo
Tan Peng Kian
Gwen Tan Ee Pin
Toby Aw Jun Hui
Malcolm Koh
Teo Wei Lieh Damien
Yudhy Prasetya Wijaya
Abdul Razak
Thong Wei Quan
Kok Jun Xiong
Leong Chi Hei Alvin
Nellie Shim Fui Oing
Tan Ka Hin
Teo Shi Ling
Choo Wey Chorng
Stella Lim
Nestor Lee
Teo Lay Chen
Oh Jin Yuan
Jeremy Marcott
Lai Bin An
Yeoh Ming Loong
Noew Goet Siok
Chen Woan Yunn
Marcus Kwan
Jasmine Soh
Cheng Chee Jun
Lim Chia Yen
Juan Hsuan Hao
Audrey Foo Bao Yun
Samy Matthew Andrew Michael
Yap Rui Lin Eugene
Yap Kong Liang
Tan Anie
Ng Hui Lan
Chloe Junia Gan
Rino Karsona Kadirman
Henry Chong
Peh Yong Shin
Chua Wei Kwang
Emerlyn Wun
Teow Hock Thye
Lee Nguan Han
Seetoh Guay Chee
Lim Zi Shen Jacob
Joycelyn Soh Jia Hui
Tay Jun Wen
Alistair Nio
Simon Lim
Koh Furong Edwin
Tham Yew Loong
Adrian Lee
Lim Sunyi
Tee Cheng Bee
Joselyn Yeo
Tan Cheng Khang
Wong Yi Jiao
Chen Leng Hui Victor
Pasana Felisandro
Poh Kok En
Sim Chze Ngee
Zhou Meiyu Grace
Tok Ming Li
Tan Yujun
Toh Hui Ting Vanessa
Jason Nee
Lim Qi Wei
Tay Wei How
Chew Jia Liang
Coen Law
Ho Joe Hay Adrian
Mohammed Abbas
Ng Ching Ling
Ann Tan Hui Ping
Tan Bock Seng
Teo Rong Sheng
Tan Soon Yee
Lim Ying Fu
Marilyn Ng
Ng Yao Xuan Adabelle
Saddam Hussain
Anthony Cheah
Sheryl Ng Ke En
Kum Tian Wei
Teo Chuan Hoe
Shawn Wee
Tony Yeo
Alex Chen Bowei
Ter Yao Sheng
Cheng Juo Ping
Teoh Weijie Desmond
Andrea Khor
Chua Choon Hua Maria
Seet Chia Puay
Oh Gin Kee
Chua Tian Hiong Paul
He Cong En Jeremy
Belmond Lee Jian Zhi
Rajesh Nath
Hay Hui Shuang
Tan Xueting
Jerlyn Lin
Nur Hidahyu
Ng Ling Yan
Lim Qi Wen
Toh Eng Huat
Koh Choon Luan
Clara Chua Eu Mei
Ho Hui Xian
Lim Zongyang
Candy Ang
Tan Wei Lun
Chew Hsien Yong
Edward Lotus Loso
Tong Zi Qian
Xu Youxiang
Michelle Teo
Muhammad Nabeel
Foo Teck Xian
Surendran
Joanna Low
Toh Seng Quee
Aaron Tan
Nicole Lee
Shogo Kinukawa
Jayeinthiran
Khei May Jun Zenia
Candy Wang
Koh Jia Min
Gan Wee Sheng
Zhao Mengdan
Lio Zhi Sen
Jess
Ong Ying Chin Serene
Tay Yi Lin
Ng Yew Yeong
Chong Kah Chin Alvin
Soh Lu Wei
Lum Wan Ru
Eng Xiao Huan
Tang Cheng Yee
Lim We Siang
Chua Hui Zhen
Jeryl Yee
R Vigneswaren
Koh Chung Kiat
Cheong Hsu Wai
Wang Xiancheng
Tay Xue Ping Diana
Yee Kar Ling
Fedi Tjandra
Marcus Ng
Joan Kow Xiao Hui
Lee Min Yi
Cheng Soon Hee
Teo Jia Xing Aaron
Hsu Li Chuan
Lim Jia Jun Roger
Boo Boon Leng Jordan
Mu Weixing Jack
Tan Bao Yun
Hazeline Neo
Chan Wei Huang
Ravi Kumar Praveen
Kato Lee Tiam Guan
Arindam Basu
Kee Ning Joe
Ng Chin Seng
Joshua Tan Jie Hua
Koh Lee Chen
Ervin Seah
Justin Lim Qi
Cheong Si Wei
Teng Pang Ann
Teo Guan Yeow
Wong Kah Kian
Ng Jun Jie
Paul Maravillas Jerusalem
Tan Tock Lip
Li Binbin
Lau Chong Wai
Choo Wheyenne Claire
Melvin Cheng
Jeany Wang Yu Ting
Chan Bee Lian
Xue Yongxin
Marcus Lim Zhi En
R Rajesh
Sushma Somasekharan
Linette Ong
Ang Jun Xian
Oh Yong Liang
Lim Hui Erm
Crystal Mak
Shawn Song
Cindy Yeo
Moon Seung Hyun
Chia Xingwei Benny
Chan Kin Seng
Leon Lim
Kenneth Low
Tee Her Chia
Lee Soon Lye
Tan Wei Ming
Peh Bing Zhen
Goh Chay Boon
Lim Li Ta
Lin Xueqi
Koh Yuan Kai
Kok Jun Yuan Ivan
Satya Bhojnagarwala
Elise Chua
Shaun Benedict Nair
Jennie Kosasih
Pang Chee Jian
Tong Lam Hin
Elizabeth Tan Si Min
Tan Tat Sin
Pong Hui Shi
Lee Ching Hong
Chew Wei Tiong
Tiffany Theresiana
Chong Kim Hwa
Cariaga Henson Mel Puno
Irvin Toh Soon Peng
Lee Chin Chuan
Anastasha Lovinna Kartika
Suvin Ganjoo
Joshua Hoe Wen Hong
Ng Jing Ping
Jianxin Fang
Kelly Choo
Lim Chin Che
Seetoh Jia Xin
Leow Teck Yeow
Lee Ying Rui
Bernardine Kwan
Emily Teo Goralewski
Ong Heng Shin
Shen Jiexiang
Sherie Kok
Kishore Chandramohgan
Leow Hsin Ning
Francis Chin Jun Hau
Tho Yian Ping
Teng Hui Juan
Rachel Lee Ting Yan
Chin Sook Kien
Kurnia Kusumaningrum
Tan Mei Yen Esther
Muhammad Fadly
Patrick Wong Shijin
Khor Ting Zhang
Shum Si Hui
Tan Ming Lee
Lee Kah Fang Carine
Tay Pei Teng
Zou You
Hafizuddin Bin Mohdar
Yeo Swee Siang
Ong Min Guan
Nawwar Dina Bte Gamal Angullia
Reetika Goenka
Toh Wei Ling
Ang Tze Qin
Tan Gim Keong
Loke Cheng Fatt
Moh Hiong Hoong
Hoon Kang Sheng
Tan Yi Song Shaun
Ho Eng Pin
Edison Sora Tan
Cheryl Chee
Lim Yik Shi
Tan Qing Yang
Tan Maoqing
Poh Ju Zhong
Kong Poei Yein
Koh Kheng Chong
Chua Shu Xian
Clara Goh Fang Ying
Chen Jia
Leong Zhi Wei
Yeong Chern Hui
Chan Hui Yan
Vivien Chan
Valerine Tng Yi Ting
Chia Yong Xian
Lim Yen Ling Jolynn
Sean Lee Meng Yee
Tay Siang Boon Andy
Yee Zhuangli
Tan Luoyi
Linda Vivianti
Chai Min Kai Abel
Siti Nabillah Sapiee
Ong Shirley
Sherman Ho
Lim Cha Yong
Eunice Poh
Loh Kok Sheng
Zhu Zikun
Yu Xiaodong
Novianti Songtono
Liow Jia Hui Penny
Ooi Jiun Shen
Loh Meng Chung
Kimberly Jean Aeria
Ong Xue Li
Lim Ke Yun Kelly
Aaron Tang Jia Wei
Yasmine Neo Wen Ning
Nicholas Tan
Ng Yi Hui Kyna
Choo Jian Yeong
Lee Jing Kang
Muhammad Nurazhan Moin
Voon Shii Ping
Vanessa Koh
Alvin Teo Yu Sian
Tay Xyian Xiet
Lucinda Lam Xue Rong
Ng Sihan Andre
Ser Ting Fang
Han Mingguang Jeremy
Su Zijie
Nicholas Tan Joo Sin
Ji Jiahao
Yurike Laurensia
Wong Si Ling Cheryl
Sin Chee Kiong
Low Jin Jia Landy
Chua Hui Min
Koh Hwee Ru
Boh Chen Leum Robin
Tan Yean Kai
Wilsen Davil
Toh Wan Ru
Ng Chun Fai
Amin Lin
Tay Wei Wen Melvyn
Teo Wei Xuan
Valerie Tan Rui Shan
Chua Zheng Yang
Chin Cheau Yuh
Ho Jia Long Andy
Tan Cheu Fong
Yeo Xiu Hui
Cao Lin
Goh Zhi Yi Priscilla
Pang Chin Wang
Ong Zhen Ci Gloria
Ng Zhi Rong Marcus
Yna Tapaoan
Lim Cherk Syen
Lee Li Leng
Christopher Ang
Chew Yueh Renn
Kong Yufei
Chiang Sheu Ching Josie
Looi Jun Kiat
Hoo Kee Kee
Pee Zhili
Zayden Kok
Jane Lee
Goh Jing Yee
Vishal Sharma
Hidayat Ngatino
Ismail Kadir
Kwong Wen Liang
Hong Zhiren
Salandanan Kathleen De Jesus
Tan Wei Jie
Leong Weijie Xavier
Janice Quek
Chirag Wadhwa
Ng Kiat Meng
Teo Wen Ya
Sim Boon Cai
Ng Qiu Yan
Ong Jun Hao
Rohaizad Rojali
Chin Pak Yuan
Chan Wan Ting
Lee Chern Yih
Lee Bee Lian
Lek Wan Ling Adelin
Chan Xiang Hua
Lin Zhuo
Ong Wei Ming Wilson
Korin Cho
Lau Jin Wei Alwin
Maudrene Lim
Wang Haiyan
Nurulain Binte Abdul Wahab
Tan Qin Yi
Yeo Zongming
Puah Cheow Khoon
Sii Leh Hung
Teh Kai Sheng
Ng Li Shwen
Bethany Lee Daizhen
Toh Zhen Jie
Ng Chiar Jiun
Chan Wai Ching
Henry Sianada
Wong Joe Yee
Hoong Peici
Koh Meng Hui
Lin Yen Hung
Daniel Oliven Lo
Chen Yulian
Cheong Yunn May
Chan Yu Fan
Jose Ittiachan
Lee Wan Joo
Lim Yi Han Danielle
Lai Yan Feng Simon
Tang Jing Ping
Koh Li En Dorothy
Chee Shu Rong
Sher Zi Ao
Ling Xiao Shuang
Kuan Yong Bin
Jessie Zeng
Tan Meiling Audrey
William Setiadi
Vanessa Lim Pei Yan
Zulfarhan
Phua Boon Aun
Cho Jun Xiong
Koh Qi Ling
Raymond Koh
Kong Wai Tuck
Chung Lai Tung Hans
Melissa Oon
Loh Wil Fred
Pay Zhen Qiang
Chye Wen Jie
Tabitha Koh
Yap Sau Voon
Yeo Geok Eng Gloria
Lim Ze Feng Douglas
Shaun Tan
Chua Xing Ying
Julia Teo
Chow Jian You
Tan Boon Ping
Heng Jun Xiang
Liu Zheyong
Chua Yong Siang
Andrew Lim
Low Yan Xin Angelina
Koh Poh Chuan
Hong Poh Soon
Yeong Xue Qi
Quek Tian Ci
Hue Fui Yun
Jane Celeste
Foo Beng Kiat Julian
Meredith Ng Xin Yu
Nur Shahanaz
Seah Jun Shen
Sean Cheok Jia Hui
Terence Ong Eng Wei
Choo Choon Piu
Tan Yee Yean
Lim Xiu Hui
Melvin Sutrisno
Nora Emma Oribello Del Rosario
Pang Tiew Tian
Goh Yen Fei
Goh Sek Hock
Dang Yang Peng
Woo Jun Jie Marvin
---
SingSaver's CNY Mega Rewards Winners (January 2020)
Prize: Credit card winners get S$288 cash and Travel Insurance winners get S$28 cash.
Credit Card Winners
Kevin Cheo
Lam Thi Ngoc Mai
Cheng Sui Hui
Gerald Wee
Su Yuxiong
Mohamed Fairuz
Eugene Goh
Ku Chee Seng
Kelvin Chow
Teo Eng Hwee
Edith Ang
Yeo Tin Koon
Fra
Nitish Kumar
Matthew Chia
Poh Gim Chen
Clarence Tan
Roger Look
Merlyn Koh
Johnnie Ang
Teo Jun Hao
Huang Haoqin
Ang Guan Yang
Leonard Lim
Elizabeth Zhen
Seetoh Ee Mun
Tan Yu Ling
Han Baolong
Bibiana Lee
Kevin Yap
Patrick Chew
Nicholas Soong
Teo Yan Shan
Low Wee Tiong
Aldi Stefanus Felim
Jean Khor
Tay Lian Hwee
Tew Tiong Phew
Ng Ding Geng
Lim Wei Yang
Janet Tan
Ho Kum Hong
Ng Tian Yih
Darren Lim
New Yi Lei
Wong Leong Fei
Wong Siew Hong
Meryl Juans Ajiwibawa
Xu Yuming
Gabriel Choo
Jerald Lim
Jasmine Lee
Lu Yi
Lim Feifan
Saw Guang Zheng
Sajjan Sahu
Valentine Chua
Evans Pritchard Julian James
Travel Insurance Winners
Win Thida Aung
Denise Chew
Ho Meng Yee
Goh Wan Xin
Diana Hwa
Stephenie Pang
George Goh
Soh Jun Liang
Lim Jun Hao
Wei Keng Chuen
Ivan Qiu
Zhu Yanlan
Soo Jianhao
Matthew Pan
Chang Kooi Moi
Yeo Peng Huin
Kor Hui Min
Jocelyn Chua
Aloysius Poa
Reef Koh
Rachel Huen
Lim Jing Xuan
Ng Xiang Long
Ang Wei Shan
Liew Jia Wei
Grace Tan
Chiw Sheau Feng
Leong Wai Lene
Jacintha Low
Jeremy Tan
Gho Sok Eng
Yong Zhen Hugo
Andy Chua
Kellie Chong
Rio Indrawan
Dhanasekaran Bharathi
Look Gin Wah
Tan Yi Tian
Low Guo Liang
Wong Po Fong
Kong Ding Rong
For more information on our CNY Mega Rewards Promotion, click here.
---
SingSaver's Christmas Giveaway (December 2019)
3 Winners
Prizes: GoPro Hero (worth S$595), Apple iPad (worth S$498) or Daniel Wellington (worth S$200)
Winners of this Christmas Giveaway are:
1st Prize, GoPro Hero (worth S$595): Jas Wong SY, Facebook
2nd Prize, Apple iPad (worth S$498): "wat3rmelonjoys", Instagram
3rd Prize, Daniel Wellington (worth S$200): Sherilyn Leong, Instagram
For full terms and conditions, please click here.
---
11.11 Mega Rewards Promotion (November 2019)
We're excited to announce the lucky 111 winners of our 11.11 Mega Rewards Promotion! For Credit Card and Personal Loan categories, please refer to your unique application reference number. For Travel Insurance, please refer to your Travel Insurance policy number.
To help save you time, use the search function and search for the last 3 digits of your application reference or policy number.
Credit Cards
Personal Loans
Travel Insurance
SG2019*****302
SG2019*******010
SG2019*******055
SG2019*******023
SG2019*******039
SG2019*******014
SG2019*****309
SG2019*******043
SG2019*******035
SG2019*****479
SG2019*******092
SG2019*******159
SG2019*******229
SG2019*****462
SG2019*****338
SG2019*****470
I88******225
SG2019*******141
SG2019*****494
SG2019*****449
SG2019*******009
JQM******993
SG2019*******068
SG2019*****439
9NF******978
SG2019*******037
SG2019*****493
EKG******085
SG2019*****483
SG2019*******051
SG2019*******127
SG2019*****402
SG2019*****303
SG2019*******085
SG2019*******168
SG2019*******047
SG2019*****478
SG2019*******042
8GB******925
UNN******883
SG2019*****510
SG2019*****500
SG2019*****383
SG2019*******164
SG2019*****313
ZSR******924
SG2019*****469
SG2019*******242
SG2019*****310
SG2019*******020

SG2019*******032
SG2019*******062
SG2019*******911
SG2019*******987
SG2019*******181
SG2019*****540
SG2019*****597
SG2019*****581
SG2019*****599
SG2019*****817
SG2019*****809
D30****939QTD
ZATR*******51900
ZATR*******62000
GA***207
GA***208
GA***210
D30****928QTD
GA***209
ZATR*******71900
D30****941QTD
D30****955QTD
GA***203
ZATR*******82000
GA***215
GA***216
GA***217
ZATR*******91900
D30****967QTD
D30****950QTD
D30****972QTD
ZATR*******01900
D30****974QGT
GA***211
D30****971QTD
D30****990QTD
D30****978QGT
D30****966QTD
D30****998QTD
GA***204
D30****995QTD
D30****007QTD
D30****013QTD
D30****011QTD
D30****017QGT
D30****020QGT
D30****983QTD
GA***227
D30****985QTD
D30****127QTD
D30****181QTD
D30****991QTD
GA***225
GA***318
D30****393QTD
GA***345
D30****408QTD
D30****959QGT
D30****997QGT
D30****973QTD
D30****992QGT

Winners will also receive an email from SingSaver confirming how and when to collect your cash prize:
For Credit Cards and Personal Loans: Three (3) calendar months from card/loan approval date or redemption form submission date, whichever is later.
Travel Insurance: Three (3) calendar months from the date of purchase or redemption form submission date, whichever is later.
For more information on our 11.11 Mega Rewards Promotion, click here.
---
Travel Lucky Draw (September 2019)
4 Winners
Prize: S$1,000 cash each
Week 1 Winner: Valerie Lim Hui Yi
Week 2 Winner: Sim Yan Jie
Week 3 Winner: Mark Hui Wen
Week 4 Winner: Terence Lau
For more information on Travel Lucky Draw, click here.
---
Flash Sale: GSS Special (June 2019)
45 Winners
Prize: S$500 cash each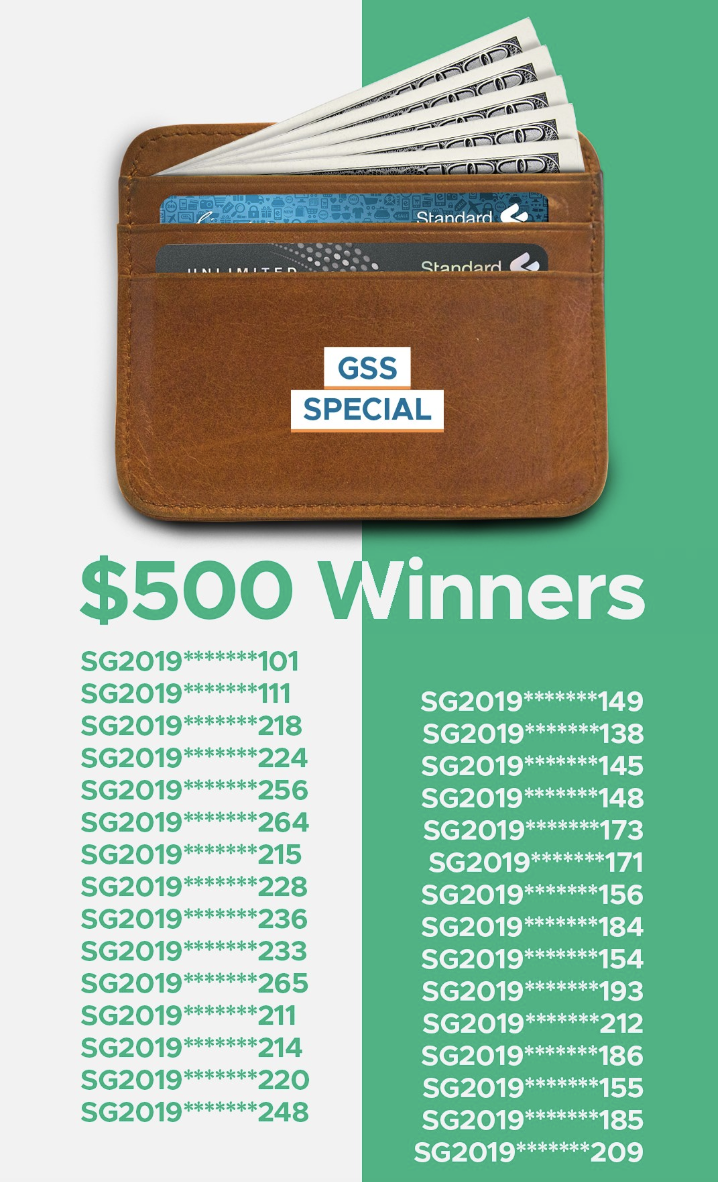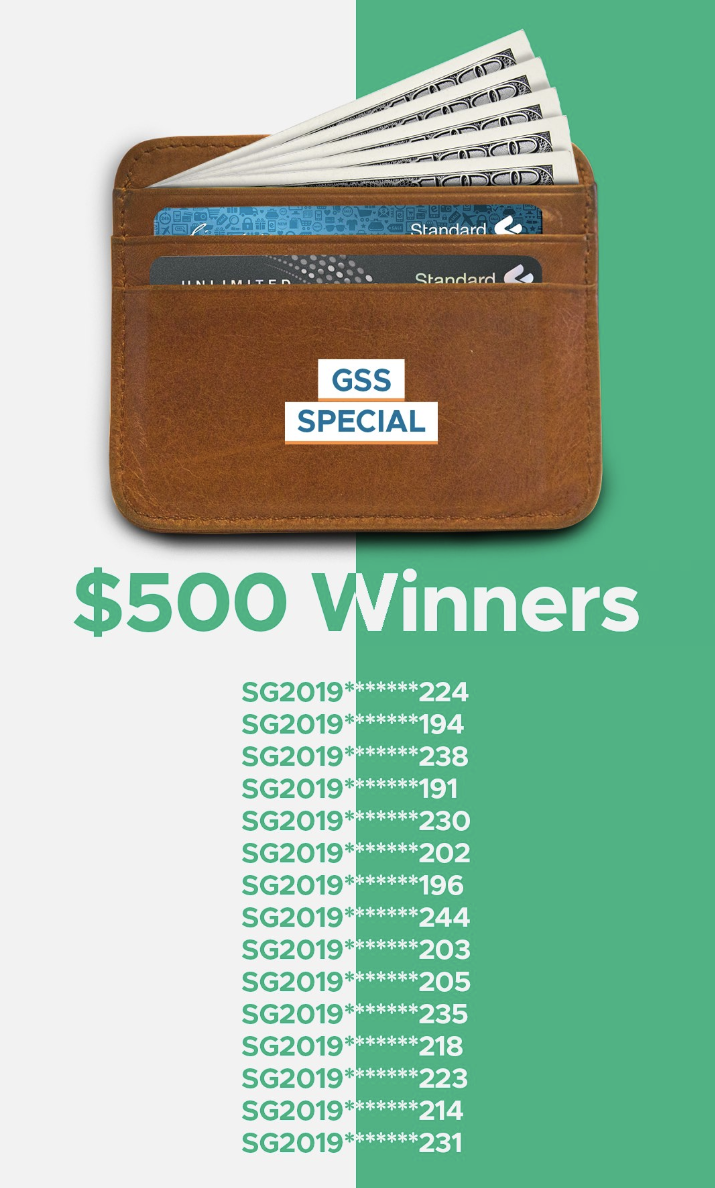 For more information on GSS Special, click here.
---
Standard Chartered Bank CashOne (May 2019)
3 and 10 Winners
Prize: S$1,000 or S$500 cash each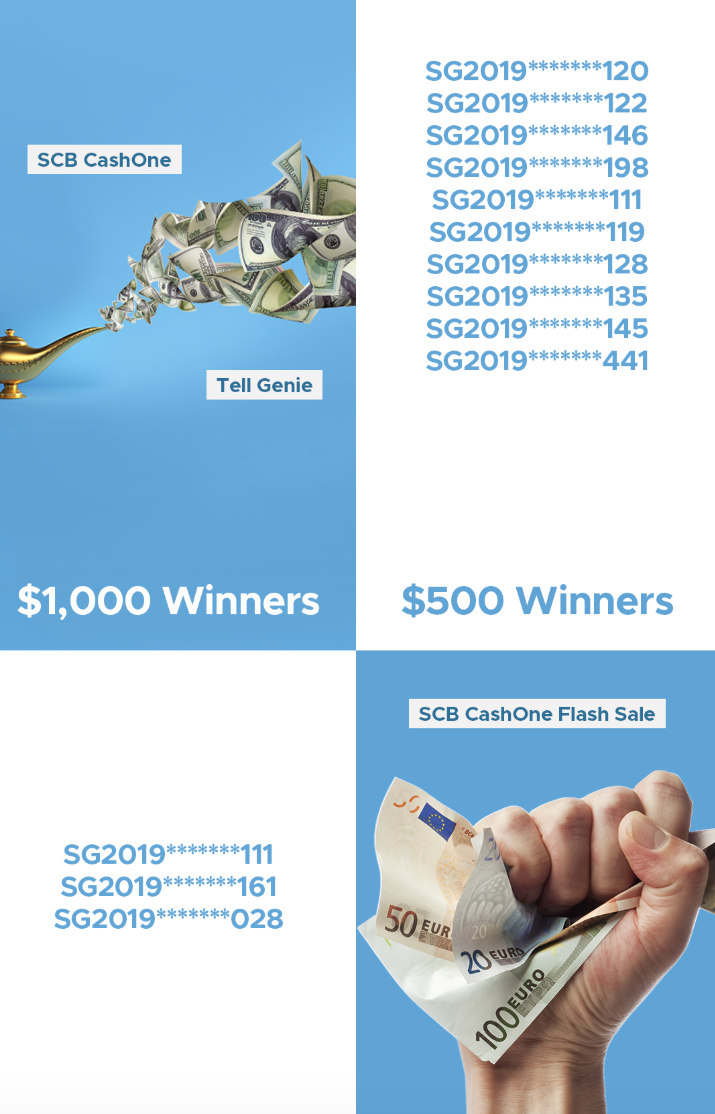 For more information on Standard Chartered Bank's CashOne giveaway, click here.
---
Flash Sales: May Madness (May 2019)
60 Winners
Prize: S$500 cash each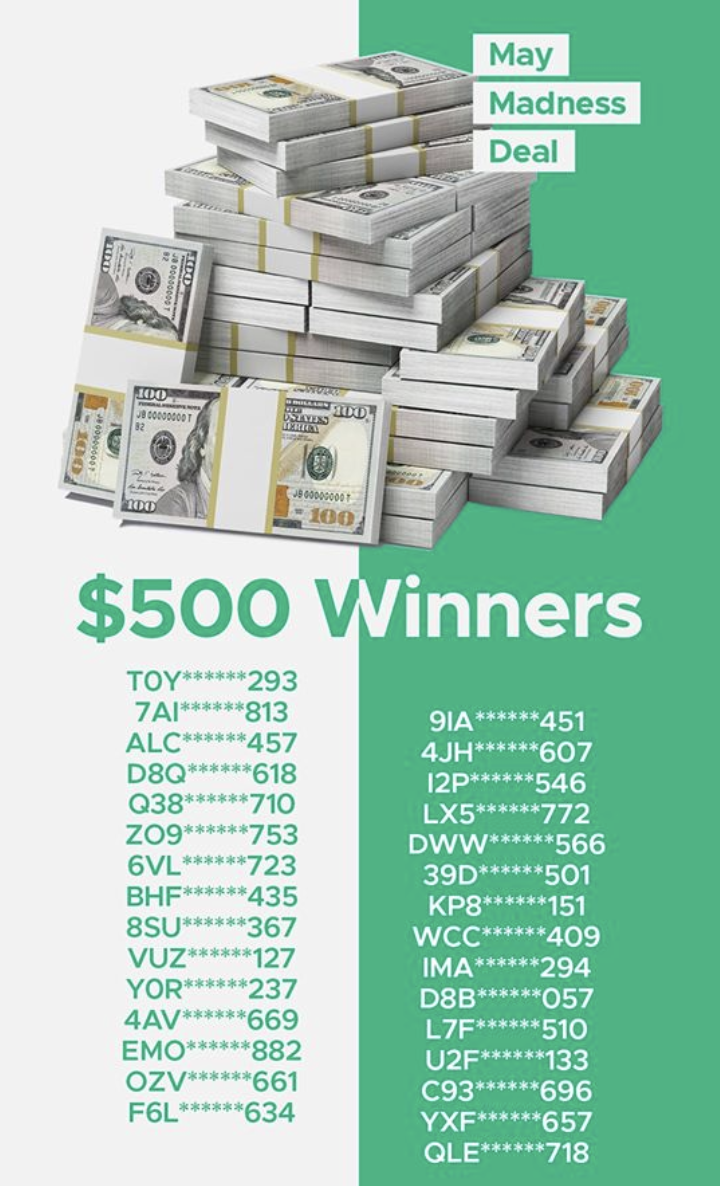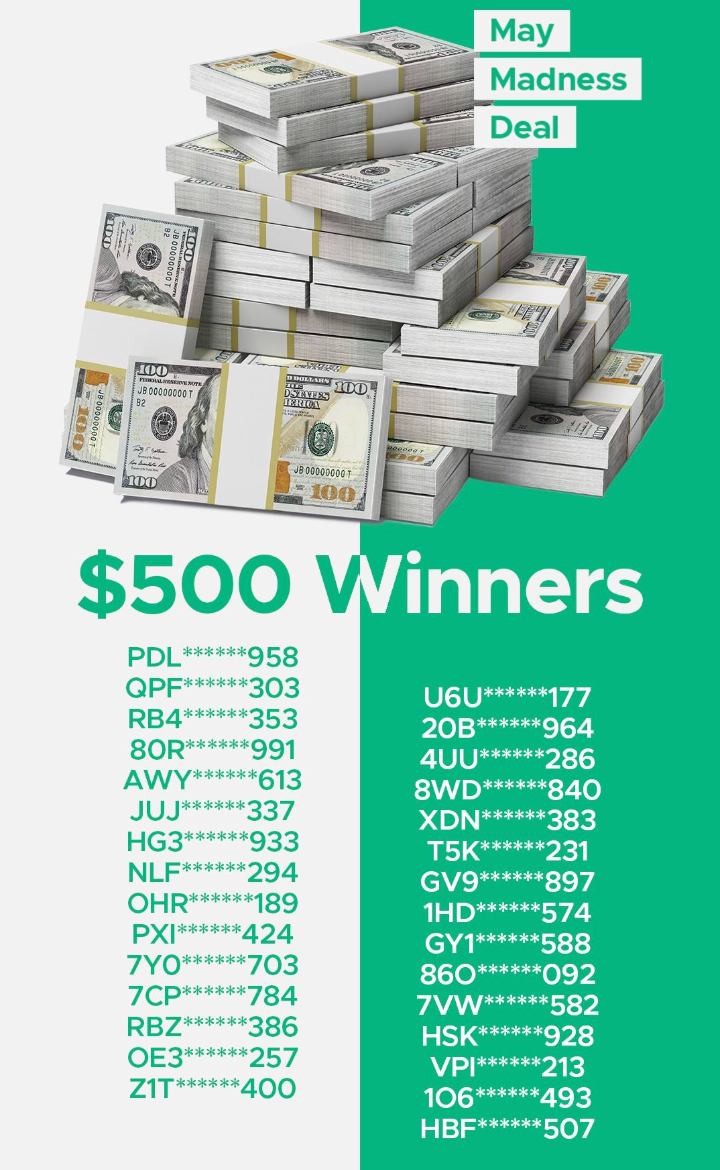 Flash Sale: Apple Watch or Nintendo Switch
40 Winners
Prize: Apple Watch or Nintendo Switch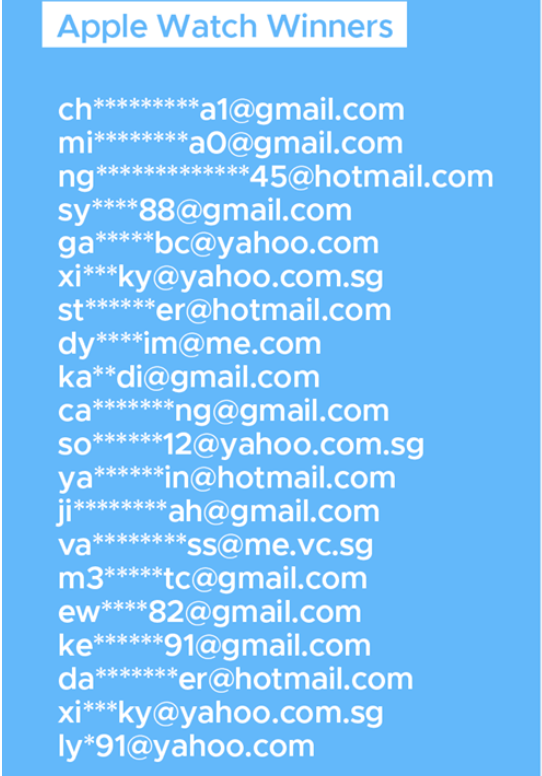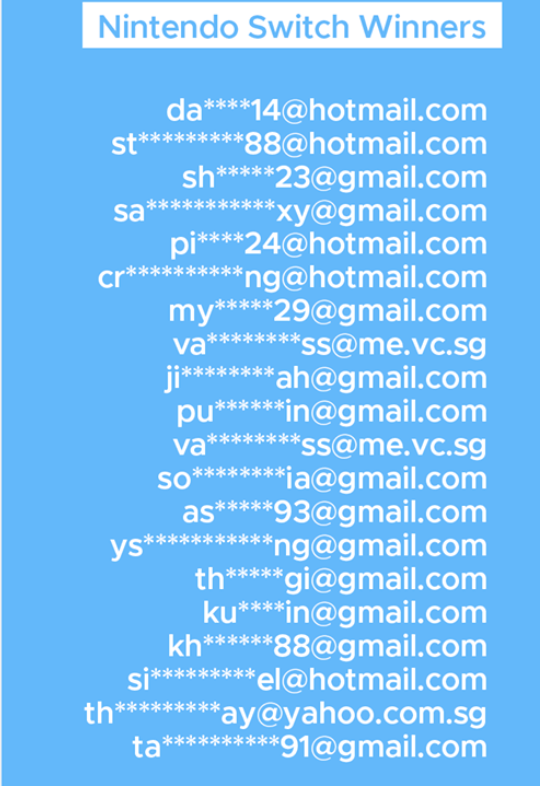 Flash Sale: CapitaVouchers and iPad
40 Winners
Prize: S$500 CapitaVoucher and iPad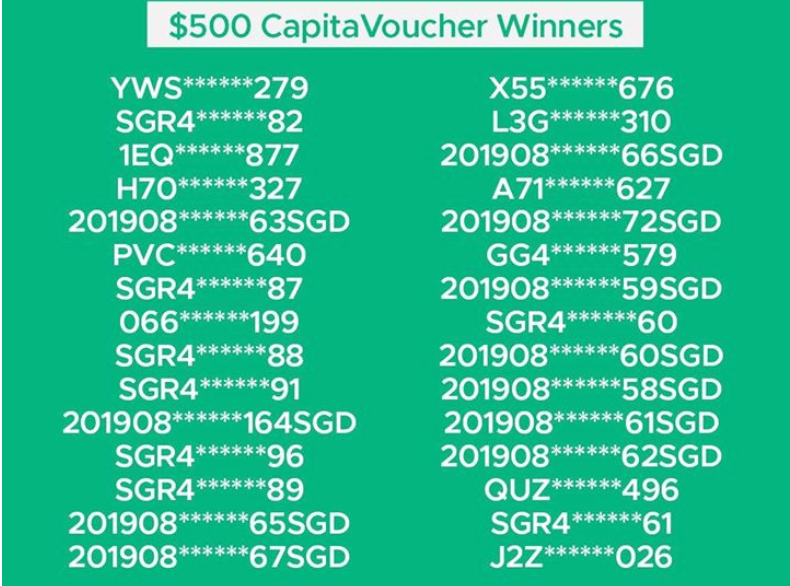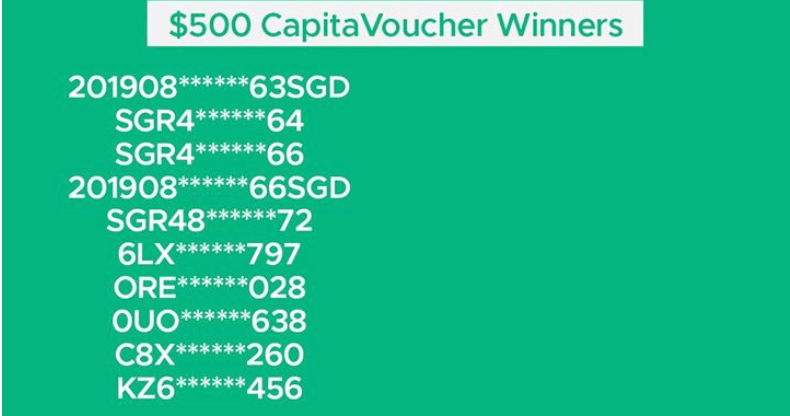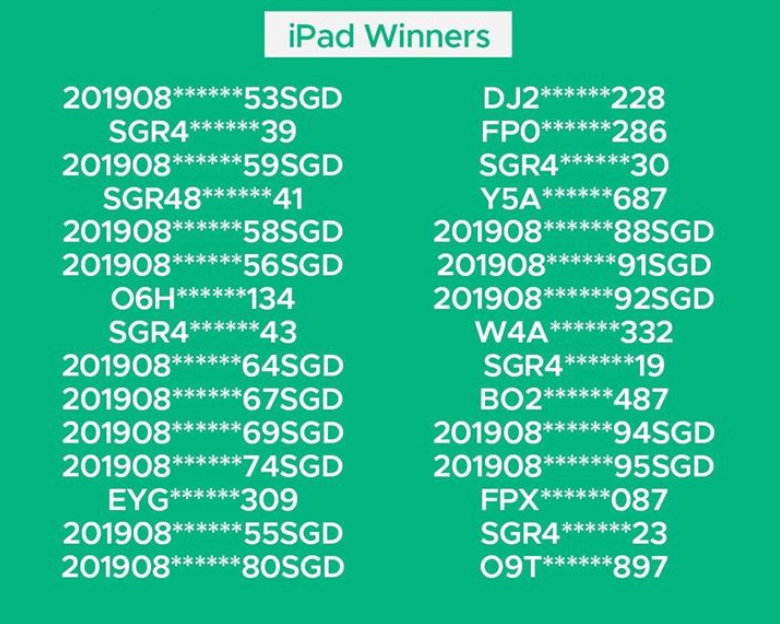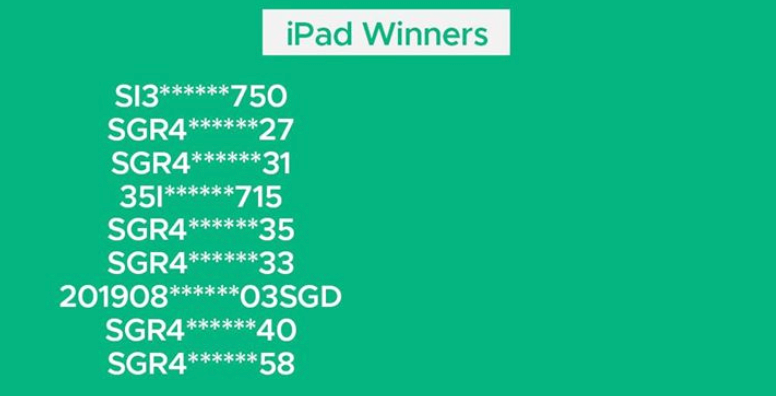 Flash Sale: iPad or Apple Watch
60 Winners
Prize: iPad or Apple Watch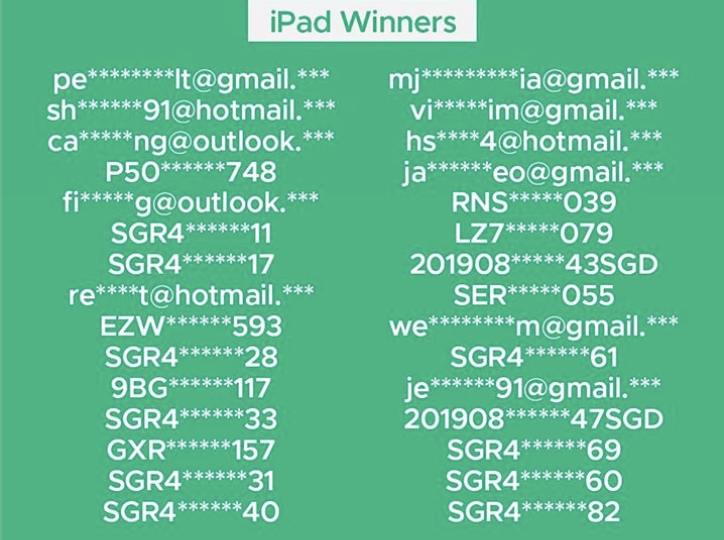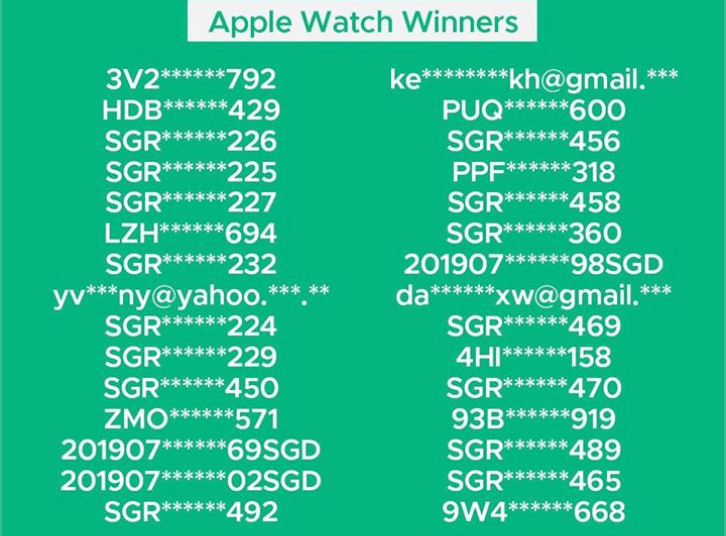 For more information on Flash Sales, click here.
---
Battle of Cards (April 2019)
3 Winners
Prize: S$800 cash each
Marie Lim, Banking Professional
Terence Yap, Healthcare Professional
Poh Ee Ling, Entrepreneur
For more information on Battle of Cards, click here.
---
Read these next:
Singapore Public Holidays 2021
Adult And Kids Face Masks: Where To Buy Them
Best Grocery Credit Cards in Singapore 2020
Best SIM-Only Mobile Plans For Light, Moderate, And Heavy Data Users
6 Credit Cards Which Give Free Access to Airport Lounges