The OCBC Titanium Rewards Card is being touted as the most efficient rewards card you'll need for your local and overseas shopping. For starters, from 1 June 2020, it will earn you 50 OCBC$ (worth 20 miles) for every S$5 spent on eligible online and retail purchases. This equates to an attractive 4 miles per S$1 spent for these categories.
This 50 OCBC$ is broken down into two parts:
Base OCBC$: 5 OCBC$ will be awarded for every S$5 spend on all retail spend
Bonus OCBC$: Bonus 45 OCBC$ will be awarded for every S$5 spend on shopping, department store, and online spend categories
Prior to 1 June 2020, the earn rate stands at 10 OCBC$ for every S$1 spent on online and retail purchases. You can also read update on the changes to OCBC credit cards.
What's also particularly useful about this card is that it rewards you with 4mpd for your spending on some of the most popular e-commerce sites such as Shopee, Lazada, Amazon, Ezbuy, Qoo10 and Taobao.

Reasons to get the OCBC Titanium Rewards Card
Here's listing out the 7 USPs of adding the OCBC Titanium Rewards card to your wallet that will likely hold you in good stead.

1. Earn rate of 4 miles per dollar on all shopping spend
OCBC rewards you with OCBC$ when you spend in blocks of S$5. Earn 50 OCBC$ (20 miles) for every S$5 spent on your shopping, whether it's in store or online, locally or overseas. This includes transactions made at department stores, electronic stores, shoe stores, men's and women's clothing stores, family clothing stores, kids' stores and more.
Keep this handy list of Merchant Category Codes (MCC) that will earn you 50 OCBC$ for every S$5 spent:
Apart from these, other stores include:
Alibaba
AliExpress
Amazon
Courts
Daigou
Ezbuy
IKEA
Lazada
Mustafa Centre
Qoo10
Shopee
Taobao
If you frequently shop at these stores, be it online or offline, the OCBC Titanium Rewards card can be a great option to earn you miles that go towards your next overseas trip. You can also check out our articles with the latest promo codes to use at: Lazada, Qoo10, Redmart, Klook, Shopee and food delivery services (including Foodpanda, GrabFood, Deliveroo and WhyQ).
There is no limit to the Base OCBC$ you can earn. However, Bonus OCBC$ is capped at 120,000 OCBC$ per year. This refers to the card anniversary year and not the calendar year. Once you hit the 120,000 OCBC$ cap, all transactions made on shopping will earn the Base OCBC% of 5 OCBC$ per $5 spent.

2. E-commerce protection
Shopping online has its pros and cons. There are times when you'll receive products with defects or wouldn't receive it at all. This is where the OCBC Titanium Rewards card fits in. It lets you enjoy e-commerce protection, which safeguards you against non-delivery and defective products, or in cases when the seller fails to reimburse you.
When you buy any physical goods online with this card, you will be provided with worldwide coverage for online purchases under these conditions:
Incomplete delivery or wrong item delivered
Improperly functioning due to physical damage to delivered items
Non-delivery of purchase after 30 days of the scheduled delivery

3. Promotions with partners such as BEST Denki
BEST Denki: If you have plans to make a purchase at BEST Denki, either at their retail outlets or online, you can earn an additional 2% cash rebate on your purchase.
There is no cap to this rebate and this is on top of the 50 OCBC$ you earn for every S$5 spent at BEST Denki. To put things into perspective, a Dyson cordless vacuum cleaner from BEST Denki for $900 can get you a cash rebate of $18. This promotion runs till 31 January 2021.
If you have plans to purchase pricey electronics from BEST Denki, such as the latest QLED TV or an air purifier, this card could just come in handy.

4. LoungeKey access
You can access more than 1,000 lounges with Mastercard Airport Experiences provided by LoungeKey by paying US$27 per visit per person. This allows you to enjoy complimentary refreshments during your time at the airport, particularly useful to freshen up and recharge during a long stopover.


5. Two-year annual fee waiver
Many credit cards offer waivers for the annual fee, typically for the first 1 or 2 years. For the OCBC Titanium Rewards card, the annual fee of $192.60 is waived for the first 2 years.


6. The option to choose between Blue or Pink
Most credit cards have a default look for their credit cards. There are no options to choose between designs, colours and look of the card (except cards such as the OCBC FRANK credit card that has an impressive 120 card designs for you to choose from).
However, there are two versions available for the OCBC Titanium Rewards — Blue or Pink. It is completely up to you to choose between the two colours (FYI, there are no gender stereotypes here). This gives you the slightest element of choosing a card that represents you, makes you happier when looking at it or simply a colour that you prefer for a credit card.

7. Instant approval and access to a digital card
You can get instant approval when you apply via MyInfo, which retrieves your details for quicker application. Expect an email and SMS with a link to access your digital card when your application gets approved. With a digital card, you can start using the OCBC Titanium Rewards on your next purchase while waiting for the physical card to arrive in your mailbox.
Disadvantages of the OCBC Titanium Rewards card
1. You don't earn 50 OCBC$ (4mpd) on other spend
This card specifically rewards you for the purchases you make on shopping. However, on all other spending outside of shopping purchases, such as dining and transport, you will earn 5 OCBC$ per $5 spent. For miles-chasers, this equates to 0.4 mpd, lower than the average 1.2 mpd you can earn with other miles credit cards.

2. There is a spending cap
There is a spending cap of 120,000 OCBC$ (or about S$12,000 spent on shopping). This cap could be limiting for big spenders that shell out more than S$12,000 on shopping through the year.
Credit cards similar to OCBC Titanium Rewards Card
If you are looking for a credit card that rewards you for your shopping, you can also consider these cards:

Citi Rewards Card
The Citi Rewards Card also gives you 4mpd for your shopping and online spend. This includes shopping at department stores, spending on bags, shoes, clothes, both online and offline.
Note that the Citi Rewards Visa card rewards you with 4mpd on all online spend as well, allowing you to earn 4mpd on online transactions for other categories such as transport.
Outside of shopping and online transactions, the earn rate is 0.4mpd, mirroring the non-shopping earn rate of OCBC Titanium Rewards card.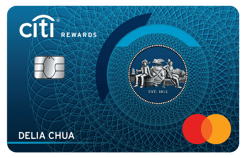 SingSaver Exclusive Offer: Receive a Dyson V8 Absolute™ (worth S$609) or ErgoTune Supreme (worth S$599) or Sony WH 1000XM5 (worth S$575) or S$350 cash via PayNow when you make a min. spend of S$500 within 30 days of card approval. Valid till 28 February 2023. T&Cs apply.
Plus, enjoy up to 2% cashback on all qualifying spend and up to S$756 worth of exciting gifts when you apply for the Citi Cash Back+ card and join Citi Plus. T&Cs apply.
The UOB Lady's Card is a win-win for women.
It can be a useful one to carry in your wallet, especially since it lets you choose the category that earns you 4mpd. This category can be changed every quarter, giving you the flexibility to earn more miles on any other category depending on your spend for that quarter.
You can choose among these:
Transport and Entertainment
For shopping, select 'Fashion' as your preferred category for the current quarter to earn 4mpd on your fashion spend. There is also an e-Commerce Protection provided for all your online purchases.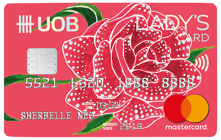 (or the DBS Woman's World Card if you earn at least S$80,000 annually)
Unlike the UOB Lady's card, both men and women can apply for the DBS Woman's Card. The DBS Woman's Card earns 2mpd on the first S$1,000 online spend each month. The DBS Woman's World Card earns 4mpd on the first S$2,000 online spend each month. There is also e-Commerce Protection provided for your online purchases.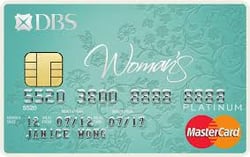 What can OCBC$ get you?
OCBC$ can be exchanged for rewards such as KrisFlyer Miles, shopping vouchers, dining vouchers, mall vouchers, department store vouchers, movie vouchers, cash in your credit card and more.
For example:
25,000 OCBC$ = 10,000 Krisflyer Miles
18,000 OCBC$ = $50 Titanium Cash
7,000 OCBC$ = $20 NTUC Fairprice Voucher
3,500 OCBC$ = $10 Robinsons Voucher
Here's the full catalogue of rewards you can exchange your OCBC$ for.
Now that you have the full picture of the pros and cons of signing up for the OCBC Titanium Rewards card, which one would you pick?

Read these:
OCBC Credit Cards: 3 Important Changes Cardholders Need To Know
Top Credit Card Promotions and Deals on SingSaver (February 2023)
Which Are The Best Cards To Earn Miles While Shopping?
Best Women's Credit Cards In Singapore
Top 6 Air Miles Credit Cards In Singapore