---
Renovation loans come with lower cost of borrowing
While the advertised interest rate on a renovation loan may be larger than that of a personal loan, that may not be representative of the truth. Renovation loans typically have a lower Effective Interest Rate (EIR) compared to personal loans, due to the different calculation methods used.
You see, interest for renovation loans are calculated using the monthly rest method, where the interest is charged on the amount that is still outstanding on the loan. This results in overall less interest paid, which translates to a lower EIR.
On the other hand, personal loan interest charges are derived using the flat rate method. This means that interest is calculated on the loan principal, leading to a higher EIR.
Given this difference, it is more cost-effective to park a larger portion of your budget under the renovation loan, instead of vice versa.
Personal loans offer potentially larger loan amounts
Personal loans can potentially generate a higher loan amount even if the average customer can only borrow up to 4x monthly salary. This is because renovation loans are capped at S$30,000, and this limit stands even if a joint application is made by two borrowers.
The limits on personal loans are applied on a per-individual basis, which opens up the way for you and your spouse to effectively double your renovation budget by taking out separate personal loans.
Of course, this must be done prudently and according to each borrower's financial ability to repay the loan.
The bott

o

m line
When you're embarking on home renovations, your default choice should be a renovation loan, as you will be able to access lower EIR and thus reduce your cost of borrowing.
However, given that renovation loans are capped at S$30,000, you will have to be prudent about the works that you spend your renovation loan on.
As a rule, prioritise renovation essentials (such as plumbing works, carpentry or electrical wiring), and use your savings or a personal loan to cover good-to-haves (such as ceiling cornices or stained glass inlays for your bathroom mirror).
What about furniture and appliances? Well, that will have to be budgeted for separately, given the low ceiling on renovation loans.
Also, banks can be pretty adamant about you only using your renovation loan to pay for actual renovation work.
Your bank may conduct a site visit to ensure that the loan is being used for approved renovation works only – i.e., renovation works which are permanent in nature. Items that do not fall under the list of approved works and installations will not be allowed to be deducted from the renovation loan granted.
This essentially reduces the size of your renovation loan, which means you will have to pay for those expenses through your savings or other methods. If you do not have the funds available to cover the additional expenses, you may find yourself in an unexpected financial pickle.
Admittedly, the chances of this happening is quite rare, judging by the lack of online chatter about this exact scenario. But in any case, it's still good to be aware of the possibility of such a situation arising, and plan accordingly.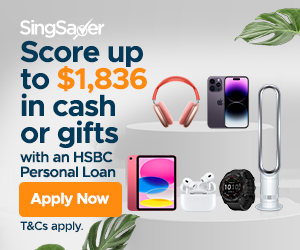 SingSaver Exclusive Promo: Receive an Apple iPhone 14 Pro 256GB (worth S$1,836) or a Garmin Fenix 7 Black DLC (worth S$1,429) or an Apple iPad 10th Gen 64GB + Apple AirPods Pro 2nd Gen (worth S$1,047.65) or an Apple AirPods Max (worth S$806.45) or a Dyson AM07 (worth S$459) or S$50 cash via PayNow upon the approval of your HSBC Personal Loan. Valid till 2 April 2023. T&Cs apply.
Plus, score a SILVER ticket (2x chance) in our March Madness Grand Lucky Draw when you apply, for a chance to win your share of over S$20,000 worth of prizes! Valid till 2 April 2023. T&Cs apply.
---
Read these next:
Ultimate Guide To Home Renovation In Singapore
How Much Should You Pay For A Home Renovation In Singapore?
How To Do Up Your Home Without Taking A Renovation Loan
Here's How to Affordably Furnish Your House… Without Anything From IKEA
6 Essentials You'll Regret Not Buying Before Moving into Your New HDB Flat