Before you splash out on a big-ticket item and use an interest-free credit card instalment plan, know what you're getting into.
We've all pretended that we've read the terms and conditions. Really, who can blame you? No one wants to read pages of dull legalese before using an app or signing in to a website. When it comes to financial products though, skipping the T&Cs can mean losing serious money.
Take, for example, your credit card's interest-free instalment plan. It makes big-ticket purchases more affordable, but you need to know what you're getting yourself into.
1. Interest-free instalment plans aren't always free
Before the instalment plan kicks in, you may need to pay a processing fee ranging anywhere from 1.5% to 5%. The fees vary according to the amount charged and the length of the instalment plan.
Not all merchants or banks have them, but it's always a good idea to check the fine print to find out what the fees are, if any, and compare across different credit card providers to find the lowest one.
For example, DBS/POSB charges a one-time processing fee (based on transaction amount) for their My Preferred Payment Plans, for purchases made with their non-participating merchants. OCBC's PayLite service also charges a fee of 3% to 9% depending on how long you would like to stretch your repayment period.
2. The item's full price counts towards your credit limit
When you place an instalment plan on your card, your credit limit goes down. That's because the bank blocks out the full purchase price from your credit limit. Your credit limit goes back up with each instalment payment and is completely restored only when the full payment is made.
Here's a real-world example:
You're buying a Macbook Pro for S$1,500, using a credit card with a S$6,000 credit limit. You've opted for a 6-month 0% interest plan, with a monthly instalment of S$250. You have no other instalment plans on this credit card.
At the start of the plan, S$1,500 gets deducted from your credit limit, lowering it to S$4,500. But every month, as you pay each instalment, the credit limit rises by S$250.
But let's say this card already has a new S$5,000 VIP lifetime gym membership on instalment. Your available credit limit is only S$1,000 – less than the Macbook's full price. In this instance, you can't place the Macbook Pro on instalment. Either get a laptop that costs less than S$1,000, find a way to pay it in cash, or buy it later.
3. You're actually repaying the bank, not the merchant
Most people assume their card only gets charged for each monthly instalment. But that's not how interest-free plans work. The full amount is actually charged to your card when the plan starts.
You don't feel it because the bank pays the full price for you (that's why your credit limit gets reduced when you do an instalment plan). The instalments are you repaying the bank for the money they paid up-front.
4. There is a penalty fee for card cancellation, terminating the plan, or early repayment
The good news is that nothing is stopping you from cancelling your instalment plan anytime. The bad news is that you will be charged an administration fee for repaying the amount early, cancelling the plan, or cancelling the card. The fee can be anywhere from S$100 to S$150.
Note that if you cancel the plan, you need to pay the remaining balance or purchase price in full. Either way, you still have to pay for what you bought.
5. No points or cashback earned
If you're paying by instalments, don't count on earning air miles, cash back, or rewards points from your new TV. Because the bank is already shouldering the full cost, they won't provide you with further rewards.
For example, if you opt for Citibank's Equal Payment Plan, they make it upfront that you will not be able to earn any rewards or rebates for your purchase amount.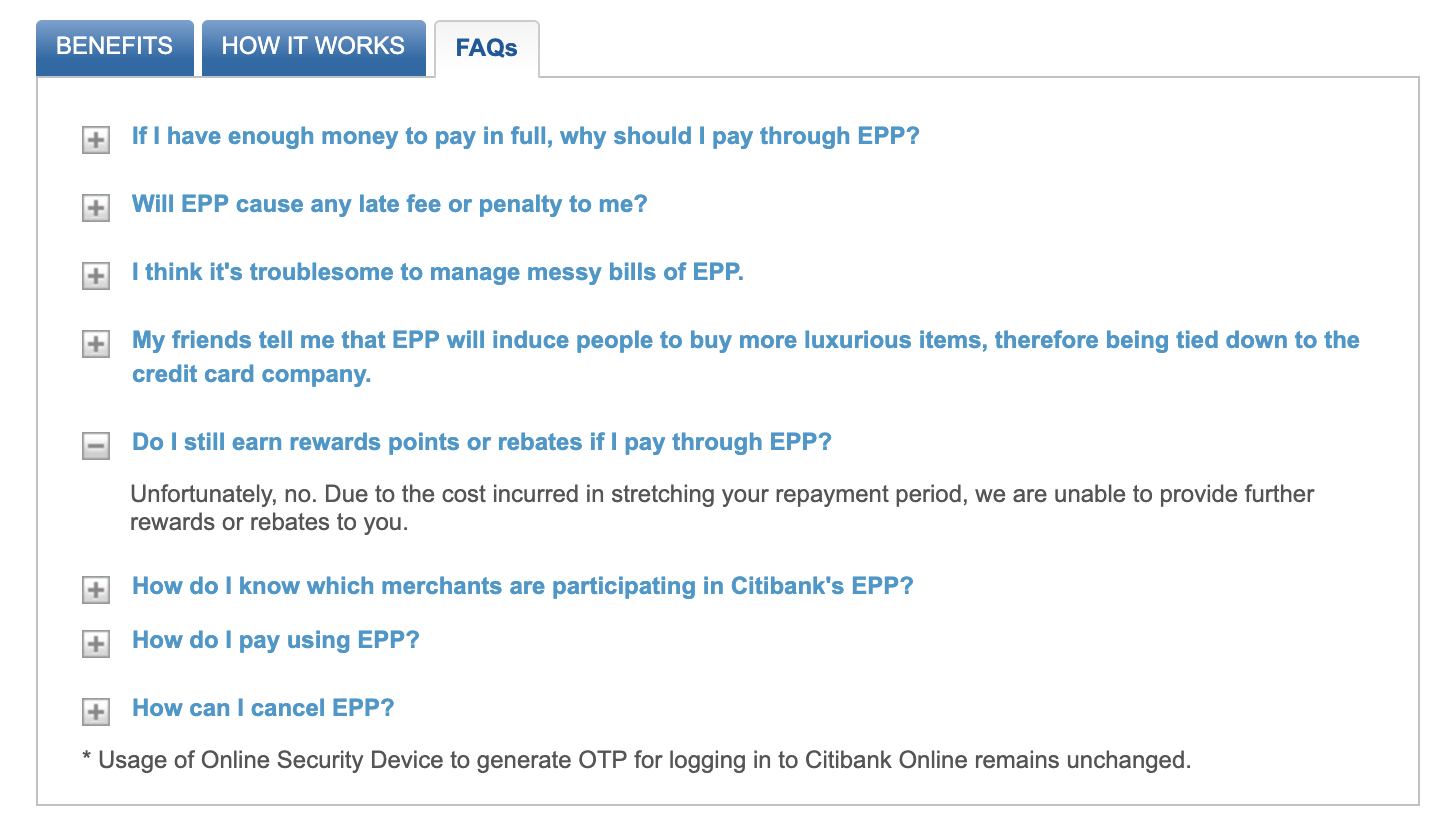 The same goes for DBS/POSB.

This is a big one to consider, especially if paying in full can get you a decent cashback rate or a sizeable air miles bonus.
Alternatives to using 0% credit card instalment plans
Here's a life hack for you: charge the full amount of your purchase to your credit card, and then apply for a 0% balance transfer loan to manage your repayment instead. This way, you can earn your credit card rewards while paying off your bill over a more manageable 6- to 12-month schedule at 0% interest.
Balance transfer loans usually charge a processing fee, but the effective interest rate (EIR) of taking out a loan is almost always lower than leaving the unpaid balance on your credit card.
Read more: How Does a Balance Transfer Work?
Another option is to pay for your purchase using the OCBC Cashflo Card, which automatically splits big purchases into 3- or 6-month 0% instalments. You earn 0.5% cash rebate when your monthly bill is less than S$1,000, and 1% cash rebate when your bill is S$1,000 or more.
6. You have to be punctual with paying your monthly instalments
The credit card instalment plan is only interest-free if you pay what you owe every month on time. If you skip a payment, you'll need to pay finance charges, late payment charges, and interest on the outstanding amount.
So treat your instalment plan as a fixed cost, and make sure to budget around each monthly payment. Missing an instalment could lower your credit score, which may impact your chances of getting a housing loan or credit facility in the future.
Or, look out for alternative instalment options like hoolah when buying items online. They automatically schedule four interest-free card charges (debit or credit) the moment you check out of their merchants' payments page without minimum spending requirements or lengthy forms to fill.
When to consider using 0% interest credit card instalment plans
When you can't save up for the full cash amount to pay for your purchases, credit card instalment plans are a useful way to afford a big-ticket item. But we recommend only using it for physical items, like a new TV, sofa, or smartphone.
It's too risky to do it for services like gym memberships or salon packages. As we mentioned in Point 3, you still need to make payments even if a service provider goes out of business (like what happened with California Fitness). The last thing you want is to pay for a service you can't use if the business closes down.
Just as you would research about which smartphone to get, be as diligent with how you're going to pay for it.
In the event that a balance transfer or personal loan will offer you the better value for big-ticket purchases, be sure to compare and apply through SingSaver for the best rates and exclusive welcome offers!

Read these next:
7 Mistakes That Could Ruin Your Credit Score
Balance Transfer vs Personal Loan: Which is Better for You?
Best Shopping Credit Cards in Singapore 2019
4 Ways to Pay Off Credit Card Debt in Singapore