#1 Helping us tighten our belts (regardless of waistlines)
The 'save more, spend less' mantra rings truer than ever. On the back of COVID-19, governments, businesses and consumers alike are now hyper-aware of our spending. A recent SingSaver survey also found that 87% of respondents adopted a lower consumption and higher savings habit thanks to the pandemic.
With the rise in the number of failing businesses and retrenchment rate, we are reminded of the importance of an emergency fund, much like how the Singapore government has saved up reserves for a time like this.
The DBS Multiplier supports our efforts to tighten our belts. With no minimum spend required on our credit card to earn interest, you're not hard-pressed to spend $500 or more a month. You only spend what you need, not a dollar more.
This absence of a minimum spend would also suit those who are uncomfortable with credit cards, or those who prefer spreading their spending across multiple credit cards to maximise the benefits.
#2 Having your back even when you're down and out
COVID-19 has spared no country and sector. Thankfully, there is less stigma attached to getting retrenched in today's economic environment. Companies have been forthcoming about their struggles, with many providing talent networks to help their employees secure a new job.
If you've been on the receiving end of a pay cut, or you've been retrenched and are on the market for a new job, there are still ways for you to capitalise on the DBS Multiplier. Even with a lower salary, you can still earn higher interest as there is no minimum income amount required. You can also rely on your dividends to help form your 'Income'.
No matter how much this income might be, you can still make retail transactions via DBS PayLah! to meet the $500 – and then watch the interest get jacked up to 0.40% p.a.
#3 Cultivate savings habits from young — made easier
Students can start using the DBS Multiplier to their advantage even before graduating, simply by using DBS PayLah! to make purchases. It is now easier than ever to meet this new transaction criteria, with contactless QR code payments available not just at retail stores but also on university campuses, hawker centres and more.
With no minimum spend required, it sets a low bar for students to earn up to 0.30% p.a. in interest. For graduating students struggling to land jobs, know that internship stipends (or allowances under a SGUnited Traineeship Program), part-time earnings or dividends could further enable you to earn up to 0.40% p.a. in interest. This also applies to NSFs who earn a monthly allowance each month.
Interest rates of 0.30% p.a. or 0.40% p.a. may not be much, but it's a marked improvement compared to the run-of-the-mill savings accounts that earn a measly 0.05% p.a. If you earn 0.40% p.a. on your savings of $10,000, you get almost $4.20 a month — that's a free bubble tea every month!
#4 Power up passive income
Rather than have a knee-jerk reaction and cash out your investments to ease short-term cashflow, a savvy investor stays invested despite turbulent times.
DBS Multiplier incentivises just this, by allowing your dividends to count towards the 'Income' category. Previously, only dividends credited into your bank account via the CDP would be recognised. Now, any form of dividends from local or foreign equities, unit trusts and Singapore Savings Bonds (SSB) will be counted under 'Dividends'. This includes dividends credited into any of your DBS/POSB accounts, DBS Wealth Management account, or to your Supplementary Retirement Scheme (SRS) account and CPF investment account.
With this wider definition for 'Dividends', investors are encouraged to grow their investments (be it cash, SRS or CPF) and wealth while boosting interest rates.
New investors with spare cash can think about kickstarting their investment journey by making a monthly contribution to purchase unit trusts or Exchange Traded Funds (ETF) under the DBS Invest-Saver. (Note: Regular investments count towards the 'Investment' category, although it requires total transactions to add up to $2,000 or more a month to be eligible for higher interest rates.)
The best part? Contributions to this category are entirely automated and recognised as long as they are credited into your DBS/POSB accounts, without any manual enrolment required.
#5 Go through thick and thin together with your significant other
Having a joint account is one of the widely known 'hacks' to using the DBS Multiplier. When you open a joint account with your significant other and credit your salaries into that account, both your salaries are recognised, contributing to the 'Income' category in each of your DBS Multiplier accounts. The dividends you earn from your individual investments are also bundled if credited into the joint account.
This allows couples to leverage on the DBS Multiplier and boost their interest rates to the next tier. When your house comes along, you can then qualify for the 'Home Loan' category by being joint borrowers of a DBS home loan.
Couples stick together in good times and in bad. On the flipside, in the unfortunate event that you get retrenched, you can still rely on the income your partner earns to sustain the interest rate for your DBS Multiplier account.
#6 A worthy savings account as you grow your nest egg
If you're intending to achieve FIRE (financial independence, retire early), the DBS Multiplier will reward you and egg you on.
With dividends contributing to the 'Income' requirement, the passive income you earn each month can help to bump your interest rates to the next tier. As you grow your dividend income stream, be it through blue chip stocks, REITs or other income-generating products, why not make the most of it by crediting it into your DBS Multiplier account?
A monthly dividend income can prove to be the safety net you need amidst economic uncertainty, ensuring that your nest egg continues to grow. Retirees can also utilise the DBS Multiplier even when they no longer earn an income. With a monthly dividend income, retirees can unlock one more category that make them eligible to earn bonus interest, even without a salary.
An account made for all Singaporeans
If you can't apply for a credit card, don't earn an income or have inconsistent salary, you can still earn interest with the DBS Multiplier. While the updates to the DBS Multiplier account benefit NSFs, students and young Singaporeans most, the existing categories remain unchanged.
Here's how Multiplier account holders can earn up to 3.5% p.a. in interest: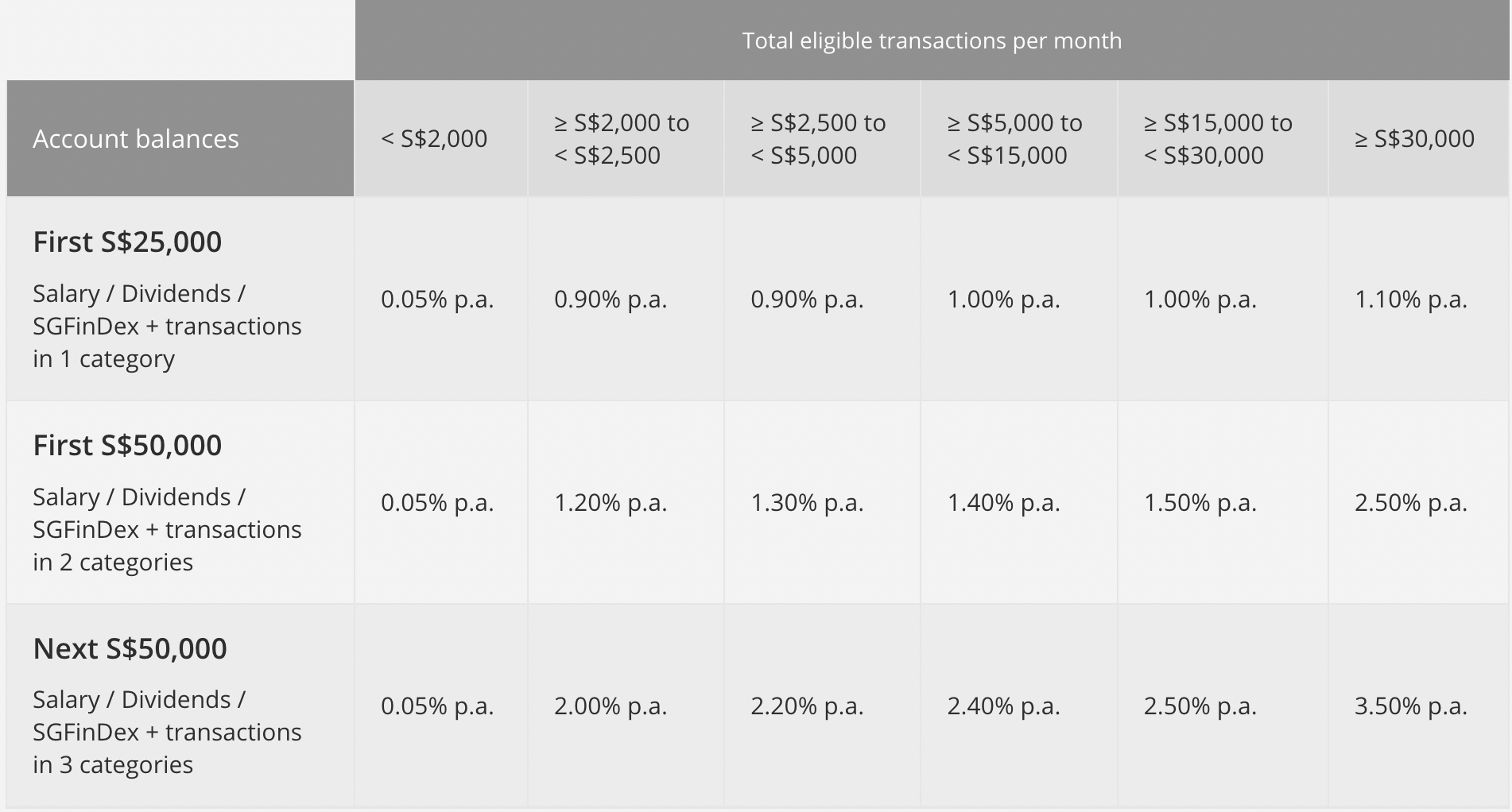 DBS Multiplier users can continue to tap on the different categories (Salary, Credit Card Spend, Investment, Insurance, and Home Loan Instalments) to boost interest rates. This means spending on your credit card (no minimum spend), making regular investments and channeling back your dividends, purchasing an insurance policy and financing your home loan.
And if you've noticed, the updates to the DBS Multiplier transform it into a savings account that grows with you through your adulting journey, whether you're a student who's 'graduating' from a debit to credit card, or getting a home loan to build a new life with your spouse.
Even though we're wishing this would also count towards a 'category' that boosts interest, you could join the DBS's 28,600-strong Facebook community of 'bunnies' known as the 'The Burrow' — home to fellow DBS Multiplier users. You can hear it from them on how to maximise the DBS Multiplier Account or personal finance in general –– surely it would help your savings journey ride out the pandemic a little easier when done in solidarity.
Whether you're a student, NSF, salary-earning employee or a retiree, start multiplying your savings with the DBS Multiplier account.
This article is written in partnership with DBS Bank.
Read these next:
11 Ways To Prepare Yourself For A Recession During COVID-19
Loyal DBS/POSB Customers: Which Credit Card Should You Add To Your Wallet?
DBS/POSB Credit Card Promotions and Deals
5 Ways to Cope With Financial Setbacks Hitting Singaporeans Hard Amid COVID-19
Considering a Career Switch? Here Are 4 In-Demand Jobs In The COVID-19 'New Norm'