Credit card launches are like buses. Nothing happens for ages, and then two arrive at the same time.

Opinions expressed reflect the view of the writer (this is his story).
In that spirit, hot off the heels of the Standard Chartered X Card comes the OCBC 90°N Card, which just made its debut.

If Standard Chartered's metal X Card was targeting the upper end of the market with the $80,000 income requirement and $695 annual fee, OCBC has gone the opposite direction with the OCBC 90°N Card. It has a mass-market $30,000 income requirement, its annual fee is only $192.60 (and can be waived), and it's made of good old fashioned plastic.
But don't let that fool you, because the OCBC 90°N Card really pulls its weight when it comes to miles earning. Here's what you need to know.
Key facts: OCBC 90°N Card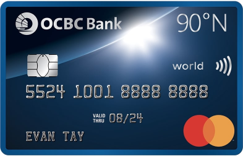 The OCBC 90°N Card is available to anyone earning $30,000 a year and carries an annual fee of $192.60, which is waived for the first year. Paying the annual fee in the second year earns you 10,000 miles.
WHAT ARE THE PROS?
1. Points do not expire
Points earned on this card do not expire, which is a really great benefit because it allows you to gradually build up your points and redeem them for a major holiday. This is especially handy if you're not a frequent traveller, and don't earn bucket loads of points regularly.
2. No conversion fees
There are no conversion fees to convert your points to KrisFlyer miles. This is a welcome feature, given we normally only see transfer fees waived on high-end credit cards like the OCBC VOYAGE (min income: $120K) or the UOB Reserve (min income: $500K). Moreover, the minimum transfer block for miles is just 1,000, which makes this a useful card to top off a KrisFlyer account.
Here's how these features compare to other cards at the same income level.
3. Accelerated earn rates
The OCBC 90°N Card normally earns 1.2 miles per dollar (mpd) on local spending and 2.1 mpd on overseas spending.
However, from now till 29 Feb 2020, OCBC is offering an uncapped 4 mpd on all overseas spending. This applies to both online and offline transactions, so you'll earn 4 mpd whether you're shopping online at Amazon's US site, or paying for a meal in Australia.
In addition to this, OCBC is offering up to 8 mpd, also uncapped, on selected airlines, accommodation, shopping and entertainment merchants.
These bonuses make the OCBC 90°N Card a must have for the next 6 months at least, especially for those with travel plans.
For comparison's sake, here's how the miles earning rates of other cards measure up:
Local Spend
FCY Spend
Special Spend
BOC Elite Miles
1.5 mpd
3 mpd
N/A
UOB PRVI Miles
1.4 mpd
2.4 mpd
6 mpd: Agoda, Expedia, UOB Travel (caps apply)
3mpd: Klook until FEb 20 (cap $1K)
OCBC 90°N Card
1.2 mpd
4 mpd until 29 Feb 20
2.1 mpd after
4 mpd: Singapore Airlines, SilkAir, Jetstar, Air Asia, Scoot, Spotify, Netflix, DFS & The Shilla @ Changi
8 mpd: Agoda, Airbnb, Expedia, Millennium Hotels, Mr. & Mrs. Smith
All until 29 Feb 2019
Citi PremierMiles Visa
1.2 mpd
2 mpd
7 mpd: Agoda
10 mpd: Kaligo
DBS Altitude
1.2 mpd
2 mpd
3 mpd: Online flights/hotels (cap $5K/mth)
4 mpd: public transport and taxis until 31 Dec 19 (cap $1.2K)
10 mpd: Kaligo
AMEX KrisFlyer Credit Card
1.1 mpd
2 mpd in Jun/Dec
1.1 mpd otherwise
2 mpd: Singapore Airlines tickets
3.1 mpd: Grab (cap $200)
3.1 mpd: Deliveroo, foodpanda, McDonald's, Sistic, Starbucks, Subway, Coffee Bean, Watsons, Unity (cap $200)
WHAT ARE THE CONS?
1. Lack of airport lounge access
If there's one thing missing from the OCBC 90N Card, it's lounge access. To be fair, it's not a feature that's common with cards at the $30,000 level, but at least the Citi PremierMiles Visa and DBS Altitude Visa throw in two complimentary visits each year.
| | |
| --- | --- |
| | Complimentary Lounge Visits |
| BOC Elite Miles | None |
| UOB PRVI Miles | None |
| OCBC 90°N Card | None |
| Citi PremierMiles Visa | 2 free visits via Priority Pass |
| DBS Altitude (Visa only) | 2 free visits via Priority Pass |
| AMEX KrisFlyer Credit Card | None |
Lounge access through the OCBC 90°N Card is possible, but it's through the Mastercard Airport Experiences platform and you'll pay US$27 each time (US$32 from 1 Oct). If it's lounge access you're looking for, there are better ways of getting it for free.
2. What happens after Feb 2020?
As good as the miles earning rates on the OCBC 90°N Card are, they're not permanent. After the Feb 2020, the card will revert to earning 1.2 mpd on local spending and 2.1 mpd overseas.
That said, even with these regular rates the card is still a match for the DBS Altitude and Citi PremierMiles Visa. All three are roughly on par when it comes to miles earning, with similar income fees and renewal miles. Which one you pick depends on what features you value, as all 3 have their own special tricks:
The DBS Altitude allows you to earn a year-round 3 mpd on online hotel and flight bookings
The Citi PremierMiles Visa provides you with 12 transfer partners, the widest variety of any bank in Singapore
The OCBC 90°N Card offer you free miles conversions
It's worth noting that both the BOC Elite Miles and the UOB PRVI Miles have higher earn rates for general spending, but points earned on these cards expire in 12-24 months. So it's important to evaluate which features you value the most in a miles card, and decide based on that.
Conclusion
It's good to see OCBC finally launching a mass market miles card, and that they've brought a very good launch offer to the table.
The OCBC 90°N Card is definitely a card to get if you're intending to travel, thanks to its very competitive miles earning rates (at least until 29 Feb 2020). It's anyone's guess as to whether OCBC will bring out replacement benefits beyond Feb 2020, but miles chasers know how to make hay while the sun shines. And it the sun is shining particularly brightly at 90°N right now.
Read these next:
'I Have 19 Cards But There's Just 3 I Would Recommend Anyone To Have'|
6 Best Air Miles Credit Cards
6 Ways to Turbocharge Your Miles Hacking Game
6 Credit Cards With Free Access to Airport Lounges
How To Get Around the Singapore Airlines Waitlist
---
---