The HSBC Visa Infinite Card is a premium credit card offering one of highest welcome bonus miles and exclusive travel perks such as unlimited access to airport lounges, airport limousine and expedited immigration clearance. Targeted at the business executive who travels often, it makes commuting between airports, home and work/office a real breeze.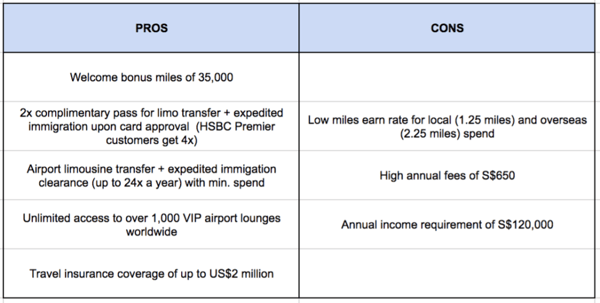 Welcome miles
The HSBC Visa Infinite Card comes with one of highest welcome miles of 35,000, equivalent to one free economy-class return ticket to Hong Kong or Taiwan.
Unlimited access to airport lounges
The HSBC Visa Infinite Card comes with a complimentary Priority Pass membership card, which provides unlimited access to over 1,000 airport lounges worldwide.
Airport limousine transfer, expedited immigration clearance
Frequent travellers rely on such perks like limo transfers and airport lounge access to save time and help them stay fresh. The HSBC Visa Infinite provides up to 24 airport limo transfers per year and -- get this -- expedited immigration clearance for the cardholder and one guest upon arrival. This requires a minimum spend of S$2,000 spend per month.
Upon card approval, cardholders will receive 2x complimentary passes for the airport limo transfer and expedited immigration clearance where a staff will be at hand to help guide you through immigration. HSBC Premier Customers will receive 4x complimentary passes. Cardholders will continue to receive these complimentary passes at the start of each year.
Travel insurance coverage
The card comes with complimentary travel insurance coverage (cardholder and family) of up to US$2 million. This is the highest insurance coverage of any premium credit card in the market. Do note you'll have to charge your travel ticket expense to the card to qualify. Additionally, it comes with S$100,000 worth of medical coverage for emergency treatments and/or hospitalisation.

Summary
When regular travel is part of your lifestyle, seamless point-to-point transit helps minimise the stress of travelling. The HSBC Visa Infinite does that, distinguishing itself with perks that help frequent travellers do away with arguably the most tedious parts of flying.
A point to note is the high annual fee of S$650 (for new customers, S$488 for existing HSBC Premier Customers) as well as the annual income requirement of S$120,000. But once you've had a taste of breezing through immigration, the time and stress saved makes it all worth it, making the card a first-class premium travel card.
What to read next:

Citi Cash Back Visa Card Review: Great Multi-Purpose Card
StanChart Unlimited Card Review: Fuss-free Cashback Card
Cashback or Rewards Credit Cards: Which is Better?
6 Credit Cards That Give Free Access To Airport Lounges
Amex, Mastercard or Visa: Which is Better for Travel?

---

By Rohith Murthy
Rohith leads SingSaver, a financial comparison site aimed at helping consumers in Singapore save money and time by finding the right financial products.
---