The best money remittance platforms provide low fees, transparent pricing and some nifty features. Do money remittance platforms give banks a run for their money in this competitive space? Find out.
---
Every spending situation is unique. SingSaver assembles the 'Best For' list, so you can decide what's best for you.
---
Regardless of whether you need to send money back home to your loved ones, pay for your child's or sibling's school fees or make payment for your overseas online shopping hauls, you have options: traditional banks and money remittance platforms both let you transfer funds internationally.

For the uninitiated, banks are not the one ones that offer robust networks and safety in transferring your funds where they need to go. Licensed money remittance platforms regulated by the Monetary Authority of Singapore offer secure funds transfer services, too.

SingSaver Exclusive Offer: Enjoy 2x chances to win your share of up to S$200,000 in prizes in our epic 101! Milestone Giveaway, including S$5,000 bonus cash each week on top of ongoing promotions. Valid till 20 December 2023. T&Cs apply. Click here to check out our past Lucky Draw winners!
Successful applicants of Citigold who make an S$250,000 deposit within 3 months of account opening and maintain these funds until gift fulfilment will get an Apple iPhone 15 Pro Max 256GB (worth $1,999) or S$1,500 Cash. Valid till 7 January 2024. T&Cs apply.
Applicable to New-to-bank only ie. users with no Citigold or Current and Savings Accounts. If a user has applied for Citi Credit Card or Personal Loan, they will still be eligible.
In this article, we'll cover the following:
Best remittance platforms in Singapore
Fees
Transfer amounts
Transfer money to
Transfer speed
Perks
Wise
From 0.41% (varies from currency)
- No minimum transfer amount
- Maximum amount depends on currency
Bank account
Same day to 3 business days
- Send money to 80+ countries
- Competitive FX rates
- Debit Mastercard
- Multi-currency account
Western Union
Varies
Online: Up to S$1,000 daily, S$3,000 weekly or S$6,000 monthly
Cash, bank account, or mobile wallet
Same day to 5 business days
- Physical locations available

- My WU rewards program grants transfer fee discounts
Instarem
From 1%
-No minimum transfer amount
-Maximum amount depends on currency
Bank account
Same day to 3 business days
- Competitive FX rates
- Rate Watch feature alerts you whenever your desired currency pair hits your desired exchange rate
- Earn rewards points when you transact
Revolut
0.3%, pegged to a maximum of S$9
- No minimum transfer amount
- Maximum amount depends on currency
- Bank account
- Other Revolut users
Same day to 5 business days
- Visa debit card
- Virtual disposable debit card
- Multi-currency account
- Revolut Metal customers receive additional perks
SingX
0.25% to 1%
Up to S$1 million, but individual limits may apply for different countries
- Bank account
- Cash payouts only available in the Philippines
Same day to 2 business days
Zero cost for receiving money
Above, we have summarised the main features and characteristics of five popular money remittance platforms in Singapore. When deciding which platform makes the cut, we placed emphasis on fees, transparency, and ease of use.
Do note that while we strive for utmost accuracy, you should take the data in the table as a guide, instead of gospel truth. This goes especially for information such as fees, which may change according to your remittance amount or unique circumstances.
We highly recommend getting a quote or a round of comparison before committing your funds transfer, especially since these transactions are typically speedy and may be irreversible.
With that said, let's have a deeper look at each of these platforms.
Created with a mission to slash charges for international money transfers, Wise prides itself on its transparency and low fees.
Its website and app let you easily and quickly get a quote for your money transfer, with fees clearly stated upfront — all without having to sign up for an account.
The platform pegs its conversion rates to mid-market rates, and adds a small flat fee and variable fee from 0.41% per transfer. There's no minimum transfer amount, but each currency has its own maximum transfer cap.
Wise is fast. Transactions for popular currencies may be completed within hours. Otherwise, most transactions are completed within three working days or less.
Signing up will also qualify you for a free debit Mastercard linked to a multi-currency account, which lets you hold 50+ currencies. You'll also receive a local bank account for selected currencies, which lets you receive funds without paying any fees.
Your debit Mastercard also allows you to spend like a local and withdraw up to S$350 at overseas ATMs every 30 days without paying bank fees. The card works worldwide in more than 200 countries!
Additionally, Wise is now integrated with Google Pay and Apple Pay in supported countries.
For whom is Wise best for: Digital nomads and savvy travellers seeking low-cost, transparent fees and speedy service, coupled with convenient travel perks.

The most 'traditional' money remittance service on the list, Western Union's (WU) claim to fame perhaps lies in acting as a less intimidating alternative to dodgy-looking remittance dens usually found in Chinatown, or the snaking, boisterous queues at Lucky Plaza.
While it doesn't advertise or publish its rates, you can still easily look up how much your intended money transfer plus fees will cost you on the website or app. WU states that it does earn from exchange rates (read: they include their own mark-up), so you may not be getting the absolute cheapest rates.
However, WU offers the greatest flexibility in terms of how your recipient may receive the money: you can choose bank transfer, mobile wallet or a cash payout.
Another advantage is the presence of physical counters for you to send (and receive) money, whether through credit card, debit card or cash.
For whom is Western Union best for: Workers seeking a transparent, fuss-free option to send money back home, especially if cash terms are the preferred option for recipients.

Another platform playing the 'low-fees' card, Instarem amaze offers international money transfers starting from 1%. Additionally, it boasts an instant or same-day transfer speed, which might immediately seal the deal for some folks out there.
If you plan to transact frequently, you're in luck. Instarem has a rewards program in place, allowing you to earn points as you make transfers. Successful referrals net you points as well. These can be exchanged for a small discount when you make transfers, essentially offsetting the transfer fees incurred.
A standout feature that Instarem has is its ability to lock in an exchange rate. Once your transaction has been submitted on the app, you're given a period of time to deposit the necessary funds before the transfer takes place. Do note that this grace period varies from country to country, ranging from one hour to 12 days.
That's not all. You can subscribe to Instarem's Rate Watch feature to get alerts whenever your desired currency pair hits your desired exchange rate.
For whom is Instarem best for: Individuals who make frequent international money transfers and desire fast transactions.

As its name suggests, Revolut is all about revolutionising your relationship with money.

The multi-fangled banking and financial platform not only allows you to send money to bank accounts worldwide, but you can also transfer money instantly if your recipient is a Revolut user too. That's right; we're talking peer-to-peer instant funds transfer.

Your Revolut account also doubles up as a financial tracker with analytics and budgets you can set. And to complete the futuristic look and feel, you can also set up virtual disposable debit cards which expire after one use to protect yourself against dodgy merchants. (You can always generate more debit cards for subsequent purchases).

What about fees, then? Fortunately, you're granted access to interbank exchange rates no matter which pricing plan tier you subscribe to. Markups are only included for several illiquid currencies and outside the London Forex trading hours.

Remittance fees are then charged at 0.40% of the amount transferred for local currency transfers and S$5 to S$9 for foreign currency transfers. For SWIFT international transfers, a fee of S$5 will apply if the transfer is in USD, EUR, GBP and CHF or S$9 for other currencies.

And speaking about pricing plans, there are three for you to choose from:
Standard: S$0 per month. Perks include a complimentary Revolut Junior account for one child and fee-free international ATM withdrawals of up to S$350 a month.
Premium: S$9.99 per month. Perks include one fee-free remittance every month and a monthly transfer cap of S$15,000.
Metal: S$19.99 per month. Perks include unlimited fee-free remittances and no transfer cap.
For whom is Revolut best for: Digital natives looking for convenient and instant peer-to-peer money transfer.

A home-grown money remittance platform that promises low fees and transparency, SingX's unique selling point is that it guarantees there won't be any fees for your recipient to receive the money.

Don't overlook this seemingly minor detail. Banks often charge a fee for receiving your remittance, and while remittance platforms try to absorb this fee, they may not do so in every case. This bank fee is deducted from the amount dispensed to your recipient, creating another money sink that reduces your monthly contribution to your family.

However, SingX has it set up such that instead of a cross-border transaction, your recipient will receive the funds as a local transaction, avoiding any additional fees.

Its service fees are also attractive; it ranges from 0.25% to 1% markup, with typical transactions hovering around the 0.5% mark.

For whom is SingX best for: Anyone wishing to avoid extra bank charges when sending money.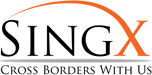 Money transfer services from banks in Singapore
Fees
Transfer amounts
Transfer money to
Transfer speed
Perks
DBS Remit
S$0 remittance charges
Maximum amount S$200,000 daily
Bank account
Same day to 4 business days
- Send securely within the same day to 50+ destinations

- Competitive rates

- For remittances to Malaysia, there will be a S$3 service fee for transactions of S$500 or less

- Preferential rates when you send S$50,000 or more
SC Remit
S$0 transfer charges
Up to your current personalised daily limit
Bank account
Same day to 5 business days
- Only 12 markets available

- 0% FX cost for eligible remittance transactions
OCBC Overseas Funds Transfer
S$0 cable and commission fees
Maximum amount S$100,000 daily
Bank account
Same day to 4 business days
- Only 18 currencies available

- Agent fees, if applicable, will be charged
HSBC Worldwide Transfers
Waived charges for telegraphic transfers through HSBC online and mobile banking
Maximum amount S$1,000,000
Bank account
Same day to 5 business days
- Access real time foreign exchange (FX) rates 24 hours a day, Monday to Friday, and competitive FX rates during the weekend

- Set recurring or future-dated payments so you never miss an international payment
Citibank Payments and Transfers
- No fees charged for transfers to Citibank accounts



- 0.125% commission fee charged (min. S$20, capped at S$200) and a cable fee of S$30 (S$25 for Citi Priority and S$20 for Citigold and Citigold Private Clients) for transfers made to non-Citibank accounts
Maximum amount S$250,000
Bank account
- Same day to 3 business days for Group 1 currencies

- Group 2 currencies may take 7 to 10 business days
- Ability to remit money in 43 currencies

- Enjoy better rates when you transfer larger amounts
How do I remit money overseas?
You can choose to send your money overseas via banks or remittance platforms. For the latter, make sure they are licensed and regulated by the Monetary Authority of Singapore!
If you already have an online banking account with your bank, you may find it more convenient to remit money through your bank's online banking overseas transfer option although this may not necessarily be the cheapest option out there.
That said, remittance platforms can let you remit money overseas quickly and conveniently, too. They may even give the traditional banks a run for their money as there are generally less fees and charges — and more transparency — associated with using their services.
To use remittance platforms' services, in general, you will first need to create an account with your remittance platform of choice then transfer the funds from your bank account to the remittance company. Some also let you transfer funds from your debit or credit card. Note that if you are looking to remit cold, hard cash in its physical form, you have to do so at a physical branch and that not all remittance platforms offer this option.
How long does it take to complete a remittance?
Both traditional banks and remittance service platforms are able to get the job done anytime from the same business day (if you execute the order before their cut-off time) up to five business days. The only exception is Citibank, which has made it clear that for certain currencies, 7 to 10 days may be required for the remittance to be completed.
Banks vs Remittance Service Platforms: Which is better?
Remittance platforms are generally less expensive than banks, especially when you're looking at transferring smaller amounts of money. Many of them only tack on a margin to your exchange rate or charge a per-transfer fee, unlike banks that often charge a less favourable exchange rate amidst a myriad of hidden fees and charges.
When choosing between remittance services and banks' money transfer services, pay attention to factors like sending and receiving fees, exchange rates, processing duration, minimum transfer amounts, countries you can transfer to, ease of use, and even perks like the ability to track transactions or whether a price-match guarantee is offered.
If your aim is to get the cheapest deal, definitely spend some time playing around with the banks' and remittance services' calculators.
---
Help yourself to better financial shape in the new norm, with SingSaver's all-new Ultimate Savings Guide! Got your free copy yet?
Read these next:
Best Money Changers In Singapore With The Best Exchange Rates
Online Banking: Easy Tips To Prevent Cyber Attacks And Safeguard Your Money
Mobile Wallets in Singapore: A Complete Guide
Best Maid Insurance Promotions and Discounts
Top Credit Card Promotions And Deals On SingSaver