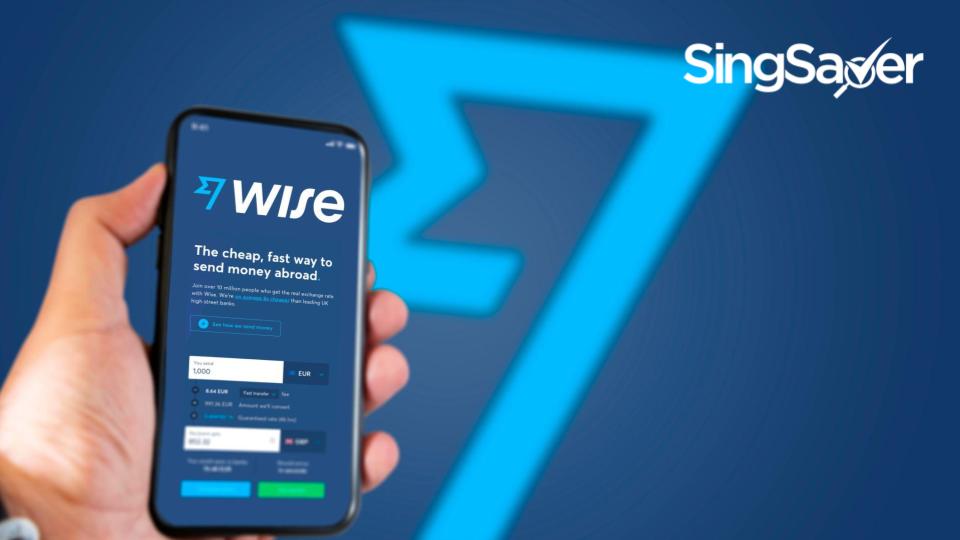 Wise enables you to transfer funds overseas at a low cost. We take a closer look to determine what this bargain entails.
Wise is currently one of the cheapest options for sending funds across borders. However, how does its service measure up? We take a close look at how it works, fees, rates, and its debit card, and evaluate if Wise is the safest and best option for your needs.
TransferWise, now known as Wise, allows users to send money from the UK or anywhere with ease, and getting started only takes one small step – simply sign up.
To start sending payments over at Wise, create your profile by providing all necessary information like bank account details or credit card numbers. It will help them pinpoint where precisely these funds are going, even if the recipient doesn't already have a separate institution's services set up in their own country yet.
---
Looking to maximise your savings? Apply for a credit card today from your preferred provider through SingSaver for cashback and rewards.
---
If you're looking for a straightforward way to transfer money from your bank account, Wise is worth checking out. The website offers an easy-to-navigate homepage with a cost calculator. They organize their FAQs well and provide rates guaranteed once they have set up the process, making transfers more accessible than ever before.
Users rave about their iOS or Android app's high-quality login procedure as well – so don't hesitate any longer if these options suit your mobile device.
Wise key features
Wise accounts can contain up to 40 different currencies.
You can convert currencies on the move and save money as compared to banks and money changers.
You can send and receive money internationally with your Wise MasterCard debit card, which allows you to withdraw S$350 from foreign ATMs for free every 30 days.
Wise is often less expensive than traditional money changers, and you can also track prices and exchange your cash when the exchange rate is most favourable to you.
Wise fees
Wise offers a free account opening and maintenance service with no monthly costs. However, if you have more than €15,000 worth of assets stored in EUR balance per year (rounded down), the annual charge will be 0.4%.
Ordering a Wise card is cheaper than paying for cash; you can get started with just £5/€8 or S$9.
Fortunately, if you have a £200 or less balance on your card when it expires, there is absolutely no charge for withdrawals from ATMs. However, the fee does increase after that first free withdrawal reaches its limit – but hey, at least they're only charged half as much.
Wise's rates also vary depending on location: 1% flat rate (with exceptions) if using an ATM located inside of Britain; 2% flat rate if you are in the United States.
Money transfer fee
The fee for transferring funds in a similar currency as your Wise wallet varies based on your cash.
Fees for some of the most widely used currencies are as follows:
| | |
| --- | --- |
| Currency | Fixed |
| EUR | €0.28 |
| GBP | £0.32 |
| USD | $0.93 |
Currency exchange fee
For overseas transfers, Wise imposes a currency exchange fee. The fee ranges from 0.35% to 2.00% of the exchanged cash based on its currency.
Fees for a few popular currency pairs are as follows:
| | |
| --- | --- |
| Currency pair | Fee |
| EUR to USD | 0.41% |
| GBP to USD | 0.35% |
| USD to EUR | 0.42% |
| GBP to PLN | 0.42% |
Top-up fee
Wise imposes a top-up fee determined by the currency and manner of payment. Variable costs apply to the quickest and most convenient ways to deposit money, such as credit or debit card payments.
There are, however, free deposit options for various currencies (for example, EUR or GBP). Unfortunately, there is no way to deposit USD without paying a fee.
How Wise works out the cost of a transfer
Wise determines the cost of a transfer based on three factors: the amount sent, the method of payment, and the exchange rate.
The amount sent – Your transfer costs increase as the amount of money you send increases. Because the Wise cost is calculated as a percentage of the money you're transferring, this is the case. The proportion varies by currency, and you can find out more about it on their pricing page. The only exception is if you're sending a small amount of cash, in which case a low, minimal cost applies.
The payment method – Depending on the country from which you're sending, you can pay in various forms. When you set up your transfer, you'll see how much each payment method or type of transfer costs.
The exchange rate – You'll always get the mid-market rate, which banks use to trade among themselves. Because Wise does not mark up this rate, your recipient receives more money.
When you send your funds through Wise, there's no need to worry about the mid-market exchange rate moving. This company gives you a guaranteed rate, as long as it's received in 24 hours or 48 depending on which option you choose.
What your fees pay for
Ordinary businesses aren't always quite front about their expenses and profits. However, Wise believes in honesty and transparency.
Here's what your fees pay for across the company's global operations.
Offices and other overheads account for about 12% of the total.
Teams in charge of operations and customer service account for 14% of the total.
18% goes to the margin and expansion of the company.
20% – Improving and constructing Wise buildings.
36% – Money-moving charges and banking partners.
Wise Debit Card
The Wise debit card is available in most EEA nations, including Canada, Singapore, the United States, Japan, Australia, New Zealand, and the United Kingdom — covering over 70% of the nations they serve.
You can use the MasterCard-backed Wise debit card to travel or buy products and services in more than 200 countries.
You also get free ATM withdrawals globally up to £200 or $250 or equivalent every month (any withdrawals over that amount will be charged a 2% fee).
If you're travelling or have moved overseas, or if you shop online, the card can save you a small fortune in fees. The currency conversion costs are generally the most expensive of all the expenses that a bank-issued card can charge.
Spending money in the same currency is free when you have a Wise card linked to your multi-currency account. You'll incur a minimal conversion fee of 2.85% and 0.35% when you pay in a different currency.
Fees for routine currency conversions are generally in the range of 1% or less. If you're concerned about this, go to the Fee Checker and select the "Multi-currency Account" tab.
How Do You Get the Wise Debit Card?
To get a Wise debit card, go to their website or download their mobile app and create an account. You can order a debit card using the website or app after making your first currency transaction with your account.
How does Wise work?
Wise used to promote itself by claiming to be the world's first peer-to-peer cash transfer service. This reasoning was straightforward: Wise would circumvent institutions by selecting two clients who needed to send cash in opposite ways (for instance, one person is exchanging Euro for Pound, and vice versa).
They said that they would be able to save a lot of money by doing so. However, they didn't account for the market's volatility and the reality that most people want to exchange money immediately.
Similarly, if Wise's clients want to make large transfers or there are significant flows into certain currencies, matching those movements in the opposite direction is tricky, if not impossible.
To cut a long story short, Wise abandoned this marketing method and, in recent years, has made no mention of the terms 'peer to peer cash transfer' on its website.
The enormous amount of transactions that Wise makes these days (at least £4 billion per month) ensures that it can obtain low-cost liquidity from its banking partners.
That isn't to say that peer-to-peer money transfer companies don't exist. Currencyfair, a competitor, is putting the concept into action.
How to send money with Wise
This is what you must do:
Sign up for free on the internet.
Set up your transfer and check the amount of money that will arrive in your foreign bank account.
Verify your identity by sending digital copies of your ID.
Provide the bank account information for the individual receiving your payments from abroad.
Review the summary provided by Wise and click the 'Confirm' button.
Pay for the international money transfer and keep track of it.
Wise payment methods
Internet banking is the most convenient way to fund your Wise account. To do so, go to the Wise app or website and create a currency transfer, specifying the amount you want to send.
You'll need to enter your online banking account and set up a Wise transfer.
After that, you may easily send money to Wise using your internet banking account.
Wise is a reasonably priced multi-currency account that is a smart choice for casual travellers. You'll almost certainly get a better deal than you would at a currency exchange.
Wise isn't the cheapest for multi-currency e-wallets, as previously stated. It is less cost-effective than other systems that do not impose currency conversion costs.
Is Wise safe?
Yes, Wise is safe. Wise has served over 8 million consumers since 2011 and move over $5 billion every month. Wise makes every effort to keep these consumers and their funds safe.
How Wise keeps your money safe
For every jurisdiction they operate in, from the FCA in the UK to FinCen in the US, Wise follows a tight set of standards set by regulatory agencies.
Wise also has data security that rivals that of a bank, and won't sell your information.
In addition, they have a specialised security team to keep Wise secure. The team goes through training regularly, and is always reviewing Wise's operations. Wise is on the cutting edge of financial security due to these efforts.
Conclusion
Wise is taking the world of money transfers by storm. With low and transparent rates as well as secure transactions under their belt, it's no wonder Wise has become such a popular option in recent years for sending funds internationally and domestically.
---
Looking to maximise your savings? Apply for a credit card today from your preferred provider through SingSaver for cashback and rewards.
---
Read these next:
Mobile Wallets In Singapore: Complete 2022 Guide
Citibank Cash Back Visa Card Review: Great Multi-Purpose Card
American Express True Cashback Card Review (2021): 1.5% Cashback On Just About Everything
Citi Cash Back+ Mastercard® Card Review: 1.6% Cashback On All Spend