CIMB, SCB, and Citi offer some of the lowest interest rates on personal loans in Singapore. Learn more about these loans on SingSaver if you find yourself in need of an emergency cash loan.
In urgent need of cash but aren't comfortable asking family and friends for help in case unsolicited judgments about you are passed? A personal loan could just be the answer to your new-found money woes regardless of whether it's due to an emergency or poor cash flow management — your ego doesn't need to be bruised.
As a matter of fact, you can use personal loans to your advantage if you know how to take advantage of promotional interest rates and offers that banks roll out from time to time.
---
Table of Content
---
Interest rate, EIR and processing fees
Interest rate
Banks are known to advertise their interest rates along the lines of 'from X% p.a.'. While the low numbers can be a big draw for anyone looking for an emergency loan, keep in mind that personal loans are very dynamic. Your final, personalised interest rate depends on a few factors:
Your credit history and credit score
The loan amount you wish to borrow
Your loan tenure
---
See also: Your Go-to Personal Loans Guide in Singapore
---
Effective Interest Rate (EIR)
Otherwise known as Effective Interest Rate, the EIR is a more accurate representation of the true cost of borrowing as it takes into account things like processing fees, your frequency of payments (i.e. loan repayment schedule) and more. This is why the EIR is often higher than the advertised interest rate for flat rate loans like personal loans.
Remember, the higher the EIR, the more interest you will need to pay.
Processing fees
Also known as administrative fees, processing fees are the main hidden cost of personal loans. For personal loans that come with such fees, it is common for banks to charge a fee amounting to 1% - 2% of the loan amount borrowed. It is important to note that processing fees will increase one's cost of borrowing.
Additionally, processing fees are deducted from the principal loan amount right from the get-go. For example, your principal loan amount is S$20,000 and it comes with a 1% fee. The cash loan amount disbursed into your account will then be S$19,800.
---
Things to consider when shopping for a personal loan
The most important factor when deciding on a personal loan is the interest rate for the personal loan. The lower the interest rate, the better. This is especially true if you need to borrow a large amount.
Ultimately, your final loan interest rate will take into account your credit score, salary and repayment history. If you have a good credit history and score, you are more likely to get a preferential rate than someone who has a track record of missing credit card or loan payments.
Also pay attention to any admin or processing fees involved (sometimes, they are waivable), annual fees, how quickly you can get your cash, as well as the monthly instalments to be repaid.
You'll need to ensure the monthly repayment amount is something you can comfortably handle to avoid missing or making late payments, which can have severe repercussions.
Here's a quick guide on the dos and don'ts when applying for a personal loan. We've compared the personal loans available in the market right now with the lowest interest rates and shared them below.
---
Best personal loans in Singapore
*Note: Personal loan and bank interest rates are subject to change.
Flat Annual Interest Rate: The interest rate advertised.
Effective Interest Rate (EIR): The actual interest rate you incur per annum, with factors such as processing fees taken into consideration.
Processing Fee: Fee charged by the bank to process your loan.
Monthly Payment: How much you have to pay the bank each month.
---
1. HSBC Personal Loan
If you're looking at a loan tenor of one to seven years, the HSBC Personal Loan offers the best annual interest rate from 4% p.a. (EIR 7.5% p.a.) for those earning above S$30,000 per annum.
The HSBC Personal Loan also offers the longest loan tenor on the market — you can spread out your payments over up to seven years. There is no processing fee incurred for those who are eligible for the processing fee waiver.
Loan amounts range from a minimum of S$1,000 to a maximum of up to 95% (HSBC Premier customers) or 90% of your existing credit limit with HSBC Personal Line of Credit.
Singaporeans and PRs can apply as long as they have a minimum annual income of S$30,000.
Foreigners residing in Singapore will need a minimum annual income of just S$40,000.
Read a more in-depth review of the HSBC Personal Loan.
---
2. Standard Chartered CashOne Personal Loan
With an interest rate of 3.48% p.a. (EIR from 6.95% p.a.), the Standard Chartered CashOne Personal Loan is one of the best options in the market. There are no processing fees for this loan but Standard Chartered charges an annual fee of S$199 for the first year and S$0 for the second year up till the expiry of instalment tenor. Terms and conditions apply.
What's more, you can now get instant approval and loan disbursement – no more waiting three to five working days to receive your cash!
Singaporeans and PRs can apply as long as they have a minimum annual income of S$20,000.
Foreigners residing in Singapore will need a minimum annual income of S$60,000.
Read a more in-depth review of the Standard Chartered CashOne Personal Loan.
---
3. CIMB Personal Loan
CIMB Personal Loan offers one of the lowest interest rates in Singapore at 3.38% p.a. (EIR from 6.38% p.a.). To enjoy this low rate, you'll have to be a new-to-bank customer of CIMB. You will also be issued a CIMB Visa Signature credit card to facilitate this loan.
If you are an existing CIMB customer, 4.5% p.a. (EIR from 8.41% p.a.) is the interest rate you'll enjoy. Customers can access up to 90% of their credit card limit with the CIMB CashLite personal loan.
Singaporeans and PRs can apply as long as they have a minimum annual income of S$30,000.
Read a more in-depth review of the CIMB Personal Loan.
---
4. UOB Personal Loan
With a minimum loan amount of S$1,000, and a maximum loan quantum up to 95% of the available credit limit of your UOB credit card, the UOB Personal Loan is a convenient, affordable and flexible personal instalment loan. It is also competitively priced, with EIR starting from 6.89% p.a. for a 12-month loan and an interest rate starting from 3.77% p.a..
It also offers 24, 36, 48, and 60 months loans, with interest rates from 3.88% p.a. and EIR starting from 7.21% p.a. to 7.29% p.a..
Enjoy instant approval if you make your application via UOB's website using MyInfo. You'll need to be an existing UOB credit card or CashPlus customer, though. Loan tenors between 1 and 5 years are available.
Singaporeans and PRs can apply as long as they have a minimum annual income of S$30,000.
Read our in-depth review of the UOB Personal Loan.
---
5. DBS/POSB Personal Loan
DBS/POSB offers a relatively low personal loan interest from 3.88% p.a. (EIR from 7.56% p.a.) with a processing fee of 1% of the approved loan amount. For those looking for a small loan amount, you can opt for the DBS Personal Loan or POSB Personal Loan as the minimum loan amount is S$500.
Existing DBS/POSB users can apply via SingSaver and get instant approval and loan disbursal.
A personal loan with DBS/POSB is also a good option for lower income earners. While most banks require a minimum annual income of S$30,000 to apply, those earning S$20,000 to S$30,000 annually may be eligible for the DBS/POSB loan at a higher annual interest rate and processing fee.
On the other end of the income spectrum, you can borrow up to 10 times your monthly income if your annual income is S$120,000 and above.
---
6. Citi Quick Cash Loan
The Citi Quick Cash Loan offers an interest rate from as low as 3.45% p.a. (EIR from 6.50% p.a.). Keep in mind this rate is exclusive to new Citibank loan customers.
No processing fee will be charged for the Citi Quick Cash Loan customers. You can also borrow up to 90% of your unutilised credit limit from your Citi Credit Card or Citibank Ready Credit Account.
You are required to have a Citibank Ready Credit or Citi Credit Card account to be offered a Citi Quick Cash loan. More terms and conditions found here.
Singaporeans and PRs can apply as long as they have a minimum annual income of S$30,000.
Foreigners residing in Singapore will need a minimum annual income of S$42,000.
Read a more in-depth review of the Citi Quick Cash Loan.
---
7. OCBC Personal Loan
Enjoy interest rates from 3.80% p.a. (EIR from 7.49% p.a.) when you apply for an OCBC Personal Loan Cash-On-Instalments. You will need to open an OCBC Credit Card or OCBC EasiCredit account to service your loan over 12 to 60 months.
The downside for this loan is that there's a one-time processing fee of 1% of the loan amount. So if you're looking at a S$20,000 loan amount, that will be a processing fee of S$200. A minimum loan amount of S$1,000 is required to apply for the OCBC Personal loan.
Singaporeans and PRs can apply as long as they have a minimum annual income of S$20,000.
Foreigners residing in Singapore will need a minimum annual income of S$45,000.
Back to top
---
How to choose the best personal loan for yourself
While it can be tedious to do your homework, you can easily compare personal loans on SingSaver in just a few clicks. Simply key in the loan amount you're interested in borrowing and your preferred loan tenure. You can choose to sort the listings by monthly repayment, processing fees or annual interest rate, too.
To help you narrow down your options further, definitely weigh your priorities. Here are some questions to ask yourself:
Is having the lowest interest rate and EIR the most important to you?
Do you need a longer loan tenure of up to seven years?
Are you okay with paying a processing fee?
How fast will the loan disbursement take?
Do you want a loan with little to no early repayment fee?
If you're a foreigner, can you apply for the loan?
For instance, if you're just looking for the cheapest personal loan in Singapore, the HSBC Personal Loan is one that you should consider.
However, if HSBC isn't offering you the lowest advertised interest rates, there's absolutely no harm in comparing with what other banks are willing to offer you.
---
Foreigner loans
From sky-high rentals to exorbitant medical expenses, this little red dot is one of the most expensive cities for expats to live in. Without one's friends and family around to provide financial support in difficult times, it can be challenging in times when you need emergency cash.
All's not lost, though. Personal loans available to foreigners, which are offered by banks and licensed credit companies in Singapore, can help tide you through lean periods.
What are foreigner loans?
Foreigner loans are loans offered to foreigners working and/or living in Singapore. There is no big difference in the process of applying for a loan between a foreigner and a Singaporean or Permanent Resident – the main difference lies in the qualifying criteria.
For the most part, foreigners will need to meet a higher income requirement or show proof of legal residence in Singapore.
How do foreigner loans work?
The process and interest rates depend on the lender and type of loan you choose. In general, foreigners need to submit documents as legal proof that they are working in Singapore. You might also have to apply with a guarantor if you do not have a credit score.
One key thing that banks and other credit companies look out for is whether you intend to (or are able to) remain in Singapore for the duration of your loan tenor. Do be prepared for the possibility that some lenders may not be willing to work with non-residents, even with a guarantor.
Requirements for a foreigner loan application
The specific requirements will vary depending on which bank or credit company you approach, but in general, you should:
Have a valid Singapore Work Pass (PEP, E Pass, or S Pass)
Be at least 21 years of age
Be employed on a full-time basis
Have a residential tenancy agreement (proof of your residential address in Singapore, in the form of your tenancy agreement, PUB bills, phone bills, or other utility bills)
Produce a bank statement (reflecting account activities for the past six months)
Have an employment letter from your company
Show payslips for the past three months
For many foreigners, the biggest challenge when applying for a personal loan in Singapore is the lack of a credit score. Check with the bank or credit company if you can obtain alternative documents or references for a non-traditional credit check. This could help you get a loan without a credit score.
---
Important things to know before applying for a personal loan
1. Have a repayment plan in place
Always work out a proper repayment plan before you apply for a loan. Don't just borrow money and assume you are able to pay it off one way or the other. That's precisely how one loan can lead to another.
Eventually, it becomes a vicious cycle. Therefore, borrow only when you really have to and be sure to know how and when you'll finish repaying the loan. These are the consequences of skipping loan payments you should know about.
2. A lower interest rate doesn't always mean a cheaper loan
Beyond just the flat interest rate being offered, remember to factor in any upfront processing fees, annual fees and other additional charges. That's why the effective interest rate (EIR) for a personal loan is always higher than the advertised flat interest rate because it includes those costs and more.
Always study the offer and terms and conditions carefully before you apply for a personal loan with the lowest interest rate.
3. Always fully settle the loan before the end of promotional period
By all means, take advantage of the banks' various promotional offers but remember that it is a loan — and with all loans, always repay the full amount before the promotion period is over to avoid high-interest charges.
4. Take note of early repayment penalty fees
If you have the intention to make full repayment of your personal loan ahead of time, definitely shoot for those that have little to no early repayment penalty fees. An early repayment fee is also commonly marketed as early redemption fee, cancellation fee or termination fee.
---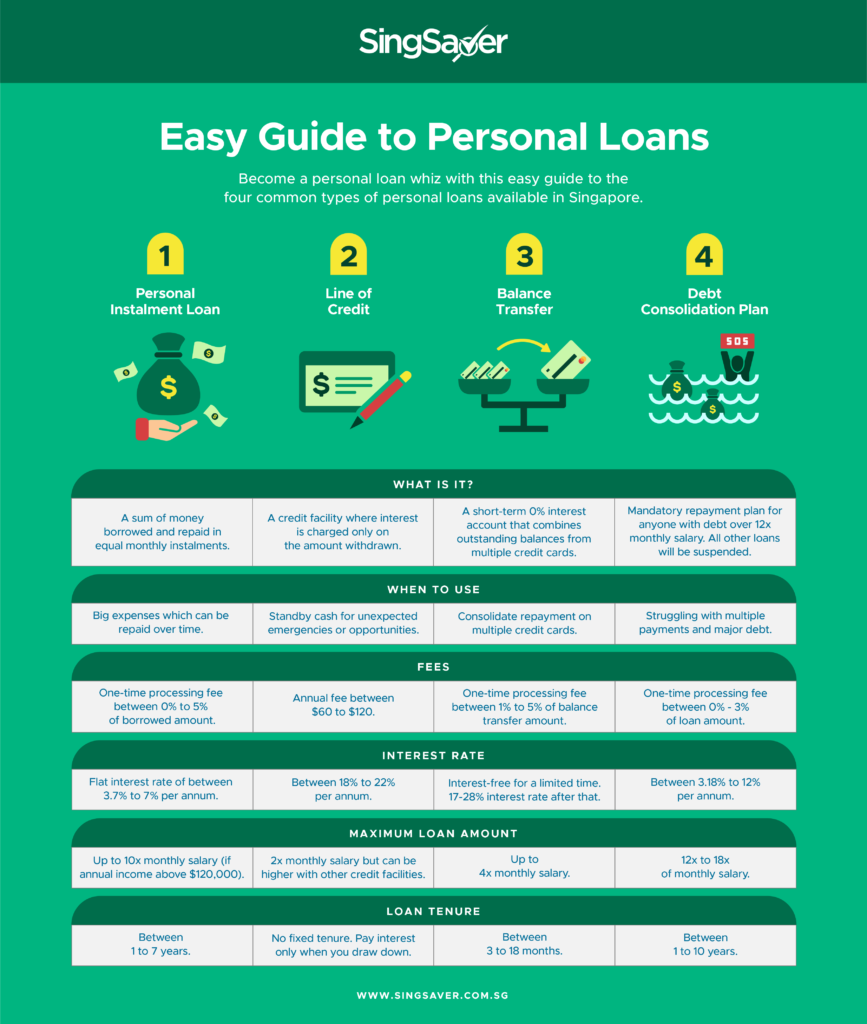 Term loan
A personal loan is a term loan: you borrow a specific amount, pay a one-time processing fee (or enjoy a waiver if the bank offers it), and make equal, fixed monthly instalment payments throughout your loan tenure.
All interest and fees are calculated for the entire loan tenure and added to your principal loan amount. Your monthly repayment amount is simply the figure you get from dividing the total amount by the number of months in your loan tenure.
Who should consider this: A personal loan can be useful if you need a large sum of money (typically up to 4x your monthly salary) to cover an urgent need or emergency expense that can be repaid steadily over a fairly long period of time.
Credit line
A credit line — or personal line of credit — is an overdraft facility that charges interest only when you withdraw from the account. Daily interest charges will apply only to the funds you've used. This unsecured loan facility lets you borrow up to 4x your monthly salary, or more if you earn more than S$120,000 annually.
And unlike a personal loan, there's no need to lock in your loan amount or loan tenure right off the bat at the point of borrowing.
You enjoy flexibility when it comes to repayments, too. You may pay the minimum amount (usually 2.5% to 3% of the outstanding balance), make a few separate payments over several months or even clear your outstanding balance in weeks without incurring extra fees.
Who should consider this: A credit line is great if you foresee the need to borrow cash multiple times and want a convenient, flexible facility to draw from. Take note that banks often charge fees for opening a credit line as well as annual fees to maintain your credit line account.
Balance transfer
A balance transfer is a type of unsecured, short-term 0% or low interest loan commonly offered on a credit card or credit line account.
While a balance transfer typically comes with a processing fee ranging from 1% to 5%, depending on the bank and tenure, there are significant interest savings to be had if you use balance transfers the right way.
Instead of the hefty interest rate of 20% – 26.9% p.a. usually charged to a regular credit card or credit line, balance transfers often offer a promotional 0% interest period lasting three, six or 12 months. This is why it is crucial that you pay off everything before the end of the promotional period if you want to use a balance transfer to its full potential.
Who should consider this: A balance transfer is particularly handy if you are currently carrying credit card balances across several credit cards and you are determined to pay off all debt within a certain number of months.
---
Pay down your debt
It takes a certain amount of discipline and grit to pay off your loan for sure. Although things can get exhausting, push through with making loan repayments consistently before their due dates to avoid racking up unnecessary late fees and interest charges.
As for tips to get rid of debt, definitely start budgeting and watching your expenses with eagle eyes. It is essential that you cut back on your spending — especially credit card spending — to avoid racking up extra debt.
It is also a great idea to start building up your emergency fund once you're out of debt or if your financial situation permits, concurrently while you pay off your loan.
---
Read these next:
All The Legal Loan Limits You Need To Know About In Singapore
What Really Happens If You Skip Credit Card Bills, Loan & BNPL Payments
Four Types of Personal Loans: What You Need to Know
4 Times In Life You Should Consider Getting a Personal Loan
What's The Difference Between Loan Sharks And Licensed Moneylenders?
A Full Guide to Priority Banking in Singapore (2023)