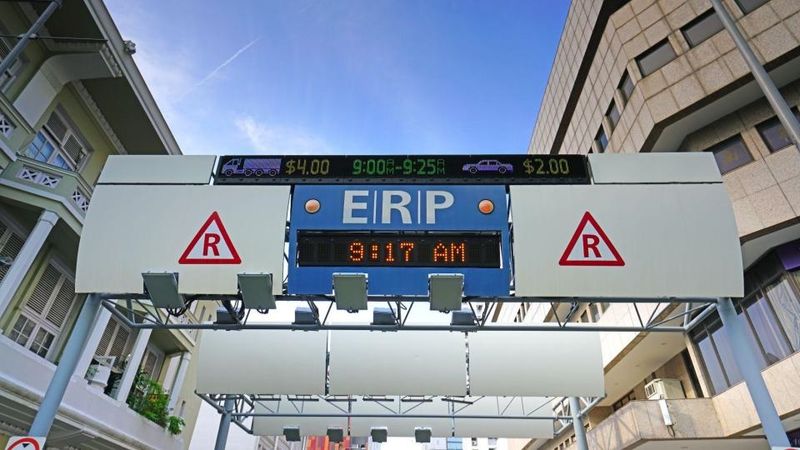 Here is a comprehensive round-up of ERP timing and rates in Singapore 2022, and tips on how to best navigate the ERP system in Singapore.
There are good reasons why Singapore is one of the most expensive countries in the world to own a car. One of which is that the government has implemented an Electronic Road Pricing (ERP) system, which charges drivers according to the time of day and location. It is a system of tolls that are charged to drivers who pass through an electronic toll collection point.
The system was introduced as a means of managing traffic congestion in Singapore. The authorities vary the hours of ERP gantry operation and the amounts that drivers are charged according to when and where there is a lot of traffic.
The ERP rates are reviewed regularly and are adjusted based on traffic conditions.
The first ERP gantry was installed in Singapore in 1998, and since then, it has expanded across other parts of Asia as well as Europe. In this article, we will take a look at the different ERP operating hours and rates, as well as its other associated components.
How much does ERP cost in Singapore?
Presently, the cost of ERP in Singapore ranges from S$0.50 to S$3 per trip, depending on the time of day and location you are travelling in. The rates are higher during peak hours which are 7am to 9am and 5.30pm to 6.30pm, and lower during non-peak hours.
The good news is that ERP rates and costs are re-examined every quarter of the year. Seasonal adjustments are common, and they usually occur during the June and December holidays and are based on road traffic conditions at the time.
Latest ERP rates in Singapore
The table below captures the latest weekday highway rates for both cars and motorcycles, as well as the applicable operating hours.
Highway
Time period
Current ERP rates
Ayer Rajah Expressway (AYE) – Citybound
After Jurong Town Hall (52)
Clementi Avenue 6 into AYE (53)
Clementi Avenue 2 into AYE (74)

07:00 – 08:00

08:00 – 08:05

08:05 – 08:30

08:30 – 08:35

08:35 – 09:25

09:25 – 09:30

09:30 – 17:30

17:30 – 17:35

17:35 – 18:25

18:25 – 18:30

18:30 – 22:30

S$0.00

S$0.50

S$1.00

S$1.50

S$2.00

S$1.00

S$0.00

S$0.50

S$1.00

S$0.50

S$0.00

Ayer Rajah Expressway (AYE) – Tuasbound
After North Buona Vista (41)

07:00 – 18:00

18:00 – 18:05

18:05 – 18:55

18:55 – 19:00

19:00 – 22:30

S$0.00

S$0.50

S$1.00

S$0.50

S$0.00

Central Expressway (CTE)
After Braddell Road (31)
From Serangoon Road (33)
From Balestier Slip Road (34)

07:00 – 07:30

07:30 – 07:35

07:35 – 08:00

08:00 – 08:05

08:05 – 09:55

09:55 – 10:00

10:00 – 22:30

S$0.00

S$0.50

S$1.00

S$1.50

S$2.00

S$1.00

S$0.00

Central Expressway (CTE)
Slip Road to PIE (Changi) / Serangoon Road (68)

07:00 – 07:30

07:30 – 07:35

07:35 – 08:00

08:00 – 08:05

08:05 – 09:25

09:25 – 09:30

09:30 – 09:55

09:55 – 10:00

10:00 – 22:30

S$0.00

S$0.50

S$1.00

S$1.50

S$2.00

S$1.50

S$1.00

S$0.50

S$0.00

Central Expressway (CTE)
Between Ang Mo Kio Ave 1 and Braddell Road (35)

07:00 – 07:05

07:05 – 08:00

08:00 – 08:05

08:05 – 09:25

09:25 – 09:30

09:30 – 09:55

09:55 – 10:00

10:00 – 22:30

S$0.50

S$1.00

S$1.50

S$2.00

S$1.50

S$1.00

S$0.50

S$0.00

Central Expressway (CTE)
Northbound Between PIE and Braddell Road (46)
PIE to CTE Northbound Before Braddell (67)

07:00 – 17:30

17:30 – 17:35

17:35 – 18:00

18:00 – 18:05

18:05 – 18:55

18:55 – 19:00

19:00 – 19:25

19:25 – 19:30

19:30 – 22:30

S$0.00

S$1.00

S$2.00

S$2.50

S$3.00

S$2.00

S$1.00

S$0.50

S$0.00

Kallang-Paya Lebar Expressway (KPE)
Southbound After Defu Flyover (50)

07:00 – 08:30

08:30 – 08:35

08:35 – 08:55

08:55 – 09:00

09:00 – 22:30

S$0.00

S$0.50

S$1.00

S$0.50

S$0.00

Pan-Island Expressway (PIE)
Slip Road Into CTE (42)

07:00 – 07:30

07:30 – 07:35

07:35 – 08:00

08:00 – 08:05

08:05 – 09:55

09:55 – 10:00

10:00 – 22:30

S$0.00

S$0.50

S$1.00

S$1.50

S$2.00

S$1.00

S$0.00
Currently much fewer ERP gantries are operational as compared to pre-COVID-19, due to the number of people working from home instead of driving into the city. You can find the latest ERP rates and charges here.
Who needs to pay for ERP?
The majority of motorists who use the expressways and arterial roads in Singapore need to pay for ERP charges, including cars, taxis, buses, and motorcycles. However, there are some exemptions which include emergency vehicles such as ambulances and fire engines, and military personnel on official duty.
Does ERP operate on Sundays and during public holidays?
No, ERP does not operate on Sundays and public holidays. Additionally, the charges are not applicable after 1pm on public holidays such as Christmas, Chinese New Year, Deepavali and Hari Raya Puasa.
How to start paying for ERP charges
In order to drive through operating ERP gantries, all Singapore-registered vehicles must have an In-vehicle Unit (IU). There is a penalty if you do not have an IU and drive through an operating ERP gantry.
Each vehicle's IU communicates with the ERP gantry to deduct the ERP charge. The IU is linked to the vehicle's licence plate and needs to be fitted just behind the front windscreen of each vehicle.
The IU sends a signal whenever it passes an ERP gantry, which detects whether or not there has been any deduction from the IU account linked with that particular number plate. Vehicles without IUs, or which drive through without paying, will receive a notice of ERP violation. You will then have to pay the ERP charge and an administrative fee.
You can purchase an IU at any LTA-authorised Inspection Centre at the cost of S$155.80. In case of any IU-related issue, motorists can visit an IU inspection centre.
Available ERP payment methods in Singapore
Motorists in Singapore can pay for their ERP charges using two of the following ways:
Backend payment service
You can pay your ERP fee using a credit or debit card without having to worry about keeping an adequate amount of money in your stored-value card. Register with the following service providers, and you will be notified when your account is activated:
Stored-value card inserted into your IU
You can also use a stored-value card to pay for your ERP charges. The card must be inserted into the IU and will deduct the charge automatically when you pass through an ERP gantry. It is, however, important to ensure that your inserted value card has sufficient funds, as there is a penalty for every gantry that you pass through without sufficient stored value.
The different types of prepaid cards available include:
EZ-Link CEPAS Card
NETS CashCard
NETS FlashPay Card
NETS Motoring Card
Do note that vehicles with the older or "first-gen" IU only accepts NETS CashCard with a chip. Whereas the current dual-mode IU accepts every card mentioned above.
In order to avoid the penalty fee that comes with the ERP violation, motorists are therefore encouraged to:
Ensure the stored-value card is well-linked with your IU by removing and reinserting it in the IU. You should hear a beep and see the remaining card value on the IU screen after reconnecting your card with your IU.

Also, ensure that the IU card value is sufficient to cover the ERP charges of your selected routes. Before you start driving, check the latest ERP rates.
Possible ERP violations
Motorists will be penalised for committing any of the following ERP violations.
Firstly, driving through an operating gantry without paying for the ERP charges for reasons that include:
Expired CashCard
Defective IU
Insufficient value in CashCard
Improperly inserted CashCard
When any of these happen, you will hear a loud beep from your IU and see a red light flashing on it.
After that, you'll receive a letter in a few days informing you that payment is required in two weeks.
Here are some other ERP violations:
ERP Violation
Fines
Demerit Points
Evasion of ERP charges
(e.g., stopping on the road shoulder to wait for ERP charges to be lifted)
S$130 to S$160 + S$10 admin fee
4
Passing through ERP gantry with:
insufficient value in stored-value card
or
improperly inserted stored-value card
ERP charge + S$10 admin fee
–
Smart hacks on how to avoid ERP fine
To avoid an ERP fine and the subsequent penalties, you should ensure that your IU is well-linked to your stored-value card. Also, ensure that there is sufficient value in the CashCard before driving through any of the gantries.
But there's a better option: automate this in case you ever forget to top up your card or can't find a working NETS top-up machine.
Here are easy strategies to avoid paying an ERP penalty.
Use EZ-Pay
EZ-Pay is a postpaid, cardless payment service offered by EZ-Link. It's a free utility to use.
In a nutshell, it allows you to pay for ERP and parking fees using your bank credit or debit cards.
Simply create an EZ-Pay account using your vehicle number and NRIC/FIN numbers.
Within two working days, you'll be emailed an email with the correct start date for EZ-Pay for your car.
The ERP charge is always deducted from your EZ-Pay account if you forget to put a card into the IU or there isn't enough money in it!
Please note that the EZ-Pay system only supports credit and debit cards offered by Citibank and POSB/DBS banks.
Use NETS contactless cashcard
You can source your NETS Contactless CashCard from:
NETS Online Salesportal for S$5
Convenience stores such as Cheers for S$10
When your Contactless Cashcard's balance falls below a predetermined amount, it is automatically replenished with the remaining amount.
Register for NETS VCashCard
NETS also offers the Virtual CashCard (vCashCard), which is a prepaid card that can be used to pay for goods and services online. The card can be topped up at any time using your bank account or credit/debit card.
When passing through a gantry, the ERP charge will be deducted from your CashCard if it is in the IU, and if your CashCard has insufficient funds, the entire ERP amount will be deducted from your vCashCard, which you have registered.
Conclusion
Whether you're a Singaporean driver or someone living in the country, it's important to avoid ERP violations. Unfortunately, many drivers end up paying hefty fines for various reasons that are completely preventable – like forgetting to link your stored-value card with your IU before driving through one of the gantries. To help make sure this never happens again, consider automating your top-up payments.
---
Looking for more information about the different credit cards available in Singapore, including those you can use for ERP payment? Check out our comparison for more on payment options that can save you time and money.
Read these next:
Top Credit Card Promotions And Deals On SingSaver (March 2022)
7 Mistakes That Could Ruin Your Credit Score
Best Credit Cards for Paying Utility Bills in Singapore
Which Are the Best Cards to Earn Miles While Shopping?
How Much Does It Truly Cost To Maintain A Car In Singapore?