Credit cards may mark a significant financial milestone in your life, but is it worth it to get a student credit card?
With Singapore's cost of living persistently rising thanks to inflation, many students are likewise becoming more financially savvy at a younger age. While it's common for younguns to possess either an ATM or debit card, how many own a personal credit card?
At first, you might wonder, "Why would a student need a credit card?" After all, the majority of a student's expenses fall under food, shopping, entertainment, transportation, and telco bills. Additionally, there are loads of discounts and student pricing catering to them.
Moreover, most students don't have a working income; or even if they do, it's usually a part-time or freelance job that neither meets the minimum yearly income (of S$30,000) nor the minimum spend required for credit cards.
This now begs the question: Are credit cards truly worthwhile for students? To answer that question, allow us to delve deeper into what student credit cards are available, their purposes, and how to justify needing one as a student.
---
Typical credit card vs. student credit card
To differentiate between a 'normal' credit card and a student credit card, we'll have to establish their general base requirements.
For a typical Singaporean or PR, a credit card would demand a minimum yearly income of S$30,000, a minimum monthly expenditure, and be 21 years or older to apply. Conversely, the eligibility for foreigners is more complicated with more demands such as a higher minimum yearly income (e.g. S$40,000) and holding an Employment Pass.
Compare these prerequisites to that of a student credit card, and you'll realise the benchmarks are significantly lower.
In general, student credit cards don't require a stable income stream or a credit history. They also have lower annual fees and by extension, a lower credit limit by virtue of a student's lower monthly expenditure. The credit limit may differ according to banks, but most are fixed at S$500 per month.
Other than that, student credit cards also offer targeted benefits, discounts and rebate rewards at selected merchants relevant to students.
---
Related to this topic:
Best Student Credit Cards in Singapore
What Really Happens if You Skip Credit Card Bills, Loans, & BNPL Payments
Building a Credit Score Early is Important
5 Things You Should Know About Credit Score
---
Best student credit cards to consider applying for in Singapore 2023
---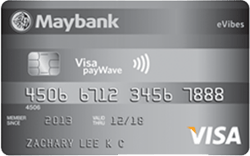 Benefits
Offers 1% cashback on all purchases
7% off accommodation bookings on Agoda*
Golden Village discounts on movie tickets and snacks
No min. spend
No cashback cap
Eligibility
Aged 18 to 30 years old
Either Singapore Citizen or Permanent Resident
Annual income < S$30,000
Cannot be an existing Maybank Principal credit cardmember or CreditAble customers
Applicable schools
NTU, NIE, NUS, SUTD, SMU, SUSS, SIT, NP, SP, NYP, TP, RP, NAFA, LASELLE, NSF men
Credit limit
S$500 per month
Annual fee
S$20, waived for first two years if card used once every three months
*Booking period: Till 31 December 2022
Stay period: Till 30 June 2023
Only eligible for hotels with "Promo Eligible" tag
For Singaporean students interested in maximising savings, the Maybank eVibes Credit Card is a solid contender. Guaranteeing you 1% cashback in all spending, you'll be able to save on a few dollars and cents everywhere you go, no matter the spending category. There's also no minimum spend required or cashback cap imposed.
For perspective, many cashback credit cards often have cashback exclusions where only certain categories qualify or a minimum monthly spend is needed. If not met, the attractive cashback would otherwise shrink to measly figures between 0.25% to 0.4% rebates.
Additionally, the annual S$20 fee is broken up into S$5 quarterly service fees, which are waived off for your first two years as long as you use the card once every three months. Seems easy enough, doesn't it? Meanwhile, the credit limit is imposed at a reasonable S$500 per month.
Other fringe incentives afforded by this cashback card are the Agoda discounts on hotel accommodations and the tap-and-go convenience of Samsung Pay.
---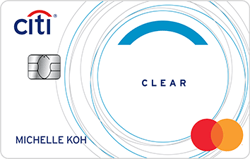 Benefits
Earn 1x Rewards Points per S$1 spent locally
Over 1,000 dining deals at Singapore eateries
Shopping, lifestyle, and travel promotions*
No min. spend
No cashback cap
Eligibility
Aged 18 years and above
Either Singapore Citizen or Permanent Resident
No min. annual income
Cannot be an existing primary/basic Citi credit cardmember or Citibank Ready Credit customer
Applicable schools
NTU, NUS, SUTD, SMU, SUSS, SIT, NP, SP, NYP, TP, RP, NAFA, LASELLE, Sorbonne-Assas International Law School, University of Chicago Booth School of Business, DigiPen, ESSEC, GIST-TUM Asia, INSEAD, S P Jain, Tisch UNLV, EDHEC-Risk Institute
Credit limit
S$500 per month
Annual fee
S$30.24, waived for first year
*More details can be found here
The key selling point of the Citi Clear Card is its position as an excellent dining credit card for all foodie tertiary students.
You'll earn 1x Reward Point for each S$1 spent on this card. Additionally, you'll enjoy exclusive dining deals from over 1,000 eateries in Singapore — meaning you'll be able to snag a good deal almost anywhere you eat.
As a Citi cardholder, you'll get access to other shopping, lifestyle and travel promotions in 90 other countries thanks to the perks of Citi World Privileges.
Catering to a broader range of institutions, the Citi Clear Card is a relatively more accessible and inclusive card for tertiary students on this list.
Unfortunately, the downside to this card is the omission of several key spending categories from being point-eligible.
For instance, your telco bills, school fees and transport expenses aren't eligible for earning points. So if you're a student looking to maximise rewards and rebates on recurring payments like those, this card might not be entirely suitable.

SingSaver Exclusive Offer:
For Citi PremierMiles Card: Receive an Apple iPad 9th 10.2" WiFi 64GB (worth S$503.65) or a Dyson Supersonic (worth S$699) or a Dyson V8 Slim Fluffy (worth S$509) or S$300 cash via PayNow upon activating and spending at least S$500 within 30 days of card approval. Valid till 1 October 2023. T&Cs apply.
For Citi Cashback+ Card, Citi Cashback Card and Citi Rewards Card: Receive a Dyson Supersonic (worth S$699) or a Dyson V8 Slim Fluffy (worth S$509) or a Nintendo Switch OLED (worth S$549) or S$300 cash via PayNow when you activate and spend at least S$500 within 30 days of card approval. Valid till 1 October 2023. T&Cs apply.
Plus, enjoy up to 2% cashback on all qualifying spend and up to S$656 cash when you apply for the Citi Cash Back+ card and join Citi Plus. T&Cs apply.
---
Best for unlimited cashback: CIMB AWSM
Benefits
Offers unlimited 1% cashback on dining, entertainment, online shopping, and telco payments
Exclusive Mastercard and CIMB deals & discounts across Singapore, Malaysia, and Indonesia
Compatible with SimplyGo transport transactions
No min. spend
Eligibility
Aged 18 to 29 years old (students & NSFs) and salaried employees
Either Singapore Citizen or Permanent Resident
Cannot be an existing CIMB credit cardmember



For salaried employees only


Under 35 years old: Annual income > S$18,000
Above 35 years old: Annual income > S$30,000
Applicable schools
All (or NSFs)
Credit limit
S$500 per month
Annual fee
NIL
The CIMB AWSM (read as 'awesome') credit card is another decent cashback option for students. With an unlimited 1% cashback on dining, entertainment, online shopping and telco payments, you've pretty much got all your grounds covered.
Plus, with no minimum spend required, it's no wonder why this card is an attractive choice. The hands-down best feature of this card, however, has got to be the zero lifetime annual fees.
Yes, you read that right. Without any pesky annual fees at the back of your mind, you're free to spend without a care in the world (not literally, of course).
You should be aware that chalking up cashback by spending blindly will affect your credit score if you fail to repay on time.
Did you know: If dragged on long enough, banks would simply stop demanding and instead write off your debt as 'irrecoverable loss'. This leaves a negative stain on your credit score and will hinder your loan applications in future.
One con of this card is that you can't earn any rebates for groceries, petrol or offline retail spending. If none of that belongs to your monthly expenses, then this card is the one for you.

SingSaver Exclusive Offer: Receive an Apple iPad 9th Gen 10.2" WiFi 64GB (worth S$503.65) or S$320 Upsized Cash via PayNow when you activate and spend at least S$988 for 60-day periods following card approval. Valid till 1 Oct 2023. T&Cs apply.
---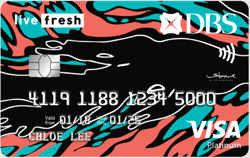 Benefits
Offers 5% cashback on select merchants and select eco-merchants (including transport)*
0.3% cashback on all other spends*
Exclusive deals from merchants e.g. Golden Village
No min. spend
S$15 cashback cap per category (Sustainable, eligible Merchant)
S$20 cashback cap (All Other Spend)
Eligibility
Aged 21 to 27 years old
Either Singapore Citizen or Permanent Resident
No min. annual income
Cannot be an existing DBS/POSB credit cardholder or have other unsecured facilities with DBS/POSB
Applicable schools
NUS, NTU, SMU, SUTD, SIM, SIT, SUSS, NP, NYP, TP, RP, SP
Credit limit
S$500 per month
Annual fee

S$194.40

, waived for first five years
*Cashback automatically credited into card account by end of the following month
The DBS Live Fresh Student Card is a junior counterpart of the popular DBS Live Fresh credit card where both cards focus on rewarding eco-friendly transactions. Featuring 5% cashback on eligible merchants and select eco-merchants as well as 0.3% cashback on all other spend, this card is great for more eco-conscious students.
Moreover, as a student, you're probably heavily reliant on public transportation to get anywhere right? Be it rushing to your next class, or simply hitting the town with your friends, you'll be pleased to know that your public commutes are eligible for the 5% cashback!
That's right, travelling using SimplyGo bus and MRT rides or bike (e.g. Anywheel, SG Bike) and car-sharing (e.g. BlueSG) entitles you to rebates categorised under eco-transport services.
The disadvantage of this card is that the total monthly cashback is capped at S$50 — split into S$15 cashback per sustainable and eligible Merchant category each and the remaining S$20 cashback in all other spend.
So if spending consciously both financially and environmentally sounds like a win-win situation to you, get your hands on the DBS Live Fresh Student Card now.
DBS/POSB Credit Card Welcome Gift: Receive S$250 cashback or up to 60,000 miles when you apply for select DBS credit cards and fulfil the relevant promotion criteria. T&Cs apply.
---
FAQs on owning a student credit card
#1 Which is the best student credit card?
Now, the definition of 'best' is subjective. The determining criteria largely depend on your life's priorities: Are you seeking to save through cashback? Do you want to accumulate points to redeem rewards? Are there certain categories you tend to spend more on? Do you eat out a lot?
According to what you resonate most with, it's impossible to adopt a one-size-fits-all approach for credit cards. However, judging from the current trend of student credit cards, the Maybank eVibes and CIMB AWSM credit cards are the most generic ones applying to a broader range of spending categories.
#2 Can an international student apply for a credit card?
The hard answer would be no because credit cards tend to have specific eligibility requirements geared towards Singaporeans and PRs. So far, the student credit cards on this list don't service international students.
However, debit cards usually permit foreign students to apply so long as the relevant documents (e.g. work pass, student pass) are valid. As a foreign student, debit cards are more convenient and fuss-free anyway, since it removes hefty monthly credit card bill repayments from the equation.
Do also read up on the various bank account eligibility and requirements before applying for any cards.
#3 What happens if I lose my credit card?
Although you should prevent this from happening as much as possible, sometimes it does happen. In such events, you can simply request a replacement card via your bank account's website or app.
Simultaneously, you should also immediately block or cancel your lost card to prevent further fraudulent usage or scams used with your card. Do also note that most banks impose a replacement fee (e.g. S$100 by DBS/POSB) for lost or stolen cards under prevailing circumstances.
For more information on each bank's procedures, click on their respective links:
#4 Should I increase my card's credit limit?
No, we highly advise against increasing your credit card's limit, especially if you're still unemployed. If you have alternative sources of income (e.g. passive or part-time), then it might be a consideration.
However in general, unless you are in dire need of bumping up your monthly expenses, there isn't much of a justification to increase your spending limit. The current S$500 limit that most banks impose should be more than enough to cover your expenses.
Remember: A credit card is effectively a loan from the bank and you'll need to repay the spent amount every month on time lest you incur late payment fees and meddlesome interest.
#5 Who should be applying for student credit cards?
In our opinion, students who are working part-time or those paying recurring bills are most eligible for credit cards. Otherwise, withdrawing money from an ATM, using mobile wallets or paying with a debit card is more than enough.
There's a reason why most banks demand a slew of requisites and ongoing monthly (or yearly) requirements for their applicants to keep up with.
---
Related to this topic:
The Best Credit Cards For Young Adults in Singapore
Best Education Loans in Singapore 2022
4 Tips For University Graduates to Clear Tuition Fee Loans Quickly
---
Student credit cards: worth it or skip it?
Credit card debts are notorious for sneaking up on you if you're not prudent with your money. Undoubtedly, credit cards offer the financial liberation and independence that many teenagers and young adults crave.
For many, the concept of credit cards being "loans" or "future money" is a tough concept to grasp since the money deduction isn't tangible unlike a debit card subtracting from your bank balance. As a result, it's easy to succumb to the trap of spending carefreely without paying attention to the incurring debt.
Nonetheless, credit cards offer a whole host of attractive benefits and incentives in terms of cashback rebates and rewards that are hard to resist. Concurrently, student credit cards are great tools in helping you build up your credit score prematurely before you graduate onto an 'adult' credit card.
Having a student credit card also instils a good sense of ownership and responsibility that'll translate into effective money management later on in life; granted, if you actually practise effective financial habits early on.
As the popular Spiderman adage goes, "With great power comes great responsibility". Should you get a student credit card, you'll need to learn to be disciplined and track your expenses closely. Setting up a budget sheet in Excel or downloading a budgeting app to dutifully note your spending will keep you right on track.
All in all, don't try to cheat the system unless you want to be charged for credit card fraud. Banks have gotten good at capturing defaulters over the years. Rather, spend within your means, pay your credit card bills on time and you'll have an outstanding credit score soon enough.
✍🏻 Note: If you sign up for a student credit card, you won't be considered a new cardmember for subsequent sign-ups under the same bank. In such situations, you won't get to enjoy any new member perks or promos. So do think carefully before registering for a credit card!