The OCBC FRANK credit card has gotten a huge makeover and it is now one of the best cashback cards in Singapore for online shopping. Here's what's in store.
With its infinitely customisable designs, the OCBC FRANK credit card sure seemed like the height of cool when you were a uni or poly student. But as a credit card for 'adulting' purposes, it's always fallen a bit short of the other, more practical cashback cards on the market.
Fortunately, OCBC is now revamping the OCBC FRANK credit card to make it a lot more competitive. In fact, they might have even outdone themselves.
The new OCBC FRANK credit card now offers a market-leading 6% cashback on online spending and mobile payments, which just about covers all our everyday needs in Singapore.
Want more details? Here are four reasons to apply for the revamped OCBC FRANK credit card.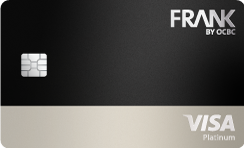 ---
1. New and improved cashback structure
The old OCBC FRANK credit card was definitely aimed at the young and carefree, with cashback at cafes, cinemas, bars/clubs and online shopping. Sadly, though, there comes a time to leave that lifestyle behind, especially once you start having bills to pay and nappies to change.
If that hits a little too close to home, the revamped OCBC FRANK credit card should definitely get your attention.
First, the minimum spend has gone from $400 on offline spending to $600 across all eligible spending. It's higher, yes, but it might actually be easier to hit the new minimum spend.
Hit the $600 and you get a no-frills 6% cashback on online spending and mobile payments. That makes it suitable for all life stages — it doesn't matter whether you're spending at ASOS or Mothercare, Starbucks or Sheng Siong.
Here's a more detailed breakdown:
Summary Of OCBC FRANK Credit Card

Spending category
Examples
Cash back (min. spend $600)
Monthly cap
Online + app purchases
Online shopping, travel bookings, groceries, taxis/rides, food delivery, entertainment subscriptions. Excludes e-wallet top-ups.
6%
$25
In-store mobile payment + foreign currency spending
Retail purchases & transport fares paid via Apple/Samsung/Google Pay, Fitbit/Garmin Pay. Overseas in-store spending in foreign currency. Excludes Visa payWave.
6%
$25
Others
All other eligible retail spending
0.3%
$25
The typical credit card exclusions apply, so don't expect to get any rebates for tax payments, Parking SG, EZ-Link top-ups, insurance premiums, school fees, hospital fees, charity donations and the like.
2. An all-grown-up new card design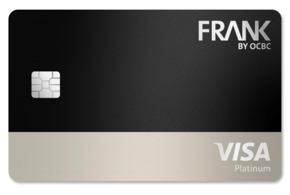 The OCBC FRANK credit card used to offer a range of credit card designs to choose from, so you could pick one to reflect your personality. But from July 2020, the choices have been scaled down to just two options.
We really like the new default design, though. It's black and minimalist and all… adult-ed.
Although with the OCBC FRANK credit card as strong as it is, the sleek new card design is really just icing on the cake.
3. Low annual fee
With the economy so uncertain, nobody needs to worry about credit card annual fees.
We like that the OCBC FRANK credit card comes with zero annual fee for students — while the standard credit card comes with a S$194.40 annual fee.
You won't have to worry about the annual fee for the first two years as it will automatically be waived. Subsequently, OCBC will waive the annual fee every year as long as you spend at least $10,000 on the card annually. (That's about $833 a month.)
4. Bumped-up security features
If the only thing stopping you from embracing the mobile payment revolution is the risk of fraud, here's a nice feature to consider.
You can lock your OCBC FRANK credit card via the OCBC mobile banking app. So if your child is using your phone, or if it's been stolen, you need not worry about unauthorised charges to your card.
Together with your phone's existing fingerprint recognition function, OCBC's remote locking feature makes mobile payments a lot safer.
In addition, the new OCBC FRANK credit card design we featured above does not have your credit card number on it, which minimises the risk of fraud when you hand over your credit card to pay for items.
---
OCBC FRANK vs DBS Live Fresh vs UOB YOLO: Which is best?
Let's have a look at the OCBC FRANK credit card's closest competitors, the DBS Live Fresh and UOB YOLO cards. All three are aimed at millennials, with low minimum spends and comparable cashback rates.
| | | | |
| --- | --- | --- | --- |
| | OCBC FRANK Credit Card | DBS Live Fresh Card | UOB YOLO Card |
| Minimum spend | $600 | $600 | $600 |
| Cashback rate | 6% | 5% | 3% or 8% |
| Spending categories | Online + mobile payments + overseas (no Visa payWave) | Online + all contactless payment (includes Visa payWave) | Dining, entertainment, Grab, online fashion, travel bookings |
| Cashback cap | $25 + $25 + $25 | $20 + $20 + $20 | $60 total |
| Annual fee | S$194.40 (2 year waiver) | S$194.40 (1 year waiver) | No annual fee if you make min 3 transactions every month for 12 consecutive months prior to your card annual fee charge date |
The UOB YOLO card stands out from the others. It strongly favours going out and dining out; you won't get much cashback on needs like groceries and petrol. But it does have a $60 cap (not split) so you don't need to micro-manage your spending.
Meanwhile, the revamped OCBC FRANK and DBS Live Fresh are almost clones of each other. With the same minimum spending requirement yet higher cashback rates and cap, the OCBC FRANK credit card has a slight edge over the DBS Live Fresh Card.
Note that it does not reward you for physical card-based Visa payWave transactions like the DBS Live Fresh card does. But once you add your OCBC FRANK card to your mobile wallet, you can earn rebates when you wave your phone/device on payWave terminals.
Before switching, do consider how your savings account might be affected. If you rely on the DBS Live Fresh card to get bonus interest on your DBS Multiplier account, then it may make more sense to stick to DBS.
That said, the OCBC FRANK credit card has a lot going for it, so if you want to get it, you can apply right here: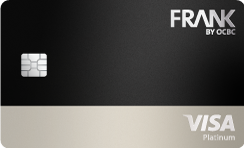 Read these next:
Citi Cash Back+ Mastercard® Card Review: 1.6% Cashback On All Spend
Best Cashback Credit Cards In Singapore
Loyal DBS/POSB Customers: Which Credit Card Should You Add To Your Wallet?
OCBC Titanium Rewards Card: One Shopping Card You'll Want In Your Wallet
Most Popular Credit Cards In Singapore