Travel policies commonly include emergency evacuation and repatriation coverage ranging from S$100,000 to S$1 million. Here's what you need to know about this crucial insurance benefit.
Should you suffer a serious injury, illness or accident while overseas, you may need to be brought back to Singapore for continued treatment and proper care. However, you could run into a wrinkle – your condition may render you medically unfit to board a commercial flight.
What you would require is a medical repatriation service to help you safely make the journey. As you'd expect this service won't come cheap; according to four real-life case studies by insurer Chubb, medical evacuation can cost anywhere from US$13,000 to US$412,000.
That's not a small sum by any definition, which is why it's a good thing that travel insurance policies offer coverage in this area; this is known as emergency evacuation or repatriation.
Let's take a closer look at this travel benefit, and how much coverage you should get.
Related to this topic: 5 Best Travel Insurance in Singapore for Different Needs (2023)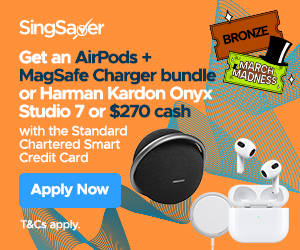 SingSaver Exclusive Offer: Receive an Apple AirPods Gen 3 + MagSafe Charger bundle (worth S$331.05) or Harman Kardon Onyx Studio 7 Bluetooth Speaker (worth S$399) or S$310 cash when you make a min. spend of S$500 within 30 days of card approval. Valid till 2 April 2023. T&Cs apply.
Plus, score a BRONZE ticket (1x chance) in our March Madness Grand Lucky Draw when you apply for a chance to win your share of over S$20,000 worth of prizes! Valid till 2 April 2023. T&Cs apply.
---
What does emergency evacuation and repatriation in a travel insurance plan mean?
Generally speaking, there are three main functions covered under emergency evacuation and repatriation benefits. They are:
Emergency evacuation – removing you from danger and transporting you to a medical facility to emergency treatment. One example would be ambulance service to transport you to a hospital after a car crash.

Medical repatriation – arranging transport (under medical supervision, if necessary) to bring you back to Singapore if you are unable to board a commercial flight.

Repatriation of remains – if death occurs overseas, arranging transport to convey mortal remains back to Singapore
Besides these three core functions, travel insurance plans may also include other ancillary benefits. We'll discuss some of these benefits later in the article.
Related to this topic: Here Are the Best Family Travel Insurance Plans in 2023
---
How much medical repatriation coverage should I get?
The cost of emergency evacuation and medical repatriation depends on a few factors, including:
The infrastructure available in the region you are travelling in. Getting you to a hospital in a city is much simpler compared to having to airlift you off a mountain.

How far away you are from Singapore. The farther the flight, the more expensive it would be.

The severity of your condition. Trying to extricate and move someone with potential spinal injury requires more expertise than, say, driving you to a clinic for stitches.

The complexity of the journey. This can be variously impacted by all of the factors above.

The cost of medical and emergency services in your host country.
To cover as many different scenarios as possible, insurers commonly offer between S$100,000 to S$1 million (or more) in medical repatriation benefits.
This range, especially the upper end, should be more than enough for all but the most extreme scenarios – but if you're planning to engage in dangerous activities, you should be getting a specialised insurance policy anyway.
Having said that, it is still a good idea to pay attention to the coverage offered just on the (extremely slim) chance that you end up needing it. Furthermore, for something as crucial as medical repatriation, it pays to err on the side of caution.
A good rule of thumb is to match the coverage to the region you're travelling to. For Southeast Asia and nearby, going with a lower limit is likely safe, while for destinations that are farther away, a higher limit is probably a better idea.
In any case, if you feel the limit is too low, go ahead and choose a plan with a higher one. The difference in premiums is likely to be negligible, as travel insurance plans sold in Singapore are highly affordable anyway.
Related to this topic: Top 3 Things Travel Insurance Should Cover (And How Much is Enough)
Other related benefits that might be helpful
Insurers may offer the following related benefits that may be useful in coping with the aftermath of an injury, illness or death.
Note that this is not an exhaustive list, and neither are these standard inclusions in every policy – which of these you get can vary from plan to plan. Also, these benefits, like all others, are subject to the insurer's own terms and conditions.
Guardian and/or children benefit
This covers the cost of flying in a trusted adult, or hiring a professional nanny, to help take care of children so parents/adults can focus on dealing with the injury or illness.
The cost of sending children back home may also be covered under this benefit.
Companion benefit
Pays for accommodation costs and daily expenses for a spouse or adult companion accompanying the patient. This is separate from hospital cash allowance, which is meant to help the patient offset daily expenses while hospitalised.
Hospital visit benefit
This benefit can be used to facilitate a visit by a close friend or family member while you're hospitalised overseas. This benefit may only be triggered when certain requirements are met, such as if you have to be warded for a prolonged period.
Compassionate expenses
May be used to defray the additional costs or unexpected expenses arising from an accident, injury or illness overseas when travelling.
Emergency expenses and miscellaneous charges
This allows you or your travel companions to claim for various expenses and charges, such as emergency phone services, highway assistance, etc.
Child education grant
A lump-sum payout that can be used to help pay for educational needs and expenses of surviving children.
Related to this topic: Travel Insurance Comparison: Singlife vs FWD vs MSIG