For many Singaporeans, it's a no-brainer to go to Malaysia whenever we feel a shopping urge coming along.
Compared to Singapore, shopping for anything and everything under the sun is certified cheap in Johor Bahru (JB) regardless of the season or occasion. No wonder many of us love hitting up JB for festive goodies, quick getaways or even just a change in scenery.
With tons to do yet so little time, the true dilemma lies: which are the best places to shop and what are the best value-for-money activities to do? Especially since the pandemic hit and travel essentially closed for two years, there've been many changes to our once-familiar shopping grounds too.
So fret not, we'll cover all your burning retail therapy questions and more with our list of best malls to shop at!
Updated as of 22 March 2023. Regulations, prices and other relevant information are subject to change without prior notice.
---
---
Shopping malls and districts in JB
It goes without saying that Johor Bahru is chock full of shopping malls and districts for shopaholics to go all out. In fact, many of these malls are clustered together nearby, making it incredibly convenient and accessible to visit all in one trip.
---
1. City Square JB & Komtar JBCC – shopping, relaxation and entertainment just beside customs

City Square JB (left); Komtar JBCC (right)
Source: AsiaOne, Damansara Assets
Without a doubt, City Square JB and Komtar JBCC get the award for being central JB landmarks. Why? They're literally located at the doorstep of the JB immigration customs after clearing it, making them the most convenient and popular shopping malls for Singaporean visitors.
Offering over 200 merchants, shoppers will have access to a plethora of goods and services like fashion, entertainment, restaurants in City Square Mall.
Venture in deeper and you'll find an eclectic collection of boutique fashion and accessory shops. If you're lucky, sometimes there might be festive fairs running in the atrium to snag goodies at the best discounts.
Just over yonder, Komtar JBCC exudes a more luxurious ambience with its slew of branded retailers. From big names like Victoria's Secret, Kiehl's, Pandora, Charles & Keith and more, there's something for everyone here.
City Square Mall
Address: 106 - 108, Jalan Wong Ah Fook, 80000 Johor Bahru, Johor
Operating hours: 10am to 10pm daily
IG | FB

Komtar JBCC
Address: KOMTAR JBCC, City Centre, 80000 Johor Bahru, Johor, Malaysia
Operating hours: 10am to 10pm daily
IG | FB
---
2. KSL City Mall & Holiday Plaza JB – massive megamall and classic, old-school mall
Another popular shopping mall among Singaporeans, KSL City Mall is a 10-minute ride away from the immigration checkpoint.
If you thought the previous two were big, they would pale in comparison to the size of this huge mall. Comprising an extensive range of merchants, it's easy to get lost spending your entire day here.
Shop at cute knick-knack shops like Yubiso and Daiso to spruce up your inventory. Or perhaps, pamper yourself with classic gel mani-pedis (RM50/S$16), get doll eyelash extensions (from RM68/S$22) or book a hair makeover at the popular Studio M to complete the whole look. Either way, you'll be leaving the mall looking like (quite literally) a different person.
Once you're done with the glam, head on to the Tesco hypermart to fulfil your grocery checklist. Last but not least, you can end off the night at restaurants like Chez Papa, Giovanni's NY Style Restaurant or Gianni's Trattoria to complete your experience.
In general, the consensus is that Holiday Plaza JB is an older, smaller version of KSL with similar-style shops at slightly cheaper prices. Especially after the iconic KFC outlet closed down in early 2021, not much remains to be said about this mall; so consider checking out this mall only if you have time to spare.
Pro tip: Use Grab to chauffeur yourself from customs to these malls for more affordable rates.
KSL City Mall
Address: 33, Jalan Seladang, Taman Abad, 80250 Johor Bahru, Johor, Malaysi
Operating hours: 10am to 10pm daily
IG | FB

Holiday Plaza JB
Address: Jalan Dato Sulaiman, Taman Kebun Teh, 80250 Johor Bahru, Johor, Malaysia
Operating hours: 11am to 9pm daily
FB
10-min drive from JB Sentral
3. Paradigm Mall – ice skating, rock climbing, movies

Source: Paradigm Mall Johor Bahru
Paradigm Mall is another model example of what it takes to be an impressive megamall. For comparison, it's over 2 mil sq ft in size, whereas Vivocity is 'only' 1.5 mil square feet.
Its sprawling retail complex houses 500 outlets consisting of department stores, boutiques, eateries, a cinema, and even a rock climbing gym and skating rink across eight storeys. There's nothing left out here for an all-encompassing day of fun.
Although there aren't any uniquely boutique stores, this mall is still a good shopping staple catering to locals and tourists nonetheless.
Address: Jalan Bertingkat Skudai, Taman Bukit Mewah, 81200 Johor Bahru, Johor, Malaysia
Operating hours: 10am to 10pm daily
IG | FB
20-min drive from JB Sentral
---
Remember to use a credit card like the Standard Chartered Rewards+ Credit Card to earn some cashback returns for your overseas spending! You can earn up to 4 miles for every S$1 spent overseas and up to S$500,000 in travel insurance.
---
4. IKEA, Toppen Mall & AEON Tebrau City – an all-in-one luxe shopping experience
As if the Tebrau shopping district wasn't huge enough, the entire compound was upgraded and expanded in 2019. Forget about buying your homeware and lifestyle goods in Singapore; you should honestly consider purchasing your refurbishing from here instead.
All you need is a car (owned or rented) and make your way down to IKEA Tebrau to begin your furniture-shopping conquest. Our IKEA Alexandra, Jurong East and Tampines can't hold a flame to the size of this mega outlet.
However, we must put out a disclaimer that not everything would be heaps cheaper at this outlet, and you should do your due diligence to check the prices first.
After finishing your furniture haul, Aeon Tebrau City is right next door for you to unwind for a couple of hours following the insane shopping.
Shopping is not for the faint of heart here because you can expect some mid to high-end retailers here.
Lastly, Toppen JB is the newest kid on the block that's decked out in all the latest boutique and branded vendors. It was officially opened in November 2019 as a new extension of this whole shopping compound.
Here, you can upgrade your workout wardrobe at Sports Direct, or if you need a midday pick-me-up (with adorable latte art), Miyakori Coffee is a great cafe spot. It's a vibrant and invigorating new mall that exudes a youthful and dynamic vibe for younguns.
IKEA Tebrau
Address: 33, Jln Harmonium, Taman Desa Tebrau, 81100 Johor Bahru, Johor, Malaysia
Operating hours: 10am to 10pm daily
IG | FB
Aeon Tebrau City
Address: 33, Jln Harmonium, Taman Desa Tebrau, 81100 Johor Bahru, Johor, Malaysia
Operating hours: 10am to 10pm daily
IG | FB
Toppen JB
Address: No 1, Jalan Desa Tebrau Taman Desa Tebaru, 81100, Johor Bahru, Johor, Malaysia
Operating hours: 10am to 10pm daily
IG | FB

30-min drive from JB Sentral
---
5. The Mall, Mid Valley Southkey – high-end, branded shopping

Source: hype.my
Oh, would you look at that, another new megamall to add to our list.
The name – The Mall Mid Valley Southkey – might be a mouthful, but it's the largest integrated shopping mall modelled after its counterpart in Kuala Lumpur. Everything about it screams lavishness and opulence, from its sheer scale to the branded goods found here. Walking through it is reminiscent of ION Orchard.
In fact, this commercial district will also serve world-renowned hotel chains and luxurious residences in time to come. They even have a complimentary two-way shuttle bus service from JB customs to the mall (RM1 per way).
Despite being new, many stores are already open, with the three-storey Japanese department store, Sogo, as its key anchor tenant. Other notable retailers here include Naelofar Concept Store, NARS, Clinique, DAISO and even a LEGO certified store.
Address: 1, Persiaran Southkey 1, Southkey, 80150 Johor Bahru, Johor, Malaysia
Operating hours: 10am to 10pm daily
IG | FB
10- to 20-min drive from JB Sentral
6. Sunway Big Box Village – quirky, container park-style outdoor shopping
Sunway Big Box Village/Retail Park is another stunning new shopping mall in Iskandar Puteri, JB. Having opened in December 2019, this gigantic outdoor retail complex follows an industrial-container-park themed aesthetic.
It occupies a land area rivalling that of the aforementioned megamalls, and it even has Sunway Hotel Big Box directly connected to its compound.

Book Xcess bookstore
Source: Sunway Big Box
Browse through the expansive Book Xcess bookstore – the largest bookstore in South Malaysia – to snag a couple of titles (or ten) to take home. After that, you can prepare for your next overseas rugged adventure at Skechers and Universal Traveller since borders are opening up.
What the mall lacks in store variety or diversity, it makes up in scale. Also, don't forget to check out their weekend bazaars which occur fairly regularly!
Address: Persiaran Medini 5, Sunway City Iskandar Puteri, 79250 Nusajaya, Johor, Malaysia
Operating hours: 10am to 10pm daily
IG | FB
15-min drive from Tuas Checkpoint
40-min drive from JB Sentral
---
7. Beletime Danga Bay – shopping with a seaside view

Source: beletime.com.my
If you've been to Sungei Buloh Wetland Reserve, you'll know that it overlooks JB across the strait. But did you know exactly which part of JB that is? That's right, it's actually Beletime Danga Bay located along the breathtaking Danga Bay.
With towering residential units piercing the skyline behind, this mall offers a more privileged shopping experience.
In this Marine Art themed shopping complex, one can expect trendy fashion chains, premium supermarkets, a cinema and plenty of eateries to go around. For instance, shoppers can indulge in local (like Ying Ker Lou) and international cuisine (like Jamaica Blue), depending on their appetite.
Best of all, free parking is available from 6am to 1am daily, which honestly sounds too good to be true.
Note: Since this mall is relatively new, retail options are still limited compared to the other mega complexes.
Address: No. 01-01, Shopping Mall Ground Floor, Bay Point Persiaran Danga Perdana Country Garden, Danga Bay, 80200 Johor Bahru, Johor
Operating hours: 10am to 10pm daily
IG | FB
10-min drive from JB Sentral
---
8. B5 Johor Street Market – artsy, hipster shopping avenue

Source: johornow
Consider yourself a purveyor of the fine arts, or maybe just a lowkey hipster? Whatever you identify with, B5 Johor Street Market is the go-to marketplace for shoppers who love all things boutique and eccentric.
Expect bustling shopping bazaars, food trucks, arts and cultural exhibitions, and more at this marketplace. Think pop-up stores and quaint independent businesses. And, of course, the food trucks really tie up the whole experience.
Furthermore, this shopping avenue adopts a sheltered, outdoor-ventilated concept with the stores housed in chic, colonial exteriors. It is truly #WhereStreetsComeAlive.
Address: Jalan Nenas, Pusat Bandar Tampoi, 81200 Johor Bahru, Johor, Malaysia
Operating hours: 11.30am to 11.30pm (Mon to Thur) | 11.30am to 12am (Fri to Sun)
IG | FB
20-min drive from JB Sentral
9. Taman Mount Austin – aesthetic foodie haven

Source: Eatbook
Located on the outskirts of the popular Austin Heights Water & Adventure Park, Taman Mount Austin is a paradise for foodies and aesthetic lovers alike. Perhaps it's best known for housing over 30 bubble tea (BBT) shops, an incredible statistic, to say the least.
Satisfy your sweet tooth at tried-and-true BBT chains like Xing Fu Tang, The Alley or you could try more unique BBT renditions at Seven Bus and I'Milky.
For instance, I'Milky's forte lies in milk-based beverages that are as sweet and creamy as they come. On the other hand, Seven Bus is a China-based BBT chain famous for its fruit teas and Yakult-based ice blends. Whatever your choice of beverage, they'll definitely be refreshing and hit the spot.
Alternatively for a fuller, more satiating meal, patronise any of the aesthetic cafes around the vicinity such as The Atlas Maison, or bloom by Mokmok. Both have such contrasting decor yet equally appealing to the general public.
For a cleaner, Muji-inspired look coupled with delectable French pastries and baked goods, The Atlas Maison is the one. But if you prefer a whimsical, fairy-core aesthetic, bloom by Mokmok is undoubtedly the winner.
But of course, there are plenty of other BBT and cafe outlets to patronise, so we highly encourage you to come down and explore for yourself!
Address: Taman Mount Austin, 81100 Johor Bahru, Johor, Malaysia
16- to 30-min drive from JB Sentral
---
10. Sutera Mall – sustainability at its heart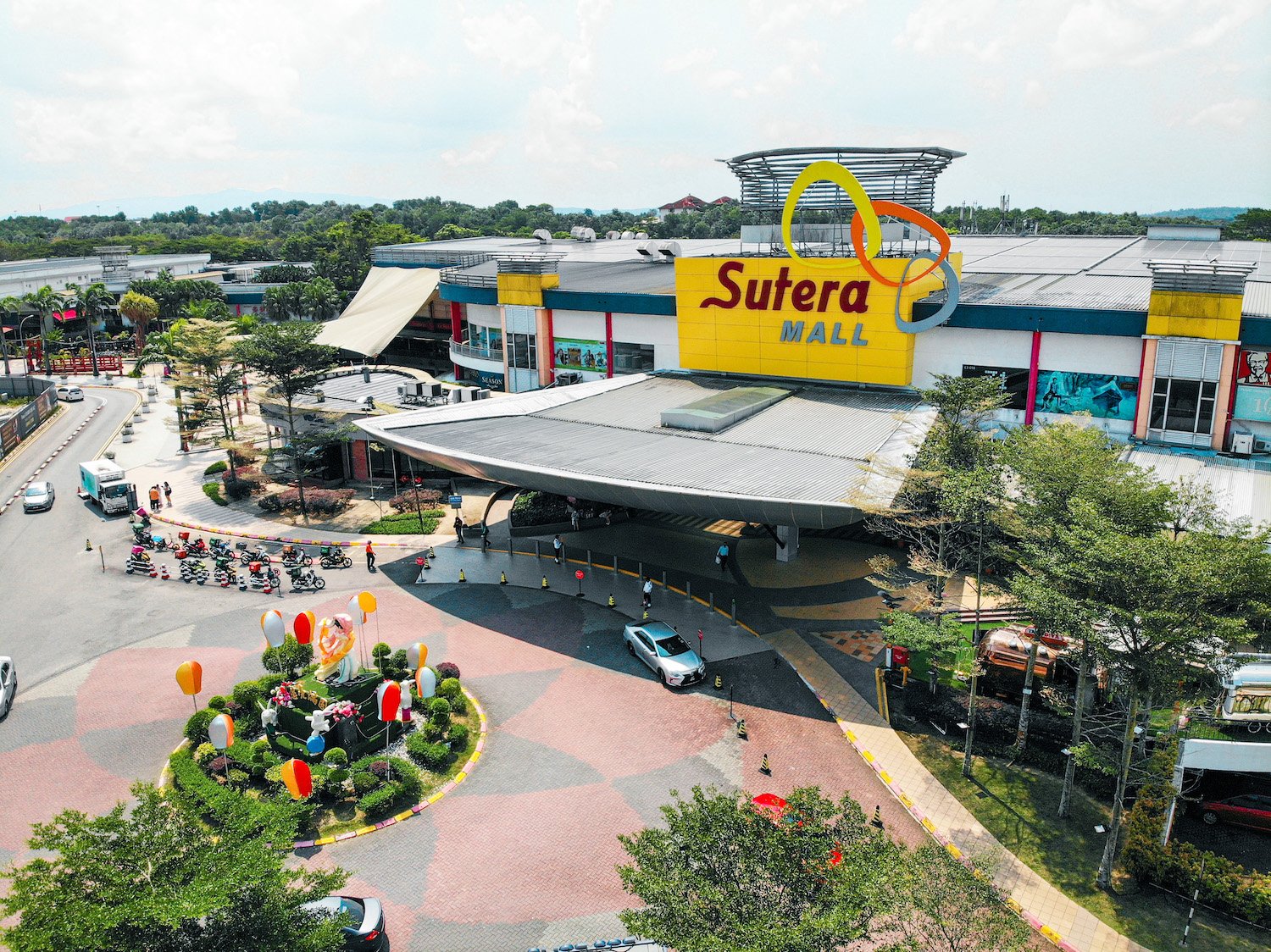 Located in Skudai Johor (roughly 45 min drive away), this mall is a hidden gem if you're looking for less obvious options for your weekend supermarket shopping.
Spanning 3 retail floors and over 500 retail outlets, there is a giant AEON hypermarket stocking all your essentials. As it's a fairly large shopping mall (by Singapore standards), wear your comfortable shoes to last the day.
There is also a variety of eateries to rest your feet and refuel in between shopping. We won't say too much, but if you want to get away from the maddening crowds for a slower-paced weekend, definitely a place worth driving a little further for.
Address: 1 Jalan Sutera Tanjung 8/4, Taman Sutera Utama, 81300, Skudai, Johor, Malaysia
Operating hours: 11.30am to 11.30pm (Mon to Thur) | 11.30am to 12am (Fri to Sun)
Website | FB
45-min drive from JB Sentral
---
Enjoy competitive foreign exchange rates with the amaze card
Instarem's amaze card is a free-to-use multi-currency card that allows you to link up to five Mastercards and continue racking up cashback or miles for every dollar spent at favourable exchange rates.
Here are some of the best Mastercards to pair with the amaze card:
Read these next:
Driving to Malaysia in 2022: The Ultimate One-Stop Guide
21 Best Things To Do In Vietnam (VTL 2022) — Activities, Food, Must-See Places
Batam VTL Guide 2022 — Activities, Shopping, Massages, Food And More
Bintan VTL Guide (2022) — Activities, Wildlife, Food And More
The Latest VTL Travel Requirements You Need To Know Before You Take Off
Which Credit Card Is The Best Companion For VTL Travel?