Singaporeans can look forward to visiting Malaysia without the hassle of quarantines and incessant COVID-19 tests. Here are some important things you'll need before driving over the Causeway.
Great news! After thorough discussions between Singapore's Prime Minister Lee Hsien Loong and Malaysia's Prime Minister Ismail Sabri Yaakob, both representatives have agreed that it is the right time to reopen the land border for all modes of travel.
They attributed this to the increasing vaccination rates, the successful containment of the disease and strong ties between both countries.
This is very much in tune with Singapore's current trajectory, given the recent relaxation in COVID-19 measures and drastic streamlining of testing and quarantine measures that will allow more people to travel abroad.
Given our stagnant tourism and hospitality sector, this is definitely a much-needed reprieve.
What does this announcement entail?
From 1 April 2022, all Singaporeans will be allowed to travel by land between Singapore and Malaysia.
It includes private cars and motorcycles that will complement existing travel bus services. We may even see cross-border public bus services added to the list as Singapore and Malaysia move forward with the arrangement.
Singaporean motorists may enter Malaysia without quarantine or tests, including the pre-departure and on-arrival tests. They simply need to provide the necessary valid travel documents such as passports and vaccination status at the checkpoints. Travellers will also be required to verify their vaccination status on MySafeTravel and download the MySejahtera tracking app.
Most notably, there will no longer be a cap on the number of daily land travellers, a vast improvement from the previous daily cap of 4,000 people.
What should you expect?
With families and friends eager to visit their loved ones in Malaysia, you should expect heavy traffic congestion at the checkpoints. You should hold off any travel plans to Malaysia if it is not critical to allow a seamless transition into this new arrangement.
What do you need to prepare for your trip to Malaysia?
Before you even start packing that luggage, you must ensure your travel essentials are in order to avoid disruptions to your long-awaited trip. Besides a valid passport, here are the necessary documents you must prepare:
Car (or Motorcycle) insurance is mandatory for all vehicles entering Malaysia. Ensure that your current insurance policy covers your time in Malaysia and that your coverage amount is adequate in the event of unforeseeable circumstances.
In fact, this is an apt time for you to revisit your current policy and upgrade it as you see fit.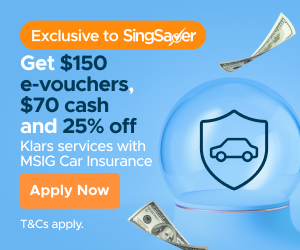 SingSaver Exclusive Promotion: Receive up to S$70 via PayNow, up to $$150 e-shopping voucher + 25% discount off services from Klars when you apply now. Valid till 31 October 2022. T&Cs apply.
MSIG MotorMax: Receive S$50 via PayNow, $100 e-shopping voucher + 25% discount off services from Klars.
MSIG MotorMax Plus: Receive S$70 via PayNow, $150 e-shopping voucher + 25% discount off services from Klars.
In addition to the mandatory vehicle insurance, all partially vaccinated and unvaccinated short-term foreign visitors are required to obtain COVID-19 travel insurance for COVID-19 related hospitalisation and medical costs. The minimum coverage of your COVID-19 travel insurance should be no less than US$20,000.
Those who are fully vaccinated are exempted from this ruling, however, purchasing travel insurance does offer peace of mind, especially if your travels are disrupted by unforeseen circumstances.
If you have family in Malaysia or intend to make multiple trips to Malaysia this year, do consider purchasing an annual travel insurance plan instead of a single trip plan. Besides convenience, buying an annual plan can save you more in the long run!
3. Touch N' Go Card (TNG)
Update: The Malaysian government will waive the road charge (RC) on Singapore-registered vehicles from 1 to 7 April 2022. Travellers must ensure they have sufficient value in their TNG cards from 8 April 2022 onwards to avoid delays at the checkpoint.
If you are driving to Malaysia, you will be expected to pay for highway and checkpoint tolls via your Touch N' Go card. This is similar to the NETS cashcard that we have in the in-vehicle units (IU) of our cars.
If you don't already possess one, consider picking up an EZ-Link x Touch 'n Go Motoring Card. Available at selected 7-11 outlets in Singapore, it is a dual-currency cross-border contactless smart card for Singaporean motorists travelling to Malaysia.
The EZ-Link x Touch 'n Go Motoring Card holds two electric purses for SGD and MYR, and funds are not transferable between the purses. Top-ups for SGD can be done at 7-Eleven outlets, DBS/POSB ATMs, OCBC ATMs and AXS Stations that accept EZ-Link card payments.
For top-ups in MYR, it can be done at selected locations in Malaysia or through the Touch 'n Go app.
Besides paying for highway and checkpoint toll charges in Malaysia, you can also use the EZ-Link x Touch 'n Go Motoring Card for parking fees, bus fare, MRT fees, and retail and dining to earn rewards points. You may use the card to pay for ERP charges and parking fees in Singapore.
If you see yourself travelling to Malaysia frequently or are looking to replace your existing NETS cashcard, you should consider picking up this dual-purpose card!
4. Vaccination
Fully vaccinated travellers will be able to travel freely between Singapore and Malaysia without the need for mandatory travel insurance and quarantine. Individuals who are not fully vaccinated will be required to serve a 5-day quarantine and purchase COVID-19 travel insurance with a minimum coverage of US$20,000.
Remember to submit your vaccination status on MySafeTravel and download the MySejahtera app before departure.
Do note that travellers who have received Sinovac or Sinopharm vaccines are only considered fully vaccinated if they received three doses.
5. Vehicle Entry Permit (VEP)
A VEP will still be required for anyone intending to commute to Malaysia via a personal vehicle (if it's foreign-registered). However, the enforcement of VEP will be waived between 1 Apr to 7 Apr 2022. You can apply for a VEP through the VEP-JPJ portal. You can simplify the registration process by downloading the PDF version of your log card from LTA.
More importantly, you may use the confirmation slip of your VEP application or a TNG card as a substitute until your VEP RFID Tag is ready for collection.
A VEP account may also be used for a lifetime once you have successfully registered for one.
Travel safe and stay vigilant
While this is indeed amazing news for those looking to fuel their wanderlust, we must not take our stabilising situation for granted.
With the volatile nature of the pandemic, it is crucial that we adhere to existing safety measures and precautions so as to minimise any disruptions to your travel plans.
Ensure that you have all the necessary documentation ready as you cross the border while protecting yourself adequately with travel essentials such as the relevant insurances, a Touch N' Go Card (TNG) and the MySejahtera tracking application.
---