Travelling on a budget is part of the excitement in planning for your next trip. Here we take a look at the nearby places you can start booking your getaways for the rest of 2023
Travelling may be pricier now compared to pre-COVID-19 times, especially with the need for travel insurance and PCR tests.
As much as we want to catch the next flight out, we can't bear to pay a couple of hundred dollars even before we start our holiday.
If, like us, you don't want to spend a bomb but want to get out of the country, there are some affordable holiday destinations for fully-vaccinated Singaporeans to head to without breaking the bank.
---
Johor Bahru, Malaysia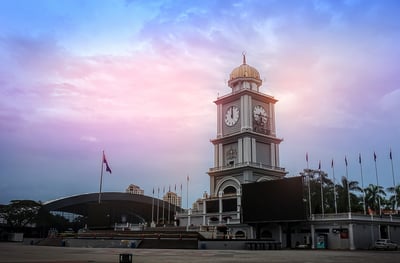 Obviously, our neighbour is the number one pick when it comes to the most convenient and affordable getaway for Singaporeans.
Ever since the land borders have opened, travelling to JB is similar to pre-pandemic days where you can go in and out without quarantine or paying for the dreaded PCR tests.
Having gone to JB ourselves recently, we can tell you that everything is pretty much the same — businesses are open, crowds are back and life, as we know it, has resumed.
Don't listen to your aunties and uncles who spread fake news that robbers are waiting for you at the checkpoint — JB is relatively safe, and crossing the border is relatively fast. Just take normal precautions as you would in any other foreign country.
Things to do:
While many of the shops at malls such as City Square Mall did not survive the pandemic, there are still gems to be uncovered.
You can check out Mount Austin instead (located around 20 minutes car ride from the border) where there are night food trucks, escape rooms, a shiba inu cafe, and local delights such as Petaling Street Hokkien Mee and the famous pao fan from Sun Gourmet Kitchen.
Even though karaokes are already open in Singapore, we will still opt to go to JB for a singing session. SING V KTV Mount Austin's rates are unbeatable at RM0.50 (S$0.16) for sessions from 11am to 2pm on weekdays.
Even if you drop by on the weekends, it's still cheap at less than S$10 per person for three hours of singing.
If you're heading over to JB soon, do check out our JB shopping guide for more ideas.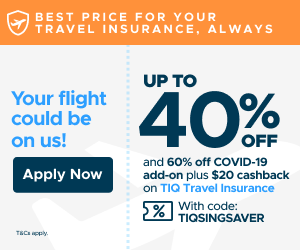 SingSaver's Exclusive TIQ Travel Insurance Promotion: All successful applicants TIQ Travel Insurance will receive 1x draw chance to enter our Weekly Lucky Draw where 1 lucky winner will stand to have their flight ticket reimbursed (up to a maximum of S$2,000). Valid till 31 July 2023. T&Cs apply.

Single Trip: Use promo code TIQSINGSAVER to enjoy 40% off when you apply. Valid till 18 Jun 2023. T&Cs apply.

Annual Trip: Use the promo code TIQSINGSAVER to enjoy a 60% discount on your COVID-19 add-on and get S$20 Cashback (Fulfillment by Etiqa) when you apply. Valid till 18 Jun 2023. T&Cs apply.

Key in the promo code under the coupon code section on the next page after selecting your destination and dates. The prices shown are before discounts.

Receive coverage for trip cancellations, medical expenses, and more when you purchase the COVID-19 Rider. T&Cs apply.
---
Malacca, Malaysia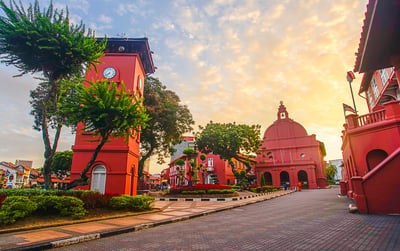 A three-and-a-half-hour drive from the causeway will bring you to Malacca, a really popular place among many Singaporeans.
Known for its rich cultural history and amazing food, there is always something to do in this charming UNESCO World Heritage city.
From the food, landmarks, zoos and water parks, Malacca exemplifies Malaysia's vibrant multiculturalism and culture.
Things to do:
The Jonker Walk night market may actually rival Taiwan's bustling street markets, with a wide line-up of stalls offering delicious street food including the famous chicken rice ball, White Rabbit bubble tea and gula melaka cendol.
Happening only on Saturdays and Sundays, make sure to drop by to have an authentic insight into Malacca's lively community. A short drive from the town centre will also bring you to the famous Klebang Original Coconut Shake.
For sightseeing, there's Dutch Square (the one with the red building), one of the most iconic sights in Malacca, as well as the magnificent Melaka Straits Floating Mosque.
---
Desaru Coast, Malaysia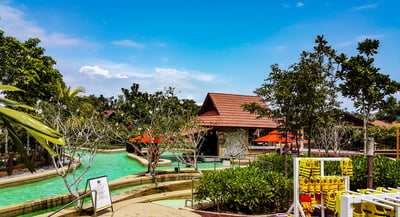 Nestled comfortably on a coastal area overlooking the South China seas, this tropical resort island can be best described as Malaysia's Sentosa. With a whole itinerary of explorative and adventurous activities that await you, Desaru Coast is the perfect oasis of fun for the ultimate getaway!
Things to do:
It is a must to enter its Adventure Waterpark at least once while you're here. Promising an exciting time for all ages, you can expect over five different water zones, each with its own set of thematic rides and attractions. One of its most exotic and thrill-inducing rides is the ominously named Kraken's Revenge which takes thrill-seekers up 30 meters of track and a 360º horizontal loop, followed by a 27 meters speedy descent.
Natural lovers can opt for a guided tour in Desaru Fruit Farm, where you can explore the entire farm on an ATV.
---
Best Miles Credit Cards
Credit Card
Best for/Benefits
Details
Min. Annual Income

Citi PremierMiles Card

- S$1 = 10 miles on Bookings at Kaligo

- S$1 = 7 miles on Hotel Books at Agoda

- S$1 = 2 miles on Overseas Spend

- S$1 = 1.2 miles on Local Spend

- 2 free airport lounge visits per year with Priority Pass

- Complimentary Travel Insurance

- Miles awarded as Citi Miles, which never expire

- S$27 per redemption


- Annual fee: S$194.40 (First year free)

- Local/PR: S$30,000



DBS Altitude Card




- S$1 = 10 miles on Hotel Transactions at Kaligo

- S$1 = 6 miles on Flight & Hotel Transactions at Expedia

- S$1 = 3 miles on Online Flight & Hotel Transactions (capped at S$5,000 per month)

- S$1 = 2 miles on Overseas Spend

- S$1 = 1.2 miles on Local Spend

- 2 free airport lounge visits per year with Priority Pass

- Miles awarded as DBS Points, which never expire

- S$27 per redemption

- Annual fee: S$194.40 (First year free)

- Local/PR: S$30,000

- Foreigner: S$45,000

Maybank Horizon Visa Signature Card




- S$1 = 3.2 miles on Dining, Petrol, Taxi Fares and Agoda Hotel Bookings

- S$1 = 2 miles on Air Tickets, Travel Packages and Overseas Spend

- S$1 = 0.4 miles on General Spending

- Complimentary Travel Insurance

- Miles awarded as TREAT Points ,which is capped at 30,000 per month

- Min. S$300 monthly spend

- Annual fee: S$180 (First 3 years free)

- Malaysian Citizen: S$45,000

UOB PRVI Miles Card



- S$1 = 6 miles on Selected Online and Flight Bookings at Agoda, Expedia, and UOB Travel

- S$1 = 3.2 miles on Overseas Spend

- S$1 = 1.4 miles on Local Spend

- Complimentary Travel Insurance

- Annual fee: S$259.20 (First year free)
---
Penang, Malaysia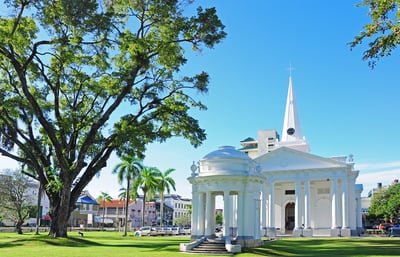 Once known as the Crown Colony of Penang, this cultural paradise was once under British sovereignty. Even now, you can find semblances of the British's colonial presence in its capital city, George Town.
The state also boasts some of Malaysia's finest culinary fares, with popular favourites such as asam laksa, char kway teow and curry noodles.
Getting to Penang takes less than 90 minutes via plane, or about six hours by bus.
Things to do:
Penang's history is best preserved in the streets of George Town, with captivating street murals depicting nostalgic scenes of family life, motorcycles, children on a bicycle, as well as street cats.
For those looking to begin a trip down culinary lane, you can find one of Penang's best char kway teow stores at Kafe Ping Hooi. Its version of this popular dish is brimming with wok hei and a generous serving of prawns.
---
Langkawi, Malaysia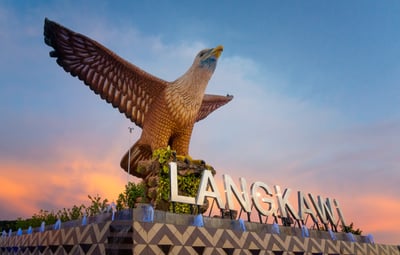 Declared a UNESCO geo-park in 2007, the Langkawi archipelago is lauded as one of the most extraordinary and beautiful geoparks in the South East Asian region. This island was also granted a duty-free status in 1987, becoming a shopping and drinking haven for tourists.
Things to do:
Eagle Square is possibly one of the best representations of Langkawi's natural wonder, with a star-shaped pier overlooking an expansive seascape. A caricature of an eagle stands proud amid the pier, frozen in an ever-ready position of flight surrounded by a panoramic view of this beautiful island. For the best photo-op, you can board Langkawi's cable car that will lead you up the Mat Cincang mountain.
Shoppers may check out duty-free stores such as Perniagaan Haji Ismail Group Sdn Bhd, which sells world-famous brands of chocolate and The Zon Duty-Free Zone, which sells some of the cheapest liquor, tobacco and perfumes in Langkawi.
---
Siem Reap, Cambodia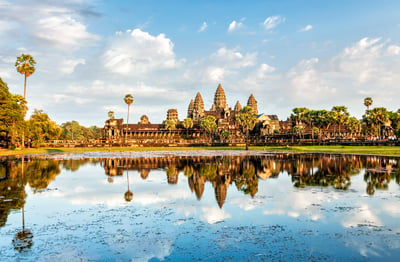 Massages by the roadside here are priced at USD$1 (S$1.37) for 10 minutes, USD$2 (S$2.74) for 30 min and USD$3 (S$4.10) for an hour. Where else can you get massages at these prices?
The food there is also pretty cheap. If you dine by the roadside, expect to pay around S$1 to S$2 per meal. If you eat at a restaurant or a cafe, bringing around S$10 to S$20 per person is more than sufficient to fill your tummy.
Things to do:
Should you want to live the life of luxury, it will not cost you much — even the fanciest spas there can cost less than USD$100 for a three-hour pampering session.
A guided tour to the iconic Angkor Wat can cost anything from around S$15 per person for a small group tour with other tourists, to around S$50 to S$60 per person for a luxurious experience that includes a private tour guide, a fully air-conditioned van, unlimited chilled water and lunch.
---
Hanoi, Vietnam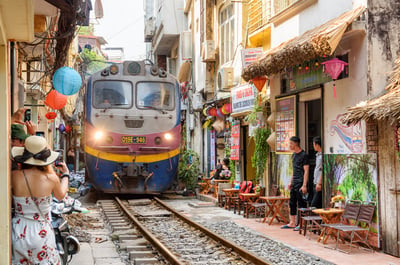 Vietnam is so affordable that we only spent a total of S$600 all-in (flights, hotel, expenses) for an entire week including trips to Halong Bay and Sapa. The food there costs S$1 to S$2 per meal, and beer is S$1 per pint.
If you're an avid backpacker, one night at Hanoi Central Backpackers Hostel will set you back around S$8 per night for a fully-air conditioned four-bed mixed suite. This S$8 includes free breakfast, free walking tours, free beer, free pub crawls and free WiFi.
Things to do:
You can take a 3D2N trip to the UNESCO World Heritage Site Halong Bay, known for its crystal clear water, stunning cliffs, caves and Cat Ba Island (the largest island in Halong Bay). You can also go kayaking, chill on the beach, and even jump off the cliffs if you dare. It takes around 2.5 to 3 hours via car/bus to get there.
You may also choose to go to Sapa, a remote town in northwestern Vietnam that's known for its pristine rice terraces, cool mountain atmosphere, and community of ethnic villages. Think Cameron Highlands but 10 times better. It is also really close to China, so the weather there is fantastically cool.
There, you can do a homestay with the black Hmong tribe, and get in touch with their cultural roots, cuisine and lifestyle.
It takes around 5.5 hours to reach Sapa, and we would totally recommend you board a super comfortable overnight bus which costs around S$10 to S$20.
You may find more on Vietnam in our extensive guide.
---
Bangkok, Thailand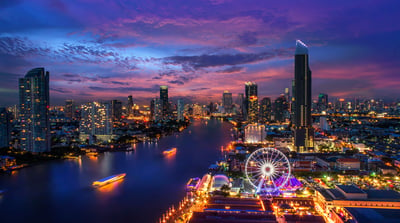 Bangkok — the city that never sleeps and is the go-to destination for many Singaporeans. The vibrancy of the city centre is echoed throughout its districts with the abundance of night markets, nightclubs, shopping malls and massage parlours.
If you're worn out from an ever-growing list of responsibilities and need some time out, Bangkok is a boundless refuge that promises you an explosive cultural and relaxing experience.
Things to do:
Of course, one cannot step foot into Bangkok without visiting one of its many unique floating markets. You can start from Damnoen Saduak's floating market, which spans 32 kilometres long while housing over 200 different stores.
Night markets that are a must-go and it include Jodd Fairs (previous Train Night Market Ratchada), Train Night Market Srinakarin and Chatuchak Weekend Market.
Those looking to dance away the wee hours of the night can find sanctuary at Route66, one of Bangkok's hottest and craziest clubs. Known as the host of Bangkok's most popular musical events and performances, you can definitely find an intoxicatingly exhilarating time here.
Foot massages would cost you an average of $8 to S$10 in Bangkok. There isn't any particular Thai massage place to specify here, because most of them are generally good and cheap.
Check out our Bangkok guide for more recommendations.
---
Chiang Mai, Thailand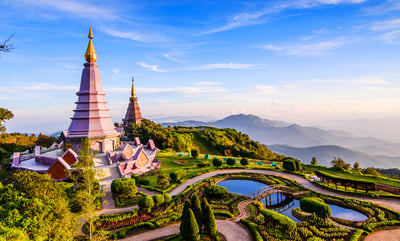 If anything, Chiang Mai is best described as the more rustic and modest counterpart of its capital city, Bangkok. Featuring a beautiful countryside that is accompanied by stretches of flourishing paddy fields and evergreen mountains, Chiang Mai is the perfect respite from the constant hustle and bustle. Over here, you can finally take a breather as you explore this beautiful landscape at your own pace.
Things to do:
Explorers can consider visiting Doi Inthanon, a serene national park situated at the highest point of Chiang Mai's mountains. Make sure to bring your trekking shoes as it will be a long climb. There is an array of waterfalls and pagodas that you will come across on your trek that will make the experience even more visceral. When you return, take a moment to engage in deep relaxation at one of Chiang Mai's many spas. Consider the Fah Lanna Spa experience at Old Town, a renowned and award-winning spa.
Start saving up for your next trip with the Citi Booster Interest Account that earns you high interest on your savings, when you sign up for a Citi Plus Account.
---
Bali, Indonesia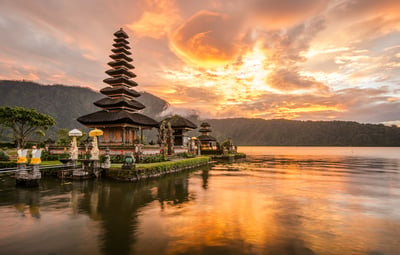 Bali is arguably one of the most versatile, and diverse destinations to visit in the world as it serves up a healthy dose of culture, culinary brilliance, nightlife and nature for the ultimate vacation. You can definitely find something here that will delight your senses regardless of your inclinations.
Things to do:
There is a varied list of sightseeing opportunities to choose from. You can find yourself in Bali's romantic beaches, secluded temple sites or one of Bali's rustic villages — the possibilities are endless. Those intrigued about Bali's seascape and its inhabitants can consider scuba diving in the seas of East Bali, Nusa Lembongan, Penida and Ceningan.
---
Your next vacation awaits!
There is a whole abyss of explorative opportunities that awaits you, with cultural marvels, unbelievable sights and untold mysteries laid all across our grandiose world waiting to be discovered. Wait no longer, and start packing that luggage!
Make sure to protect yourself adequately however, with the appropriate travel insurance so that your journey goes unhindered.