There's a miles workhorse, a couple of sports-centric cards, and an award-winning cashback-er in the midst.
When you think of Malaysia, you probably think about cheap shopping, cheap massages, cheap petrol – cheap everything. Or, you might think about its reputation for being one of the best places to eat out on a budget. But what you might not realise is Malaysian banks, like Maybank, also offer some good deals on credit cards right here in Singapore.
The great thing about these cards is, with Maybank MasterPass, you can also shop, click, and check out faster online. You can choose between cash rebates, miles or TREAT points, and there's cards for high spenders and low spenders, students and even golfers!
No matter which card you choose, you get complimentary travel insurance when you charge your full travel package to your Maybank card. Here is a summary list of the best Maybank credit cards in Singapore.
Best for miles: Maybank Horizon Visa Signature
Best for cashback: Maybank Family & Friends
Best for high spenders: Maybank FC Barcelona
Best for low spenders: Maybank Platinum Visa
Best for golfers: Maybank World Mastercard
Best for students: Maybank eVibes
Best Maybank credit cards in Singapore

Best For
Credit Cards
Benefits
Miles
Maybank Horizon Visa Signature
3.2 miles per dollar on local spend
Cashback
Maybank Family & Friends
Up to 8% cash back with min. S$800 spend
High spenders
Maybank FC Barcelona
1.6% unlimited rebate on all spend
Low spenders
Maybank Platinum Visa
Up to 3.33% rebate with min. S$300 spend
Golfers
Maybank World Mastercard
Complimentary green fees at 120 courses
Students
Maybank eVibes
1% rebate on all spend for students
Best for miles: Maybank Horizon Visa Signature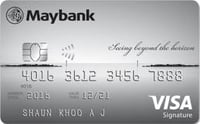 If you prefer to skip the causeway queues and fly to Malaysia (or anywhere else for the matter), the Maybank Horizon Visa card is best for your miles gaining pleasures.
Earn 3.2 air miles (8X TREATS Points) per S$1 spent across a range of categories including dining, petrol, taxi fares (ride-hailing is also counted), and Agoda hotel bookings. When spending on your vacation, you will earn 2 miles (5X TREATS points) per S$1 spent on flights, travel packages and foreign currency transactions. At the airport, you will be able to enjoy complimentary access to selected VIP airport lounges and complimentary travel insurance coverage up to S$1,000,000.
It's a straightforward card: no minimum spend, no reward caps. But it might not be suited for those who spend extended periods of time overseas, considering that the stellar rate of 3.2 miles per S$1 applies only to local spends. Also, to enjoy the complimentary airport lounge access, you will need to spend a minimum S$1,000 in a single retail transaction on your card within 3 months prior to the travel date.
*$1 spend = 1 TREATS Point
---
Best for cashback: Maybank Family & Friends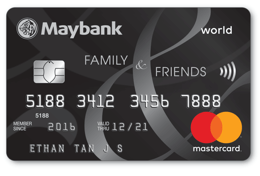 If you're someone who's on Team Cashback, Maybank Family & Friends card is the one true pick for you.
Enjoy a high 8% cash rebate over a large range of categories such as groceries, dining & food delivery, transport, data communication & online TV screening, retail & pets, online fashion, entertainment, pharmacy & wellness. The annual fee is also waived for the first three years so that's a savings of S$540 in annual fees: that is enough to sponsor you (and your family and friends) a buffet feast or two!
A minimum monthly spend of S$800 per calendar month does apply, and so does a S$125 cashback cap each month — split into S$25 per category.
---
Best for high spenders: Maybank FC Barcelona Card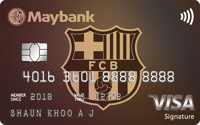 The Maybank FC Barcelona Card might just be your passport into Nou Camp, on top of it being a passport to unlimited cashback.
It offers 1.6% unlimited cash rebates on all local spends. That number might seem infinitesimal, but unlike most cashback cards, it has no minimum spend and no cashback cap. You can spend as much as you like and continue to earn rebates – the sky's the limit.
If you're a La Liga football fan, you stand to enjoy 5% discount in FCBotiga official store in Camp Nou. Fans also stand the chance to win a trip for 2 to watch FC Barcelona live every football season. You can earn 5 chances with every S$50 on local spend, and double that for the equivalent foreign spend.
While there's no cashback on foreign currency transactions, you will earn 2X TREATS points for every foreign dollar spent. Lest you think this is exclusive only to Barcelona fans, you could be a Real Madrid fan for all we know and you'd still enjoy these benefits.
This card also comes with complimentary travel insurance when you charge your air tickets or travel packages in full to your card.
---
Best for low spenders: Maybank Platinum Visa Card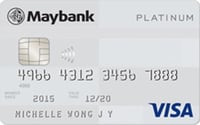 If you prefer to pay in cash most of the time, but still don't want to miss out on any rewards, the Maybank Platinum Visa card may be a good booster for you.
You only need to spend a minimum of S$300 per month (or equivalent in foreign currencies) to qualify for cashback. That's much less than the typical S$600 to S$800 minimum spend for other cards. In return, you will receive 3.33% cashback, travel insurance coverage of up to S$500,000 and the convenience of Samsung Pay. There are two kinds of waivers you'll enjoy: one being the three-year annual fee waiver, the other being the S$20 quarterly service fee waiver as long as you charge to the card once every three months.
Keep in mind, the cashback cap is set at S$100 per quarter and only local spend qualifies for the 3.33%.
---
Best for golfers: Maybank World Mastercard
If your ideal getaway is more about golf than food, the Maybank World Mastercard is one to live it up with.
With this card, enjoy complimentary green fees at all year round at 98 participating golf clubs in 19 countries, and complimentary access to Plaza Premium airport lounges. At specially selected retail, dining restaurants and all petrol stations, you will also earn 10X TREATS points per $1 spent (4 miles per dollar), which is double that of the Maybank Horizon's by comparison. Your TREATS points will never expire as you're automatically enrolled in the Rewards Infinite program, where you get to exchange your points for a variety of dining, shopping and entertainment gifts.
Pump petrol? Great. Receive a 15% discount with the Corporate Fuel Card, plus 10X TREATS Points on your Maybank World Mastercard. 10X TREATS Points can be redeemed for a further 4.85% savings with cash credits on your Corporate Fuel Card.
Also, fees are waived when converting TREATS Points to air miles.
The annual fee is slightly higher than most, and the minimum annual income requirement is higher than others at $S80,000.
---
Best for students: Maybank e-Vibes card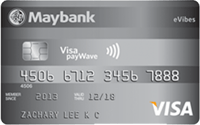 If you're a student and you just need a simple, no-fuss-no-muss card, then the Maybank e-Vibes card is for you.
You'll earn 1% cash rebates on all purchases with no minimum monthly spend required. There's no minimum annual income either so it's a great card for students to have on hand for emergencies. You'll also get deals and discounts on all the best parts of a student's life: travel, dining, entertainment and online shopping.
If you're a student with a higher monthly spending budget, this card isn't for you. Other cards may be able to offer you higher rebates, but you will need to weigh that up against the extra conditions that come with it, such as minimum spending requirements and annual fees.
---
Read these next:
Top Credit Card Promotions And Deals On SingSaver
Best Cashback Credit Cards In Singapore
Best Air Miles Credit Cards In Singapore
Best Rewards Credit Cards In Singapore
Favourite Credit Card Combinations To Max Out Cashback And Miles (As Used By SingSaver Staffers)