While the current climate doesn't allow for travel the traditional way we're used to, it doesn't mean we cannot earn and accumulate miles the smart way on the ground on non-travel expenses.
Being savvy and strategic is of utmost importance for us mere mortals who don't roll in cash. How can we maximise credit card miles and rewards points then? Use Citi PremierMiles and Citi Rewards to your advantage, of course.
---
Citi PremierMiles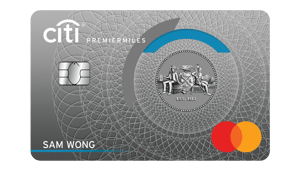 Citi PremierMiles may not have the best miles earn rate, but it is a versatile credit card that lets you earn expiry-free miles on literally every purchase you make, including big-ticket items.
There's no cap on how many miles you can earn and no minimum to start earning miles. That's the beauty of this credit card.
Here's a quick rundown of what this card has to offer:
1.2 miles per S$1 spent locally
4 miles per S$1 spent in foreign currency (until 30 June 2023)
Up to 10 miles per S$1 spent on online travel bookings
2 free Priority Pass airport lounge visits per year worldwide
Up to S$1 million travel insurance coverage
Earn miles on rent, condo management fees, school fees, taxes and bills via Citi PayAll
In case you're wondering, Citi Miles do not expire and can be redeemed for frequent flyer miles, hotel stays, cash rebates and other rewards.
Credit cards that offer very generous miles earn rates typically come with caps on the number of miles you can actually earn at that rate per statement or calendar month.
This is why Citi PremierMiles is especially handy if you tend to spend on big-ticket items such as watches, bags, shoes or even medical, beauty or wellness treatments.
---
Citi Rewards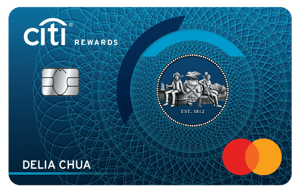 In this day and age, it wouldn't be far-fetched to say most of us are fans of online shopping. If getting everything online is what you've already been doing and you aren't using Citi Rewards yet, it's definitely time to add this rewards credit card to your arsenal. For starters, you get to earn 10X rewards points (4 miles per S$1) on all your online purchases, excluding travel.
Here's a quick rundown of what this card has to offer:
10X rewards points (4 miles per S$1) on online spend, excluding travel and mobile wallet transactions
10X rewards points (4 miles per S$1) on online and offline shopping purchases at department and retail stores that sell clothes, shoes, accessories and bags as their main business activity
10X rewards points (4 miles per S$1) on rides with Grab, Gojek and more
10X rewards points (4 miles per S$1) on online groceries and food delivery
1X reward point for every S$1 on all other spending
Complimentary travel insurance of up to S$1 million when you charge your air tickets to the card
To be honest, although the 10X rewards are capped at 10,000 points per month i.e. S$1,000 spent, it's still much better than what many other credit cards offer. Plus, there's no minimum spend required to start earning those generous rewards.
---
Why mile chasers should consider this card combination
For starters, it takes time to earn and accumulate enough miles to exchange them for Business Class or First Class tickets. This is true for the majority of us who are normal spending consumers i.e. not high rollers.
Having miles or rewards points that don't expire is one part of the equation; knowing how to earn those precious rewards strategically is another. That's why we highly recommend you look into Citi Rewards despite the fact that the generous 10X Citi ThankYou Points that you earn are not expiry-free (valid for a period of 60 months).
Pairing Citi PremierMiles and Citi Rewards is a feasible strategy that I personally use as they let me earn and accumulate rewards on the ground while spending on non-travel related expenses like I normally would anyway.
Plus, it's really convenient for me to keep track of my Citi Miles and ThankYou Points via the Citi Mobile app.
Need more convincing? Those who pay the Citi PremierMiles annual fee can earn a whopping 10,000 bonus miles every card anniversary year!
Both credit cards are accessible; applicants only need a minimum income of S$30,000 to apply for these cards.
---
Read these next:
Credit Card Combo: Why Pair DBS Woman's World Card & DBS Altitude
Credit Card Combo: Why You Should Pair Citi Cash Back & Amex True Cashback
Best Bill & Tax Payment Services That Still Earn You Rewards & Miles In Singapore
Credit Card Comparison: Maybank Family & Friends Card vs Citi Cash Back vs CIMB Visa Signature Card
What Really Happens If You Skip Credit Card Bills, Loan & BNPL Payments