The Citi Rewards Card lets you rack up rewards points effortlessly if you spend on select categories. Learn more about what this rewards card has to offer.
Out of all the best Citi Credit Cards, the Citi Rewards Card could just be the card you need to add to your arsenal pronto if you're looking to milk the most out of each dollar you spend on shopping and online shopping (which includes online groceries, food deliveries, ride-hailing services, and more). As a matter of fact, it takes no time to rack up those precious rewards points.


Table of contents
---
What the Citi Rewards Credit Card can do for you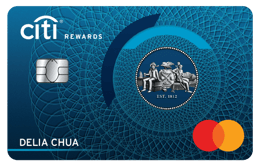 Citi Rewards Card product summary:
Earn 10X Citi ThankYou Points on shopping, online shopping (including online food delivery, online groceries, Grab, Gojek rides, and more)
No minimum spend required to start earning Citi ThankYou Points
Redeem Citi ThankYou Points for travel, frequent flyer miles, merchandise and more
Annual income requirement: $30,000 (Singaporeans/PR), $42,000 (Foreigners)
Minimum age: 21
Annual fee: $194.40 (S$196.20, w.e.f 1 Jan 2024)
| | |
| --- | --- |
| Pros ✅ | Cons ❌ |
| 10X ThankYou Points (4 mpd) on shopping, online shopping, online food delivery, online groceries, Grab and Gojek rides | 10X ThankYou Points do not apply to mobile wallet and travel-related transactions |
| Unlimited 1X ThankYou Points (0.4 mpd) on all other retail spend | Rewards points have a 60-month validity period |
| Flexible rewards redemption options | Service fee applies to Citi PayAll facility |
| Up to $1 million travel insurance coverage when you charge your travel tickets to this card | |
| Earn miles on rent, condo management fees, school fees, taxes and bills via Citi PayAll | |
---
Reasons to get the Citi Rewards Credit Card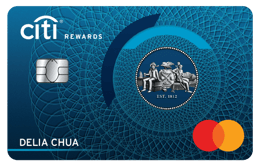 #1: Earn 10X ThankYou Points on offline retail shopping and most online spends
Shopaholics will adore the Citi Rewards Card. This rewarding credit card lets you earn 10X ThankYou Points (4 mpd) on online and offline shopping purchases worldwide at any department store, retail store, or shopping website that sells clothes, shoes and bags as its main business activity.
This includes your favourite e-commerce platforms like Lazada, ZALORA, Shopee, Amazon, and more since they code as online spend. Meanwhile, below is the list of eligible MCCs for shopping sprees spent at brick-and-mortar stores: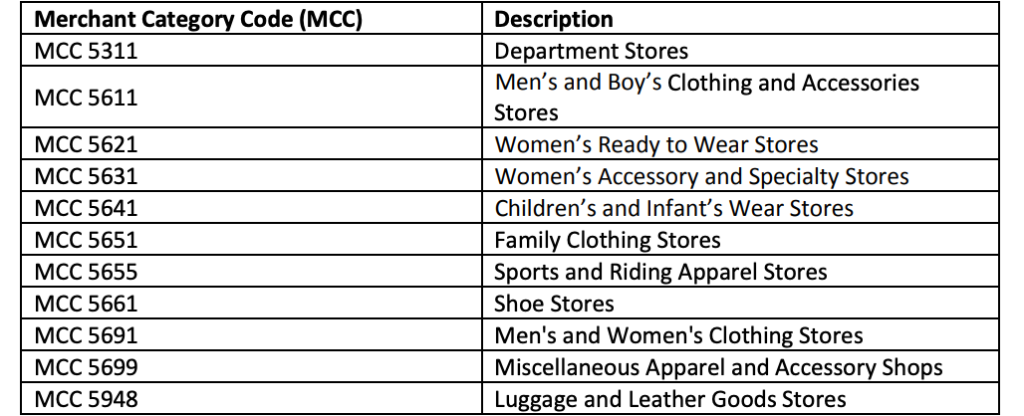 Essentially, just that you're paying with your Citi Rewards credit card directly – AKA entering your card details upon checkout and not via any e-wallets or mobile payment service and the ThankYou Points are yours. In turn, these well-earned points can be used to offset daily purchases via Citi's Pay with Points, among other services – but more on that later.


---
#2: Earn 10X ThankYou Points on online shopping, online food delivery, online groceries, Grab and Gojek rides
Apart from online shopping, the eligibility range for Citi Rewards Card's bonus rewards points also includes the likes of ride-hailing apps (e.g. Grab, Gojek), online food delivery, and even online groceries! There's no minimum spend required in order to start earning 4 mpd at an expedited rate!
Speaking of online shopping, did you know that your favourite e-commerce platforms often come with their own Citi-exclusive credit card promos, so remember to check back our articles each month:
However, keep in mind that the 10X ThankYou Points are capped at 9,000 bonus ThankYou points per statement month. Cardmembers will continue to earn 1X ThankYou Points for every $1 spent on these categories as well as other retail transactions after they've reached the cap.
⚠️ Important note: Mobile wallet and travel-related transactions are excluded from earning 10X ThankYou Points.


---
#3: Offset online daily spend with Citi Pay with Points
Accessible either via Citibank Online or Citi Mobile®️ App, the Pay with Points function allows you to redeem your Citi ThankYou Points for statement credits to cover recent eligible transactions on your Citi Rewards Card.
Eligible categories in which you can redeem include dining, groceries, petrol, clothing & department stores, utilities, entertainment, and drugstore purchases. It's no surprise that the Pay with Points function is incredibly useful for everyday spend redemptions.
For every 440 ThankYou Points redeemed, that's S$1 off the transaction you're offsetting for. Alternatively, you can also redeem your points for cash rebate or Citi ThankYou Rewards in the form of gift vouchers for the above categories.
But wait, isn't the whole point of collecting points (no pun intended) to save up miles for that big trip ahead? While that's entirely valid, there are several drawbacks to patiently racking up points for the sake of converting into frequent flyer miles later on:
Points or miles under Citi can only be transferred in blocks of 25,000 Citi ThankYou Points to 10,000 KrisFlyer Miles for example, and that's notwithstanding other processing fees and GST charges in the process.
Accumulating points or miles can be a long and tedious process for some.
Frequent flyer miles can devalue on short notice.
Miles redemption for your preferred flight timings, upgrades, and other services are subject to availability and not guaranteed.
We can't speak for everyone, but we find instant point redemption systems like these very convenient and they definitely scratch that instant gratification itch. 😅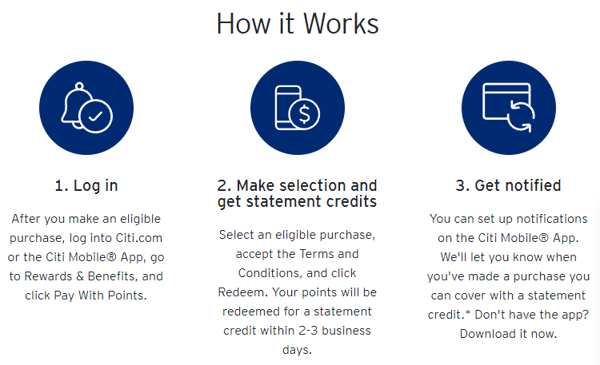 Source: Citi
To access an overview of your Citi Points balance, check out your Rewards Dashboard on your Citi Mobile®️ App to keep better track of your points accumulated. But even if you have insufficient Citi Points to fully cover your transaction via the Citi Pay with Points Online function, fret not, partial redemptions are still allowed.
In the event that you request a refund for a transaction, the purchase amount will firstly be reflected as a refund on your Citi Rewards Card's account as per normal; and secondly, the associated statement credits will remain in your card account. The statement credits cannot be reversed back into Points.
And most importantly, remember to still pay the required minimum payment due on your Citi Rewards Card account!


---
#4: Redeem from a broad range of exciting rewards
From travel and frequent flyer miles to merchandise and more, you exchange your Citi ThankYou Points for the things that matter most to you via the Citi Global Rewards Redemption Catalogue. Accessible via the Citi Mobile®️ App, this catalogue features a myriad of merchant vouchers redeemable with your Citi Points.
As if shopping with the Citi Rewards Card wasn't already a rewarding experience, but with the Citi Redemption Catalogue, you can continue shopping to your heart's content for electronics, travel luggage, home & garden appliances, watches, gift vouchers, and even cash rebates!
Alternatively, you can also explore Citi's Marketplace on their mobile app and find other great deals and discounts for dining, hotels, travel, retail, and lifestyle. Basically, you'll always be spoilt for choice with a wide array of rewards redemption options at your disposal.
💡Pro-tip: If you prefer earning cash rebates directly, you can consider Citi's other cashback credit cards like Citi Cash Back and Citi Cash Back+.
Note: The following cards will no longer be able to perform any rewards redemptions, view rewards redemption history, and Citi ThankYou Points expiry information via Citibank Online - Citi ThankYou Rewards Portal with effect from January 2024 onwards:
21 Jan 2024: Citi PremierMiles Card, Citi Rewards Card
25 Feb 2024: Citi ULTIMA Card, Citi Prestige Card, Citi Platinum Card, Citi Clear Platinum Card, Citi Gold Card, Citi Classic Card, Citi Clear Classic Card, Citi Clear Card, Citi Business Card, and Citi Corporate Card
Please download and refer to the Citi Mobile®️ App for more redemption information and features.
---
#5: Complimentary travel insurance coverage
Even though Citi Rewards Card doesn't let you earn 10X ThankYou Points on your travel purchases, it lets you enjoy up to $1 million travel insurance coverage when you charge your travel tickets to the card all at no extra cost to you. Coverage is also provided for your spouse (who needs to also be a Citi Card member) and dependent children.
The best part? Travel inconveniences like baggage loss, baggage delay, flight delay, trip cancellation and trip interruption are covered too, though they only apply to the main cardmember.
💡 Pro-tip: Activate your travel insurance prior to travel to enjoy the free travel insurance feature!
---
What charges or fees should you look out for?
Annual fee: $194.40 (First year waived)
Late payment charge: $100
Minimum monthly payment:

1% of current balance plus 1% of outstanding instalment amounts plus all interest charges plus all upfront service fees of instalment plans plus late payment charges or S$50 plus any overdue amounts
Overlimit fee:

S$40 if total outstanding card balance exceeds the total limit at any time
Branch service fee:

S$10.80
Late payment charge:

S$100
Interest on purchases:

27.9% p.a.* subject to compounding if full payment is not made by the payment due date
Interest on cash advance:

27.9% p.a.* compounded daily on the amount withdrawn from the transaction date until full payment is made
Cash advance fee:

8% of amount withdrawn* or S$15, whichever is greater
Eligibility criteria
At least 21 years of age
Minimum annual income for Singapore Citizens and PRs: $30,000
Minimum annual income for Foreigners: $42,000
---
How to apply?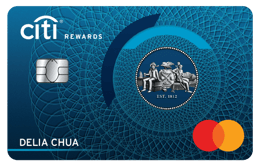 Click on the 'Apply Now' button on this page and complete the application form on SingSaver site. You might need to prepare the following documents for the application process:
Front and back of NRIC/Passport/Employment Pass
Salaried employees:

Past 12 months' CPF statement (Singaporean/PR) or latest Income Tax Notice of Assessment or latest original computerised payslip
Self-employed:

Last 2 years' Income Tax Notice of Assessment and last 3 months' bank statements
---
Who should get the Citi Rewards Credit Card?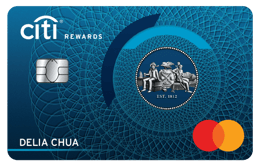 The Citi Rewards Card is a workhorse for people who have an undying love shopping for clothes, bags and shoes as well as those who shop a lot at department stores. This rewards credit card is also ideal for those who have a tendency to shop online – be it shopping for groceries online, ordering food delivery, using ride-hailing services from Grab and Gojek regularly, and more.