Millennials, listen up – the OCBC FRANK Card is back with refreshed offerings and bigger rewards for you.
With exclusive hotel staycations, an attractive 6% rebate on online spends, upsized weekend cashback on entertainment and the option to choose your own card face design, the OCBC FRANK Card is an OCBC credit card that's hard to beat for young millennial spenders.
The latest refresh of OCBC's Frank Credit Card comes with several crowd-pleasers that will make this notoriously fickle group sit up and take notice.
1. Exclusive room stay at M Social Singapore
The OCBC FRANK Card has always had a clear understanding of the lifestyle, likes and hobbies of its young target audience.
So much so that they're offering an exclusive room stay at M Social Singapore (Alcove Cosy Room), inclusive of 1 free breakfast to new sign-ups.
All you have to do is to charge a minimum of S$400 qualifying spend on your approved card by the end of the month following your card approval date as a new card holder. Should you meet the criteria, a letter of redemption will be sent at the end of the promotion period, to the mailing address provided.
2. 6% cashback on online retail transactions
OCBC has also decided to retain its highly attractive 6% cashback category for online retail transactions. This includes most payments for goods and services made online– a cashback category that's easy to hit in today's digital age of contactless payments.
As long as the purchase is made online or via the internet, they're counted as online retail transactions. This means you'll enjoy 6% cashback!
Payments included range from clothes to gadgets, or even flights and hotels to movie tickets and even Grab rides! Talk about covering all bases of a millennial's lifestyle spending habits!
3. Up to 5% cashback on entertainment
Another big plus of the refreshed OCBC Frank Card is that you can earn up to 5% weekend cashback on entertainment (bars, clubs, cinemas, KTVs and selected cafes) on Fridays, Saturdays and Sundays. For the rest of the week, it's a 3% rebate.
This, together with the mobile payment category above, covers most of the spend of your average young spender.
This change also increases the ease of earning rebates, extending eligible transactions outside of online, fashion, clubs and cafes. TGIFs have never got better, now that you have a crack at earning a staggering cashback rate on all the things you usually spend on anyway.
4. 3% rebate on first two NETS FlashPay auto top-ups
On top of cashback for entertainment and online spend, you can also earn 3% rebate on your first 2 NETS FlashPay Auto Top-Ups (ATUs).
This is a really useful addition since ATUs can be used for MRT or public bus rides, ERP and EPS CEPAS 2 carpark payments, or any outlet with a NETS FlashPay terminal.
With transport spend included in the bag for rebates, the OCBC FRANK card is a highly attractive card for the young adult. What's more, the minimum spend required on the FRANK Card to earn cashback is one of the lowest in the market.
Cardholders usually need to spend $400 a month in stores to be eligible for cashback. In comparison, some of the more popular cashback cards with comparable benefits require at least S$600 in minimum monthly spend.
5. Low annual fee and 2-year annual fee waiver
The low S$80 annual fee for the OCBC Frank Credit Card is also a market beater. As a comparison, credit cards on the market that offer competing cashback rates like the Citi CashBack card, UOB Yolo, Standard Chartered Spree and UOB One all come with annual fees ranging between S$150 and S$$193.
In addition, most credit cards on the market typically come with a one-year fee waiver. But the OCBC Frank Credit Card automatically comes with a 2-year fee waiver upon sign-up.
6. Customisable card face (up to 120 designs)
Another bonus of the OCBC Frank Credit Card is there are up to 120 card face designs to choose from. This means two things: you'll never mistake your card with another of your friend's, and you'll get to stand out with your own choice of design by local artists. Think of it as art in your pocket.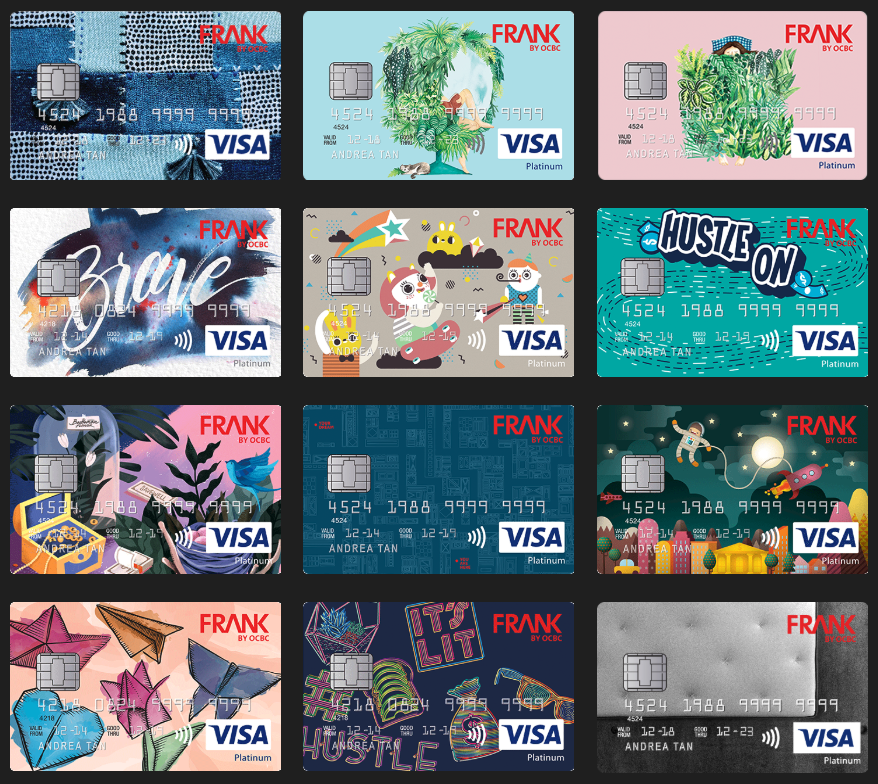 S$50 bonus cash credit
If you apply as a new OCBC cardmember by 31 May 2019, you'll also receive an additional $50 in cash credit with no minimum spend, no later than 2 months from the date the card was approved.
OCBC FRANK Credit Card: Good upgrade from the debit card
If you're familiar with cashback cards and how they work, you may already have made your mind up on the OCBC FRANK Credit Card two paragraphs ago.
However, for those holding the OCBC Frank Debit Card, you'll find the OCBC FRANK Credit Card a close cousin.
Both the credit and debit versions of the FRANK Card work similarly, giving you rebates as you spend, ultimately saving you money over time. However, the FRANK Credit Card gives you much better rebate rates (3% to 6%) compared to the Debit Card version (1%).
The key difference here is that the FRANK Credit Card will incur interest if you fail to pay your statement in full. (Whereas for the FRANK Debit Card, you won't incur interest charges simply because you're limited to the funds you already have in your account.)
Besides, with just $400 minimum spend required to claim your exclusive staycation (till 31 May!), it's easy to keep a balance between enjoying benefits and staying debt free.
Read more: 5 Things to Know When Graduating From Debit to Credit Cards
For this reason, the OCBC FRANK Card is a good upgrade for debit card users, rewarding them with better rebates as they learn the finer points of money management.
This article was developed in collaboration with OCBC.
Read the full review of OCBC FRANK Credit Card 2019.
Read these next:
5 Things to Love About the New OCBC 365 Credit Card
Best Dining Credit Cards in Singapore
5 Money Lessons We Can All Learn From Game of Thrones
How Age Changes the Way You Think About Money
How Much Savings Should I Have at 35 in Singapore?
---

By Alevin Chan
A Certified Financial Planner with a curiosity about what makes people tick, Alevin's mission is to help readers understand the psychology of money. He's also on an ongoing quest to optimise happiness and enjoyment in his life.
---