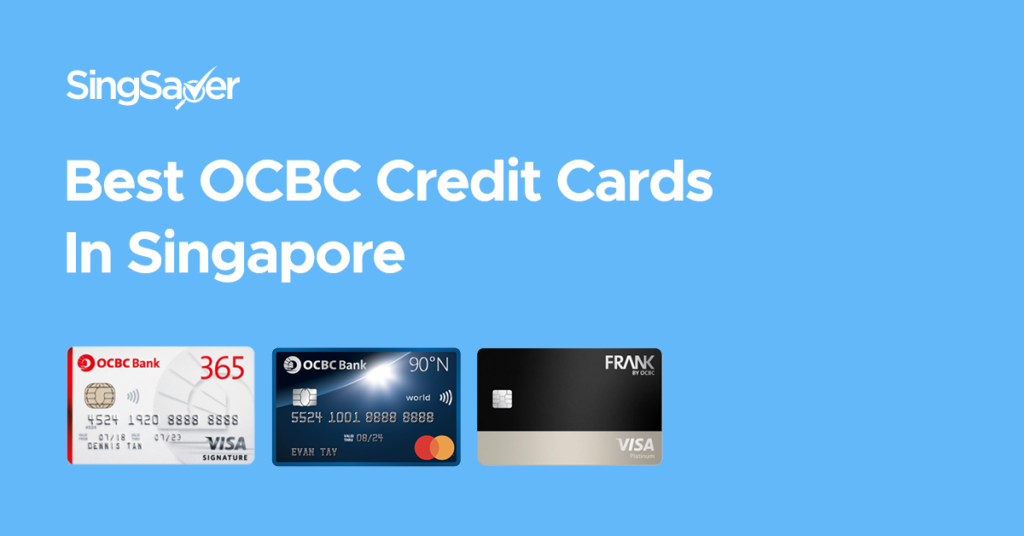 ---
Every spending situation is unique. SingSaver assembles the 'Best For' list, so you can decide what's best for you.
---
As expected, the 365 is indispensable on this list, but we put the spotlight on other frontrunners in the OCBC credit card department – for your gains.
OCBC is a name on the forefront of consumers' minds, as one of the three local banking musketeers. Chances are, the OCBC 365 credit card and the OCBC 360 savings account would be first on the lips when prompted, but that's scratching the surface. There exist a handful of OCBC credit cards in the line-up that give its counterparts in DBS and UOB a run for their cashback, rewards and miles.
Sweetening the deal is the fact that OCBC cardmembers can access a great variety of dining discounts, staycation deals and utilities offers, along with complimentary card features like online fraud protection and interest-free instalment plans.
Best for cashback: OCBC 365
Best for miles: OCBC 90°N
Best for luxury travel perks: OCBC Voyage
Best for young adults: OCBC Frank
Best for shopping: OCBC Titanium
Best for groceries: OCBC Plus! Visa
Best OCBC Credit Cards in Singapore

Best for
Credit card
Benefits
Cashback on day-to-day expenses
OCBC 365
6% cashback on dining and food delivery

3% cashback on groceries, transport, utilities
First-time miles chasers
OCBC 90°N
1.2 and 2.1 miles per dollar on local and overseas spends respectively

No expiry on Travel$
Luxury travel
OCBC Voyage
Unlimited airport lounge access

Complimentary $1.5m travel insurance
Best for Gen-Zs and millennials
OCBC Frank
6% cashback on online, in-app and in-store spends
Shopping
OCBC Titanium
4 miles per S$1 on fashion/select retail
Groceries
OCBC Plus! Visa Card
Up to 7% rebates at NTUC FairPrice, Unity and Warehouse Club

Up to 12% rebates for the OCBC NTUC Plus! version of the card
Best for cashback: OCBC 365
OCBC 365 is a perennial favourite among cashback-ers, especially those who spend considerable time (and cash) dining out. The card offers 6% cashback for all local and overseas dining, on top of the bank's in-house dining deals you'd get just by being a cardmember. Also, #ICYMI, the 6% applies even for online food deliveries, when most other credit cards consider it an exclusion in the dining category.
On the whole, OCBC 365 covers a wide range of daily spending categories. If you're a car owner, you enjoy 5% cashback on petrol and up to 22.1% in fuel savings at Caltex. Further down the cashback tier is 3% on groceries, ride-hailing services, online travel and utilities. On the grocery cashback front, even though it may lag behind some of its peers like POSB Everyday and Citibank SMRT, it is ranked as one of the best credit cards to pay your recurring bills with, on this list.
If you find yourself easily hitting the four-digits in monthly credit card spending, the minimum qualifying spend of S$800 per month is a breeze to clear – although we have to say it is slightly higher than the S$600 mark that the likes of UOB YOLO and DBS Live Fresh share.
But the good thing is that the monthly cashback cap of S$80 is not restricted by categories like how Citibank's Cash Back card is.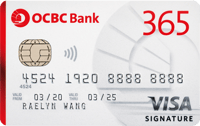 Best for first-time miles chasers: OCBC 90°N Card
First-time miles chasers, whether you're a new or existing OCBC customer, the OCBC 90°N will do no wrong for your travel wants and needs. The main sell of this card has got to be the expiry-free and flexible nature of Travel$ gained as you spend; at 1.2 and 2.1 earn rate for local and overseas spending respectively, you're free to redeem your Travel$ whenever you feel like, or convert them into miles at zero fee. If there's no need for miles, you have the option to convert into cash rebates to offset your credit card bill.
As of now, every 1,000 Travel$ earned is equivalent to S$10. You're not subject to any minimum spends or cap – another great plus point.
First year annual fee is waived for you, and on the second year onwards, you stand to get 10,000 miles when you pay the annual fee. If you regularly book accommodation with Agoda, that will earn you one of the highest bonus rates on the market, at 7 miles per dollar.
First-time miles chasers should also get a pleasant welcoming with the MasterCard Airport Experiences, which unlocks lounge accesses and offers at spas, dining and retail. If anything, wouldn't some last-ditch pampering be the perfect way to bookend a trip?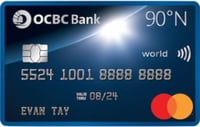 Best for luxury travel: OCBC Voyage
Continuing the thread on OCBC's travel card offerings, you could think of OCBC VOYAGE as the souped up edition of the 90N – cardmembers get VIP-level travel perks like unlimited airport lounge access and 24/7 concierge.
Previously, OCBC VOYAGE cardmembers were enjoying 2.4 miles per S$1 overseas spend, 1.6 miles per S$1 local dining spend, and 1.2 miles per S$1 local spend. Recently, OCBC Voyage card underwent a round of refresh and it now gives 2.2/1.3 VOYAGE Miles (1 VOYAGE Mile = 1 KrisFlyer Mile) for overseas and local spends respectively.
Unlike the OCBC 90N where you can only convert your Travel$ into miles to be redeemed at Singapore Airlines, you can use your VOYAGE Miles to redeem flights on any airline, anytime, with no black-out dates (subject only to availability). When you eventually travel, take advantage of the complimentary limousine services, 24/7 VOYAGE Exchange Personal Concierge services, unlimited free Plaza Premium airport lounge access throughout the year, and free travel insurance of up to S$1.5 million.
That surely sounds like a dream to any longing traveller, although you'll have to at least be earning S$120,000 annually and be content with the $488 annual fee.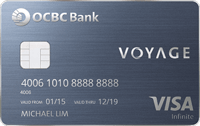 Best for Gen-Zs and millennials: OCBC Frank
With a relatively low minimum qualifying spending requirement and competitive cashback rate, the OCBC Frank card is great for young adults and freshly minted working adults who like to indulge in a bit of fun and games every now and then.
Or at least, that was how it was marketed. Since its big revamp back in July, you can now earn 6% cashback across online spending and mobile payments, which would cover more of your daily needs. Although the minimum qualifying spending each month was increased from S$400 to S$600, the expanded qualifying categories mean it might be easier for you to hit the target.
Therefore, whether you're adulting hard in your twenties (you'll be glad to know the annual fee remains at a low S$80), or are settling down into marital bliss, the OCBC Frank remains relevant.
Every month, there is a total cashback cap of S$75 (stepped up from S$60), split into S$25 each for online (or in-app) purchases, in-store mobile payments and others.
SingSaver Offer: Receive S$100 cashback and S$50 GrabFood vouchers when you apply for OCBC FRANK and make a min. spend of S$300 within 30 days of card approval. Valid till 30 September 2021. T&Cs apply.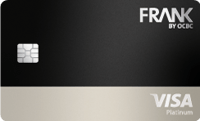 The OCBC Titanium is a headlining rewards card in the bank's catalogue. It rewards 10 OCBC$ (equivalent to 4 miles) per dollar spent on a whole gamut of shopping goods, such as fashion, bags, shoes, accessories, or laptops, tablets and other electronics. So for those who often restock their loot from major e-commerce online stores like Lazada, Shopee, Amazon and Qoo10, OCBC Titanium deserves a slot in your wallet – especially if you have plans to convert your points to miles for future travel.
If you are shopping at BEST Denki, you'll get an additional 2% rebate on top of your rewards points. Being such a shopping-centric card, it is helping you rest easier with its complimentary e-commerce protection that safeguards against non-delivery or defective goods.
The maximum bonus points you can earn is 120,000 points per 12 months, beyond which the base earn rate of 1 point per S$5 will apply instead.
Best for grocery shopping: OCBC Plus! Visa Card
There is a good handful of grocery-rewarding credit cards out there like the Citibank Cash Back or Bank of China's Sheng Siong card, but OCBC Plus! tops the chart – provided that you only ever do grocery runs at NTUC FairPrice.
First things first, note that there are two versions of the card: OCBC Plus! Visa, and OCBC NTUC Plus!
Both are carbon copies of each other, except for the fact that the OCBC NTUC Plus! is available exclusively to NTUC Union members, and it awards up to 12% cash rebates for purchases at NTUC FairPrice. The OCBC Plus! Visa Card earns you up to 7% instead. The other notable difference is the cash rebate rate for online grocery purchases, at 8% and 3% respectively.
The fringe benefits include up to 20% fuel savings and 1% LinkPoints rebate on M1, Singtel and Starhub recurring bills. Aside from the savings, you'd do well to chuck all your petrol spends and bill payments on this card as much as you can, considering that there's a minimum S$500 monthly spend requirement (outside of NTUC FairPrice) for the OCBC Plus! Visa Card (S$400 for OCBC NTUC Plus!).
Read these next:
OCBC 365 Credit Card Review (2021): A Cashback Card For Day-To-Day Spending
Credit Card Welcome Offer: A Comparison of The Best Gifts
OCBC Titanium Rewards Card: One Shopping Card You'll Want In Your Wallet
Top Credit Card Promotions And Deals On SingSaver (2021)
Best Cashback Credit Cards In Singapore 2021