---
#5 UOB EVOL Card: Best for online and mobile contactless shoppers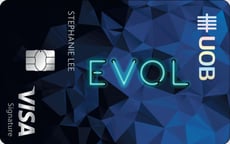 Adore the cashless lifestyle online and in real life? The UOB EVOL Card could be for you.
Best for anyone and everyone who has a penchant for shopping online or making payments via mobile contactless payment platforms like Apple Pay, Samsung Pay and Fitbit Pay, the UOB EVOL Card is one not to be missed thanks to the generous cashback it offers.
Why we love this card:
High cashback of 8% for

all online spends

High cashback of 8% for

mobile contactless spend (Apply Pay, Samsung Pay, Fitbit Pay)
But do take note:
Minimum spend of S$600 per month to enjoy cashback

Cashback cap at S$60 per month
Apply for this card if you: Like to shop online or have the habit of paying through Apple Pay, Samsung Pay or Fitbit Pay.
Welcome Gift: Receive S$300 cash credit or up to 44,800 miles when you apply and fulfill the respective min. spend requirements. T&Cs apply.
---
Best cashback credit cards: No minimum spend and cashback cap
Best Cashback Credit Cards (no min. spend and cap)

Best For
Cashback Rate
Fee Waiver
Citi Cash Back+ Credit Card
High cashback rate regardless of spending category
1.6% on all spends
1-year annual fee waiver
Standard Chartered SimplyCash Credit Card
Instant digital credit card
1.5% on all spends
2-year annual fee waiver
American Express True Cashback Card
Purchasing big ticket items in the first 6 months
1.5% on all spends and 3% cashback on first S$5,000 in the first 6 months
1-year annual fee waiver
CIMB World Mastercard
Dining, online food delivery, entertainment, taxi and luxury goods transactions
2% on wine & dine, online food delivery, movies & digital entertainment, taxi & automobile and luxury goods
1.5% on all other spends
No fees for life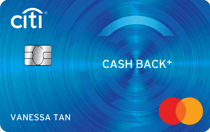 Citibank charges into the unlimited cashback fray with its recently launched Cash Back+ Credit Card (not to be confused with the Citi Cash Back Credit Card), throwing down the gauntlet by offering 1.6% cashback on all spends.
Although 0.1% more cashback is unlikely to make a difference (unless you charge tens of thousands of dollars to the card), the higher cashback earn rate still makes for an attractive option for fans of Citi seeking to earn cashback across multiple transaction types.
---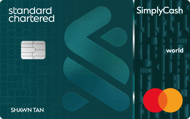 The SimplyCash Cashback Credit Card by Standard Chartered gives you 1.5% cashback each time you spend, whether for a restaurant meal, household grocers, or a new pair of gym shoes.
Additionally, choose to consolidate your spending via a balance transfer and earn 1% cashback on your approved transfer amount.
In combination, these two cashback channels effectively lets you 'double-dip' on your spending, but remember that carrying a credit card balance will incur significantly higher interest charges. But still, the extra savings would prove welcome if you need to transfer your balance.
---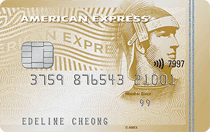 One of the very first unlimited cashback cards to be launched on our shores, the enduring popularity of AMEX's True Cashback Card boils down to its simple hook: 1.5% cashback on all spends with no minimum monthly spends nor cashback cap.
With this card, you simply spend as usual, accruing cashback which is automatically used to offset your monthly statement. Instant, fuss-free savings.
The best part? You earn a whopping 3% cashback on all spends (up to S$5,000) during the first 3 months! This equates to a maximum cashback of S$150.
---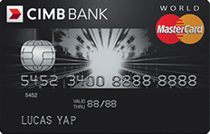 Let us preface this by saying CIMB World Mastercard now requires you to hit a minimum spend before you can earn unlimited cashback. This change has kicked in since 1 September 2021.
With the CIMB World Mastercard, you'll earn unlimited 2% cashback on wine and dine, online food delivery, movies and digital entertainment, taxi and automobile as well as luxury goods transactions — if you can hit the minimum spend of S$1,000 within the same statement month. Otherwise, the cashback that you can earn on eligible categories listed above will be halved.

For all other spends, you'll earn 1% cashback with a minimum spend of S$500 posted in the same statement month.
Also, this card has no annual fee for life, saving you money year after year. Talk about having your cake and eating it too.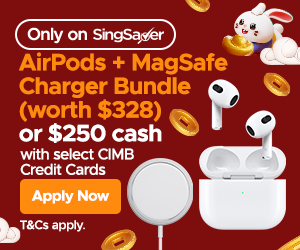 SingSaver Exclusive Offer: Receive an Apple AirPods 3rd Gen + MagSafe Charger bundle (worth S$328) or S$250 cash when you make a min. spend of S$988 within 60-days of card approval. Valid till 31 January 2023. T&Cs apply.
---
Compare and apply for the best cashback credit cards on SingSaver
If you're looking for a good cashback card to help you save on everything from groceries, to petrol, to transport, be sure to apply through SingSaver to maximise your welcome rewards with exclusive sign-up bonuses (and this is on top of the bank's own rewards!). Use SingSaver's free online comparison tool to compare the best cashback credit cards in Singapore.
---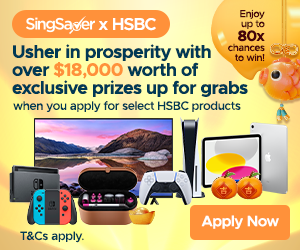 SingSaver Exclusive Promotion: Apply for select HSBC credit cards, savings accounts and investment deals to stand a chance to win over S$18,000 worth of prizes in our Fortune Lucky Draw!

Prizes include a pair of round-trip tickets to Seoul (worth S$2,400), 1x Xiaomi TV P1E 65" (worth S$1,299), 1x PlayStation®5 (worth S$799), 5x Dyson Airwrap™ styler (worth S$4,245), 20x Nintendo Switch (worth S$9,380), and other awesome gifts!
Valid till 31 January 2023. T&Cs apply.
---
Read these next:
Top Credit Card Promotions And Deals On SingSaver
Favourite Credit Card Combinations To Max Out Cashback And Miles (As Used By SingSaver Staffers)
Cashback vs Miles vs Rewards: Which Is The Best Type Of Credit Card For You?
Best Grocery Credit Cards in Singapore 2022
6 Credit Cards You Should Use as Your EZ-Link Card