Cashback's the name, and unlimited's the game. Typical cashback credit cards are fine on their own, but here's how to elevate your cashback gains with an unlimited cashback card.
For bargain hunters and discount lovers, cashback credit cards are a staple in their wallets.
They often have limitations like minimum monthly spend, cashback caps, and category exclusions. These requirements can be quite troublesome, but this is where an unlimited cashback credit card can help.
As its name suggests, unlimited cashback credit cards help to compensate for the above limitations of regular cashback cards. No minimum monthly spend, no cashback caps, and significantly fewer category exclusions — these are just the base advantages of unlimited cashback cards to name a few.
Keep on reading to uncover other benefits of unlimited cashback cards and our personal tried-and-true tactics in using them.
---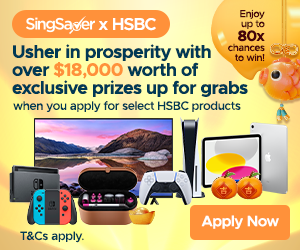 SingSaver Exclusive Promotion: Apply for select HSBC credit cards, savings accounts and investment deals to stand a chance to win over S$18,000 worth of prizes in our Fortune Lucky Draw!

Prizes include a pair of round-trip tickets to Seoul (worth S$2,400), 1x Xiaomi TV P1E 65" (worth S$1,299), 1x PlayStation®5 (worth S$799), 5x Dyson Airwrap™ styler (worth S$4,245), 20x Nintendo Switch (worth S$9,380), and other awesome gifts!
Valid till 31 January 2023. T&Cs apply.
---
Overview: Best unlimited cashback credit card recommendations to apply for in Singapore 2023
Cashback credit card

Perks

Best for

- 1.7% cashback
- No spend exclusions

Insurance, fees, bills, e-wallet top-ups

- 1.5% cashback
- 3% welcome bonus cashback (capped at S$5,000 spend within first six months)

Welcome bonus, AMEX privileges

- 1.6% cashback
- 10% welcome bonus cashback (min. S$800 spend within first two months)

Sign-up rewards

- 1.5% cashback
- 100% rebate when paying bills via SC EasyBill
- Up to S$277 extra cashback (min. S$200 spend within first 30 days)

Extra cashback on bills

Eligible categories
- 2% cashback on min. S$1,000 monthly spend
- 1% cashback on <S$1,000 monthly spend

Other categories
1% cashback on min. S$500 monthly spend

Highest conditional cashback
See also: Credit Card Promotions: Exclusive on SingSaver
---

Best for recurring payments: UOB Absolute Cashback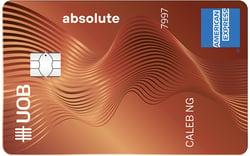 UOB Absolute Cashback offers 1.7% cashback with no minimum spend or cashback. It's one of the highest rebates offered on the market currently.
What's more, out of all the unlimited cashback cards, UOB Absolute Cashback has the least spend exclusions. Using this card allows you to earn cashback on often-excluded merchant transactions like insurance premiums, school fees, utilities, rent, e-wallet top-ups and more.
Although it utilises AMEX as its payment processor, there are methods to bypass this limitation.
For instance, topping up stored value in a prepaid Mastercard like GrabPay Card and thereafter, paying with it allows you to double-dip in cashback rebate. The first dip is the 1.7% cashback, and the second dip is earning GrabRewards points by paying through the card. The amount of points earned depends on your Grab membership tier.
💡 Pro-tip: Since 14 October, regular and silver members earn 0.6% cashback, gold members earn 0.9% cashback, and platinum members earn 1.2% cashback. These points are eligible for online GrabPay Wallet transactions at merchant-partners and Grab services along with postpaid and instalments using PayLater by Grab.

Refer to their Rewards Page for more details.
---
Best for AMEX privileges: AMEX True Cashback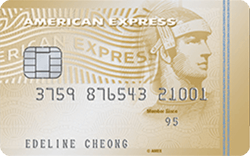 AMEX True Cashback offers 1.5% cashback on all eligible spending, with no minimum spend or cashback cap.
Compared to UOB Absolute Cashback, it's not totally immune to spend exclusions. There are certain non-eligible categories like balance transfers, annual card fees, cash advance loans and others.
Otherwise, key categories like healthcare, utilities, telco, education fees, insurance, home renovation, online shopping, and groceries are all qualified as eligible spend.
While 1.5% is the base rebate rate, this card offers a generous 3% welcome bonus cashback on the first S$5,000 eligible spend within six months of card approval.
While 3% rebate is still measly compared to regular cashback credit cards, this figure is the highest promotional rate among unlimited cashback cards.
Moreover, the S$5,000 expenditure is graciously spaced out over a period of six months. Those spending a monthly average of S$850 and above are more than capable of achieving this minimum consecutive spend for six months.
As a result, cardholders can earn a maximum total of S$150 under this welcome 3% bonus rate. That's just shy of the cost of a pair of 2nd Gen Apple AirPods (S$165).
But that's not all. The cashback is instantaneous. There's no waiting time nor minimum amount to redeem your cashback.
Welcome Gift: Enjoy 3% Cashback on up to S$5,000 eligible purchases within the first 6 months. T&Cs apply.
---
Best for sign-up rewards: Citi Cash Back+

Another crowd favourite, the Citi Cash Back+ is a mid-tier card because of its 1.6% cashback with no minimum spend or cashback cap. Unfortunately, this card has considerably more spend exclusions than the aforementioned ones.
You can redeem your cash instantly on the go via SMS in rebate values of S$10, S$20, and S$50.
In any case, it's still a decent cashback card to funnel all your retail spending towards. But if you need some convincing, give our Citi Cash Back+ card review a read.
Though its card mechanics might pale in comparison to the previous two cards, Citibank often issues out more attractive sign-up rewards than other banks.
Don't believe us? Check out Citibank's card sign-up promotion:


---
Best for extra bill rebates: Standard Chartered Unlimited Cashback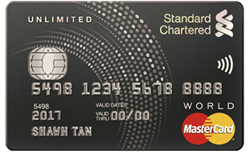 Standard Chartered Unlimited Cashback is another respectable card featuring 1.5% cashback with no minimum spend or cashback cap.
One of its perks includes full cashback when you pay your bills through SC EasyBill function. Furthermore, get up to S$277 rebate when you activate your physical card and spend S$200 on eligible merchants within 30 days of card approval.
If you need further information, maybe our Standard Chartered Unlimited Credit Card review can help.
See also: Credit Card Comparison: AMEX True Cashback vs. Citi Cash Back+ vs. SCB Unlimited
---
Best for highest conditional cashback: CIMB World Mastercard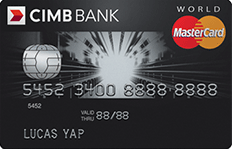 Last but not least, we have CIMB World Mastercard offering 2% cashback with no cashback cap, the highest rate among all the cards so far. However, the drawback is that it's the highest conditional unlimited rebate.
There is minimum spend involved. This 2% rebate is only awarded upon hitting the minimum S$1,000 spend per month. Otherwise, this rate is reduced to 1% cashback for eligible spend less than S$1,000.
There are also restrictions on category eligibility. Only dining, online food delivery*, movies, digital entertainment, taxi rides, ride-hailing, automobile, and luxury goods are entitled to the highest cashback tier.
Other than that, cardholders are also entitled to 1% cashback on other spend categories with a minimum S$500 spend per month.
Compared to other consistent rebates like UOB Absolute Cashback's 1.7% cashback on almost all categories, this 2% and 1% conditional cashback by CIMB World Mastercard is not as effective.
*Applicable to Deliveroo, Foodpanda, GrabFood, WhyQ, and AirAsia Food merchants only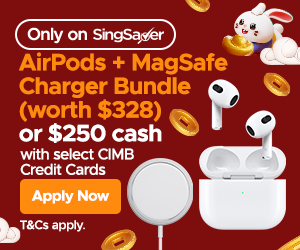 SingSaver Exclusive Offer: Receive an Apple AirPods 3rd Gen + MagSafe Charger bundle (worth S$328) or S$250 cash when you make a min. spend of S$988 within 60-days of card approval. Valid till 31 January 2023. T&Cs apply.
---
What other benefits do unlimited cashback credit cards have?
While we've covered the basic mechanics of unlimited cashback credit cards, some of you might still be unconvinced of their benefits.
Compared to other cashback cards like UOB One (Up to 15% cashback), OCBC 365 (8% cashback), and POSB Everyday Card (Up to 10% cashback), the <1.7% cashback doesn't hold a candle to those rebates.
So apart from no minimum monthly spend, no cashback cap, and fewer spend exclusions, why is an unlimited cashback credit card still recommended as a supplement card?


1. Best for big-ticket purchases & costly household projects
This should be fairly obvious by now but the limitless spending makes these cards ideal for big-ticket purchases and costly household projects. Major purchases like buying your first car can be done through these unlimited cashback cards.
But of course, to be a responsible car owner, you should consider these factors before sealing the deal. After all, not only are cars in Singapore becoming more expensive but they're more of a luxury than a necessity thanks to our robust public transportation.
Read more:
Buying a Secondhand Car in Singapore
Buying an Electric Car in Singapore: A Complete Guide
How Much Does it Truly Cost to Maintain a Car in Singapore?
Home renovations have also become more expensive. The average home renovation costs around S$30,000 in Singapore, but many couples and families easily exceed this initial budget.
In any case, unlimited cashback cards aren't the only cards capable of footing such costly transactions. Check out these 13 other card recommendations for big-ticket purchases.
Read more:
7 Ways to Lower Renovation Costs if You're Moving into Your New Home
A Complete Guide to Kitchen Renovations
Renovation and Interior Design Comparison Platforms in Singapore
When to Use a Personal Loan for Home Renovations
---
Looking for a couple extra thousands to fund your home renovation project? Why not consider taking up a personal loan to cushion some of the costs?


2. Best for bills, fees, and insurance premiums
As stated above, unlimited cashback credit cards like UOB Absolute Cashback and AMEX True Cashback count categories like insurance, hospital bills, utility bills, phone bills, education fees and more as eligible spend.
Hence, it makes sense to consolidate all your important recurring bills into a single card for easier tracking and payment.
3. Beginner friendly, especially for young adults
Thirdly, treat unlimited cashback credit cards as your beginner-friendly stepping stone into the world of personal finance.
Too many young adults are over-eager to 'abandon' their debit card and apply for their first credit card. This transition symbolises their growth from teenager into adulthood and the newfound freedom that comes with it.
That said, it's foolish to jump headfirst into a credit card without understanding the responsibilities of managing it. Forgetting to pay credit card bills on time and overspending on credit limits are common mistakes that naive cardholders make.
It's best to educate yourself on the fundamentals of credit card ownership before committing to one.
Read more:
The Best Credit Cards For Young Adults in Singapore
Student Credit Cards — Are They Worth Signing Up For in 2023?
Best Credit Cards For S$600 Monthly Spend
5 Signs It's Time to Upgrade Your Debit Card to a Credit Card

Summary: Simplicity is key
Now, this must've been a lot of information to digest.
Learning about new concepts like monthly bills, minimum payments, and annual fees as personal finance beginners and novices can be intimidating and tough. But hopefully, we've managed to deconstruct how general cashback mechanics work and explain why an unlimited cashback credit card is a good first choice.
To reiterate, your first credit card should be straightforward to use.
It shouldn't involve you jumping through multiple hoops to satisfy rebate conditions.
A limitless cashback card usually helps to drown out all the noise of minimum spend, cashback caps, differing categorical rebate rates and spend exclusions.
It simplifies everything into an easy-to-use and fuss-free card that's effective for both everyday and major expenses. But as always, remember to read the fine print of your bank's T&Cs if you're unsure about eligible purchases!
Read these next:
Can Cashback Credit Cards Help Curb Inflation in Singapore?
Credit Card Promotions: Exclusive on SingSaver
Credit Card Welcome Offer: A Comparison of the Best Gifts
Best Rewards Credit Cards in Singapore