Do we always have to fork out money to get insured for a trip? Save yourself the hassle and cash by getting a credit card that provides just the solution.
More and more Singaporeans have been bitten by the travel bug. It's true ­– we took an average of 5.2 trips per person in the last 12 months (as reported by TODAY). With travelling becoming more a necessity than luxury now, we are also becoming savvier travellers. And what do savvy travellers do? They buy travel insurance. Simply because whether it's to skateboard across 50 countries, or to have a nice and comfortable break from the hustle and bustle of life, it pays to be prepared for surprises — and you know life is full of those.

Conventionally, one would make a beeline for insurance companies. But we live in a world where choices abound — whether you're buying cupcakes, gelato or insurance, you get to call the shots on what's best for you. So if you're not quite happy with the spread at the insurance companies, you can always turn to your credit cards. Yes, credit cards offer you travel insurance, too — and they're complimentary. If you don't already have one, we made a list of the best there are out there.
*Disclaimer: Benefits of the travel insurance provided by these cards will vary depending on the travel insurance policy they are offering. Please check the terms and conditions of your policy to be fully aware of the benefits that are available to you.
Miles Never Expire: Citi PremierMiles Visa Card
Are you someone who likes to take things slow and prefer not to make decisions on a whim? Or, you can be forgetful at times and let your miles expire (which is like tossing money aeroplanes out the window). If the above describes you, this is the right card for you. The best thing about this card is that the Citi Miles earned through this card never expires. Yup, never. All you have to do is charge your travel tickets to your Citi PremierMiles Visa Card to receive complimentary protection.

Coverage:
Up to S$1,000,000 coverage in the event of death or permanent disablement, arising from an accident in a common carrier. (Up to S$50,000 coverage for your child)

Baggage Loss: Up to S$500 reimbursement per article, up to max S$1,000.

Trip Cancellation: Up to S$500 reimbursement
For full set of policy terms and exclusions please click here.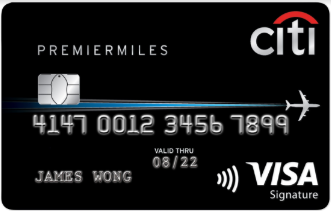 Skip That Annual Fee: DBS Altitude Card / Maybank Horizon Visa Signature Card
Do you believe strongly that every cent counts? As a frugal spender, you get satisfaction from making every cent go that extra mile, literally. So, when a credit card offers you a membership fee waiver without making you call in to ask for it, you know you have yourself a special relationship (*wink*). The DBS Altitude card or the Maybank Horizon Visa Signature Card are two such cards — when you chalk up an annual spend of S$25,000 and S$18,000, respectively. Terms and conditions apply.

Coverage:
DBS: Get up to S$1 million travel accident insurance coverage for you and your family members when you charge the full travel fare to your DBS Altitude Card. More details

here

.

Maybank: Be insured up to S$1,000,000 when you charge your travel fares in full to the card.
More details here.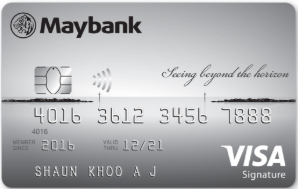 High On Miles: UOB PRVI Miles Card
This card is for the fuss-free, "less is more" spenders who need just one credit card for everything. And if coincidentally, your end game is to accumulate as many air miles as possible – that's a bonus. But here's the winner: There is no minimum spend and cap on miles earned required, every expenditure adds up to free flights. Earn 1.4 miles for every S$1 spent locally, 2.4 miles for every S$1 spent overseas and up to 6 miles for every S$1 spent on major airlines and hotels book through selected agents. Terms and conditions apply.

Coverage:
Receive personal accident and travel inconvenience insurance coverage of up to S$1,000,000. Cardmembers must charge the entire fare of the public conveyance in advance of the scheduled departure time to the UOB PRVI Miles Card.
More details here.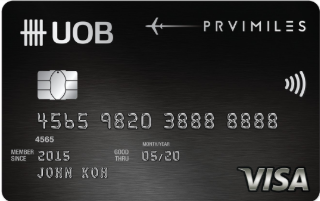 Say No To Conversion Fees: AMEX Singapore Airlines KrisFlyer Credit Card
Conversion fees can be a pain, especially if there's a bunch of them adding up. But don't let that stop the globetrotter in you from going places. With this card, you won't have to worry about paying the conversion fees each time you make a purchase overseas. Plus, the KrisFlyer miles earned on this card are credited directly into your KrisFlyer account – hassle-free. And, you get to enjoy the first year waiver on this card. Terms and conditions apply. 'Nuff said.

Coverage:
Complete Fraud Protection Guarantee
Shop with confidence. American Express will not hold you responsible for any unauthorised charges on your Credit Card, both online and offline.
Up to S$350,000 Travel Inconvenience & Travel Accident Benefits
Purchase your travel tickets with your Card and receive free Travel Inconvenience & Travel Accident Benefits of up to S$350,000.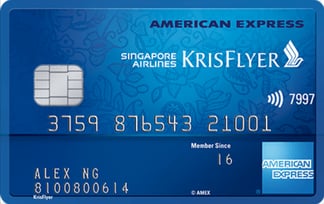 Final Note
Always remember to choose your credit card wisely and spend prudently. To compare more types of air miles card in Singapore, use Singsaver's comparison tool to help.
---

By Alexa Fang
Alexa is a pop-culture vulture. She lives to read, write and travel, and decided long ago that life is stranger than fiction. When she's having croissant, she thinks in French. "31 Rue Cambon" is her favourite address, and she believes that money one enjoyed spending is never money wasted.
---