Another plan that offers reasonably priced cruise travel and COVID-19 coverage is Tiq Travel Insurance. There are three tiers of plans as well - Luxury, Savvy, Entry. The plan covers up to S$1 million for medical expenses, and S$10,000 for post-trip medical expenses.
For COVID-19 coverage, the plan covers up to S$300,000 for medical expenses, up to S$1,500 (S$100/day) quarantine allowance, up to S$5,000 for trip cancellation, curtailment or disruption, and up to S$1,500 for travel delay.
Premiums (single traveller, single trip, 3-day duration):
Luxury: S$25.27
Savvy: S$22.61
Entry: S$13.96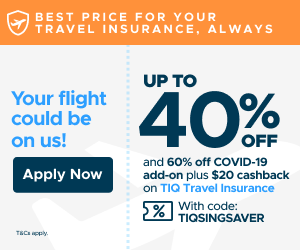 SingSaver's Exclusive TIQ Travel Insurance Promotion: All successful applicants of TIQ Travel Insurance will receive 1x draw chance to enter our Weekly Lucky Draw where 1 lucky winner will stand to have their flight ticket reimbursed (up to a maximum of S$2,000). Valid till 31 July 2023. T&Cs apply.

Single Trip: Use promo code TIQSINGSAVER to enjoy 40% off when you apply. Valid till 18 Jun 2023. T&Cs apply.

Annual Trip: Use the promo code TIQSINGSAVER to enjoy a 60% discount on your COVID-19 add-on and get S$20 Cashback (Fulfillment by Etiqa) when you apply. Valid till 18 Jun 2023. T&Cs apply.

Key in the promo code under the coupon code section on the next page after selecting your destination and dates. The prices shown are before discounts.

Receive coverage for trip cancellations, medical expenses, and more when you purchase the COVID-19 Rider. T&Cs apply.


Related to this topic: 6 Best Travel Insurance Plans for Cruise-to-Nowhere Holidays (2022)

---
When choosing between cruise insurance and buying regular travel insurance, never assume the former is better. Check the terms and conditions carefully; it's possible that regular travel insurance provides better payouts, or has wider coverage. When in doubt, ask your financial adviser to do a comparison.
Remember, just because it's bundled with the cruise doesn't mean it's better.
---
Looking to receive insurance coverage on your cruise-to-nowhere? Use SingSaver's handy comparison tool to discover which insurers have travel insurance policies that cover cruises-to-nowhere. A good number of them even cover COVID-19-related travel cancellations and delays!
---
Protected up to specified limits by SDIC.
Note: This is only product information provided. You may wish to seek advice from a qualified adviser before buying the product. If you choose not to seek advice from a qualified adviser, you should consider whether the product is suitable for you. Buying an insurance product that are not suitable for you may impact your ability to finance your future healthcare needs.
If you decide that the policy is not suitable after purchasing the policy, you may terminate the policy in accordance with the free-look provision, if any, and the insurer may recover from you any expense incurred by the insurer in underwriting the policy.
---
Find More About Travel Insurance Providers
Compare and make the best decisions to find the best travel insurance providers for your needs
Read these next:
Cruise To Nowhere: Is It Worth Your Money And Time?
Best Travel Insurance In Singapore (2021)
Will My Travel Insurance Cover COVID-19?
10 Prudent Things You Can Do With Your Travel Fund If COVID-19 Has Derailed Your Trip
How Different Will Travel Be Post COVID-19?