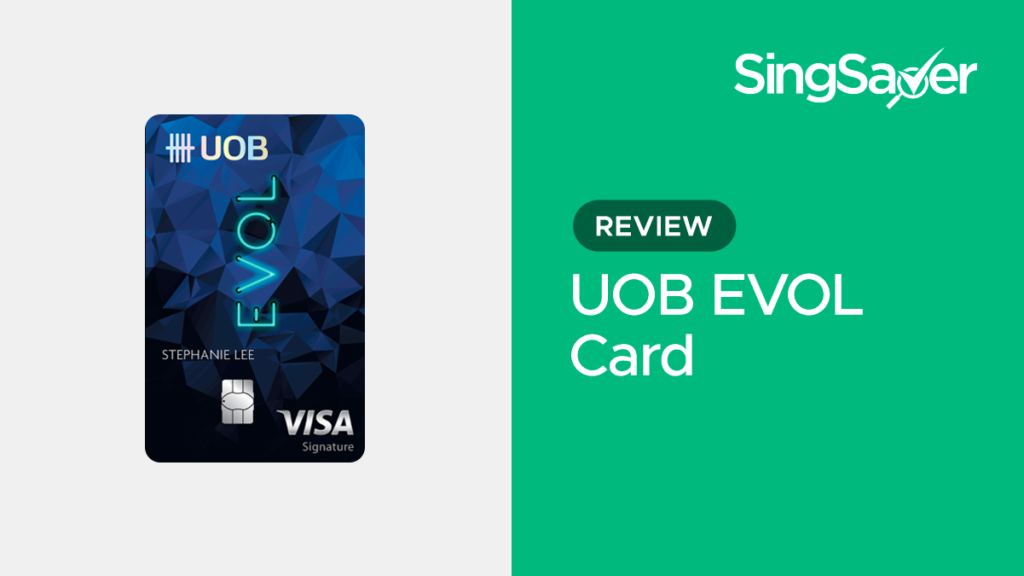 Once known as UOB YOLO, UOB EVOL has grown to become an ever- evolving card that rewards contemporary desires and eco-friendly habits
The ever-changing nature of our times is deeply reflected in UOB's newest millennial card, the aptly named UOB EVOL. Like its name suggests, we are constantly evolving, especially in our shopping and dining habits. The increasing prevalence of e-commerce and contactless payments make UOB EVOL a great card, as it offers 8% cashback on an endless list of online and mobile contactless transactions.
In fact, 8% is undoubtedly high by today's cashback credit card standards. Further enhanced by its low maintenance and generous flexibility, UOB EVOL has got your back in many ways.
(Fun fact: The card's 82% plant-based Polylactic Acid (PLA) card material is made of non-edible corns and each card produces 10g less carbon footprint.)
Previously known as the millennial-centric UOB YOLO, it sought to enliven the indulgence in all things recreational – with cashback perks revolving around dining, entertainment and taxi-booking. However, UOB YOLO is arguably restrictive given its emphasis on weekend spending, with an 8% cashback on weekends as opposed to a mere 3% on weekdays. True to its name, UOB EVOL has moved past this condition to provide the 8% cashback throughout the week. Additionally, the scope of UOB EVOL encompasses a wider range of options that qualify you for the cashback as it shifts its focus towards online and contactless mobile transactions
What the UOB EVOL Card can do for you
UOB EVOL Card product summary:
Online Cashback: 8% on online transactions
Mobile Contactless Cashback: 8% on mobile contactless transactions done via Apple Pay, Google Pay, Samsung Pay or Fitbit Pay
Min. monthly spend: S$600
Income Requirements: S$30,000 (Singaporeans/PRs), S$80,000 (Foreigners)
Minimum Age: 21
Annual Fee: S$192.60
| | |
| --- | --- |
| Pros | Cons |
| Relatively low qualifying monthly spend of $600 | Monthly cashback cap of $60 |
| Highest cashback rate of 8% online transactions and mobile contactless transactions | Low 0.3% cashback on all other spends |
| Great variety of eco-friendly dining and fashion deals | Does not reward essential expenses such as SP utility bills. |
| Earn up to 2.5% interest on your savings by pairing the UOB EVOL card with the UOB One Account | |
Why you should choose UOB EVOL credit card
#1: Legit savings anytime, anywhere
UOB EVOL credit card offers 8% on an exhaustive list of online transactions and mobile contactless payments, making it an ideal credit card for your many online purchases. Given the ubiquity of online shopping and contactless payments right now, the possibilities are just endless. It can include your favourite food delivery options, like Deliveroo and Foodpanda, or universally-renowned e-commerce platforms like Taobao and Shoppee. The realm of e-commerce is ever-active, allowing you to enjoy savings anytime, anywhere.
#2: Be part of an eco-friendly community
With the looming threat that is global warming, UOB EVOL has dedicated itself to the preservation of our world. Boasting one of Southeast Asia's first bio-sourced credit cards made from renewable plant-based materials, it saves plastic and reduces carbon footprint. Be part of the eco-friendly movement and enjoy exclusive discounts at eco-friendly stores such as Salad Stop! and Coconut Matter.
#3: Low maintenance, less pressure
Most credit cards have excessive monthly spend obligations to fulfil in order to reap the benefits, which ironically may be a financial crutch. With a reasonably attainable monthly expenditure of S$600, you get to enjoy a multitude of cashback benefits and exclusive discounts.
Also, forget about those pesky annual fees because just three purchases a month for twelve months get you a waiver on your annual fees. To make things better, your first year is immediately waived upon a successful sign-up.
#4: Supercharge your savings account
If you've got an existing UOB One Account, make the most of it by applying for the UOB EVOL –– or other UOB credit cards for the matter. Credit card spends of at least $500 is a one of the recognised categories to earn you higher interest rates, up to a maximum of 2.5% p.a.
---
---
SingSaver Exclusive Offer: Be the first 200 new-to-UOB credit card holders to receive S$250 worth of Grab vouchers when you make a minimum spend of S$1,500 within 30 days from card approval date. Valid till 30 September 2022. T&Cs apply.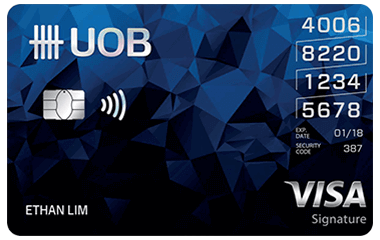 ---
For whom is the UOB EVOL Card best for?
For the young and the young-at-heart to enjoy up to S$60 in savings each month, while living life to the fullest.
With a seemingly endless list of possibilities in its online cashback options, the UOB EVOL card allows you to enjoy savings whether you're on a date, playing your favourite computer game or even just getting groceries. Also, you'll get access to UOB's recently revamped digibank app, UOB TMRW, where tons of exclusive dining, shopping and travel deals await you. This starter credit card is also suitable for fresh graduates who are embarking on their next exciting undertaking.
What charges or fees should you look out for?
Annual fee: S$192.60 (First-year card fee waiver, subsequent annual fees are waived as long as three purchases are made monthly)
Late payment charge: S$90
Interest on purchases: 25.9% per annum, calculated daily from the date each transaction is posted to your card account until full payment is received
Interest on cash advance: 28% per annum will be charged upon the withdrawal date until the withdrawal amount and the relevant fees are paid in full
Eligibility criteria
At least 21 years of age
Minimum annual income for Singapore citizens and PRs: S$30,000
Minimum annual income for foreigners: S$80,000
How to apply?
Click on the 'Apply Now' button in this article and complete the application form on SingSaver site. You might need to prepare the following documents for the application process:
Front and back of NRIC/Passport/Employment Pass
Salaried employees: Past 12 months CPF statement (Singaporean/PR) or latest Income Tax Notice of Assessment and latest original computerised payslip
Self-employed: Latest Income Tax Notice of Assessment and latest original computerised payslip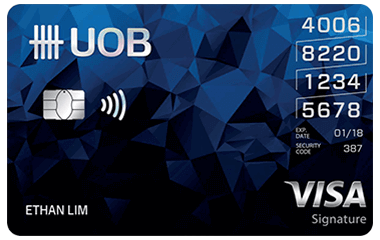 Read these next:
Best Dining Credit Cards In Singapore
UOB YOLO Is Now The UOB EVOL: What's Changed?
Credit Cards You Should Use As Your EZ-Link Card
Best Credit Cards For Paying Utility Bills In Singapore
Best Grocery Credit Cards In Singapore 2021