---
More on this topic:
Standard Chartered Unlimited Credit Card Review
UOB One Card Review 2022: Generous Cashback Card
POSB Everyday Card Review
Citi Cash Back+ Mastercard Review
---
#1 CIMB FastSaver Account + CIMB Visa Signature Card — up to 2.20% p.a. + up to 10% cashback
CIMB FastSaver Account
Since 1 November 2022, CIMB FastSaver Account has revised their rates and interest eligibilities. It used to be a no-frills account that requires no spending, while the interest is tagged to your balance.
However, the new changes requires a minimum S$300 spend on your Visa Signature card — that's still very achievable if you're usingit as your primary card for your everyday expenditures.
If you're just like Joe, who has S$20,000 in your account, you can earn an interest of 2.20% p.a. on your first S$10,000, followed by an interest of 1.50% on the next S$15,000. Though the revised system requires a tad more effort, the interest rates have been increased significantly, making this the best combo out there to maximise your savings.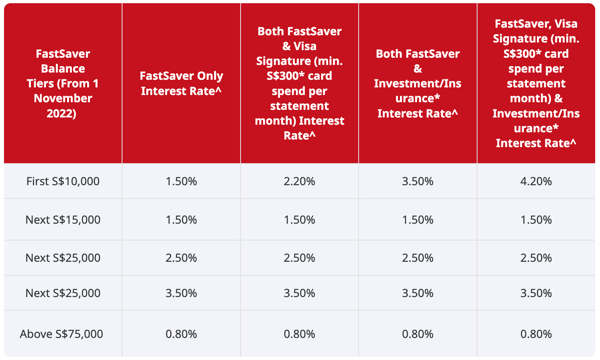 CIMB Visa Signature Card
Out of all the CIMB cards in the market, The CIMB Visa Signature Card is the one that stands out as it offers a 10% cashback on online shopping, groceries, beauty/wellness etc — one of the highest cashback rates out there. Its minimum spending is also fairly reasonable compared to other CIMB cards that require a minimum spending of S$1,000 for just 1% cashback.
The minimum spend is S$800 per month if you want to be eligible for the 10% cashback. There is also a cashback cap of S$100 per statement month and up to S$20 per category. When you exceed the cashback cap, you'll only earn 0.2% cashback on all spending.
With a rough breakdown of spendings with an S$800 minimum spending, let's assume:
S$300 on online shopping — S$20 (cap reached) + S$0.20
S$300 on groceries — S$20 (cap reached) + $0.20
S$200 on beauty and wellness, pet shops and veterinary services, cruises — S$20
Joe will be able to earn a monthly cashback of S$60.40, which means an annual interest of S$724.80.
#2 OCBC 360 Account + OCBC 365 Credit Card — 0.80% p.a. + up to 6% cashback
OCBC 360 account
Good news folks! OCBC 360 account once again revised their interest rates, successfully clinching second place.
Using Joe's financial profile, he would be able to earn an interest rate of 2.60% p.a., which amounts to a decent S$520 in annual interest. Here's how:

If he wants to earn extra bonus interest, he'll either need to save, insure, invest or grow his account by maintaining an average daily balance of S$200,000 and above.
OCBC 365 Credit Card
The only card that can be paired with the OCBC 360 Account is the OCBC 365 credit card which offers rather competitive cashback rates.
You'll earn 6% on local and overseas dining and food delivery, 4% on local and overseas groceries and online groceries, 3% on local and overseas taxi rides and private hire rides, 5% on petrol, 3% on utilities and 3% on online travel. Other expenses entitle you to a 0.3% cashback.
However, to earn all these attractive cashback rates, you'll also need to spend S$800 a month. Anything less will entitle you to a flat rate of 0.3% cashback. The cashback amount is also capped at S$80 per month, regardless of category.
Assuming you spend:
S$200 on dining — S$12
S$200 on groceries — S$6
S$100 on transport — S$3
S$150 on petrol — S$7.50
S$100 on utilities — S$3
S$50 on other spend — S$0.15
That adds up to a monthly cashback of S$31.65, and an annual cashback of S$379.80.
#3 UOB One Account + UOB One Card — 1.40% p.a. + up to 10% cashback
UOB One Account
The UOB One Account still emerges second place as the savings account that offers the second highest realistic interest rate.
By having savings, spending on your credit card and crediting your salary of more than S$3,000, you're essentially earning the highest interest tier possible. To earn the highest interest of 3.6%, you'll need funds above S$75,000 to S$100,000.
Based on Joe's financial circumstances, he earns a total of S$280 annual interest.
UOB One Card
With the UOB One Card, you'll get up to 10% cashback on bus and train rides with SimplyGo, and 10% cash rebates on Grab rides and food (excluding Grab mobile wallet top-ups).
You'll also earn 10% rebates at certain grocery stores and beauty and wellness retail outlets under Dairy Farm International such as Cold Storage, Giant, Guardian, 7-Eleven, Marketplace, Jasons, Jasons Deli, as well as online spend on Shopee.
If you're running on Singapore Power, you'll get a 4.33% cashback on their utility bills, as well as 3.33% cashback on other spend including dining, overseas spend and supplementary card spend.
Using a rough estimate based on a spending of S$800 per month in these categories, Joe may earn an estimated annual cashback/rebate of S$200 based on these spendings:
S$200 on transport (including Grab)
S$200 on groceries, beauty and wellness
S$100 on dining
S$100 on utilities bills
S$100 on recurring bill payment
S$100 on other spend
He'll just have to hit a minimum spend of S$500 and make at least 5 card transactions for the quarter. You can also head over to their UOB One Credit Card rebate calculator for a more accurate estimated rebate you can receive based on your spending habits.
The only drawback of the UOB One Card is that the mechanics can be slightly complicated, and the cashback is only given to you in quarters.
#4 DBS Multiplier + DBS Live Fresh — 0.90% p.a. + 5% cashback
DBS Multiplier
Hopping on the bandwagon, DBS Multiplier also recently announced an increase in the highest interest rate offered from 3.5% p.a. to 4.1% p.a. But realistically speaking, Joe can earn an interest rate of 1.50% p.a.
All he has to do is to credit his salary and transact in at least one category — credit card spending. DBS Multiplier calculates the total eligible transactions per month, which includes salary credit. So based on Joe's case, if he earns a salary of S$4,000 and spends S$800 on his credit card, the total eligible transaction will be S$4,800, earning him an interest of 1.50% p.a. That is S$300 interest per year,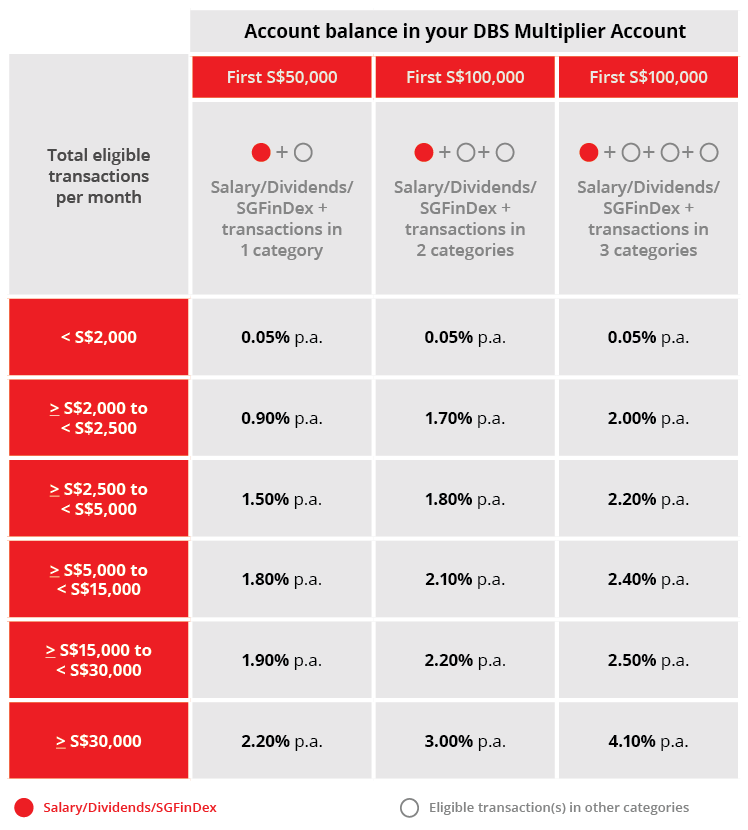 If Joe wants to earn more interest, he either has to spend at least S$1,000 on his credit card, earn a higher income of S$4,200 or transact in another category — interest, investment or home loan.
There is an alternative to earn interest, which is to rely on PayLah! transactions. However, you have to be 29 years old and below, and the highest interest earned is significantly lesser.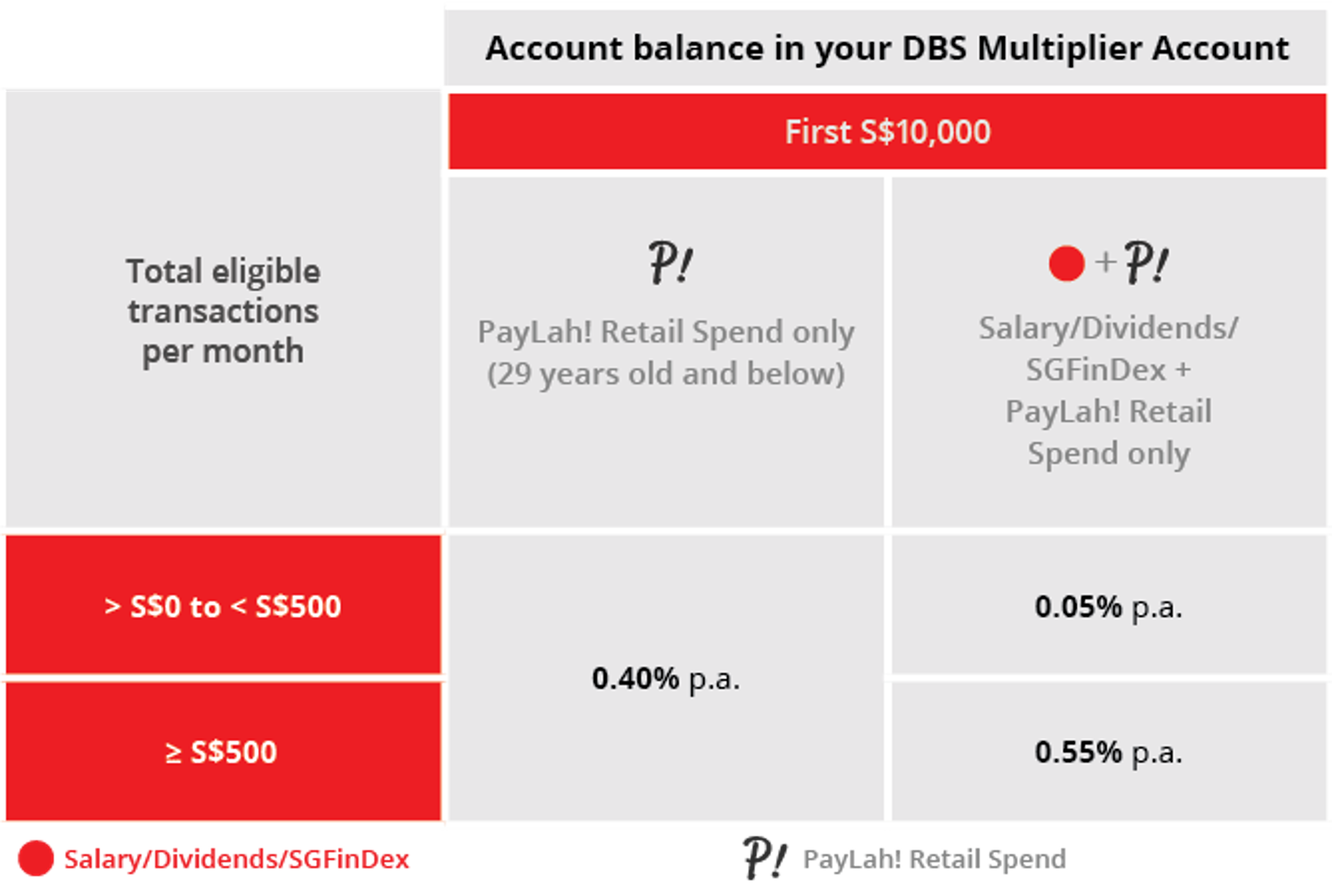 DBS Live Fresh
Out of all the eligible DBS cards that can be paired with DBS Multiplier, DBS Live Fresh stands out because of its greater range of eligible spending to qualify for cashback.
Right off the bat, DBS Live Fresh lets you earn 5% cashback on online and visa contactless spending, which basically encompasses anything you purchase online, without limiting to specific retail outlets or merchants.
This card also rewards you with an extra 5% Green Cashback when you spend at any of their eco-friendly merchants, essentially giving you 10% cashback. All other spendings will earn you an interest of 0.3%.
The only catch is that you'll have to spend a minimum of S$600 each month, which is S$200 lower than what Joe spends. There is also a cashback cap of S$15 on eligible sustainable spending, S$20 on eligible Online spending, S$20 on eligible Visa Contactless spending and S$20 on all other spendings for each month.
Doing a rough gauge on an S$800 budget, it's quite possible to earn S$35.30 per month, giving you a total of S$423.60 for annual cashback:
S$300 on online spending — S$15
S$300 on Visa contactless spend (including SimplyGo) — S$15
S$100 on sustainable spending — S$5
S$100 other spend — S$0.30
More on this topic:
UOB One Savings Account Review 2022
CIMB FastSaver Account Review (2022)
Standard Chartered Bonus$aver Account Review (2022)
DBS Multiplier: Most Pandemic-proof Savings Account
#5 StanChart Bonus$aver + Bonus$aver World Mastercard — 1.81% p.a.
StanChart Bonus$aver
Since the start of October, Standard Chartered announced that they would be increasing their interest rate up to a whopping 4.88% p.a. On your first S$100,000 deposit. This is by far the highest interest rate offered by any banks for savings accounts.
But just how easily attainable is the 4.88%? Because let's face it, not many are willing to buy new insurance and investment products just to qualify for bonus interest. With so many hoops to jump through, the average person would probably be willing to just qualify for credit card spend and salary credit.
According to Joe's S$20,000 savings, S$800 credit card spend and S$4,000 salary credit, let's see how much interest he can earn:
He can easily earn an interest of 1.81% p.a. If he makes at least three bill payments of at least S$50 each, he can easily earn the extra 0.07% bonus interest. Moreover, spending more than S$2,000 will also grant you an extra 1% interest.
Joe can earn S$362 in annual interest.
Bonus$aver World Mastercard Credit/Debit
Unlike other banks that allow you to use any credit cards offered by their bank, the Bonus$aver account only recognises transactions made on your Bonus$aver World Mastercard. Because of this, you won't be able to earn extra cashback on your credit card as the card doesn't offer any cashback benefits.
The only silver lining is that they offer attractive petrol station benefits. You can enjoy 16.5% savings for Caltex Platinum 98 fuel (16% on site + 0.5% LinkPoints) and up to 16.6% savings for other Caltex fuel (16% on CaltexGO App + 0.6% LinkPoints).

Read these next:
Best Deals Credit Cards in Singapore (2022)
Credit Card Promotions: Exclusive on SingSaver (2022)
Credit Card Welcome Offer: A Comparison of the Best Gifts
Best Cashback Credit Cards in Singapore 2022
5 Credit Cards That Will Save You The Most Money In 2022