Determined to grow your rainy-day fund? Here are our picks of the best credit cards to use in your favour and maximise the interest earned!
Due to the dreary economy and general doom and gloom of the global pandemic, savings has become more of a necessity than ever before. It can be used to tide you over your next job if – knock on wood – retrenchment rears its ugly head, severing your monthly source of income in one fell swoop.
Credit card spending is a great and potentially low-effort way to earn bonus interest on your savings account. If you play your cards right (no pun intended), it could mean all the difference between a measly 0.05% base interest rate to a whopping 3.00% interest rate per annum! Sounds like a sweet deal? Check out the best credit cards we've handpicked to amp up that interest rate and grow your hard-earned savings!
For first jobbers
Credit card
POSB Everyday Card
DBS Altitude Visa Signature Card
Pair any of the credit cards with
DBS Multiplier Account
Max. annual interest rate: Up to 3.00% p.a.
A match made in heaven for young first jobbers, these credit cards are fairly low commitment as they require no minimum spend. Start off by signing up for the DBS multiplier account (the one synonymous with the snow-white bunnies). It's a tongue-in-cheek nod to the way your savings can multiply to the tune of up to 3.00% interest rate per annum.
The rule of thumb is this: the more actions you take with DBS, the higher the interest you unlock. All you need to do is credit your salary to the account and satisfy as many "actions" as you can.
2 actions = crediting your salary + credit card transactions
3 actions = crediting your salary + credit card transactions + home loan financing
For big spenders
Credit card
Standard Chartered Unlimited Credit Card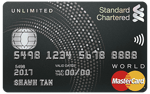 Pair the credit card with
Standard Chartered Bonus$aver Account
Max. annual interest rate: Up to 3.00% p.a.
The high-interest rate comes higher barriers to entry. Now, this doesn't necessarily apply to all savings account (see: DBS Multiplier Account) but you'll definitely need a fair amount of elbow grease to enjoy Standard Chartered's 3.00% p.a. maximum interest rate. Firstly, you'll need $80,000 in your account balance. Secondly, you'll need to satisfy the requirements of the Bonus$aver account's five main pillars to rack up the bonus interest.
Through credit card spend alone, you can earn an additional 0.25% p.a. when you spend a minimum of $500 and an additional 0.75% p.a. when you spend more than $2,000. One unique perk of the Standard Chartered Unlimited card: earn 1.5% cashback regardless of your spending. How's that for effortless?
The five main pillars to keep in mind are:
Spend
Salary credit
Invest
Insure
Bill payment
For miles chasers
Credit card
Maybank Platinum Visa Card
Maybank Horizon Visa Signature Card
Pair any of the credit cards with
Maybank Save Up Account
Max. annual interest rate: Up to 3.00% p.a.
Miles may seem like the least of our priorities given that we can't travel anytime soon. One thing's for certain when the borders inevitably open, you'll have reaped plenty of miles with the Maybank Horizon Visa Signature Card where you can earn 3.2 miles per dollar on your everyday spending (think dining, Grab/taxi rides, and daily petrol top-ups).
Leveling up on your interests earned is a breeze as well. Linked with the Maybank Save Up Account, flexibility is the undisputed name of the game. Choose from a variety of Maybank's qualifying products and services (credit card spend being one of them) to earn up to 3.00% p.a. on the first $50,000 in your account. The customisable nature of the programme allows you to pick these products according to your current financial needs while also maximising the interests earned.
The products you can choose from:
GIRO payment and/or salary crediting
Credit card spend
Investing in structured deposits or unit trusts
Regular premium insurance
Loans
And there you go! Now that you've seen the cream of the crop, which of these double-duty credit cards strikes your fancy?
Read these next:
DBS/POSB Credit Card Promotions and Deals
Miles Credit Card Comparison: What's Good For First-Time Miles Chasers?
Favourite Credit Card Combinations To Max Out Cashback And Miles (As Used By SingSaver Staffers)
Cashback vs Miles vs Rewards: Which Is The Best Type Of Credit Card For You?
Singapore Hotel Staycation Promotions During Phase 2