One of the best cashback cards for everyday spend, OCBC 365 credit card helps you save big time on dining, groceries and petrol – all 365 days a year.
With higher cashback rates given for many different categories, the OCBC 365 will fit right into your wallet as your go-to credit card.
Savvy spenders will want to optimise the OCBC 365 credit card by focusing on its highest cashback categories — dining and petrol, which give 6% and 5% cashback respectively. Spending on other day-to-day categories such as grocery spend, utilities, electricity bills and ride-sharing will also earn modest cashback. You can start spending immediately upon approval to make full use of its automatic 2-year annual fee waiver.
What the OCBC 365 credit card can do for you
OCBC 365 card product summary:
Highest cashback rate you can earn: 6%
Minimum monthly spend: $800
Maximum cashback you can earn: $80 a month
Income requirement: $30,000 (Singaporeans/PR), $45,000 (Foreigners)
Annual fee: $194.40 (First 2 years waived)
| | |
| --- | --- |
| Pros | Cons |
| 6% cashback on local/overseas dining and online food delivery | Minimum monthly spend of $800 required |
| 5% cashback on fuel spend at all petrol service stations, up to 22.1% fuel savings at Caltex and up to 20.2% fuel savings at Esso | Monthly cashback capped of $80 |
| 3% cashback on groceries, transport, telco bills, electricity bills and travel purchases online | 0.3% cashback on all other expenses |
| Complimentary travel personal accident insurance of up to $500,000 | |
Why should you choose the OCBC 365 credit card?
#1: Cashback across a wide range of categories
The OCBC 365 credit card packs a punch with attractive cashback rates for multiple different categories, including:
6% cashback on local and overseas dining including online food delivery
5% cashback on fuel spend at all petrol service stations

Up to 22.1% cashback on fuel spend at Caltex (inclusive of 18% discount for all fuel)
Up to 20.2% cashback on fuel spend at Esso

3% cashback on local and overseas groceries, including online grocery delivery
3% cashback on local and overseas ride-sharing services, including both private-hire vehicles and taxis (e.g. Grab, Gojek, TADA and ComfortDelGro)
3% on telco bills and electricity bills
3% cashback on online hotel and tour bookings (e.g. Agoda and Airbnb)
3% cashback on online air and cruise tickets
All other spending will earn 0.3% cashback. Do keep in mind that in order to earn these cashback rates, you will have to spend a minimum of $800 in a calendar month.
#2: Perfect for spending on daily necessities for the family
For those with a family to look after, dining, groceries, Grab rides and petrol costs are amongst the common monthly expenditure you'll have to pay for. The OCBC 365 ensures that you get a fraction of that spending back in your pocket.
With 6% cashback on dining, this means getting $12 back if you're giving the family a $200 dinner treat on a special occasion. Dining cashback is given regardless whether it's weekday or weekend dining. For homebodies, this even applies to online food deliveries. When restocking your groceries for the week, you'll also get 3% cashback, including online groceries from Redmart and FairPrice Online.
#3: To pay for recurring utility and telco bills
Most credit cards exclude cashback rewards for utilities and bill payments. This is where the OCBC 365 credit card stands out by offering 3% cashback on your recurring telco bills and electricity bills, making it one of the best cards for paying utility bills.
#4:Cashback cap is not limited to specific categories
OCBC 365 credit card is liberal in a way that it does not fix your $80 cashback cap to specific categories. You can max out the cashback by only spending on a single category if that's what you prefer. This provides more flexibility, allowing you to earn more cashback for categories you spend more on. It also comes in handy for those that utilise multiple cashback cards to earn more cashback.
---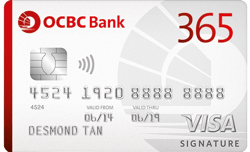 What charges or fees should you look out for?
Annual fee: $194.40 (first two years waived). Spend $10,000 in one year, starting from the month after your card was issued to get an automatic waiver of annual fee.
Late payment charge: $100 if minimum payment is not received by due date
Minimum monthly payment: 3% of total balance or $50, whichever is higher, plus any overdue amounts
Interest on purchases: 26.88% p.a. with minimum charge of $2.50 a month
Interest on cash advance: 28.92% p.a. on the amount withdrawn subject to compounding, with minimum charge of $2.50
Eligibility criteria
At least 21 years of age
Minimum annual income for Singapore citizens and PRs: $30,000
Minimum annual income for foreigners: $45,000
How to apply?
Click on the 'Apply Now' button on this page and complete the application form on SingSaver site. You might need to prepare the following documents for the application process:
Front and back of NRIC/Passport/Employment Pass
Salaried employees: Past 12 months CPF statement (Singaporean/PR) or latest Income Tax Notice of Assessment and latest original computerised payslip
Self-employed: Latest Income Tax Notice of Assessment and latest original computerised payslip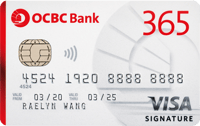 Read these next:
Best Cashback Credit Cards In Singapore
Citi Cash Back Card Review: 8% Cashback On Dining, Groceries And Petrol
OCBC FRANK Revamp: 5 Reasons To Sign Up For This Newly Relaunched Card
Best Grocery Credit Cards in Singapore
Best Petrol Credit Cards in Singapore