If you gotta spend money playing Pokémon Go in Singapore, you may as well get cashback for doing so.
A few weeks ago, we talked about how free games like Pokémon Go can tempt you into spending hundreds of dollars. While we've yet to hear about Singaporeans spending obscene piles of money on the game, circumstances can make the most strong-willed Pokemon Trainer drop a few dollars to get ahead.
When your monsters are too weak to do gym battles and earn coins, you'll want to spend real dollars for essential upgrades. I myself have already spent S$8.5 on the game. The first S$1.48 was for 20 Pokeballs during the launch date (I didn't know how to throw them correctly or use PokeStops, okay?). As I leveled up and traveled from PokéStop to PokéStop, I needed another S$6.98 for a Bag and Pokémon Storage Upgrade.
So rather than shaming yourself for spending on a "free" game, accept the fact that Pokémon Go will require money. Then set a budget and find ways to pay less.
To do the latter, use an online shopping credit card that gives rebates or cashback for PokéCoins. Most shopping credit cards only reward you for fashion retail purchases, so we rounded up the ones that give cashback on in-app purchases:
Standard Chartered SingPost Visa Platinum Card: 7% Cashback
There's a lot to love about the Standard Chartered SingPost Visa Platinum. First is the generous 7% cashback on eligible online purchases. By spending S$600 on the card per month, you can earn up to S$60 in cashback when you shop or make in-app payments.
We're not encouraging you to throw S$600 on PokéCoins, but it helps to know the minimum spend requirement before you start earning cashback. Otherwise, you only earn 0.2% cashback, which is hardly worth the effort.
Fortunately, this credit card also gives 2% rebate on supermarket purchases. So you can use the SingPost Visa Platinum for your weekly groceries, then earn a hefty 7% cashback for Pokémon on the side!
OCBC Frank Card: 6% Cashback
The OCBC Frank Card offers an attractive 6% cashback on online purchases and a cool range of 120 card designs to choose from (a Pikachu option is sadly missing). It also gives a 5% weekend cashback and 3% weekday cashback at cafes, bars, and cinemas. All in all, it's a credit card that rewards you for having fun.
The catch is that you need to spend S$400 offline before earning 6% cashback on online purchases. So if you already spend a lot on coffee, movies, and cocktails, get this card and consider the savings on Pokémon Go as an added bonus.
American Express True Cashback Card: 3% Unlimited Cashback
If you don't like having to meet a minimum spend, the American Express True Cashback Card is for you. It's one of the few credit cards in Singapore that lets you earn unlimited cashback. You receive a cool 1.5% cashback on any purchase – including PokéCoins.
All cashback earned is automatically used to offset your monthly statement. So if you charge S$600 on this card in a month, you get S$9 as cashback, and only need to pay back S$591.
As a welcome gift, the True Cashback Card awards 3% cashback on all expenses up to S$5,000 during your first 6 months.

So there you have it. Happy hunting!
Read This Next:
How Will VendCafes in Singapore Affect Your Wallet?
5 Credit Card Mistakes You Didn't Know You're Making

---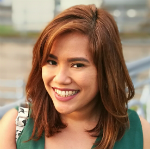 By Lauren Dado
Lauren has been a content strategist and digital marketer since 2007. As SingSaver.com.sg's Content Manager, Lauren edits and publishes personal finance stories to help Singaporeans save money. Her work has appeared in publications like Her World, Asia One, and Women's Weekly.
---