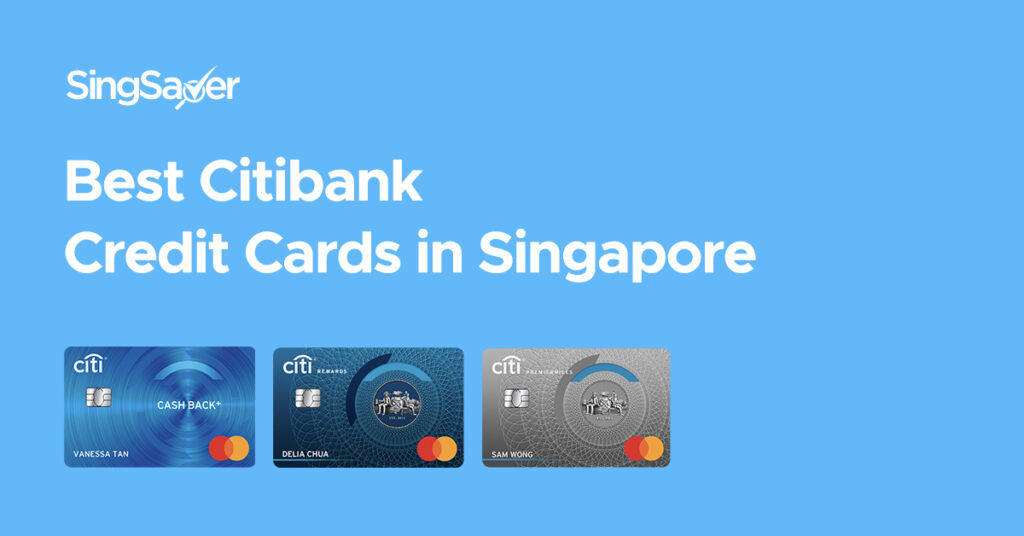 ---
Every spending situation is unique. SingSaver assembles the 'Best For' list, so you can decide what's best for you.
---
Citibank boasts a credit card for every lifestyle need, with each being laden with top-shelf member privileges.
Citibank is one of the most recognised financial brand names on the international stage, and its classically designed credit card offerings (in function) have proven to be a hit with all age groups. With a Citibank card in your wallet, you can expect serious gains in terms of cashback, rewards points and miles. There's a card for every aspect of lifestyle need.
Here is a summary of the best Citibank credit cards in Singapore in 2022.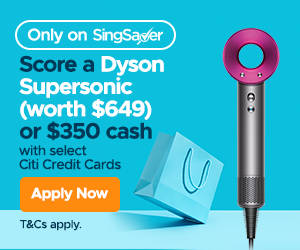 SingSaver Exclusive Offer: Receive a Dyson Supersonic (worth S$649) or Sony WH-1000XM5 (worth S$569) or an AirPods Pro 2nd Gen + MagSafe Charger bundle (worth S$418) or S$350 Cash when you make a min. spend of S$500 within 30 days of card approval. Valid till 16 October 2022. T&Cs apply.
Best Citibank credit cards in Singapore
Best For Category
Credit Cards
Benefits
Cashback
Citi Cash Back Card
Up to 8% cashback on dining, groceries and petrol
Low spenders
Citi SMRT Card
Everyday rebates with no min. spend
Miles
Citi PremierMiles Card
Miles never expire
Luxury travel
Citi Prestige Card
Unlimited lounge access
Bonus hotel nights
Shopping
Citi Rewards Card
4 miles per dollar for fashion and online spendings
---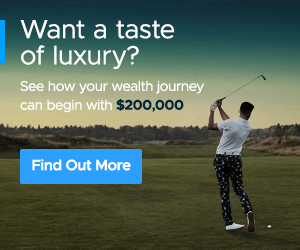 Ready to level up? Find out how you can make your money work harder and smarter for you. Enjoy your own dedicated relationship manager and privileged access to a whole suite of preferential rates with Priority Banking. Compare your options.
---
Citibank's Cash Back Card can easily claim to be one of the most chosen cashback credit cards in Singapore. It's designed to reward you with a relatively high 8% cashback groceries and petrol and 6% cashback on dining making it a cut above the rest for everyday spending. But it is not without its limitations; you'll have to hit at least S$800 in monthly spending to qualify for the cashback, and the total cashback is limited to a S$80 cap.
Foodies will especially enjoy the Cash Back Card, with its spread of Citi World Privileges that contain deals and discounts on hundreds of dining destinations — including international ones! We'd be remiss not to mention that promo codes for food delivery apps like Deliveroo and foodpanda are abound when you hold a Citibank credit card as such.
Car owners enjoy 20.88% fuel savings at Esso and Shell. If you are travelling overseas, you'll get up to S$1,000,000 coverage when you charge your travel tickets to the card.
With the Citi Cash Back credit card, you'll earn bountiful rewards for every purchase you make.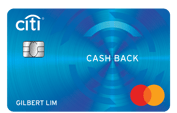 The Citi SMRT Card is a great choice for budget shoppers, fresh grads, part-time students or just about anyone who fancies savings on daily essentials.
You'd only have to hit a low minimum monthly spending of just S$500 to qualify for up to 5% rebates on grocery shopping (FairPrice, Giant, Sheng Siong), online shopping, taxis and private hire rides, and EZ-Link Auto Top-Ups and SimplyGo transactions.
Seeing that this card has 'SMRT' plastered over it, you'd be right to guess that there's plenty of savings to be enjoyed from your commutes. Be sure to activate the EZ-Link auto reload function on this card, and get up to 5% rebates.
These rebates that you accumulate come in the form of SMRT$, which can be redeemed for shopping vouchers or cash rebates. 1 SMRT$ corresponds to S$1 cash rebate, and you are subject to a cap of 600 SMRT$ each year.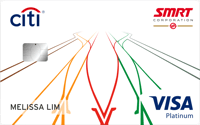 The Citi PremierMiles Card is the premier choice for anyone who wants to accumulate air miles and redeem them for a free trip down the road — anytime, anywhere.
Other than the generous bonus signup miles or cash gifts (it changes time to time, be sure to check in for promos!), the most attractive part is how your miles will never expire. You can take your own time to accumulate miles if you're planning for a mega redemption — say, a business class ticket to faraway lands.
Citibank also has one of the widest range of airline redemption partners (includes KrisFlyer, Asia Miles and Royal Orchid Plus).
As of now, the miles accumulation rate goes something like this: every S$1 spent locally gets you 1.2 miles, whereas every S$1 in foreign currency spent overseas gets you 2 miles. To get more bang for your buck, book your travel stays via Kaligo or Agoda and receive a high 10 Citi miles per dollar.
It's a slight pity that card members will have to pay a S$25 administration fee for each miles redemption, so it's best to do a bulk redemption when you're ready.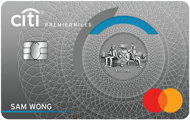 The Citi Prestige is an upmarket offering in the lineup, targeted at those who travel often for work or leisure — in style.
You'll enjoy unlimited complimentary access to hundreds of Priority Pass airport lounges for you and a guest. Eight complimentary one-way airport limousine transfers accompany the benefit, so you can expect a smooth transition to your choice of accommodation. Speaking of which, if you happened to have booked at least four nights of stay, you'll be entitled to another night free of charge. This applies to any hotel or resort you might be putting up at, assuming the reservation is made via Citi Prestige Concierge.
Similar to the PremierMiles, your miles won't expire, so you could leave them to stack up. But the difference here is that each dollar spent nets you 5 ThankYou Points overseas and 3.25 ThankYou Points locally. You could convert them to miles, which is equivalent to 2 and 1.3 miles respectively.
This isn't your everyday card, though. A luxury travel credit card would've come with 'strings attached', that being a high annual income requirement of S$120,000. There are also minimum spending requirements for certain privileges, and an annual fee of S$535 to pay. But we'd expect nothing less from a card that immerses you in distinguished travel experiences.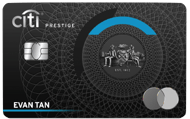 ---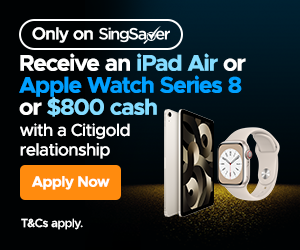 SingSaver Exclusive Offer: Grab an Apple iPad Air 5th Gen (worth S$879) or an Apple Watch Series 8 (worth S$799) or S$800 Cash when you make a min. deposit of S$250,000 by 30 December 2022. Valid till 30 November 2022. T&Cs apply.
This is applicable for all new to bank customers who do not have an existing Citigold or Citibank current/savings account. If you own a Citibank credit card or personal loan, you will still be eligible. T&Cs apply.
You'll also enjoy exclusive privileges, from personalised wealth advisories to a dedicated Relationship Manager – all to close the gap to your financial milestones.
Additionally, get up to S$6,976 cash when you make a min. deposit of S$250,000 in Assets Under Management within 3 months of account opening. T&Cs apply.
---
You'd almost always see the Citi Rewards Card on the podium, if there's a conversation around rewards credit cards. With this card, all shopping expenditure can earn you miles and you have the flexibility to butterfly between miles and Rewards points — at desirable rates at that.
Whether you are shopping online, overseas or at your favorite local stores, you will get 4 miles per S$1 spent (or 10X Rewards points). Perhaps you're also getting the munchies after all the online retail therapy? If you're ordering in via food delivery platforms, that's eligible for the 10X Rewards points too. Unlike some other cards, you're not required to make any minimum spends each month. But there is a cap set at 10,000 Rewards points per statement month (equivalent to S$1,000 per month for online shopping).
However, if you're an online shopping fiend and spend over S$1,000 per month, you earn only 1X Reward point for every S$1 spent after the cap is reached. Also, take note, the Rewards points rate is only for selected categories of spending; besides online shopping, food deliveries, it also holds for ride-hailing and grocery spendings. One notable category that's excluded is travel-related transactions online, so maybe it's a better idea to stick to the miles conversion to eventually redeem a flight.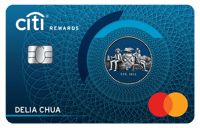 ---
Read these next:
Citi Cash Back+ Mastercard® Card Review: 1.6% Cashback On All Spend
Favourite Credit Card Combinations To Max Out Cashback And Miles (As Used By SingSaver Staffers)
Cashback vs Miles vs Rewards: Which Is The Best Type Of Credit Card For You?
Credit Cards You Should Use As Your EZ-Link Card
Credit Card Welcome Offer (2022): A Comparison of The Best Gifts