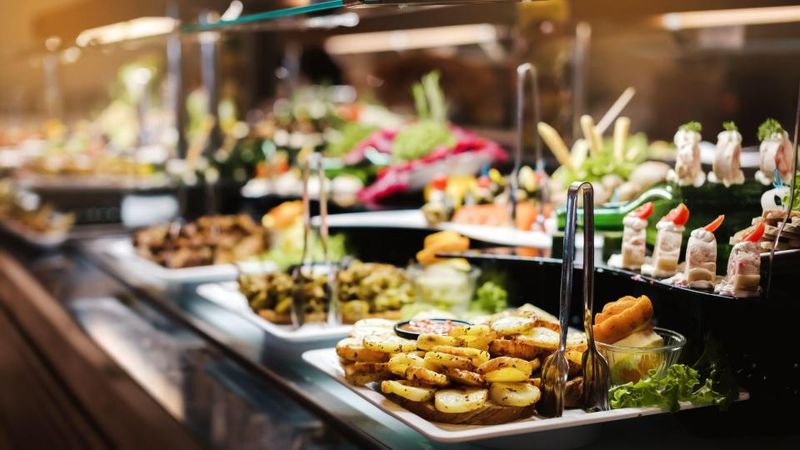 These 15 halal buffets in Singapore serve up a world of delicious cuisines.
One of the best things about Singapore is its diversity of peoples and cuisines. You can get hold of virtually any food that you are craving. Whether you are looking for seafood, pasta, steak or local dishes, you'll be sure to find authentic food choices. What's more, if you want to try different cuisines in a single meal, you are in for a treat because Singapore is home to excellent halal buffets.
These buffets allow you to enjoy sumptuous and diverse cuisines even if you or your fellow diners can only eat food that is halal. We have compiled a list of memorable halal buffets that will appeal to a wide range of palates.
StraitsKitchen
Location: Lobby level at the Grand Hyatt Singapore, 10 Scotts Road, Singapore 228211
Phone: 6732 1234
Website
StraitsKitchen is home to Singaporean cuisine served in a modern style. You get to savour what is considered street food in a comfortable, air-conditioned dining room. Diners can watch the talented chefs prepare the delicacies in the spacious kitchen, like the audience at a play.
The food at this halal-certified restaurant is cooked to order, which guarantees it's fresh. Enjoy local dishes with a spread of Chinese, Malay and Indian food, with such offerings as roasted duck, kueh and naan.
Asian Market Café
Location: Fairmont Singapore, 80 Bras Basah Rd, Level 2, Singapore 189560
Phone: 6431 6156
Website
The halal-certified Asian Market Café is the perfect place for seafood lovers. Head here if you want to indulge in a halal seafood buffet that includes oysters, delicious chilli crabs, crayfish, mussels, prawns, and much else besides. In addition to the seafood, enjoy Japanese sushi, mouth-watering roasted duck, satay stations, and mutton rendang, among others.
At the end of your meal, you get to enjoy tantalising hot and cold desserts. Get a taste of local sweets, along with such delights as durian pudding and Portuguese egg tarts. Wash down the delicious buffet with the accompanying teh tarik (milk tea).
Carousel Buffet Restaurant
Location: 25 Scotts Road, Royal Plaza on Scotts, Singapore 228220
Phone: 6219 3780
Website
Carousel has the best halal international buffet in Singapore. The restaurant has a wide variety of dishes on its menu from all over the globe. It has stations that serve delicious Chinese, Indian, Mediterranean and Japanese delicacies.
End your buffet in style with the dessert stations serving pastries, hot desserts, ice cream and more.
Sakura International Buffet Restaurant
Locations:
31 Riverside Road, Singapore 739087
93A Clementi Road, Singapore 129781
1 Pasir Ris Close, #02-02, Singapore 519599
333 Boon Lay Way, #2B-01, Singapore 649848
1A Tampines Street 92, #01-00, Singapore 528882
210 Ang Mo Kio Ave 9, #01-208, Singapore 569777
Phone: 6368 8197
Facebook
As its name suggests, Sakura offers an international buffet, at an affordable price to boot. Even friends from various cultures will be spoilt for choice as it offers over 100 different food varieties. The appetisers include fresh seafood such as sashimi and scallops, and you can look forward to dim sum, teppanyaki, tempura and more when it comes to the main dishes. End off the buffet with none other than the king of fruits: think durian crepes, puffs and buns!
Ginger
Location: 7500 Beach Road, Singapore 199590
Phone: 6505 5666
Website
Ginger is a halal-certified restaurant that celebrates the diversity of Singapore's local cuisine. Check out its five live-food stations and savour its generous buffet spread. Signature dishes are Singapore chilli crab with mantou, slow-braised beef rendang, crispy chicken cutlet, Hainanese chicken rice, popiah with bamboo shoots and ayam penyet crust, and durian pengat.
You'll also enjoy a beautiful interior rich with natural elements such as timber and stone, alongside floral accents. Altogether, this is an experience to be relished.
Kintamani Indonesian Restaurant
Location: 405 Havelock Rd, Level 2 Square, Furama Riverfront, Singapore 169633
Phone: 6333 8898
Website
Drop by for delicious Indonesian delights at Kintamani. The restaurant is halal-certified and has been around since 1985. It serves up a top-notch Indonesian spread which features over 20 dishes. Explore Indonesian foods such as gado gado (vegetables with peanut sauce), rendang daging Sumatra in tender beef, and grilled chicken marinated in black sauce.
Kintamani's tasteful decor and high service standards make it an ideal getaway for an intimate dinner. And if it's your lucky day, you'll get a complimentary serving of ikan kukus and black pepper crab.
The Landmark
Location: 390 Victoria St, Singapore 188061, #05-01, Village Hotel Bugis, Singapore 188061
Phone: 6299 7786
Website
The Landmark has one of the most sumptuous and diverse halal buffets. It offers international delicacies that you can enjoy in an impeccable dining area. You can feast on Asian, Western, Indian, Arabic, and Mediterranean cuisines. It serves up a world of awe-inspiring dishes that include steak, chilli crab, butter chicken, tulang merah, BBQ prawns, BBQ chicken wings, and so much more.
The buffet is reasonably priced, and it also offers discounts and promotions frequently. So you'll be able to enjoy an exquisite dining experience at an affordable rate.
Peppermint (formerly Aquamarine)
Location: Parkroyal Collection Marina Bay, 6 Raffles Boulevard, Singapore 039594
Phone: 6845 1111
Website
At Peppermint, you get to lose yourself in the wonderful flavours of farm-to-table delicacies, with an urban farm located right next door. Besides the fresh vegetables harvested from the farm, you'll be amazed at the range on offer – from western and double boiled soups and roasted meats (including Black Angus beef and milk-fed veal), to wok-fried delights and vegetarian Indian dishes. Seafood fans also get to have their fill, as fresh shellfish and sashimi are also part of the spread.
Window on the Park
Location: Holiday Inn Singapore, Orchard City Centre Level 2, 11 Cavanagh Rd, Singapore 229616
Phone: 67338333
Website
Savour delicious local and Asian cuisine at Window on the Park. It features authentic rojak, kueh pie tee, Singapore laksa, and prawn mee, among others. If you are a seafood fan, look forward to the succulent poached prawns and cold Canadian mussels.
End the meal with colourful desserts such as cakes, kuehs and ice cream.
Atrium Restaurant
Location: Holiday Inn Singapore, 317 Outram Road, Singapore 169075
Phone: 6733 0188
Website
Atrium offers a mix of local and international cuisines. Start your feast with seafood such as salmon sashimi, prawns and oysters. Leave some space for sambal sotong, chilli crab, Hainanese chicken rice and laksa. Make sure to get a bite of the savoury shawarma! Then end the feasting with ice cream, served with waffle or rainbow bread, among other desserts.
With over 40 local and international dishes on offer, you are bound to find something that is to your liking.
Taste of India
Location: 77 Rangoon Rd, Singapore 218365
Phone: 6341 5158
Website
As the name suggests, you'll get to taste the best from the north and south of India. There is a variety of delicious Indian dishes on the menu. You can expect tandoor dishes, chicken specialties, fish specialties and prawns. It also offers vegetarian and non-vegetarian options.
So if you are craving Indian food, head on over. The restaurant also provides home deliveries and can cater if you have a special occasion.
Jinshang Yipin Halal Hotpot and BBQ Buffet
Location: 3 Simei Street 6, Simei New Town, Eastpoint Mall, #01-20, Singapore 528833
Phone: 6909 7355
Website
You don't have to travel to China to enjoy a Chinese hotpot buffet, as you'll find an authentic halal Chinese hotpot buffet in Jinshang Yipin. Start off with one of its five soup bases, especially the spicy Sichuan mala soup. Then enjoy your hotpot of Chinese delicacies, which comes in two categories: premium and standard. The Muslim-owned restaurant charges S$4.90 if you want a BBQ grill topping.
The standard category has limited meat selections, while the premium one comes with more meats and ingredients. The premium category includes meats such as prawns, satay chicken and black mussels. The restaurant also delivers should you want to enjoy the Chinese hotpot buffet at home.
Royal Palm
Location: 1 Orchid Club Road, # 01-21/22, Social Clubhouse, Singapore 769162
Phone: 6752 2167
Website
The Royal Palm is a huge restaurant, ideal for large groups, such as department gatherings. In addition to the space, it has a diverse menu to suit everyone. It has local cuisines and international delicacies like western, north Indian, and Mediterranean cuisine.
The local delights corner features beef rendang, ayam lemak chilli padi, and baby kailan with oyster sauce. The western corner has various must-trys such as penne arrabiata with cheese, cajun baked fish in butter sauce, oven-roasted herbs, chicken, and buttered vegetables.
Captain Kim Korean BBQ & Hotpot Buffet
Location: 300 Tampines Avenue 5, #01-06, Singapore 529653
Phone: 6260 4247
Website
This halal-certified restaurant offers savoury Korean dishes. With more than 60 cuisines, Kim Captain restaurant provides a wide variety of Korean dishes. It provides fantastic options for people who want a taste of Korean BBQ and hotpot dishes.
One of the appealing features of this restaurant is that children with a height of 100cm or below get to enjoy a complimentary meal. Also, students and senior citizens enjoy discounts.
Al Jasra Restaurant
Location: 459 Changi Road, Singapore 419882
Phone: 6742 5786
Facebook
Sometimes you just need some comfort food to hit the spot. The next time such a mood hits you, head on down to Al Jasra for its free-flow prata buffet. For the low price of S$7.90 per pax, you can gorge yourself on as many roti pratas as you like, across 16 different varieties!
In conclusion, these buffets provide a wide range of halal dishes drawn from local and international cuisines. To be on the safe side, check whether you need a reservation before heading to dine in.
---
Treat yourself to a feast at these halal buffets in Singapore. Enjoy their local and international food offerings using a dining credit card to benefit from cashback and sign-on rewards.
Read these next:
Food Tours That Cost $100 And Below
Best Seafood Buffets and Promotions to Enjoy in Singapore
American Express Love Dining: All The New Changes To Know For 2021
1-for-1 Buffet Dining Promotions In Singapore
6 A La Carte Buffets To Enjoy in Singapore (2022)