Should the craving strike for Indian food, we've got you covered with our recommendations of the best places for a delicious feast this season — from casual eats like prata to refined Michelin-starred cuisine!
When it comes to fragrant, aromatic dishes, Indian food packs a punch. Its well-spiced delicacies delight the senses, and make for a hearty and satisfying meal. And let's not forget the variety that it provides — both North Indian and South Indian dishes feature prominently in Singapore's cuisine. Typically, wheat-based dishes such as naan and roti as well as curries hail from the North. Rice, lentils and stews characterise food from the south, which include the airy thosai and savoury dal.
Because of this range, Indian food can hit the spot regardless of whatever you're in the mood for: heavy or light, rich or delicate, meat-filled or vegetarian.
We've compiled our top recommendations for all kinds of hearty Indian food. Ready your appetite — all of these restaurants deliver, so you can fulfil your cravings whether dining out or in the comfort of your home.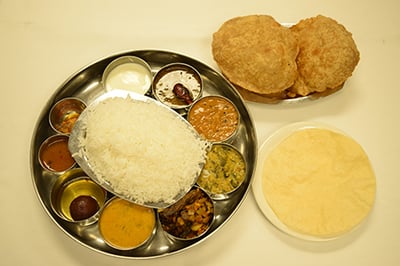 #1 Ananda Bhavan
Heritage-buffs take note! Ananda Bhavan is one of the oldest Indian restaurants in Singapore, having first started up in 1924. Rooted in Southern Indian cuisine, the restaurant has expanded its menu over the years to also include North Indian dishes. Prioritising freshness and quality, all items are prepared with no MSG, artificial additives and preservatives. Expect a wide range of delectable vegetarian dishes, including its signature rava thosai, or lacy crispy crepes, and chaat – savoury snacks similar to tapas. It also offers a unique jackfruit lassi alongside the usual sweet, salty and mango lassi options.
Address (multiple locations):
58 Serangoon Road
10 Buffalo Road
95 Syed Alwi Road
448 Serangoon Road
6 Changi Business Park Avenue 1, #01-29, UE Bizhub East
Phone Number: 6295 9595
Website: here
Price range:
#2 The Banana Leaf Apolo
Another Singapore institution, The Banana Leaf Apolo was founded in 1974 and christened after the Apollo 11 mission that had first landed humans on the moon five years before in hopes that the restaurant would similarly take off. True to its name, the restaurant has gained enduring popularity for its fish head curry, served alongside homely fare (S$4 gets you a freeflow of biryani rice and two vegetable side-dishes!). Diners tuck in upon no other than a banana leaf, of course. Tip: fold the upper half of the banana leaf towards yourself in order to express satisfaction with a good meal.
Address (multiple locations):
54 Race Course Road
48 Serangoon Road, #01-32, Little India Arcade
E!Avenue 1 Pasir Ris Close, #01-309
20 Sixth Avenue
11 Rivervale Crescent, #02-10, Rivervale Mall
Phone Number: 6293 8682
Website: here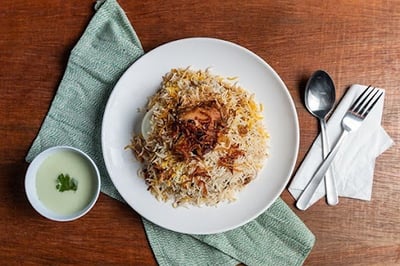 #3 Bismillah Biryani
Priding itself on serving authentic dum biryani, or biryani that is slow cooked in a sealed vessel, this restaurant has been awarded the Michelin Bib Gourmand Award for five years running and even been showcased as part of Singapore Airlines' in-flight meals. This is the place for fluffy flavourful rice. Despite being served with less gravy than you might find at most biryani places, this rendition has received raved reviews for being aromatic and moist with succulent accompaniments such as mutton or chicken.
Address:
50 Dunlop Street
1 Fusionopolis Link, #01-03
76 Shenton Way
Phone Number: 6935 1326
Website: here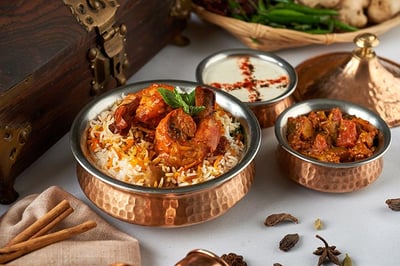 #4 Indian Express
Though the Song of India, the first Indian restaurant in Singapore to be awarded a Michelin Star, is closed for renovations, you can still savour modern interpretations of classic Indian fare at its sister restaurant at a more affordable price to boot. Signatures include its Kashmiri lamb rack and paneer tikka sizzler – grilled cottage cheese cubes marinated with mustard, chilli and yoghurt. During festive periods, it also offers specials such as tandoori turkey. Its bento, couple and family sets make fuss-free options for taking away and ordering in, regardless of whether you're dining solo or with others.
Address: 38 Race Course Road
Phone Number: 6341 7429
Website: here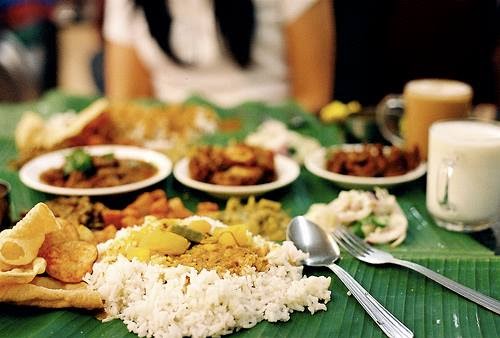 #5 Samy's Curry
This family-run restaurant was founded in the 1960s and enjoys a loyal fanbase that vehemently attests to its menu. A long-time stalwart of the Dempsey area, customers keep going back for popular dishes such as masala chicken, fish head curry and Mysore mutton – all still cooked using recipes painstakingly created by its founder. Hearty fare that's stood the test of time, you can't go wrong with Samy's Curry if you're seeking comfort food and a place to share one or several dishes with family and friends!
Address: Blk 25 Dempsey Road
Phone: 6472 2080
Website: here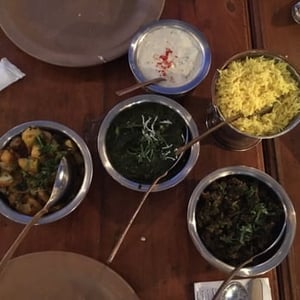 #6 Our Village
An unassuming doorway tucked along the side of Boat Quay leads to this fifth floor restaurant specialising in North Indian and Sri Lankan cuisine. Call ahead to make a reservation for the rooftop because the enchanting view over the Singapore River is what sets this place apart. It requires a minimum spend per head, so take the chance to indulge in an array of rich and generously-portioned dishes, such as the excellent murgh makhanwala (butter chicken) while relaxing by the riverside.
Address: 46 Boat Quay
Phone: 6538 3092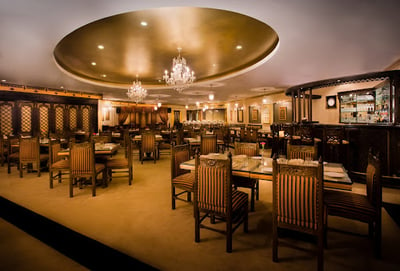 #7 Shahi Maharani North Indian Restaurant
With elegant wood panelling and plush seating, this North Indian restaurant ensures that you dine in comfort and style. Regal décor aside, Shahi Maharani offers value-for-money buffets and set meals, perfect for fulfilling your cravings while minimising damage to your wallet. Its current promotions include a one-for-one weekday lunch buffet with a selection of appetisers, curries, rice, bread and desserts.
Address: 252 North Bridge Road, #03-21B, Raffles City Shopping Centre
Phone Number: 6235 8840
Website: here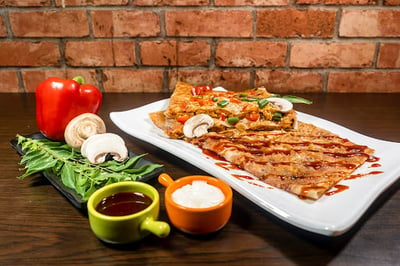 #8 Springleaf Prata Place
This casual eatery should be no stranger to lovers of roti prata, the delectable multi-layered Indian flatbread with nine outlets spread out across Singapore. It takes the cake (or prata) when it comes to creative versions of the dish. A new interpretation is rolled out each year under its 'Ultimate Hawkerfest' line of offerings. The latest, introduced in 2021, is the 'Praclette': a fusion of prata with raclette cheese, truffle oil and turkey ham. Earlier takes also include the 'Murtaburger', 'Umami-50' (with chicken floss, luncheon meat, mayo, egg and mozzarella) and 'Plaster Blaster' (think eggs benedict meets prata). No matter your mood, you're guaranteed to find a prata that will leave you sated.
Address (multiple locations):
57B Jalan Tua Kong
1 Thong Soon Avenue
396 Upper Bukit Timah Road
1 Woodlands Road, #01-25, Junction 10
1 West Coast Drive, #01-108, 109
333 Boon Lay Way, #2C-01
106 Clementi Street 12, #01-64, Sunset Way
SAFRA 1/A Tampines Street 92, #01-K1
60 Yishun Ave 4, #01-07
Phone Number: 6459 5670
Website: here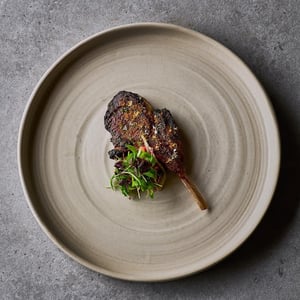 #9 Thevar
If you're seeking a sophisticated modern take on Indian dining, look no further than Thevar. The Michelin Star-awardee blends European cooking techniques with Indian traditions to reflect its chef's varied experiences across his travels and training. Dishes such as the Chettinad Chicken Roti, Madras Crab Curry Rice and Tandoori Lamb Rack reveal a unique spin on the cuisine while filling you up; it's fine dining that doesn't stint on the portions.
Address: 9 Keong Saik Road
Phone Number: 9750 8275
Website: here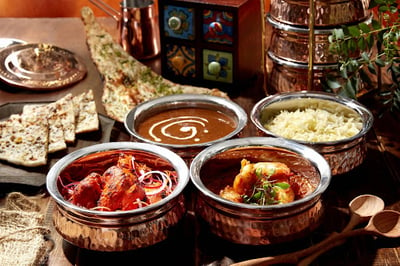 #10 Tiffin Room
Looking to feast with a side of nostalgia? Tiffin Room has been a signature restaurant at Raffles Hotel since 1892, and serves its fare in tiffin boxes, food carriers traditionally used in Asia. You can be assured of premium ingredients and refined eats – among which are the Jhinga Kebab with marinated jumbo prawns and Tiffin Dal Makhani, an organic black lentil curry. Its classy setting also makes this a charming choice to celebrate special occasions.
Address: 1 Beach Road, Raffles Hotel
Phone Number: 6412 1816
Website: here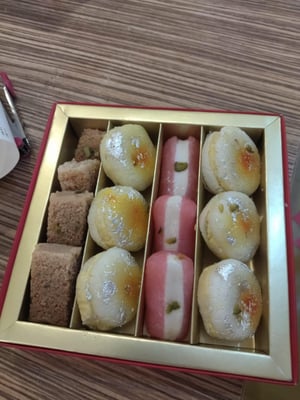 #11 Ballaji Bhaawan
Balaji Bhawan exemplifies the qualities you would expect of a hidden gem – exceeding expectations, authentic flavors and memorable hospitality. Unlike the establishments listed here, this humble eatery boasts lighter and purer dishes that are reflective of its multi-cultural roots. While here, make sure to have a go at its Dal Batti Churma Thali, a wholesome meal that comprises aromatic jeera rice complemented by a generous platter of curries, sauces and bite-sized delicacies. Those seeking the sweeter (and the less explored) side of Indian cuisine must try its many exotic desserts and treats, such as its milk cakes and chum chums.
Address: 103 Syed Alwi Road, Singapore 207679
Phone Number: 6341 7797
Website: here
---
Raring to try out the restaurants on this list? Check out these best credit cards for dining beforehand so you can maximise your savings when paying for your meal!