---
How to calculate service charge and GST from your total bill
Forget online GST and service charge calculators. All you need to remember is this formula: x 1.188.
To calculate the price of
GST (8%) only: Price x 1.08
Service charge (10%) only: Price x 1.10
GST (8%) and service charge (10%): Price x 1.188
---
What is GST and service charge in Singapore?
When you buy something in Singapore, you almost always pay more than the stated price.
That's all thanks to GST and service charge, which is 7% and 10% of the item's retail price, respectively, payable when you get handed the bill at most restaurants and hotels.
At some places, GST may already be factored into the price on the menu, while others may choose to add a "++" at the back of the price to signify these charges.
Singapore will raise its GST to 8% in 2023, and once more to 9% in 2024.
---
Common mistakes made by Singaporeans when calculating GST and service charge
Singaporeans often multiply their meals by 1.18 (118%), which is wrong. Yes, the difference may be small compared to multiplying by x1.188, but these differences can add up to a significant amount over the years.
The reason why you have to multiply it by x1.188? As the service charge is taxable, you will have to add the 10% service charge to your item first before it is subject to 8% GST.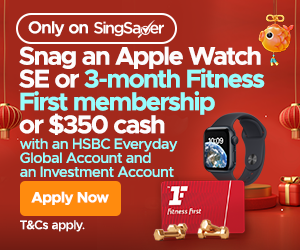 SingSaver Exclusive Offer: Receive an Apple Watch SE GPS 2nd Gen + Cellular 44mm or a 3-month Fitness First Platinum Membership (worth S$654) or S$350 cash when you open an HSBC EGA account, deposit S$5,000 for 2 consecutive months, make 5 transactions for 2 consecutive months, plus open an investment account and make 1 trade. Valid till 31 January 2023. T&Cs apply.
In addition, get 5x chances in our Fortune Lucky Draw when you open an HSBC EGA account and stand a chance to win a pair of round-trip tickets to Seoul, a PlayStation®5, an iPad 10th Gen and much more! T&Cs apply.
Plus, get additional 10x lucky draw chances when you perform a trade after opening an HSBC EGA account.
---
Hacks on how to save on GST and service charge
If you live in Singapore, you should know by now that GST and service charges after meals can cost quite a pretty penny. It is often an unpleasant surprise when you spend only S$40, and the GST and service charge comes up to an additional S$7.52 — that's a whole meal with drinks at a hawker centre (possibly with change)!
If you're looking to feast on a budget, check out your neighbourhood kopitiams, AKA coffee shops, or hawker centres, as their prices are generally stated as nett.
If you want to go to a restaurant, you can also choose to dine at places that are free of GST and service charges such as Peperoni Pizzeria and Nam Nam Noodle Bar.
Additionally, look out for signs at restaurants or hotels with the word "nett" after their price.
Read these next:
6 A La Carte Buffets To Enjoy During Phase 3 (Heightened Alert)
Dim Sum Promotions And Deals (July 2021)
High Tea Promotions In Singapore (July 2021)
1-for-1 Buffet Dining Promotions In Singapore (July 2021)
Best Dining Credit Cards In Singapore (2021)