Hotpot is an integral part of Singapore's culture, and, for a while now, we've all been feeling the loss of not being able to dine-in with friends and family.
Thankfully, some hotpot restaurants are offering takeaways, letting us truly mimic the experience of dining there, but from the comforts of home. Some deliveries even include an electrical pot, which you can keep and continue to use for future gatherings! How cool is that?
So, if you're looking to do a takeaway for your next hotpot sesh, we've got you covered with this list of hotpot deliveries in Singapore.
Last updated on 12 November 2021. Prices and menu items are subject to change without notice.

Do you remember Hai Di Lao's (HDL) warm service and savoury dishes? Now they're bringing their world-class hospitality into your home with their hotpot delivery sets.
With bundles starting from S$108, you can expect a wide range of its popular offerings like golden mushrooms and chicken slices, among many other ingredients. On top of the food, HDL provides utensils, snacks, aprons, glasses cleaners as well as sweets.
Delivery fee starts from S$20++ and there is a minimum order of S$98.
Promotions
20% off on self pick-up (only for sets) for a limited period of time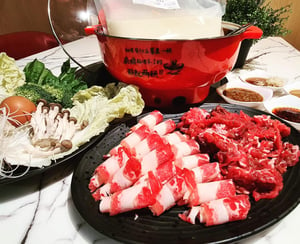 Who says that a hotpot feast has to be an expensive affair? For just S$68.80, you'll get a wide spread, which includes fresh tiger prawns, clams, sliced pork belly and two litres of their homemade broth. Perfect for two to three people. Consider trying their spicy prawn broth, which (according to them) is the best in Singapore.
Delivery fee starts from S$8 and there is a minimum order of S$60.
Promotions
Free delivery for orders above S$70
Get 1-for-1 drinks with a minimum order of one main or two dishes. Valid till 14 November 2021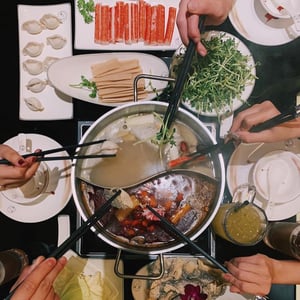 The name of this hotpot spot is not without a meaning.They serve flavours largely inspired by Mongolian cuisine in which mutton is a delicacy. Boasting a broth base that is enriched by a blend of its 'seven magic spices' and a rich serving of mutton, this hotpot is an experiential delight.
When ordering at Little Sheep Hot Pot, you've got to pair your desired soup base with their signature lamb rolls to get most out of the experience.
Delivery orders typically require a minimum order of S$50, in which the delivery fee starts from S$8.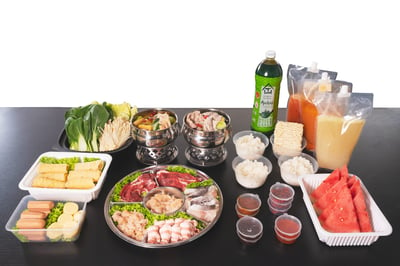 When we think of hotpot, we typically imagine a heartfelt food-sharing experience by a large group of people. However, at times, we relish in the idea of having our own individual hotpot. If you are like us, Steamboat King might just be what you're looking for.
For S$30, you can enjoy your very own personal spread with their shabu shabu hotpot set, which includes their home-made sambal chilli sauce. Delivery fees start from S$7.90.
Promotions
Free delivery with a minimum spend of S$100
Get a free Signature Sauce Set with every order
Featured in Eatbook, Night Owl Cinematics and Sethlui, Homely Pot has established itself as a premium hotpot provider. With a multitude of promotions, you can have a hotpot experience delivered to your home without breaking the bank.
The true stars of their set meals are the soup bases that are so fancy that you're sure to feel like a crazy rich Asian dining like royalty. Also, all set meals come with a complimentary electrical pot worth up to S$27.80, which you get to keep forever.
Delivery fee starts from S$6. Enjoy free delivery with a minimum spend of S$65.
Promotions
Fully-vaccinated customers can get a free serving of Iberico pork slices (U.P S$11.80) with a minimum spend of S$65
Get a red grouper (half portion) for S$9.80 with a minimum spend of S$70. Promo code: GROUPER98
Get a free soup base with a minimum spend of S$60 (depends on the day)
1. Free Spicy Ma La Soup: ILOVEMONDAYMALA
2. Free Tomato Soup: ILOVETUESDAYTOMATO
3. Free Three Delicacy Soup: ILOVEWEDNESDAYDELICACY
4. Free Herbal Chicken Soup: ILOVETHURSDAYCHICKEN
5. Free Wild Mushroom Soup: ILOVEFRIDAYMUSHROOM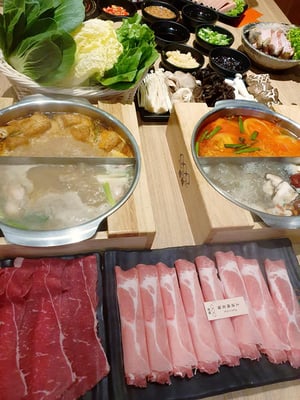 City Hotspot stands out with their plant-based vegetarian sets, making it the perfect stop for vegetarians looking to indulge in the hotpot experience. For meat lovers, consider pampering yourselves with their signature wagyu beef set for just S$23.99. Remember to try their side dishes such as their hokkien rice dumplings and braised pork rice to truly enrich your hotpot feast.
Promotions
Free delivery with a minimum spend of S$150
Get 10% off meat ala carte orders with a minimum spend of S$60
Get 10% off seafood ala carte orders with a minimum spend of S$80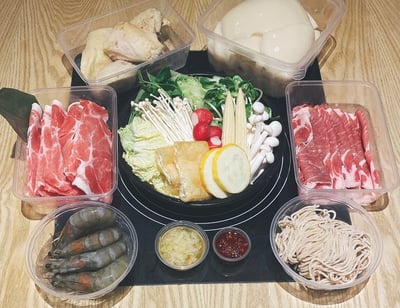 Inspired by Omotenashi, or the world-renowned Japanese hospitality, Tsukada Nojo is highly reputed for its nourishing beauty collagen pot or bijin nabe. Nutritious, rich and mouth-watering, their broths induce a refreshing sense of nostalgic comfort and blissful joy. With their bijin nabe collagen soup being their only soup base option, there is a rare confidence in its quality that makes it a must-try.
Share the spirit of Omotenashi with their family bundle for just S$111, which includes a rich offering of chicken, tsukune and prawns. Pair the bundle with a unique blend of side dishes, such as tamagoyaki, edamame and nikumaki. Delivery fee starts from S$5.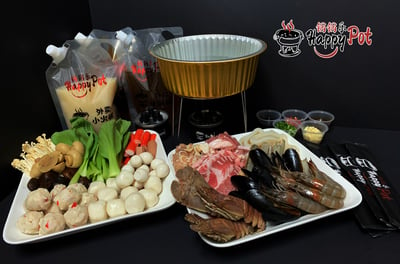 Having recently revamped its online menu, Happy Pot provides an authentic spread featuring upsized meat cuts, new disposable pots, and pot fuel. You can finally say farewell to the mess usually associated with hotpot dining.
We highly recommend its disposable hotpot couple set as it comes with a liberal assortment of ingredients such as prawns, mussels, squid rings and chicken leg slices. More importantly, it also comes with a set of disposable heating equipment (disposable pot and fuel) that you can discard immediately after you're done with your meal.
Delivery fee starts from S$15.
Promotion
Free delivery with a minimum spend of S$95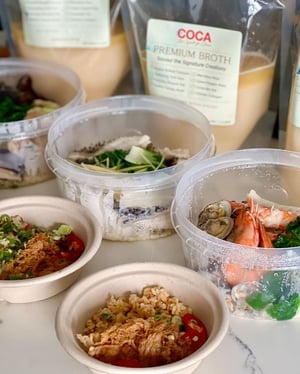 A veteran in the hotpot business, the inception of COCA Singapore goes all the way back to 1987 as a premium Thai-Chinese hotpot restaurant. In fact, most of its hotpot bundles come with a free set of sinfully delicious cooked food such as pad thai, mala fish skins and Nam Yu pork cutlets. They work extremely well with their shrimp wantons and fish balls with roe, both of which are included in the sets as well.
Promotion
Free delivery with a minimum spend of S$100
Established as the connoisseur of steamboat cuisine, Mr Steamboat features over 50 types of delicacies for your choosing. If you are feeling fancy, they do have a more luxurious and exotic assortment that includes abalone, fresh crabs, fresh scallops and lobster tail. Expect a spread that will impress and delight both you and your guests!
Delivery is free when you order one of their two available bundles.
Promotions
29% off their Prosperity Package (six people). Valid for a limited time only
24% off their Prosperity Package (10 people). Valid for a limited time only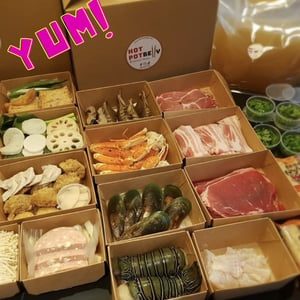 With a multitude of catered sets for any occasion, you are spoiled for choice. Each set consists of a healthy spread of meat, vegetables, mushrooms and seafood so that you are guaranteed a wholesome culinary experience. Their lavish sets come with an additional delicacy platter that has abalone, fish maw, sea cucumber and more. A platter for the kings!
Delivery fee starts from S$8.
Promotion
Free delivery with a minimum spend of S$60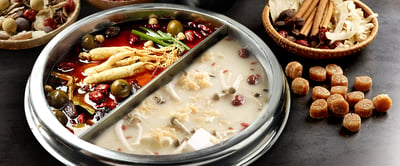 Known for their health-conscious approach to food, Beauty In The Pot aces the nourishing yet flavourful brief. Healthy can also be tasty. You can expect to pair your dishes with wholesome soup bases such as its tomato and sweet corn soup (rich in vitamin C) as well as its refreshing coconut broth. Go for some of its more popular and innovative menu items such as its Chinese wine kampong chicken and otak-otak fish paste.
Delivery fee starts from S$7 and delivery services require a minimum spend of S$70.
Promotion
Free delivery with a minimum spend of S$120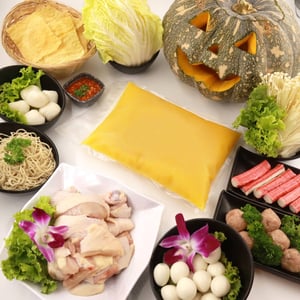 Perhaps the most unconventional hotpot choice in this list, Qi Xiang Chicken Pot is known to have its broth infused with beer, resulting in a soup base that is roasted charcoal black in colour. In fact, this humble store will be especially endearing for those that love spicy dishes. Those that are more adventurous can attempt their durian broth. You heard (read) that right!
Delivery orders typically require a minimum order of S$60and the fee starts from S$12. They are also on Grabfood, so you might just snag a promotion on your order.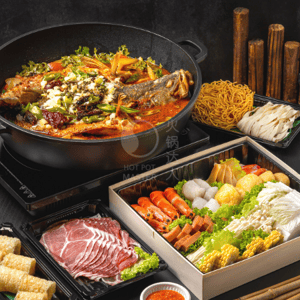 To call oneself a master of any kind requires an impressive amount of confidence and strength to back it up. Thankfully, Hotpot Master has proven its quality with its fresh ingredients and rich soup bases. With just S$88, you can infuse your food with its delicious fish broth. If that isn't enough, the bundle comes with a grilled fish of your choice.
One-way delivery orders are S$15 and deliveries with setup and return services cost S$80
Promotions:
31% off XL Grilled Fish with Hotpot Bundle. Valid until 30 November 2021
23% off Super Value Hotpot Set. Valid Until 30 November 2021
Instant hotpot kits
Looking for something cheaper for yourself? Try out these instant hotpot kits instead!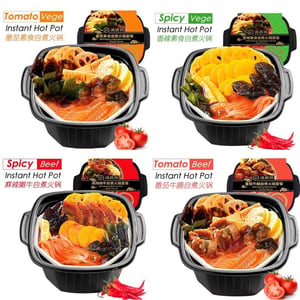 Occupied and have no time for a hotpot feast? Well, with Hai Di Lao's self-heating pot, you can indulge in its culinary experience in a matter of a few minutes! Comes packed with pickled vegetables, kelp, and bamboo shoots.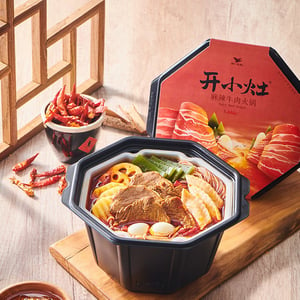 While it is a tad costly for a self-heating hotpot, it does come with double the delight. The double flavour hotpot comes with a dual pot with mala spicy soup and mushroom chicken soup while the spicy beef hotpot is a beautiful mix of butter, chilli and peppercorns.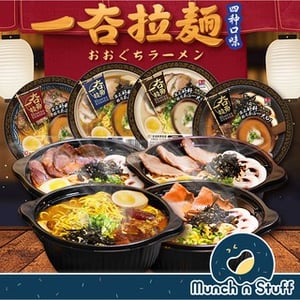 With a thick and creamy broth that closely resembles the broth you'll get when dining at a ramen place, this self-heating pot has four rich flavours to choose from — original, shoyu, spicy and tomato tonkotsu. Include mushrooms, vegetables, slices of meat or even your leftovers for a truly fulfilling meal.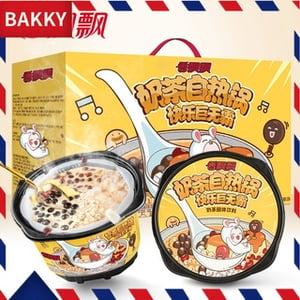 Crazy about milk tea? Then this self-heating pot is perfect for you. Infuse your hotpot experience with your favourite drink and indulge in a deliciously sweet broth that is further accentuated by tapioca pearls and jelly bits.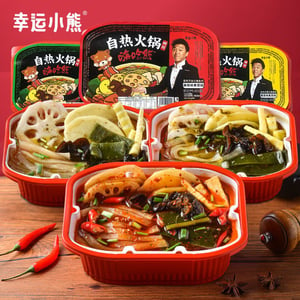 Fuss-free and delicious, this hotpot contains a smattering of different flavours that will delight your taste-buds. With three different flavours (mala, teng jiao and suan cai) to try, you are definitely in for a treat.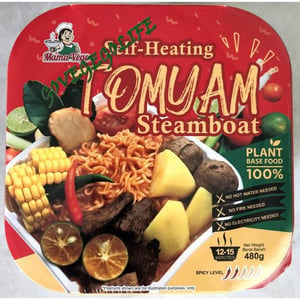 This is perfect for those who have dietary restrictions — it is Halal and vegetarian-friendly. With sweet corn, potato slices, vegetarian lamb and meatballs combined with a tom yum broth, this is one refreshingly delicious pot.
Read these next:
Food Delivery Promo Codes in Singapore 2021
12 Best Hotpot and Steamboat places in Singapore 2021
9 Best Happy Hour Drink Promotions (Tried And Tested)
Best Dining Credit Cards in Singapore 2021
Dim Sum Promotions And Deals