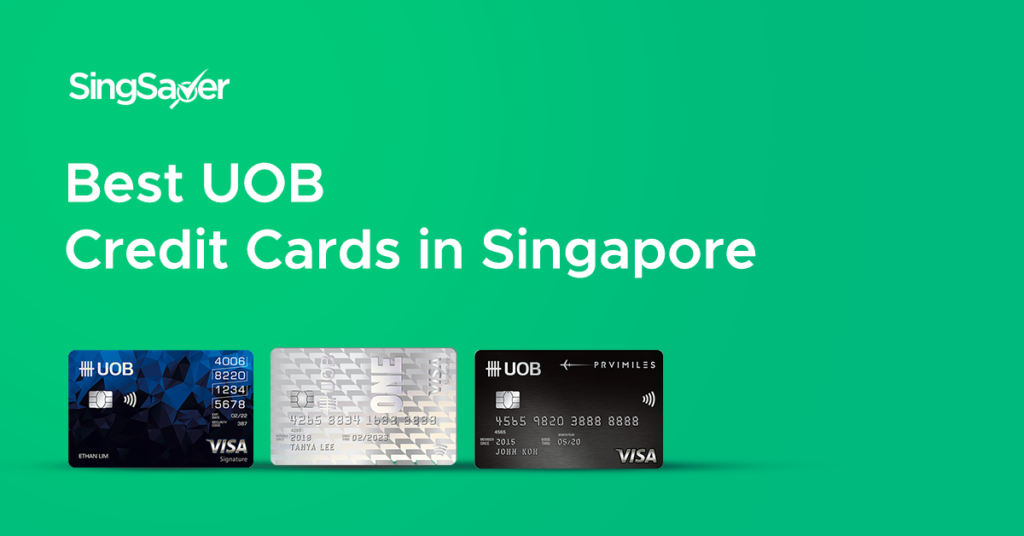 With credit cards that promise the most generous rebates, take you on YOLO escapades and turn you into a privy traveller, UOB has no lack of artillery to help you get more out of life.
As one of the top local banks in Singapore, UOB offers a buffet spread of credit cards that comes with an even greater variety of privileges — to the point it may even come across confusing.
Not to worry, it is exactly why we have such 'best for' breakdowns made for you! Whether you're looking for extra air miles, dining discounts, entertainment options or just straight up cash rebates, there's something for everyone.
Here is a summary list of the best UOB credit cards in Singapore in 2021.
Best for cash rebate: UOB One Card
Best for cashback: UOB YOLO Card
Best for travel: KrisFlyer UOB Credit Card
Best for miles: UOB PRVI Miles Card
Best for online Spend: UOB Preferred Platinum Card
Best for overseas Spend: UOB Visa Signature Card
Best for female shoppers: UOB Lady's Card
Best for groceries: UOB Delight Card
Best UOB Credit Cards in Singapore
Best for
Credit card
Key benefits
Cash Rebate
UOB One Card
Up to 10% cash rebate based on quarterly spend
Cashback
UOB YOLO Card
Up to 8% cashback for dining, entertainment, Grab
Travel
KrisFlyer UOB Credit Card
3 miles per dollar on local dining, SIA flights
Miles
UOB PRVI Miles Card
3 miles per dollar on Klook
1.4 miles per dollar (local), 2.4 miles (overseas)
Online spend
UOB Preferred Platinum Card
4 miles per dollar on contactless + online payment
Overseas spend
UOB Visa Signature Card
4 miles per dollar on overseas spend
Female shoppers
UOB Lady's Card
4 miles per dollar on fashion, dining, travel (women only)
Groceries
UOB Delight Card
Up to 8% cashback at major supermarkets
Best for cash rebate: UOB One
If your top priority in a credit card is to absorb as much cash rebate as possible, then the UOB One Card is the one for regular spenders.
The star benefit here is its up-to-5% cash rebate on all retail spend. But recently, the UOB One introduced a bumper cash rebate rate of up to 10% on Grab services, Dairy Farm Group merchants (e.g. Cold Storage, Giant, Guardian, 7-Eleven), and UOB Travel Planner transactions. As part of the mini-refresh, your utility bill payments will also get you an additional 1%, to 6%.
Perhaps it would be wise to start shifting the weightage of your spending from just retail. On top of the cash rebates, you'll get to enjoy exclusive UOB privileges such as the 1-for-1 dining deals under The Dining Advisor program, and ShopUOB's gamut of deals across fashion, beauty, groceries and more food.
If you happen to have a UOB One savings account, getting hold of this credit card to pair with it would be timely as you could grow your savings at up to 2.5% p.a.
But take note of a few terms and conditions and minimum spend tiers. To get the full $300 rebate, you need to spend at least $2,000 each month in the quarter for three straight months. And you've got to make at least five separate transactions (in other words, spending a bomb on a single item won't count). If you only spend between $1,000 and $1,999, it drops to $100, and $50 if you spend $500 to $999.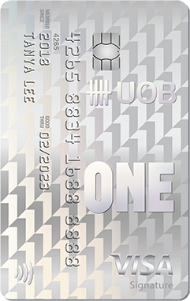 Best for cashback: UOB YOLO
If you're looking for a card that is tailor made for the millennial lifestyle, then look no further than the UOB YOLO card.
First, it's no surprise you'll be getting a high 8% cashback on weekends for Grab rides, dining and entertainment. This includes 1-for-1 dining deals and discounts at over 50 popular food joints islandwide, at the likes of Ding Tai Fung, Haidilao, Dancing Crab, Tunglok group of restaurants and more. The deals extravaganza for food extends even to online food deliveries (i.e. foodpanda and Deliveroo), for your stay-in dining pleasures.
You also enjoy 3% cashback on online fashion and travel, which includes popular travel booking sites like Agoda and Expedia as well as online shopping apps.
Ensure you are able to spend the minimum of $600 per statement month to earn the maximum cashback rate. Keep in mind also that the total cashback is capped at $60 monthly.
It's also best to use the card on weekends as the 8% cashback rate drops to 3% on weekdays. Spending outside of Grab, online food and dining will only get you 0.3% cashback so make sure these categories suit your spending habits.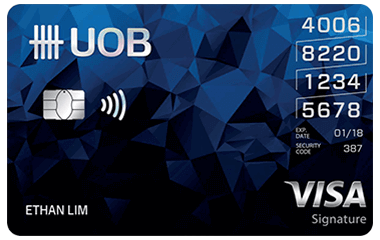 Best for travel: KrisFlyer UOB Credit Card
Planning to live the digital nomad lifestyle, or perhaps you're simply bitten by the travel bug? The 'spend more, travel more' motto of the KrisFlyer UOB Credit Card might resonate.
For every $1 spent on dining, food delivery, online shopping, transport and Singapore Airlines, you earn 3 KrisFlyer miles. Best of all, there is no minimum spend, no miles cap and no conversion fee. The miles earn rate is made even sweeter if you own a KrisFlyer UOB Deposit Account: you'll get 6 additional bonus KrisFlyer miles per $1 spent.
If you're not a regular traveller, this might not be the right card for you. You need to spend above $500 annually on SIA-related spend in order to qualify for the 3 miles per dollar earn rate. It'd be a bonus if you're a sworn loyalist to carriers under Singapore Airlines, otherwise you'd just miss out on goodies like priority privileges on Scoot, as well as a fast-tracked KrisFlyer Elite Silver status.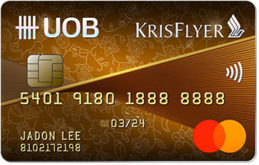 Best for miles: UOB PRVI Miles
If you're looking for a strong miles card that also allows the flexibility to choose from Visa, MasterCard or Amex, then the UOB PRVI Miles card is an option that'd fly.
It works hard for you with a high 6 miles per dollar spent on major airlines and hotels booked through Expedia, UOB Travel and Agoda. There's no minimum spend and no cap on how many miles you can accumulate.
While the 6 miles per dollar is high, it only extends to hotels and flights, so if you're not travelling regularly you probably won't get to see the benefits. The miles earn rate has also been a hit with many; you can get 2.4 miles for $1 spent overseas, and 1.4 miles for every $1 spent locally.
If you're going with the Amex option, there are two additional exclusive benefits in the offing: 20,000 loyalty miles (only if you hit at least $50,000 in spending a year), and complimentary airport transfers to Changi Airport.
For such level of benefits, you'd be delighted to learn that the annual income requirement is only at an entry level of $30,000.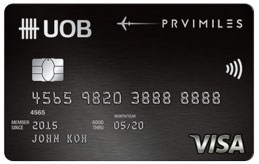 Best for online spend: UOB Preferred Platinum Card
Can't decide between rewards or travelling? The UOB Preferred Platinum card covers all bases.
You stand to earn 10X UNI$ for every $5 spent on online shopping, contactless transactions and entertainment. Foodies will also benefit with discounts at over 1,000 dining establishments. You can earn SMART$ rebates at over 300 participating outlets and use them to offset future purchases. The UOB 0% Installment Payment Plan (IPP), also gives you an interest-free installment payment plan of up to 24 months at no additional cost — great for situations like procuring furniture or furnishings online to outfit a new house.
This card isn't going to reward you for online spending in a foreign currency, so if you travel regularly, you might want to explore the KrisFlyer UOB Credit Card or the card below…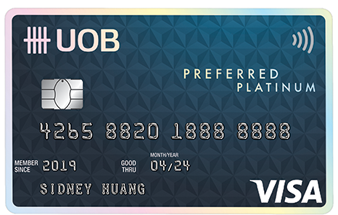 Best for overseas spend: UOB Visa Signature Card
If you're using your credit card on overseas spending, then the UOB Visa Signature Card is right for you.
You will be able to earn 10 UNI$ per $5 spent on overseas purchases (must be in foreign currency), as well as online and petrol and contactless transactions. You also get to travel with peace of mind thanks to personal accident coverage of $500,000 and Emergency Medical Assistance, Evacuation & Repatriation coverage of up to $50,000.
If you're not looking to travel anytime soon, you can opt to turn your UNI$ to cash rebates and instantly redeem your UNI$ for vouchers at over 1,000 outlets including dining, shopping and travel merchants.
There are a couple of hurdles to cross for this card; the minimum annual income criteria is higher than most cards, at $50,000. One other high (a low, really) is the minimum monthly spend of S$1,000 per statement period — that is, if you're bent on chasing the accelerated UNI$ earn rate.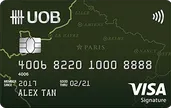 Best for female shoppers: UOB Lady's Card
It'd only be appropriate for ladies with a penchant for shopping to swipe the UOB Lady's card.
This is a rewards-based card that'll have you earn 10X UNI$ (equivalent to 20 miles) per $5 spent on one of seven categories: beauty and wellness, fashion, dining, family, travel, transport and entertainment. The choice is totally up to you; all that's needed is for you to enrol here and choose a category, and you'll start earning the accelerated rate of 10X UNI$ on all spends in this area. The category can be changed every quarter.
The bonus 10X UNI$ is subject to a maximum of 1,800 UNI$ (equivalent to $1,000) per month.
If shoes and bags are your thing, then the Lady's LuxePay Plan lets you enjoy an interest-free six or 12-month installment payment plan for any luxury purchase worth $500 or more. You can buy the items locally, online or overseas. If you find a good deal overseas, you'll also be protected with their e-Commerce protection plan that provides coverage for online purchases.
The card is only available to females.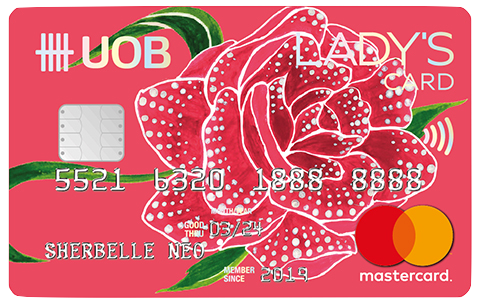 Best for groceries: UOB Delight Card
If you shop for groceries at premium supermarkets and pharmacies, make sure you swipe with the UOB Delight card.
You can get up to 8% rebate on Cold Storage, Market Place, Jason's, Giant and Guardian, and another 10% discount on over 4,000 house brand products at Cold Storage, Giant and Guardian. You will also be dancing down the aisles since annual fees are waived for the first year. Privileges are also given at over 1,000 dining and entertainment establishments.
If you're not a regular grocery shopper, this card wouldn't be as delightful a use. For non-grocery related expenditure, the rebate is only 0.3%, and each month limits you to 50 SMART$. At the very least, though, you could get 3% in rebates back for contactless transactions and recurring bills.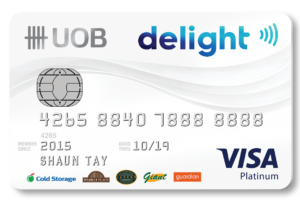 Read these next:
Best Standard Chartered Credit Cards in Singapore (2021)
Best Citibank Credit Cards In Singapore (2021)
UOB Lady's Savings Account: Free Medical Coverage For All Women
Cashback vs Miles vs Rewards: Which Is The Best Type Of Credit Card For You?
Favourite Credit Card Combinations To Max Out Cashback And Miles (As Used By SingSaver Staffers)