Score generous rebates, travel privileges, and enhanced lifestyle perks with these UOB credit cards.
[UPDATE]

The UOB Lady's Cards are now accepting male applicants!
As one of the top local banks in Singapore, UOB offers a buffet spread of credit cards that comes with an even greater variety of privileges — to the point it may even come across as confusing.
Don't know which card is right for you? Not to worry, it is exactly why we have such 'best for' breakdowns made for you! Whether you're looking for extra air miles, dining discounts, entertainment options or just straight-up cash rebates, there's something for everyone.
Here are the best UOB credit cards to check out in Singapore.


Table of contents
---
---
Best UOB Credit Cards in Singapore
Credit card
Best for
Key benefits
UOB One Card

Cashback

Up to 15% cashback on your daily spend

UOB Absolute Card

Unlimited cashback

1.7% unlimited cashback with no min. spend, no spend exclusions

UOB EVOL Card

Online and mobile contactless spend

8% cashback for online and mobile contactless spend

KrisFlyer UOB Credit Card

KrisFlyer Miles

3 miles per dollar on dining, food delivery, online shopping and travel, transport spend, and SIA flights

UOB PRVI Miles Card

Air tickets and hotel bookings

8 miles on Agoda, Expedia & UOB Travel bookings via UOB PRVI Miles website





1.4 miles per dollar (local), 2.4 miles per dollar (overseas)

UOB Preferred Platinum Card

Online spend

4 miles per dollar on contactless + online payment

UOB Visa Signature Card

Overseas spend

4 miles per dollar on overseas (including online), petrol and contactless transactions

UOB Lady's Card


Miles

6 miles per dollar on 1 enrolled category (Beauty & Wellness, Fashion, Dining, Family, Travel, Transport, Entertainment)

Now accepting male applicants!

UOB Lady's Solitaire Card

Miles

6 miles per dollar on 2 enrolled categories (Beauty & Wellness, Fashion, Dining, Family, Travel, Transport, Entertainment)

Now accepting male applicants!
---
---
Best for cashback: UOB One Credit Card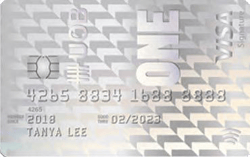 If your top priority in a credit card is to earn as much cashback as possible, then the UOB One Card is the one for regular spenders.
For starters, it offers up to 3.33% base cash rebate on all retail spend. But spend a minimum of either S$500, S$1,000, or S$2,000 spread across five transactions monthly for three consecutive months, and you're well on your way to earn up to 15% cash rebate on McDonald's (New!), Grab services, Shopee, Dairy Farm Group merchants (e.g. Cold Storage, Giant, Guardian, 7-Eleven), and SimplyGo transactions. The only catch is that you have to be a new-to-UOB applicant. Meanwhile, existing UOB customers will only earn up to 10% cash rebate under these spend requirements.
Besides that, look forward to earning 4.33% cash rebate on your utility bill payments too.
Other than the above benefits, cardholders are also entitled to exclusive UOB privileges such as the 1-for-1 dining deals under The Dining Advisor program, and ShopUOB's gamut of deals across fashion, beauty, groceries and more food.

If you happen to have a UOB One savings account, getting hold of this credit card to pair with it would be timely as you could grow your savings at up to 7.8% p.a. interest.


---
Best for unlimited cashback: UOB Absolute Cashback Card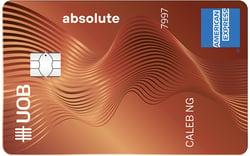 Want a cashback credit card that lets you earn unlimited cashback on all your spend? The UOB Absolute Card is for you. This fuss-free cashback credit card is a game changer.
For starters, it offers 1.7% cashback on every transaction made on merchants who accept American Express credit card payments.
This includes anything and everything from insurance premium payments, school fees, mobile or e-wallet top-ups, rental payments, utilities & telco bills, medical and hospital bills. Simply put, there are no spend exclusions.
That's not all. There isn't any minimum spend requirement for you to start earning cashback on your transactions! If you are in the market for something truly fuss-free, the UOB Absolute Card is not to be passed up.


See also: Best Home Fibre Broadband Plans in Singapore
---
Best for online and mobile contactless spend: UOB EVOL Credit Card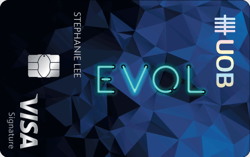 If you're looking for a card that is tailor-made for the millennial lifestyle, then look no further than the UOB EVOL Card.
First, it's no surprise you'll be getting a high 8% cashback on your online spend and mobile contactless payments made via Apply Pay, Google Pay, Samsung Pay or Fitbit Pay.
Given the prevalence of online shopping and cashless payments, it's difficult to ignore the rewards that UOB EVOL Card can offer. From shopping at Taobao and purchasing games via Apple Store to taking Grab rides and paying for meals at cafés (and more), you'll earn 8% cashback on all eligible transactions.
Ensure you're able to hit the minimum of S$600 spend per statement month to earn the maximum cashback rate. All other spend will earn 0.3% cashback.
Remember also that the total cashback is capped at S$60 monthly — S$20 on online spend, S$20 on mobile contactless spend, and S$20 on all other spend for each statement month.


---
Best for KrisFlyer miles: KrisFlyer UOB Credit Card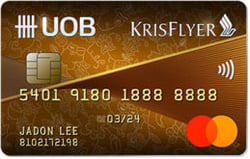 Planning to live the digital nomad lifestyle, or perhaps you're simply bitten by the travel bug? The 'spend more, travel more' motto of the KrisFlyer UOB Credit Card might resonate.
For every S$1 spent on dining, food delivery, online shopping, transport and Singapore Airlines, you earn 3 KrisFlyer miles. Best of all, there is no minimum spend, no miles cap, and no conversion fee. The miles earn rate is made even sweeter if you own a KrisFlyer UOB Account: you'll get 6 additional bonus KrisFlyer miles per S$1 spent with salary crediting.
If you're not a regular traveller, this might not be the right card for you. You need to spend above S$800 annually on SIA-related spend in order to qualify for the 3 miles per dollar earn rate.
It'd be a bonus if you're a sworn loyalist to carriers under Singapore Airlines, otherwise you'd just miss out on goodies like priority privileges on Scoot, as well as a fast-tracked KrisFlyer Elite Silver status.


Read more:
Kris+ Guide: How to Earn Maximum KrisFlyer Miles With Best Credit Card Combos
Cheap & Free Ways to Access Changi Airport Lounges
---
Best for booking plane tickets and hotels: UOB PRVI Miles Credit Card
If you're looking for a strong miles card that also allows the flexibility to choose from Visa, MasterCard or Amex, then the UOB PRVI Miles card is an option that'd fly.
It works hard for you with a high 6 miles per S$1 spent on major airlines and hotels booked through Expedia, UOB Travel and Agoda. There's no minimum spend and no cap on how many miles you can accumulate.
While the 8 miles per dollar is high, it only extends to hotels and flights, so if you're not travelling regularly, you probably won't get to see the benefits. The miles earn rate has also been a hit with many; you can get 2.4 miles for S$1 spent overseas and 1.4 miles for every S$1 spent locally.
If you're going with the Amex option, there are two additional exclusive benefits in the offing: 20,000 loyalty miles (only if you hit at least S$50,000 in spending a year), and complimentary airport transfers to Changi Airport.
For such level of benefits, you'd be delighted to learn that the annual income requirement is only at an entry-level of S$30,000.
---
Best for online spend: UOB Preferred Platinum Credit Card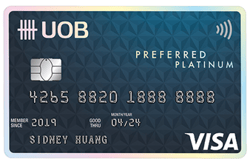 Can't decide between rewards or travelling? The UOB Preferred Platinum card covers all bases.
You stand to earn 4 miles per S$1 spend on online shopping, contactless transactions and entertainment. Foodies will also benefit from discounts at over 1,000 dining establishments.
This card isn't going to reward you for online spending in a foreign currency, so if you travel regularly, you might want to explore the KrisFlyer UOB Credit Card or the card below.
---
Best for overseas spend: UOB Visa Signature Credit Card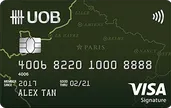 If you're using your credit card for overseas spending, then the UOB Visa Signature Card is right for you.
You will be able to earn 4 miles per S$1 spend on foreign purchases (including online overseas websites), petrol and contactless transactions. You also get to travel with peace of mind thanks to personal accident coverage of S$500,000 and Emergency Medical Assistance, Evacuation & Repatriation coverage of up to S$50,000.
If you're not looking to travel anytime soon, you can opt to turn your UNI$ to cash rebates and instantly redeem your UNI$ for vouchers at over 1,000 outlets, including dining, shopping and travel merchants.
There are a couple of hurdles to cross for this card; the minimum annual income criteria is higher than most cards, at S$50,000. One other high (a low, really) is the minimum monthly spend of S$1,000 on overseas spend or S$1,000 spend on petrol & contactless spend per statement period respectively — that is, if you're bent on chasing the accelerated UNI$ earn rate.


---
Best for Miles: UOB Lady's / UOB Lady's Solitaire Credit Card
[UPDATE]

The UOB Lady's Cards now accept male applicants!
It'd only be appropriate for ladies (and men) with a penchant for shopping to swipe the UOB Lady's cards.
Once only available for ladies, this rewards-based card will have you earn 6 miles per dollar on one of seven categories: beauty and wellness, fashion, dining, family, travel, transport and entertainment. If you apply for the UOB Lady's Solitaire Card, you can choose two of the seven aforementioned categories.
The choice is totally up to you; all that's needed is for you to enrol here and choose a category, and you'll start earning the accelerated rate of 6 miles per S$1 on all spending in this area. The category can be changed every quarter.
The bonus 6 miles per dollar is capped at S$1,000 per month for the UOB Lady's Card, and S$3,000 per month for the UOB Lady's Solitaire Card.
If branded goods are your thing, then the Lady's LuxePay Plan lets you enjoy an interest-free six or 12-month instalment payment plan for any luxury purchase worth S$500 or more. You can buy the items locally, online or overseas.
If you find a good deal overseas, you'll also be protected with their e-Commerce protection plan that provides coverage for online purchases.
Despite its name, the cards are now available for both sexes! Yay!


---
Factors to consider before choosing a UOB credit card
With over nine UOB credit cards listed so far, we understand if you're feeling slightly overwhelmed. After all, choosing the right credit card is a commitment nonetheless, and should not be chosen rashly.
That said, we have some tips to help you. Here are some things to consider before selecting a UOB credit card (or any credit card, for that matter):


#1: Annual income requirement
Before applying for any credit card, you need to ensure that you meet the card's minimum annual income requirement. While most credit cards follow the MAS-mandated benchmark starting from S$30,000 per year, you can't assume that. Some credit cards (see: premium credit cards) demand a much higher annual income requirement.
Among this list itself, we have a few examples. Both the UOB Lady's Solitaire Card and UOB Visa Infinite Metal Card require a minimum of S$120,000 annual income. Also, the income requirements are different for locals and foreigners, so do check respectively.
💡Pro-tip: In the event you're unable to meet the annual income requirement, you can try fulfilling the fixed deposit collateral instead. For the UOB Lady's Solitaire Card, you'll need at least S$30,000 in collateral.
#2: Annual fee
Speaking of annual income requirements, a credit card's annual fee also abides by a similar "minimum value benchmark" logic. Most credit cards possess an annual fee of S$194.40 (incl. 8% GST) per year. And if you're following our drift, you can probably guess what we're going to mention next.
Exceptions to this S$194.40 standard vary depending on the bank. Here's how the annual fees differ for UOB credit cards:
UOB One, UOB Absolute Cashback, KrisFlyer UOB, UOB Preferred Platinum Visa, UOB Lady's Card

UOB PRVI Miles (Visa, Mastercard, AMEX)

Min. 3 monthly purchases for 12 consecutive months
If you've noticed, UOB pretty much waives the first year's annual fee for most, if not all, of their credit cards. This is a common practice among most banks in Singapore, so actually, a card without an annual fee waiver is technically a minority already.
And even if you've already waived your card's first year's annual fee, it's said that there are ways to continue waiving them off. Refer to our annual fee waiver guide here to learn how to do so according to banks.
💡Pro-tip: Some banks are more generous with their annual fees and waiver policies. For example, most Maybank credit cards have a three-year annual fee waiver whereas CIMB credit cards have no annual fees at all.
See also:
4 Types of Credit Cards With Lifetime Annual Fee Waivers
#3: Other eligibility, fees & charges
Every credit card comes with a set of eligibility requirements, fees, and charges. While we've already addressed annual income and annual fees, it's time to look at other eligibility considerations and their definitions:
| | |
| --- | --- |
| Eligibility, fees, & charges | |
| | The fee imposed when you fail to pay your credit card bill on time |
| | The minimum amount on your credit card bill that you have to pay |
| Minimum monthly (re-)payment | The lowest amount you are required to pay to meet your credit card's agreement |
| | The fee imposed when you exceed your month's credit limit |
| | The charge imposed when you fail to fully pay off your statement balance by the end of the billing cycle in which the purchases were made |
| | The charge imposed when you fail to fully pay off your statement balance by the end of the billing cycle in which the cash advance was made |
| | The fee imposed by the card issuer & payment processor network (e.g. Visa, Mastercard, AMEX) whenever an overseas transaction is charged to your credit card |
| Dynamic currency conversion fee (DCC) | The fee imposed when paying a transaction in your card's local currency (e.g. SGD) rather than in foreign currency (the destination's currency, e.g. AUD, KRW, etc.) |
| | You usually need to be at least 21 years old (and employed by a company) to apply for credit cards. |
All this information can typically be found in the card's terms & conditions or a separate document compiled by the bank.


#4: Cashback or miles?
These should be rather self-explanatory but you need to ask yourself: are you a cashback enthusiast or a miles chaser? Based on which rebate you value more, you can then narrow down to which credit card within the type to choose from.
💡 Pro-tip: Rewards credit cards and miles credit cards are usually synonymous with each other, except for travel credit cards. Those are miles-earning cards unless stated otherwise.
---
How to apply for a UOB credit card via SingSaver?
To apply for your desired UOB credit card, simply click any of the "Apply Now" buttons in this article and complete the application form on our SingSaver site via Singpass MyInfo.
If you do not possess a Singpass account, you will need to prepare the relevant documents separately. Refer to each credit card's respective webpage to learn more about which documents are needed accordingly.