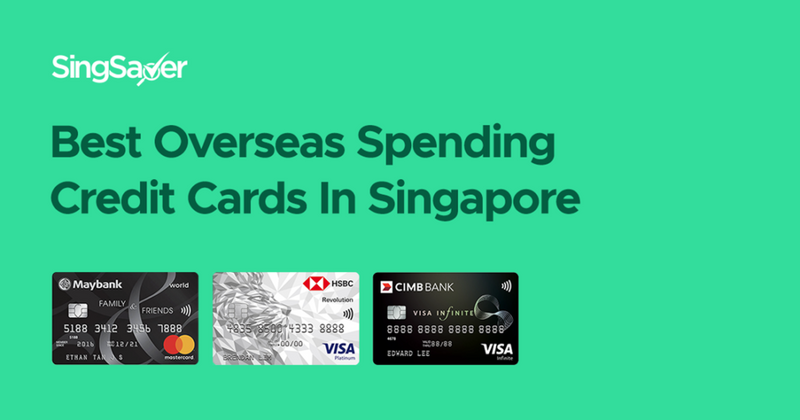 ---
Every spending situation is unique. SingSaver assembles the 'Best For' list, so you can decide what's best for you.
---
It might be a travel blackout year in 2020, but it doesn't hurt to check out these top credit cards that specifically reward you for foreign currency spends – both online and offline.
The increasing number of travel corridors Singapore is establishing with countries is a sign of gradual easing. When essential travels and Reciprocal Green Lanes gives way to leisure, many would surely pounce at the opportunity to cross borders, which means it is now a good time to start thinking about what credit cards would score you serious savings on overseas spending.
But don't limit yourself to only look upon foreign transaction fees and complimentary travel insurance. Some credit cards still award the good ol' cashback, rewards points and miles just by making online transactions in foreign currencies – in turn, you could offset your actual travel spending with those.
Here are the best credit cards for overseas spending we found in Singapore.
Best for rewards points & miles: HSBC Revolution Card
Best for weekend purchases: UOB YOLO Card
Best for online shopping & courier: Standard Chartered Spree Card
Best for cashback: Amex True Cashback
Best for trips to Malaysia: Maybank Family and Friends
Best for shopping: OCBC Titanium
Best for high spenders: CIMB Visa Infinite
Best credit card for overseas spending
| | | | |
| --- | --- | --- | --- |
| Best for | Credit card | Benefits | Foreign transaction fee |
| Chalking up rewards points and miles | HSBC Revolution | Up to 4 miles per $1 overseas spend | 1.8% |
| Weekend purchases | UOB YOLO Card | 8% cashback on weekend dining, entertainment, Grab overseas | 3.1% |
| Online shopping and courier | Standard Chartered Spree | 3% cashback on online spend in foreign currency | 3.25% |
| Pure cashback | American Express True Cashback | 1.5% cashback on all spends | 2.5% |
| Trips to Malaysia | Maybank Family & Friends | Up to 8% cashback (on dining, groceries in Malaysia) | 2.75% |
| Shopping in general | OCBC Titanium | $1= 4 miles on overseas shopping (capped at $12k/year) | 3% |
| High spenders | CIMB Visa Infinite Card | Unlimited 2% cashback | 3% |
Best for rewards points and miles: HSBC Revolution
HSBC Revolution Card's big refresh back in August should get you sitting up, if you're someone who chalks considerable spending on online purchases (in foreign currency). It now gets you 10X rewards points per dollar spent – up from 5X – and that is equivalent to 4 miles per dollar. Quite frankly, it's a rate that is hard to match, and it makes for a great alternative to traditional air miles cards.
The new and improved points earn rate of 10X is applicable for online travel bookings, contactless payments, groceries, dining and food delivery.
The only push factor in the upgrade is that the 10X points earn rate is capped at $1,000 worth of eligible spending per month. Anything more, you'd only be earning 1 point, or 0.4mpd. Lest we forget, the great revolution of the HSBC Revolution also saw the annual fee of $160.50 being scrapped, while maintaining bragging rights as the card with the lowest foreign transaction fee on this list.
Welcome gifts for new-to-bank customers
From now till 30 November 2020, new-to-bank HSBC cardholders can receive $100 cash via PayNow upon card approval. T&Cs apply.
Additionally, score $150 cashback or a Samsonite luggage (worth $670) + a $30 Lazada voucher for SingPass MyInfo applications. A min. spend of $800 in the first month after card approval is required. This promotion is valid till 31 December 2020. T&Cs apply.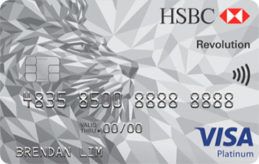 Best for weekend purchases: UOB YOLO Card
It's not hard to understand why UOB YOLO has been millennials' weapon of choice, what with its show-stealing 8% cashback on weekend dining and Grab transactions.
When travel restrictions eventually ease and you start venturing beyond Singapore shores – even if it's for a short weekend escape to a neighbouring city – you'll still be eligible to earn the bonus cashback on overseas Grab rides, dining and entertainment.
If you're stuck at home in Singapore, that doesn't mean you can't coax anything out of foreign currency transactions. Purchases made on your favourite online shopping portals can get you 3% cashback.
UOB YOLO cardmembers will have to meet a minimum of $600 per statement month to earn the maximum cashback rate. Keep in mind also that the total cashback is capped at $60 monthly.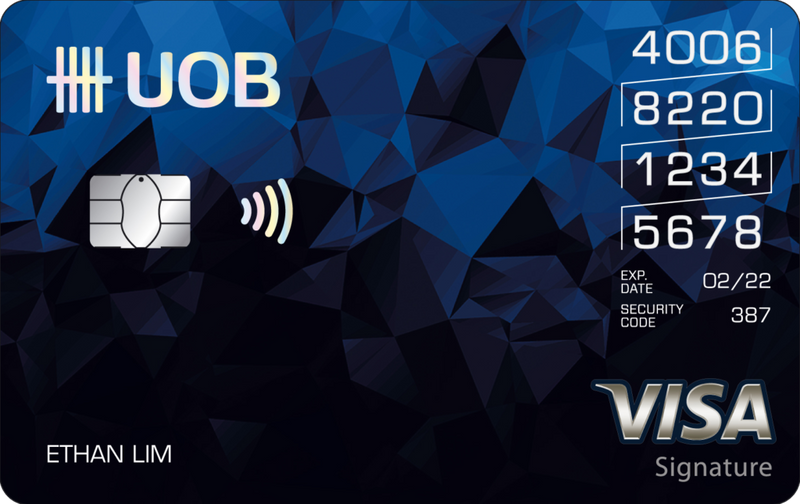 Best for online shopping and courier: Standard Chartered Spree Card
A foreword on the Standard Chartered Spree: the card makes the list for its specialty in online shopping, in foreign currency. You may want to skip ahead if you're looking for something that rewards you for purchases when you're physically overseas.
This card entitles you to a 3% cashback on online spends in foreign currency, making it worthwhile for cardmembers who regularly add-to-cart on major e-commerce sites. However, taking into account the foreign transaction fee of 3.25%, you'll have to take it that the cashback is a bonus to offset the fee. On the bright side, cardmembers enjoy shipping discounts, online price guarantees and a no-fee 0% interest instalment plan. Standard Chartered's partnership with Allianz Cyber Insurance also provides online shopping protection in case of fake goods or fraud.
In case you need to know this, Standard Chartered Spree card offers 2% on all local online spends, contactless payments and mobile payments. Although no monthly minimum spend is required, a $60 cap in monthly cashback is in force.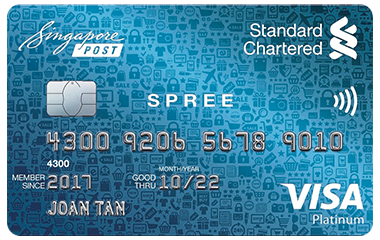 Best for cashback: American Express True Cashback Card
The Amex True Cashback is widely recognised for its unlimited, cap-less cashback perk, but one little known fact is that this card make for a fabulous choice for overseas spending.
Besides a low foreign transaction fee of 2.5%, you'll be getting a bonus 1% cashback on top of the base 1.5% – all your overseas spending will net you a neat 2.5%. Again, that's unlimited, and there's no minimum spending needed! There's no waiting around either; you get the cashback in the same statement as your purchases. The card also comes with free travel insurance benefits of up to $350,000 when you purchase your travel ticket with the card.
For new cardmembers, you enjoy a bumper 3% cashback on the first $5,000 in the first 6 months, before it drops back down to 1.5%.
Best for trips to Malaysia: Maybank Family & Friends Card
If you regularly travel across the border to Malaysia for work or leisure, the Maybank Family & Friends Card is a great travel buddy.
For categories like groceries, fast food, food delivery and transport, you'll reap a high 8% cash rebate in Malaysia (applies in Singapore too) – a huge boon, we'd imagine, for those spontaneous getaways to JB. The annual fee of $180 is also waived for the first three years, so that's a savings of $540 in annual fees. Go ahead and treat yourself to something nice with that!
While there is a relatively high minimum monthly spend of $800 per calendar month, some flexibility is offered with a reduced cash rebate of 5%, provided you hit $500 to $799 in monthly spending.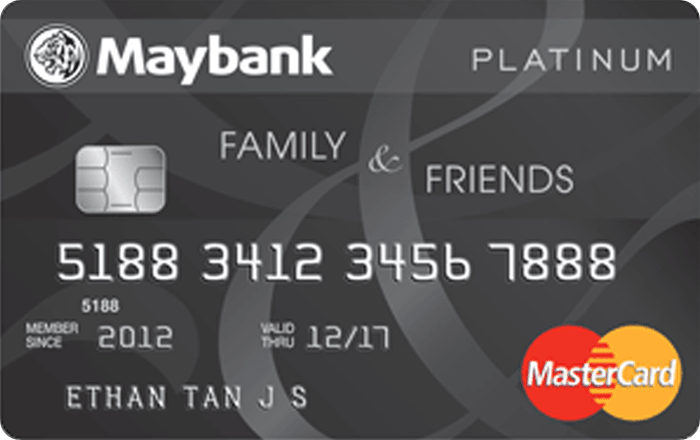 Best for shopping: OCBC Titanium Card
It'd be fair to assume that a good portion of time spent overseas is devoted to shopping. In that case, OCBC Bank's headlining rewards card, the OCBC Titanium, is a solid pick for hardcore shoppers.
Every $5 spent on shopping categories, be it at brick-and-mortar stores overseas or online at your favourite e-commerce giants, will earn you 50 OCBC$ – equivalent to 20 miles. That's right, unlike some other rewards or miles cards, your OCBC$ or miles are calculated in $5 blocks; the eligible shopping categories include fashion, bags, shoes, accessories, electronic gadgets and personal care items.
For online spending, the card offers complimentary e-commerce protection which safeguards you against non-delivery or defective goods, even if the seller fails to reimburse you.
The maximum OCBC$ you can earn is 120,000 OCBC$ per year, beyond which the base earn rate of 1 point per $5 will apply instead.
(Choose your Titanium: Team Blue or Pink?)
Best for high spenders: CIMB Visa Infinite Card
The CIMB Visa Infinite is the 'Black Card' of the bank – quite literally. With its $120,000 minimum annual income eligibility criteria, you'd know this is meant for an exclusive group. If you happen to be in said group, you're in for a treat on the overseas spending front.
For one, you could look forward to score an unlimited 2% cashback on all travel, overseas and online spend in foreign currencies. The minimum qualifying spending per month is $2,000. Other categories of spending nets 1% unlimited cashback.
Some could argue that other credit cards like the Citibank Cash Back+ offer 1.6% unlimited cashback with entry-level application criteria. But they probably lack depth in travel perks and golfing privileges; CIMB Visa Infinite allows you to indulge in three complimentary global lounge access at over 1,000 airports annually, with up to 25% discount on selected worldwide airport dining in tow.
Those whose idea of an ideal vacation involves teeing off get to do so at 108 participating golf clubs in 16 countries, and enjoy complimentary green fees.
The CIMB Visa Infinite waives its annual fee for life – a rarity for premium credit cards.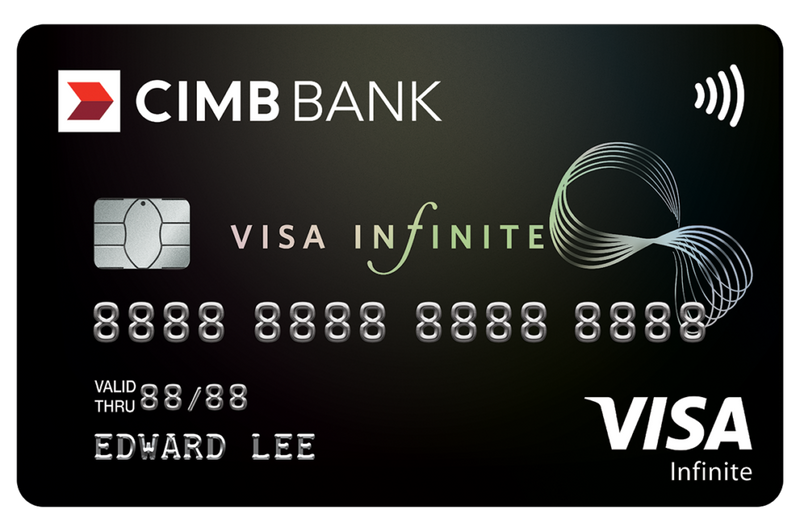 Read these next:
Credit Cards You Should Use as Your EZ-Link Card
Top Credit Card Promotions And Deals On SingSaver
Most Popular Credit Cards In Singapore 2020
Best Credit Cards To Power Up Interest Rate On Your Savings Account (2020)
Phase 3 In Singapore: What Can You Expect?