Swiping your credit card overseas can be a great way to earn higher miles per dollar – but always take note of the currency you're paying in.

Opinions expressed reflect the view of the writer (this is his story).
It's been called a "hyper-inflated rip-off", a "scam" and a means of "hoodwinking consumers".
Yet dynamic currency conversion (DCC) continues to be the bane of travellers everywhere, and if you've ever used your credit card overseas, you may have fallen prey without even knowing it.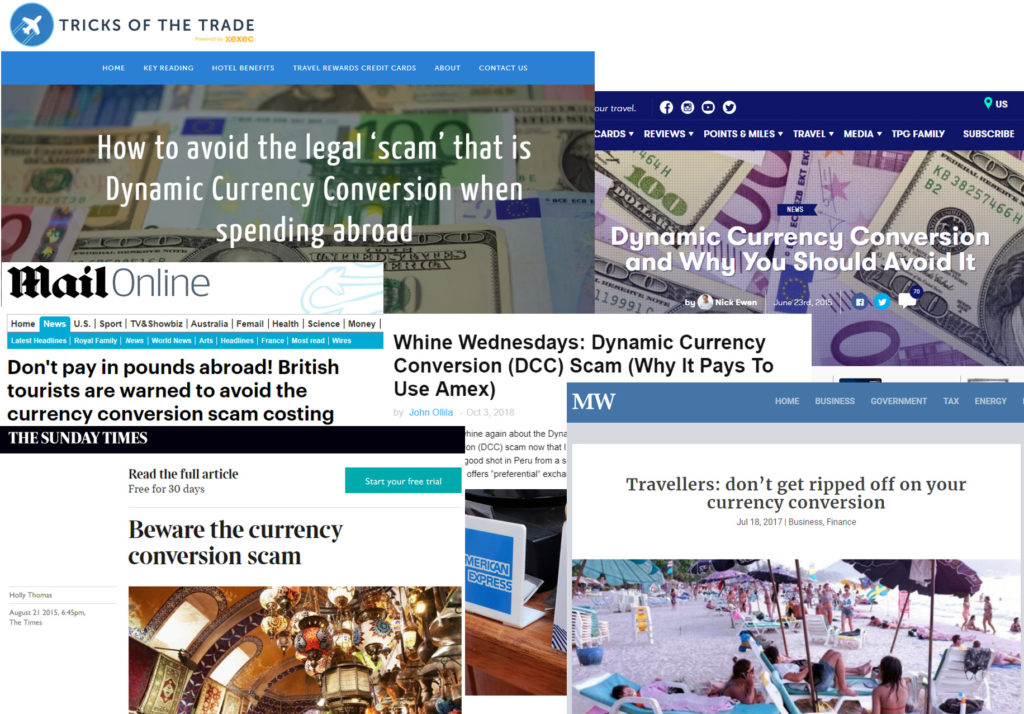 In this post, we'll look at DCC in depth so you know what it is, and how to protect yourself from it.
What is DCC?
DCC is a service that overseas merchants use to convert credit card transactions into Singapore Dollars on your behalf.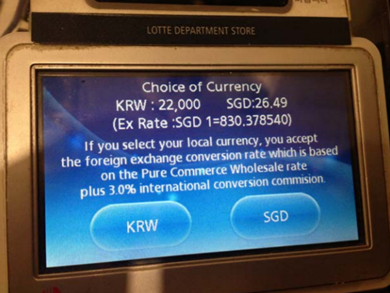 For example, if you're shopping in Seoul and swipe your card at a department store, you may see a prompt asking if you'd like to process the transaction in SGD, or in KRW.
Select KRW, and your payment will go through like any regular overseas transaction. Your bank will determine the conversion rate.
Select SGD, and your transaction will be dynamically converted into SGD at the point of charging. The merchant will determine the conversion rate.
To sum it up: DCC happens anytime you're charged in SGD for a payment that is processed outside of Singapore.
Why is DCC bad?
Proponents of DCC claim it benefits consumers by converting an unfamiliar currency into a familiar one, meaning no surprises when you get your credit card bill.
Leaving aside the fact you could already convert currencies with a few simple taps on your phone, this argument falls completely flat when you break it down.
Reason #1: You pay more with DCC
DCC rates are much worse than what you'd have paid if you let your bank handle the conversion.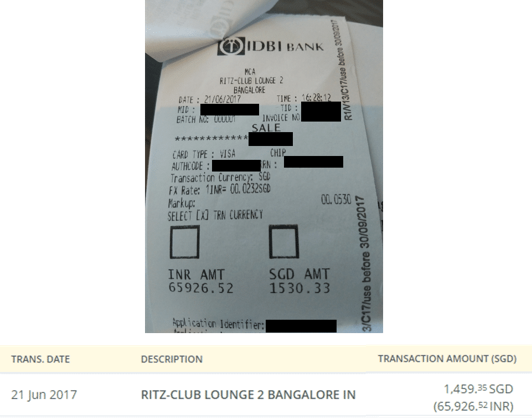 It's been estimated that UK travelers lose on average 1 million GBP each day thanks to DCC, and while there are no equivalent figures for Singapore, it's safe to say that DCC benefits the merchant (who earns a commission from the markup), not you.
As an example of how bad it can be, here's a transaction I made in 2017 at a hotel in India. The foreign currency amount was 65,926 INR, and the DCC rate the hotel offered was S$1,530. I, of course, opted to be charged in INR, and the final amount that posted to my UOB card was S$1,459, ~5% lower than the DCC rate.
This isn't the exception; it's the rule. Banks in Singapore charge a markup of between 2.5-3.5% on foreign currency transactions, while DCC rates are anywhere from 5-10%!
Reason #2: You earn fewer credit card points with DCC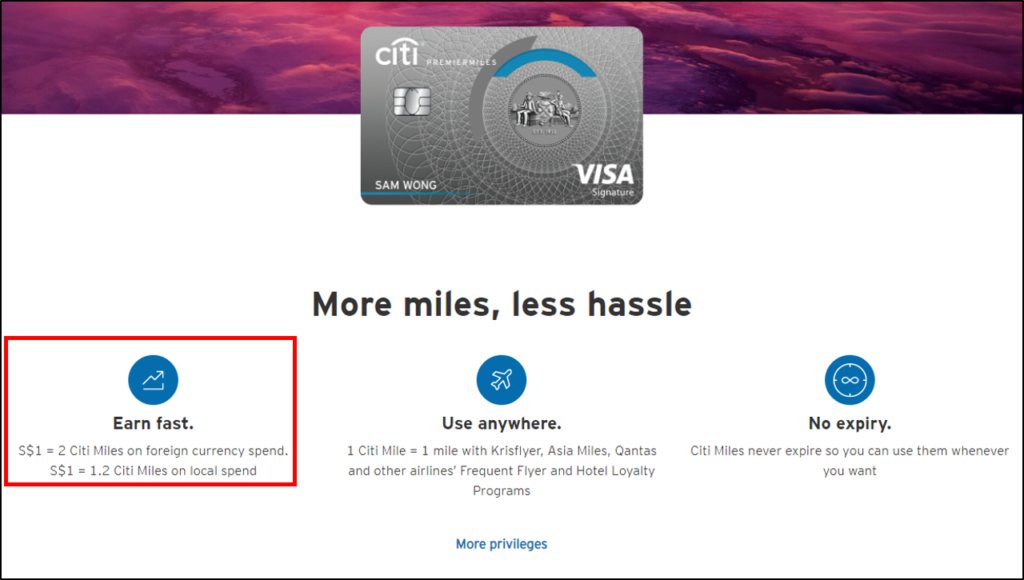 There are many credit cards which award bonus miles on foreign currency spending. The Citi PremierMiles Visa, for example, earns 1.2 mpd on local spending, but 2 mpd on overseas spending.
DCC transactions are charged in SGD, which means you miss out on the opportunity to earn those foreign currency spending bonuses.
Going back to my example in India: I paid with my UOB Visa Signature card, which offers 4 mpd on foreign currency spending, and 0.4 mpd otherwise. This means that had I chosen DCC, not only would I end up paying 5% more, I'd also earn ~5,250 fewer miles!
Reason #3: DCC is not actually "fee-free"
Even the most basic argument for DCC ("at least you know for sure the final amount you'll be charged") doesn't hold water.
That's because the amount you see on your charge slip isn't final: banks will further impose a fee of 0.8-1% on DCC transactions, even though they're charged in SGD.
| | |
| --- | --- |
| Bank | DCC Fee |
| DBS Bank | 0.8% |
| UOB | 1% |
| OCBC | 1% |
| SCB | 0.8% |
| HSBC | 1% |
| Maybank | 1% |
| Citibank | 1% |
For example, here's an instance of when I was DCC-ed (involuntarily) when paying for a visa-on-arrival at Amman airport. The receipt said I'd be charged S$79.82...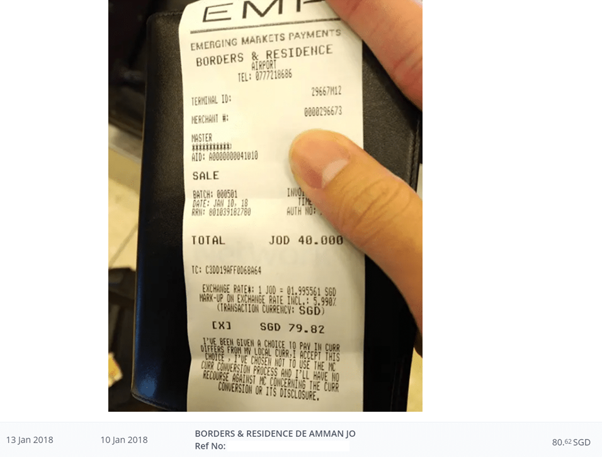 ... but the actual amount charged to my card was S$80.62, after UOB's 1% DCC processing fee.
How can I protect myself from DCC?
1) Be alert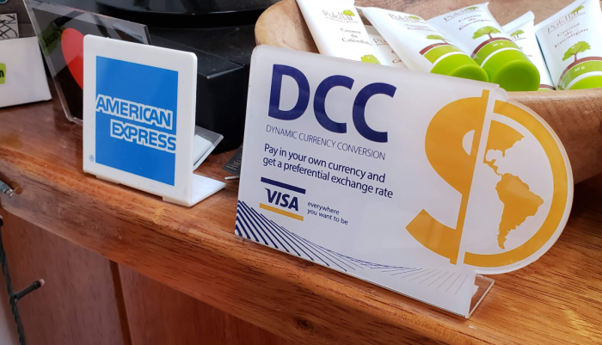 By right, consumers must always give positive consent to DCC. This typically involves the cashier asking you which currency you'd like to be charged in, or the terminal displaying a choice of options for you to select.
However, this doesn't always happen. Unscrupulous merchants may train cashiers to automatically select the DCC option because it yields them greater commissions. Unattended payment kiosks may be hardwired to automatically select DCC for transactions.
Therefore, it pays to always be alert when you sign a charge slip overseas!
2) Know your rights
It's one thing to be given the choice to reject DCC. It's another to have your choice made for you.
Both the Visa and Mastercard compliance guides state very clearly that customers must be informed that DCC is optional. Moreover, they need to expressly agree to a DCC transaction, and DCC cannot be selected as the default option.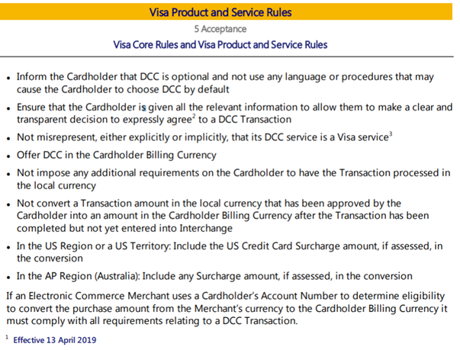 Despite this, there have been many cases of merchants insisting DCC is "compulsory", or automated systems opting customers into DCC by default.
You have the right to reject DCC, so stand your ground. Insist the merchant either charges you in SGD, or refuse to do business with them. Why would you want to support a company which tries to rip you off?
3) Dispute the transaction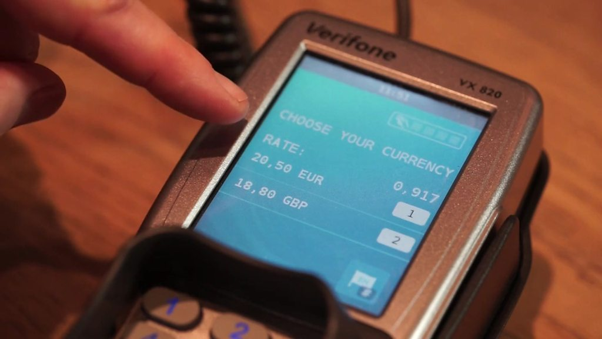 If in spite of all this, you still end up being DCC-ed against your will, don't take it lying down.
If the merchant refuses to reverse a DCC transaction, do not sign the charge slip, and write "DCC rejected and choice of local currency not offered". If you've been DCC-ed at an automated, unmanned terminal where there is no charge slip to sign, take note of the details.
Call your bank as soon as possible and dispute the transaction. Mention that you were not offered a choice of currencies, as you should have been under the Visa/Mastercard compliance rules. The bank will open a file and investigate, and usually issue a temporary credit to your account.

Unfortunately, I can't guarantee a positive outcome, as many DCC cases are "he-said-she-said" incidents. That said, banks will sometimes issue a goodwill refund of the charges out of their own pocket, and if enough complaints are filed against a particular merchant, more concrete action may be taken.
Here's a detailed account of what happened when I fought a transaction that was DCC-ed without my consent.
4) Use American Express Cards
If all else fails, consider using a card like the AMEX KrisFlyer Ascend or AMEX KrisFlyer Credit Card when travelling. AMEX credit cards do not support DCC, so there's no risk of it happening!
Conclusion
DCC is a menace, but there are ways to protect yourself. Always be observant when you swipe a Visa or Mastercard overseas, and be ready to stand your ground if necessary. Hopefully, regulators will step in to prevent this customer-unfriendly service from further proliferating, but until they do, be prepared!
Read these next:
Best 6 Credit Cards For Overseas Spending
Should I Use my Credit Cards Overseas To Earn Miles?
Amex, Visa or MasterCard: Which Is Better for Travel?
How To Get Around the Singapore Airlines Waitlist
7 Ways To Earn More Miles With Everyday Expenses
---
---