Leave it up to the chef to impress you and your loved ones at these affordable to luxury omakase restaurants in Singapore.
Omakase dining has become increasingly popular in Singapore recently, especially for those who are looking to spoil themselves and their loved ones or to celebrate special occasions.
Of course, omakase dining doesn't come cheap. Expect to shell out an average of S$100 per person (which is already costly for most) to over S$300 per person for a more extravagant dining experience.
While omakase is pricey compared to dining at regular Japanese restaurants, it's usually the experience that people go for.
If you have yet to try out an omakase meal, we'd recommend you to go for it at least once in your life — we promise you that it will be an unforgettable experience.

SingSaver's Exclusive Offer: Apply for our exclusive credit card, travel insurance, car insurance, personal loan, investment, savings account, and priority banking deals to enter our 101! Milestone Giveaway.
Enjoy up to 3x chances to win your share of over S$200,000 worth of prizes, including S$5,000 bonus cash each week on top of ongoing promotions!
Valid till 20 December 2023. T&Cs apply. Click here to check out our past Lucky Draw winners!
---
What is omakase?
Omakase is more of an artistic culinary philosophy than an actual cooking technique. Loosely translated to mean "I'll leave it up to you", this dining experience allows Japanese chefs to fully explore the full range of their culinary capabilities to curate a menu that best reflects them and the zestful spirit that is apparent in Japanese cuisine.
It also opens up explorative opportunities for diners to seek out the unknown, providing opportunities to surprise, amaze and delight their palate as they venture into uncharted territory.
Given that omakase menus are often blanketed in secrecy, every omakase experience is a unique one.
Why is omakase so expensive?
Omakase presentations are typically reflective of the chef's sentiments, passion and interpretive art. As such, it is expected that only the best ingredients are used in each dish. Some dishes contain ingredients that are rare and distinct, some of which are exceptionally hard to obtain due to their exclusivity (such as wagyu beef and usuzukuri).
Some restaurants prefer to go all out (S$200 or more), while other establishments provide a more simplistic approach to omakase to make it accessible to the average folk.
Omakase Singapore 2023 – The Best Omakase Restaurants in Singapore for Every Budget
Affordable (S$100 and below, prices before tax)
SENS Dining (takeaway)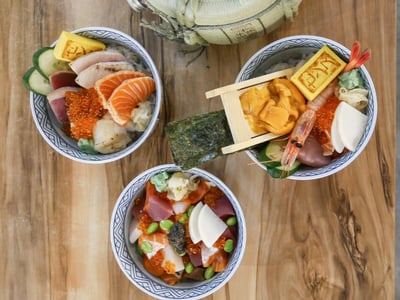 What's better than one omakase set? Two omakase sets, all for the price of only S$50++.
Enjoy dishes like Ebi Katsu and Unagi amongst other favourite Japanese dishes in these sets.
Price: S$50
Address: 243 Holland Ave, Singapore 278977
Contact: 6262 5618
Website
DBS/POSB Credit Card Welcome Gift: Receive S$250 cashback or up to 60,000 miles when you apply for select DBS credit cards and fulfil the relevant promotion criteria. T&Cs apply.
Hana Restaurant (takeaway)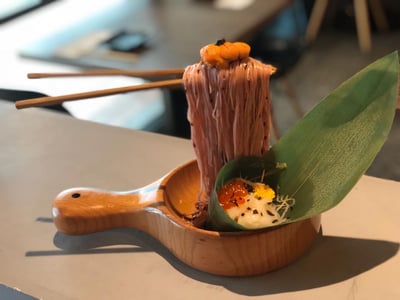 Perfect for new adopters of Omakase, Hana Restaurant's omakase takeaway set delightfully encapsulates the spirit of this Japanese cooking experience at only a fraction of the cost.
For just S$38, expect a wide array of traditional staples like slices of sashimi and miso soup, as well as delicious culinary spins like ebi sushi with cheese tobiko and much more! The only downside of the experience is that it's solely for takeaway.
Price: S$38++
Address: 583 Orchard Road, Forum The Shopping Mall, #01-17, Singapore 238884
Contact: 6737 5525
Website
Jidai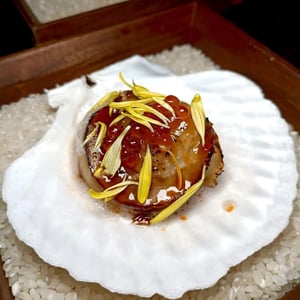 Of course, we understand that ambience and plating are also crucial facets of the exquisite dining experience that omakase typically entails.
Jidai provides the entire package without burning a hole in your wallet with a full eight-course omakase meal for just S$78. You'll get to experience a myriad of cooking specialities, from grilled dishes to noodle appetisers, soups and much more. Those looking for a more wholesome experience can opt for its 11-course meal which costs S$108. It's unlikely you'll find a cheaper omakase dine-in experience than this.
Price: Starting from S$78
Address: 9 Circular Rd, Singapore 049365
Contact: 8189 1849
Website
Jun Omakase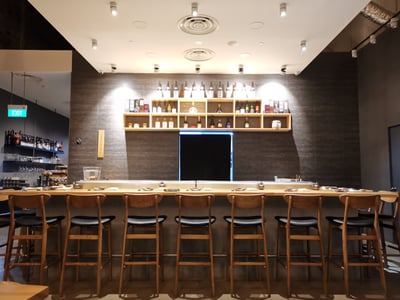 If you're feeling adventurous in the afternoon, drop by Jun Omakase for its lunch-exclusive personalised set starting at S$68. For the price, you'll get a full seven-course omakase meal, with two starters, assorted sashimi and sushi, two mains as well as dessert. It's probably one of the cheapest omakase dine-in lunch sets you can find in Singapore.
Price: From S$68 (lunch)
Address: 3 Church St, #01-01 Samsung Hub, Singapore 049483
Contact: 6224 0311
Website
Unkai Sushi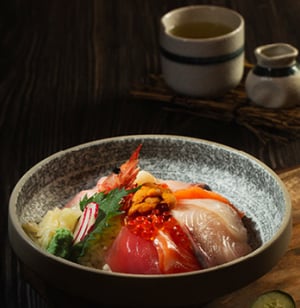 Poetically describing the omakase experience as "an intimate epicurean encounter", Unkai Sushi ensures everything here - from ambience to plating, to the food itself, is meticulously prepared to emulate the inventiveness and elegance that is omakase. Its Tsuki set consists of 10 different types of exquisite sushi, with one hand roll that is accompanied by a bowl of seasonal soup and a plate of dessert. This is the perfect starter experience for anyone looking to explore the finer side of this preparation style. If you need a heavier bite, you can opt for its Hoshi and Soba sets, which include a grilled protein.
Price: Starting from S$88
Address: 1 Tanglin Rd, #01-10, Singapore 247905
Contact: 9634 8508
Website
Ryo Sushi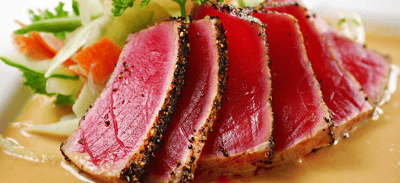 Boasting a whole 18-course menu (yes you heard us right) that costs under S$100, this is probably one of the most comprehensive options you can find in our article. With dishes like a Hijiki seaweed salad, onsen egg, a small Chirashi bowl and of course, sushi, get your fill of the omakase experience for what we truly think is a huge bargain.
Price: Starting from S$98
Address: 1 Tras Link, #01-06 Orchid Hotel, Singapore 078867
Contact: 9634 8508
Website
Need more to fuel your cravings? Here are some more options to consider!
14 Best Japanese Buffets in Singapore 2022
4 Don Don Donki Secret Hacks You Probably Didn't Know Exist + Top 10 Products That Are Worth Your Money
Mid-tier (S$100 to S$200, prices before tax)
Hakumai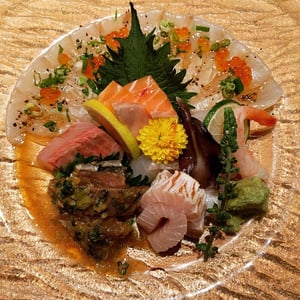 True to the "leave it to the chef" nature of omakase, the menu does not reveal much of its dishes, with only slight mentions of dishes like zensai, sashimi and Japanese ice cream amongst the mix of culinary surprises that are in store for you.
If there's one way to describe the experience, it is akin to embarking on an uncharted adventure, only to set foot onto a realm of culinary treasure and marvels. For those eager for a sneak peek of what they have to offer, you can opt for its lunch omakase menu which comes with eight pieces of sushi, Kawahagi and much more for just S$88!
Price: Starting from S$88.80 (lunch exclusive | Starting from S$188 for its dinner omakase menu
Address: 10 Anson Rd, #01-50A International Plaza, Singapore 079903
Contact: 6224 4790
Website
Shinzo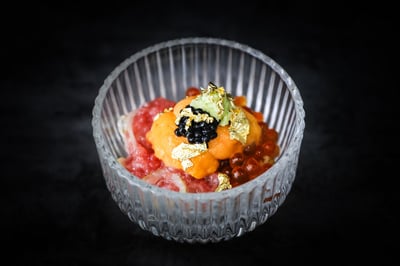 Loosely translated to mean "heart", Shinzo revels in providing you with an authentic and sophisticated interpretation of the omakase experience. Drop by during lunch for its S$118 set, which comes with three different seasonal condiments, premium nigiri sushi and much more. It even comes with a cooked dish which is prepared at the chef's discretion, akin to a mystery prize box!
While its dinner sets have relatively exorbitant price points, diners can opt for its early-bird omakase dinner for just S$68 if they book fast enough.
Price: Starting from SS$118 (lunch menu) | S$68 for its early bird promotion
Address: 17 Carpenter St, Singapore 059906
Contact: 6438 2921
Website
Rakuya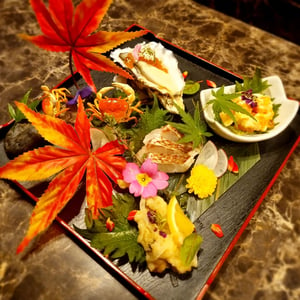 Rakuya provides a versatile menu that incorporates a diverse range of flavours, with the addition of a beef dish, noodles dish and Chawanmushi in addition to the typical omakase offering. You can further elevate your experience here with A5 Wagyu for a top-up of S$22.
Price: Starting from SS$118
Address: 89 E Coast Rd, Singapore 428790
Contact: 9189 6459
Website
GOHO Kaiseki & Bar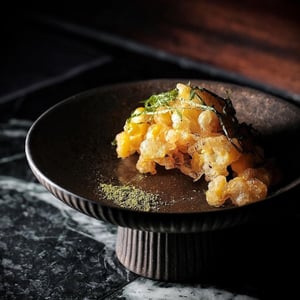 Just the menu screams elegance and sophistication, with a whole series of exotic and artistic dishes that are to die for. Duck tsukune (a minced duck breast that is accented by an Ajitama quail egg as well as caviar) and Yuzu yoghurt explosion (yoghurt infused with citrus) are some of the many highlights of this amazing menu. It is almost mandatory for true food enthusiasts to include this gastronomical gem in their foodie bucket list. On 14 February 2023, every purchase of our Sumire or Ume Winter Kaiseki course menu will include a complimentary glass of sparkling sake.
Price: Starting from SS$98
Address: 53A Duxton Rd, Entrance via RAPPU, Singapore 089517
Contact: 9170 2557
Website
Teppei Japanese Restaurant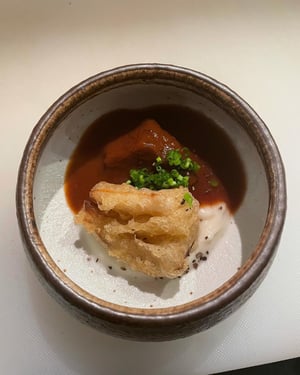 Known for its thematic omakase sets, Teppei Japanese Restaurant pays homage to culinary staples in Nagasaki with a menu that celebrates its diversity. You'll never know what you'll get here, with most of its dishes prepared at the chef's discretion, ensuring that your time here is ever-changing and ever-unique.
Price: Starting from SS$120
Address: 1 Tras Link, #01-18 Orchid Hotel, Singapore 078867
Contact: 8831 5185
Website
Honcho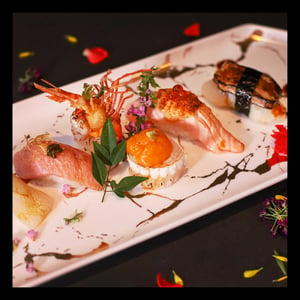 Honcho is a staunch follower of the reputed secrecy of omakase, revealing almost zero information about its omakase menu. The chef decides the dishes you'll be presented with, leaving your entire experience here with limitless room for creative personalisation. Every time you go to Honcho, it's like you're opening another surprise birthday present!
Price: Starting from SS$128
Address: 12 Ann Siang Rd, Singapore 069692
Contact: 8779 9537
Website
Mizuya Singapore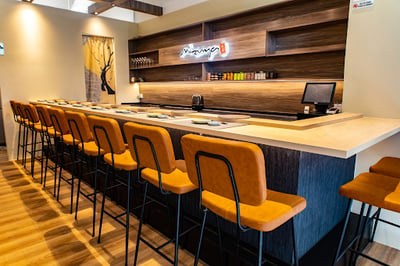 Sushi, omakase, whisky - what more can you ask for? Mizuya beautifully encapsulates this in their omakase lunch menu, boasting a generous selection of assorted sashimi and Nigiri sushi. These are paired well with interesting side dishes such as usuzukuri (sliced white fish with accompanying sauce) and a mini Negitoro with ikura rice bowl. Do make sure to have a gander at Mizuya's beverage menu, as they carry a rich variety of Japanese alcohol that best complements your meal.
Price: Starting from SS$138
Address: 11 Cavan Rd, #01-04 Cavan Suites, Singapore 209848
Contact: 6721 9399
Website
Shin Yasuke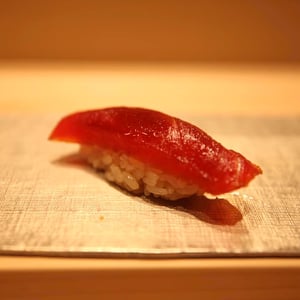 Unlike the other restaurants in this list, Shin Yasuke's approach to omakase is more primitive (which isn't necessarily a bad thing). With a purely sushi-oriented menu, you'll get a more extensive array of sushi within this menu. If you're a huge sushi fan, you'll love this original and pure interpretation of omakase.
Price: Starting from SS$180
Address: 428 River Valley Rd, 01-03, Loft@Nathan, Singapore 248327
Contact: 8869 7589
Website
Fukui Omakase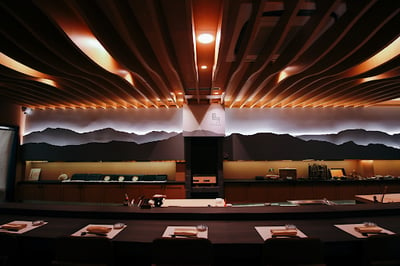 With sets starting from S$188, its omakase set has generated positive reviews for its meticulous finesse and passion put into each dish. Many diners have lauded the establishment for its incredibly fresh ingredients, congenial ambience and professional service. The nuance and motivation for each dish will also be shared by the waiter/waitress, pairing a gastronomical experience with an immersive narrative.
Price: Starting from SS$188 for lunch, S$258 for dinner
Address: 25 Mohamed Sultan Rd, Singapore 238969
Contact: 6509 0909
Website
Top-tier (S$200 and above, prices before tax)
BOTAN Japanese Restaurant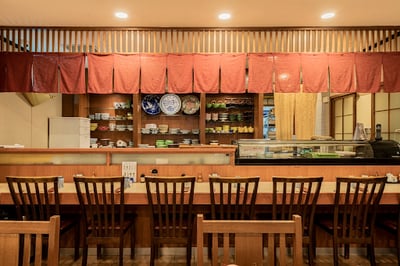 BOTAN's menu revolves around impeccably fresh ingredients, with exotic cooking methodologies to accentuate their purity and flavours. Expect top-notch menu items like A5 Miyazaki Wagyu beef, king prawn tempura and foie gras chawanmushi.
Not enough to convince you? Well, BOTAN Japanese Restaurant has a fabulous one-for-one omakase offer that can be found exclusively on Chope. Given that the offer is available on public holidays as well, this may be a good option for just about any special occasion .
Price: Starting from SS$233.05 for two omakase sets
Address: 37 Pekin St, #01-01 Far East Square, Singapore 048767
Contact: 6536 4404
Website
Shinji by Kanesaka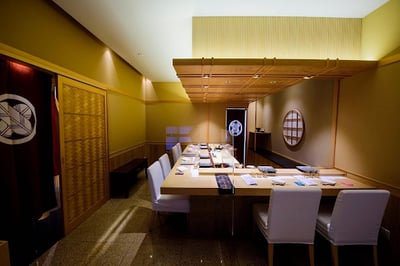 With roots stemming from 1 Michelin star chef Shinji Kanesaka, this Japanese establishment draws many inspirations from his first edo-style sushi restaurant in Tokyo. Priding their culinary creations as reflections of Japanese culture and art, Shinji by Kanesaka curates its omakase menu to perfectly embody these values. While dining here, it is difficult not to feel like you're in Tokyo's exclusive Ginza district, with authentic and untouched flavours teleporting you beyond our borders.
Price: From SS$280 for Omakase Yume set | S$350 for Omakase Wa dinner set
Address: 76 Bras Basah Rd, Carlton Hotel, Singapore 189558 | 29 Tanglin Rd, The St. Regis, Singapore 247911
Contact: 6338 6131 (Carlton Hotel's branch) | 6884 8239 (St.Regis's branch)
Website
Shima Restaurant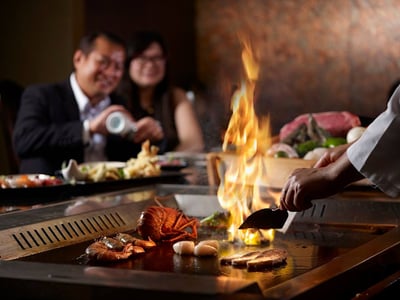 Expect a memorable fine-dining teppanyaki restaurant experience led by Chef Fumihko Hoshiba of Hokkaido.
The Valentine's Day set lunch (S$88 per pax) and dinner (S$168) are equally tantalising. Shima Restaurant has been known to specialise in Teppanyaki, so get ready for a creative infusion of smoky flavours coming your way.
Price: Starting from SS$88 for Valentine's Day set lunch
Address: 22 Scotts Rd, Goodwood Park Hotel, Singapore 228221
Contact: 6734 6281 or 8818 1647 (WhatsApp reservation)
Website
Sushi Ichizuke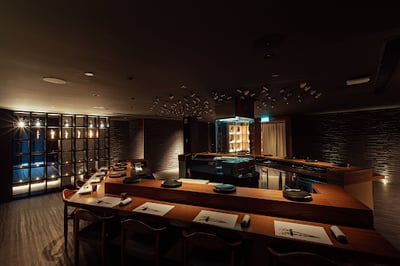 Unknown to many, Sushi Ichizuke is an extension of entertainment mogul Zouk. As such, you can expect an electrifying ambience further accented by riveting music you would expect at their venerable nightclub. Said to preserve traditional Japanese cooking preparatory techniques, this new entry in the omakase craze provides a more rustic experience, with an omakase course emphasising the freshness and quality of the ingredients.
Like other typical menus, expect an assortment of sushi, soup, sashimi and a cooked meal at the chef's discretion.
Price: Starting from SS$288
Address: 3E River Valley Road #02-02, Clarke Quay, The Cannery, Singapore 179024
Contact: 9489 8357
Website
Shoukouwa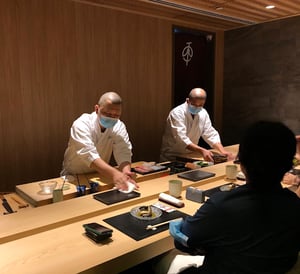 While Shoukouwa's omakase menu is fairly similar to many of the restaurants under our Top-tier series, they place a greater emphasis on the capabilities and culinary prowess of its chefs. Described as a journey that will immerse you through the expansive range, their menus best represent their chef's meticulous attention to detail and splendid showmanship.
Interestingly, their omakase menu also has Japanese omelettes in addition to the traditional offerings you would expect in an omakase dine-in.
Price: Starting from SS$350 for lunch, S$520 for dinner
Address: 1 Fullerton Rd, #02-02A One Fullerton, Singapore 049213
Contact: 6423 9939
Website