Trust's latest credit card is a TRUST-worthy card for your wallet if you are a fan of shopping overseas or shopping at NTUC FairPrice.
Is the rising cost of living, especially from inflation, a constant source of worry in your life? Or perhaps you're also concerned about overspending on your year-end holiday.
Unless you have a way to bring in additional income, what else can be done to help defray the rising cost of living?
Well, that's where Trust's newly launched credit card can help you out. Trust – which is one of Singapore's newest digital banks – has introduced a credit card that could be a game changer for everyday Singaporeans, especially for those who shop frequently at NTUC FairPrice or are avid travellers.
With an array of innovative card features, the Trust credit card is designed to provide you with a better banking experience to help you maximise your savings.


Table of contents
For Wanderlusters
For Grocery Shoppers
---
HSBC Everyday Global Account Welcome Gift: Get up to S$1,830 in rewards when you sign up for a HSBC Everyday Global Account and complete the offer bundles with HSBC Credit Card, Investment and Life Insurance Products. T&Cs apply.
Alternatively, sign up for an HSBC Everyday Global Account in November and enjoy a bonus interest rate of up to 4.50% p.a! T&Cs apply.
---
For Wanderlusters:
#1: Say goodbye to foreign transaction fees when spending overseas
Travel inflation is very much a real thing, and it can put a damper on your holiday plans.
Thankfully, foreign transaction fees are one less thing you'll need to worry about whenever you use your Trust credit card overseas or online. Wanderlusters will never have to worry about foreign transaction fees while on holiday (or on business trips!). In fact, Trust does not charge any markups or the usual 1% Visa fee either.
In comparison, other banks will likely charge a 3.25% to 3.5% markup or fee whenever you use your credit card overseas.


Foreign transaction fees charged by banks (Visa cards)
| | |
| --- | --- |
| Bank | Foreign transaction fee (inclusive of Visa fee) |
| | 3.25% on the converted Singapore Dollar amount |
| | 3.25% on the converted Singapore Dollar amount |
| | 3.25% on the converted Singapore Dollar amount |
| | 3.25% on the converted Singapore Dollar amount |
| | 3.50% on the converted Singapore Dollar amount |
However, with Trust, your purchasing power while on holiday will never be eroded – allowing you to save more while traveling abroad.
While one may argue that other platforms (such as YouTrip) do not charge transaction fees, users may find it a hassle to top-up their e-wallets. Also, using a Trust credit card means that you can have up to 45 days of interest-free credit.
What's more, you can save yourself a trip to the money-changer, because the Trust credit card offers competitive exchange rates!
---
#2: Your card acts as both a debit and credit card
Yes, you read that right! Your Trust card offers dual functionality as both a debit and credit card (if you have both a Trust credit card and Trust savings account) - allowing you to declutter your wallet while traveling.
This is particularly useful if you need to withdraw funds from an ATM (that's enabled by Visa) while overseas.
Users can simply select the preferred debiting account, which is either "Savings" or "Credit" on the ATM to draw funds overseas. Remember though, while Trust does not charge any foreign transaction or withdrawal fees, overseas banks may levy fees!
Besides that, your transactions are also updated in real-time on the Trust App, making it extremely easy to track your spending while overseas.
If your card goes missing (and we hope that does not happen of course), you can simply lock the card through the Trust App for added peace of mind. Getting a card replacement is free as well, so that is one less worry too!
[Update]

Trust Bank releases new supplementary card feature
If you have any other avid grocery shoppers in your family, good news! Trust Bank recently rolled out their fully-digital supplementary cards. No signatures, no paperwork needed – just a few clicks of a button and the supplementary card is yours.
Supplementary cardholders will have access to view transactions and Linkpoints accumulated but only primary cardholders can adjust and set the spending limit. So no worries about overspenders here! Just think of it more as a debit card for your dependents. 😉
---
#3: You get to choose your repayment date
One feature that travelers will certainly enjoy is the ability to choose your repayment date when you apply. What this means is that you can align your credit card repayment date according to when your pay comes in.
This feature is a first in Singapore and will be particularly useful for travellers who have racked up significant travel bills.
To ensure that you don't miss your crucial repayment date, the Trust app even sends you smart reminders to pay on time to avoid late payment charges!


---

SingSaver Exclusive Offer: Enjoy 2x chances to win your share of up to S$200,000 in prizes in our epic 101! Milestone Giveaway, including S$5,000 bonus cash each week on top of ongoing promotions. Valid till 20 December 2023. T&Cs apply. Click here to check out our past Lucky Draw winners!
Receive S$50 cash upon starting a Citi Plus relationship and get another S$100 cash (total S$150) or an Apple Airpods (3rd Gen) With Magsafe Charging Case (worth S$271.50) or a Sony WF-C700N (worth S$199) when you fund a min. deposit of S$20,000 within 2 months of account opening and maintain it for 4 months. Valid till 30 November 2023. T&Cs apply.
Boost your returns with up to 2% cash back with minimum S$500 qualifying spend (capped at S$2,000) on your Citi Cash Back+ Mastercard Credit Card when you spend for a period of 12 months. In addition, enjoy up to S$699 worth of exciting gifts. T&Cs apply.
Also, stand a chance to win a pair of Singapore Airlines tickets to Hong Kong in Citi Plus 1st Year Anniversary Lucky Draw! T&Cs apply.
---
For Grocery Shoppers:
#4: Trust credit card can help you defray the rising cost of inflation, especially on essentials
For those unaware, Singapore's year-on-year core inflation currently stands at 5.5%, an 18-year high. Similarly, Singapore's year-on-year food inflation has been on the rise, recently hitting 8.1% since January 2023.
As prices of non-cooked food and food services have increased, grocery bills have also risen steadily since the beginning of the year.
With inflation eroding our purchasing power, the Trust credit card can actually help defray the pains of rising costs.
How exactly? For example, customers who are also NTUC Union Members can enjoy up to 21% savings (through Linkpoints) with the Trust credit card when you shop for food and groceries at FairPrice Group (FPG)*. For everyone else, you'll get up to 15% savings!
Worried about rising petrol prices? With your Trust credit card, you'll also get to enjoy up to 20% in fuel savings when you pump at Caltex.
Here's a simplified illustration of how much you'll stand to save with your Trust credit card (NTUC Link credit card) assuming you have met minimum monthly and quarterly spend:

Source: Trust
Based on the illustration above, you already save more than 14% on your overall spends!
---
#5: Trust credit cards offer better rebates compared to existing grocery credit cards in the market
As mentioned earlier, you'll earn the highest rebate of up to 21% on your FPG spending (for NTUC Union Members).
This rebate comes in the form of Linkpoints, which can be used to offset future purchases or converted to your preferred loyalty points such as KrisFlyer and AirAsia rewards, among other merchants.


Grocery rebates: Trust credit card VS other grocery credit cards
In case you aren't already convinced, here is how the Trust credit card fares in comparison to other grocery credit cards.
NTUC/Trust Link Credit Card Vs other grocery credit cards
Credit card

NTUC Link credit card

(For NTUC Union Members)

Trust Link credit card

(For everyone else)

% of cashback

Up to 21% savings on groceries and food at FPG

Up to 15% savings on groceries and food at FPG

Up to 15% cashback on Dairy Farm International, Grab, Shopee and UOB Travel transactions

Up to 5% savings on o

nline, grocery purchases and public transport rides

Up to 8% cashback on 5 preferred cashback categories, including Groceries

Criteria

Min. monthly spend of S$350 on purchases outside of FPG

Min. monthly spend of S$450 on purchases outside of FPG

Min. monthly spend of S$2,000 per month

At least five eligible purchases per month

3% cashback on eligible grocery spend

Additional 4.7% bonus cashback rate only when you spend min.S$500 per month

8% cashback with min. monthly spend of S$800

Otherwise, 0.3% cashback only

Cap

S$960 cap worth in Linkpoints on bonus points (for FPG spend)

Receive 0.22% Linkpoints in form of rebates on all Eligible Spend, with no cap (for out-of-store spend)

Additional rebates are capped at up to $200 per month for the first two quarters

Cap of S$600 a year (average S$50/month), credited in SMRT$

Cashback is capped at S$125 per month, capped at S$25 per category — this means you only get a maximum of S$25 cashback on groceries
Information accurate as of 31 October 2022


---
The Winner: Trust Credit Card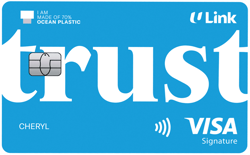 From the table, Trust credit card offers the best-in-market rewards for shopping at FPG – allowing you to save up to 21% with the NTUC Link Credit Card (for NTUC Union Members) and 15% with the Trust Link Credit Card for non-NTUC Union Members.
---
#6: Save even more at your favourite merchants with exclusive rewards
Did you know you'll receive a S$25 FairPrice E-Voucher when you sign up and make your first Visa transaction on your Trust card?
That's not all; you'll also enjoy a myriad of other rewards, which you easily track via the Trust App. That way, you'll never miss out on the latest promotions and savings.
Some of the existing rewards and bonuses include:
Free 4-piece chicken nuggets with purchase of any meal at Burger King
Original Recipe Burger for $3 at KFC
$5 off a Gojek ride for new customers
Get FairPrice E-Vouchers for every successful referral, and there's no cap on how many people you can refer and earn!
And many more!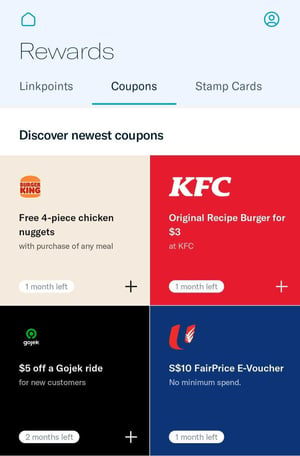 Information is accurate as of 1 November 2022.


---
Putting Your Trust in the Trust credit card
Whether you're using it for your next overseas adventure or an avid FairPrice shopper, Trust credit card can be a rewarding addition to your wallet to help defray the rising costs of living.
With savings up to 21% in the form of Linkpoints, you can choose to offset future purchases for instant savings or convert them to your preferred loyalty points or miles.
With its intuitive and user-friendly app design and seamless sign-up process, it's no wonder that the Trust credit card is currently the talk of the town.


Sign up for a Trust credit card via the Trust App now!

Download the Trust Bank SG App today from the Apple App Store or Google Play Store!
This article is written in partnership with Trust Bank.
---
*FPG groceries and food spend will be referred to as FPG spend. FPG food includes participating stalls at Kopitiam and Kopitiam top-up cards.
FPG groceries include:
FairPrice
FairPrice Finest
FairPrice Xtra
FairPrice Xpress
FairPrice Online
Warehouse Club
Unity
Cheers stores (excluding FairPrice Xpress and Cheers outlets located within Esso stations)
---
Read these next:
Can Cashback Credit Cards Help Curb Inflation in Singapore?
8 Sneaky Signs That Lifestyle Inflation Is Delaying Your Financial Freedom
How To Prevent Travel Inflation From Ruining Your Trip
Ultimate Credit Card & Savings Account Combo: Earn S$1,095 Cashback Annually