Thinking where to celebrate your next special occasion? Check out the 26 top fine dining restaurants in Singapore that will give you the ultimate fine dining experience.
It is undeniable that we love good food. In fact for some, food isn't a mere necessity, but a whole way of life. However, fine dining does come at a significant cost that not many are willing to bear.
Just for you, we have consolidated 26 of the best fancy dining establishments in Singapore that accentuate fine dining, while remaining affordable and accessible.
No more will you splurge to indulge, and rather, it is time to save and indulge.
Odette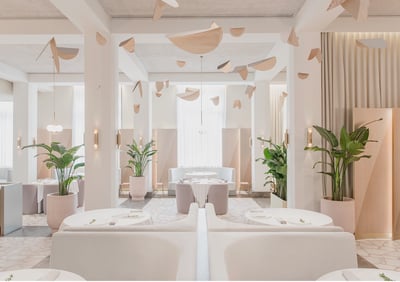 Housed in the National Gallery Singapore, Odette is a timeless fine-dining destination helmed by Chef Julien Royer. His dishes serve as a culinary ode to his grandmother, with the restaurant's very name eponymously named after her. Described to showcase an entire series of classically authentic French dishes, Odette has since reinvigorated its offerings with ingenious native flavour infusions.
Make sure to make your bookings as soon as possible (at least a month in advance) to secure a reservation.
Address: 1 St Andrew's Road #01-04, Singapore 178957
Contact: 6385 0498
Operating hours: Lunch: 12.00pm to 1.15pm (last seating) | Dinner: 6.30pm to 8.15pm (last seating) on Tuesdays to Saturdays
Website
Cut by Wolfgang Puck
Wolfgang Puck, as we all know, is a legendary culinary household name that is commonly synonymous with scintillating cooking. Holding two Michelin stars (one from CUT at Marina Bay Sands), this dining connoisseur has delivered world-class dining experiences all the while remaining uncompromising on bespoke quality and dedication.
Expect dishes like America Wagyu beef, Maine lobsters and honey-glazed pork bellies while you're here.
Address: 2 Bayfront Ave, B1 - 71, Singapore 018972
Contact: 6688 8517
Operating hours: 5pm – 12am
Website
JAAN By Kirk Westaway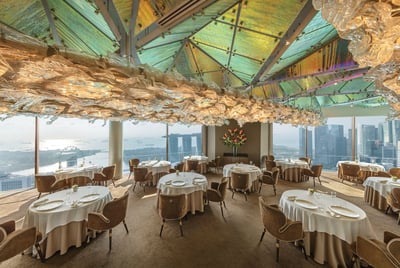 Situated at the peak of the beautiful hotel - Swissôtel The Stamford, JAAN seeks to curate an intimate dining experience that induces a deeper appreciation for authentic and seasonal flavours.
The menu is ever-changing, as Executive Chef Kirk Westaway explores new ways to seamlessly fuse native culinary qualities with charming British flavours.
Menu items include infused English peas (British culinary staples), cornish sea bass and roasted langoustine (Norway lobster) cooked with brown butter.
Address: 2 Bayfront Ave, B1 - 71, Singapore 018972
Contact: 6688 8517
Operating hours: 5pm – 12am
Website
Basque Kitchen by Aitor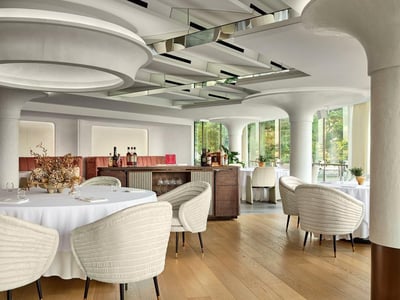 Known for exotic Basque cuisine, this reputed establishment has been lauded for its marvellous culinary reinterpretations. Winning its first Michelin star in 2019, it has managed to hold onto this widely desired recognition in 2021, a testament to Chef Aitor's culinary flair and intrigue.
Look forward to an exquisite showcase of Basque-centric dishes, with the likes of Bieira (charcoal-grilled Hokkaido scallop) and TxuletaBieira (charcoal-grilled wagyu loin).
Address: 3 Fullerton Rd, #02-01/02/03 The Fullerton Waterboat House, Singapore 049215
Contact: 6224 2232
Operating hours: 6.30pm to 11pm on Tuesdays to Saturdays | 12pm to 2.30pm (lunch menu) on Thursdays to Saturdays
Website
Restaurant Labyrinth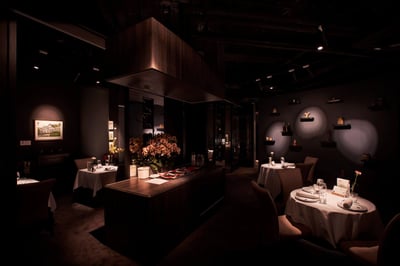 Probably one of Singapore's more contemporary dining establishments, Restaurant Labyrinth seeks to revolutionize the status quo with an ever-changing and commemorative menu.
If anything, this dining experience is best described as a culinary capsule reflective of Chef-owner LG Han's life stories and experiences in Singapore, celebrating nostalgic flavours and pairings that pay tribute to our cultural trove.
Of course, nothing screams Singaporean more than Chili Crabs, Ice Kacang and popiahs. Immortalise these old-aged recipes with this local gastronomic experience.
Address: 8 Raffles Ave, #02 - 23, Singapore 039802
Contact: 6223 4098
Operating hours: 6.30pm to 11pm on Wednesdays to Sundays | 12pm to 2.30pm (lunch menu) on Thursdays to Sundays
Website
Flutes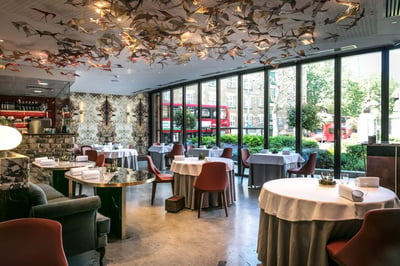 Nestled comfortably within the halls of Singapore's National Museum, Flutes has established itself as a culinary remnant of Singapore's colonial past, with a menu that beautifully fuses contemporary and local recipes.
Working with a constrained budget? Well, Flutes is one of the more affordable options on the list, with a bespoke diner menu that starts at S$138 ++ per person. This is a great bargain given that the menu consists of dishes like Alaskan king crab, suckling piglet and barbequed Wagyu tenderloin.
Opt for its lunch sets to reap the most savings, beginning at S$42 for a 2-course meal and S$50 for a three-course meal.
Address: 93 Stamford Road, #01-02. National Museum of Singapore, Singapore 178897
Contact: 6338 8770
Operating hours: 6pm to 10pm on Tuesdays to Thursdays, 6pm to 11pm on Fridays and Saturdays | 11.30am to 2pm on Wednesdays to Fridays, 11am to 2pm on Saturdays
Website
Whitegrass Restaurant
A culinary bridge that connects Japanese and French cuisines, Whitegrass best exemplifies quaint and charming French recipes while adopting the Japanese's emphasis on natural authenticity and sustainability.
Unlike conventional fine dining establishments, this restaurant chooses a more modest culinary direction with rustic and abstract dishes, celebrating natural produce's freshness.
Address: 30 Victoria Street #01-26/27, CHIJMES, Singapore 187996
Contact: 6837 0402
Operating hours: 6pm to 10.30pm on Tuesdays to Saturdays | 12pm to 2.30pm on Tuesdays to Saturdays
Website
NAE:UM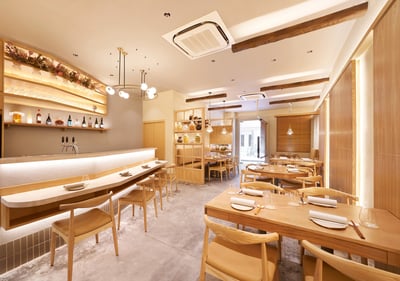 Take a trip down the beguiling streets of Seoul at NAE:UM with Korean-inspired dishes accentuated by an illuminating ambience. Loosely translated as a fragrance that evokes memories, NAE:UM pays tribute to Chef Louis Han's childhood in bustling Gangnam and his love for fusion gastronomy.
Its menus are formatted akin to a drama series, with seasonal episodes with their own thematic niche. NAE:UM is on its third episode "Seaside Dreams", celebrating coastal flavours with the likes of Jeonbok (abalone accompanied by oyster mushrooms), Samhab (octopus mixed with a generous serving of kimchi) and gui (coral trout).
Address: 161 Telok Ayer Street, Singapore 068615
Contact: 8830 5016
Operating hours: 6pm to 10.30pm on Tuesdays to Saturdays | 12pm to 3pm on Saturdays
Website
Monti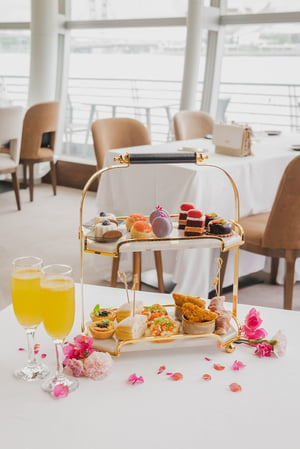 Handcrafted pastas, composed appetizers and preserved cheeses - Monti best echoes Italy's exquisite dining scene, with an ambitious menu emulating the lavish and sensuous tastes of Italy.
It is almost a must to get its cheese platter, for it unveils Italy's multi-faceted flavour profiles with servings of Reggiano, Romano and Gorgonzola Dolce. Pair this with an Italian classic - an eggplant parmigiana!
Address: 82 Collyer Quay, Singapore 049327
Contact: 8830 5016
Operating hours: 11am-12am on Mondays to Fridays, 9am-12am on Saturdays and Sundays
Website
SKAI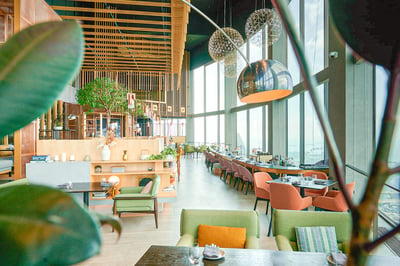 Another dining establishment at Hotel Swissôtel The Stamford, SKAI is an artisan griller that delivers impactful and scorching flavours with the masterful use of vibrant flames. Almost like pieces of art, main dishes are beautifully branded with defined grilled marks
Opt for a charred broccoli fettuccine or a smoked chicken thigh. Regardless of your choice, you're guaranteed a roaring good time at SKAI.
Address: 2 Stamford Rd, Singapore 178882
Contact: 6431 6156
Operating hours: 11.30am - 2.30pm, 3pm to 5pm and 6pm to 10.30pm on Sundays to Thursdays
Website
Alma by Juan Amador
A master and gourmet of European cuisines, Chef Haikal Johari capitalises on his distinguished culinary career and outstanding palate to curate the most soulful and inspired of menus. Highly lauded for his ability to coalesce European and Asian flavours, his culinary inventions have won Alma a Michelin star in 2016, holding onto this accolade for five years.
With affordable lunch and dinner menus, you can relish exotic dishes such as Mazara prawns, Foie Gras and a Boston lobster. The very name encapsulates the essence of this establishment, aptly alluding to its passion for food for the soul.
Address: 22 Scotts Rd, Singapore 228221
Contact: 6735 9937
Operating hours: 12pm - 2.30pm and 6pm to 10.30pm on Mondays to Saturdays
Website
Les Amis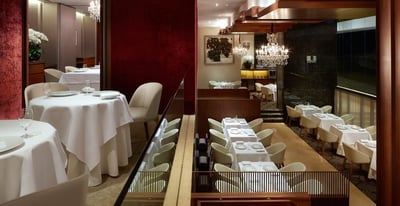 Les Amis is the French translation of the word 'friends' and it commemorates the restaurant owners' love of French culture and cuisine.
Started by a group of like-minded connoisseurs, their committed desire to emulate the superlative dining experiences in France has resulted in 3 Michelin stars amongst many other accolades. Splurge on a spring veal chop from Aubrac, or a rich lobster mousse wrapped in baby spinach.
Address: 1 Scotts Rd, #01 - 16 Shaw Centre, Singapore 228208
Contact: 6733 2225
Operating hours: 12pm - 2pm and 7pm to 9pm on Mondays to Sundays
Website
Preludio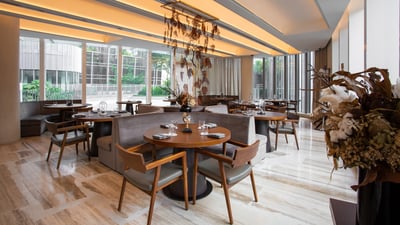 When discussing Preludio, it is more appropriate to think of them as a charismatic storyteller than a dining establishment. However, instead of a book, they portray their tales through exotic dishes and drinks. Designing their menus as chapters of a metaphorical book, Preludio is a culinary novel that details the life and stories of Chef and Owner Fernando Arévalo.
More of an experiential take on fine dining, you can find amazing culinary inventions such as Streets of the South (corn decked in a field of fine caviar) and Mother Knows Best (Wagyu beef paired with fermented mushrooms)
Address: 182 Cecil St, #03-01/02, Singapore 069547
Contact: 6904 5686
Operating hours: 11.30am - 2.30pm and 6pm to 10.30pm on Tuesdays to Saturdays
Website
Thevar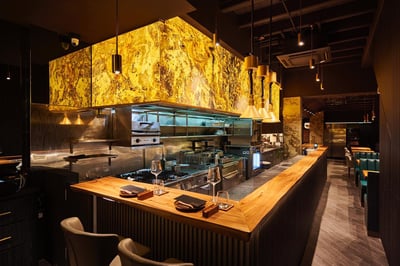 It is a true travesty that we often neglect the multifaceted nature of Indian cuisine, especially in Singapore's food scene. Arguably the most diverse and intricate of cuisines, Indian food is decked with multiple layers of flavour profiles, a feat made possible by the multitude of spices that are synonymous with this cuisine.
Thevar will provide an incredibly in-depth venture into Indian cuisine, with dishes like Madras crab curry rice and Chettinad duck roti that will provide just a glimpse of the boundless creative perimeters of Indian gastronomy.
Address: 9 Keong Saik Rd, Singapore 089117
Contact: 9750 8275
Operating hours: 5.30pm to 12am (estimated) on Tuesdays to Saturdays
Website
Hashida Singapore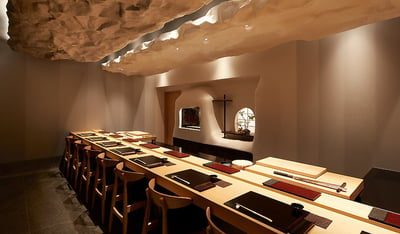 Omakase intertwined with fine dining, Hashida further elevates this dining nuance with a refined omakase-oriented menu that is prepared with the most premium and exotic of ingredients. Prepared by Chef Kenjiro, the menu commemorates his own culinary trail, having engaged with the intricacies of Japanese cuisine since he was 14 years old.
Address: 77 Amoy St, Singapore 069896
Contact: 8129 5336
Operating hours: 12pm to 3pm and 7pm to 10.30pm on Tuesdays to Sundays
Website
Mustard Seed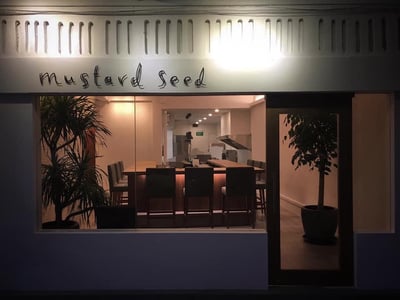 A local reinventor of Singaporean dishes, Mustard Seed explores ways to reinvigorate nostalgic flavours with refined culinary techniques and patriotic passion.
Having worked under Japanese culinary legends, Chef Ming Kiat infuses his menu with omakase inspirations that ensure his menu remains everlastingly unique and special.
Address: 75 Brighton Cres, Singapore 559216
Contact: 8129 5336
Operating hours: 7pm to 10.30pm on Wednesdays to Fridays | 12pm to 2.30pm and 7pm to 10.30pm on Saturdays
Website
Corner House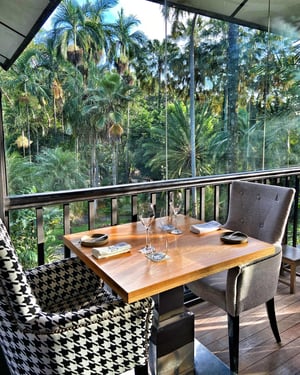 Represented in a quaint two-storey colonial mansion, Corner House is rooted centre stage amongst a verdant of illuminating floral and historical artefacts. This cultural treasure was named after its original owner, E J H Corner, who was pivotal in safeguarding Singapore's cultural possessions and architecture during the Japanese occupation.
Staying true to its historical roots, Corner House embodies native dishes that are creatively imbued with French and Japanese culinary elements. Adopting an omakase-inspired menu, you can get a wholesome five-course meal for just S$168 (or a four-course meal for S$128).
Address: 1 Cluny Rd, E J H Corner House Singapore Botanic Gardens, Singapore 259569
Contact: 6469 1000
Operating hours: 12pm to 3pm and 6.30pm to 11pm on Tuesdays to Sundays
Website
Braci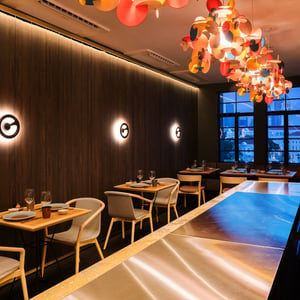 Another Michelin-starred restaurant, Braci showcases the evolution of Italian cuisine with an accurately progressive menu. With dishes inspired by traditional and contemporary recipes, you'll be able to savour the developments and intricacies of Italian gastronomy.
You can expect classic Italian favourites like Foie Gras and contemporary alternatives like an M5 Miyazaki wagyu.
Address: 52 Boat Quay, #05-01/ #06-01, Singapore 049841
Contact: 6866 1933
Operating hours: 12pm to 1.30pm and 6pm to 11pm on Tuesdays to Saturdays, 6pm to 11pm on Mondays
Website
NOX - Dine in the Dark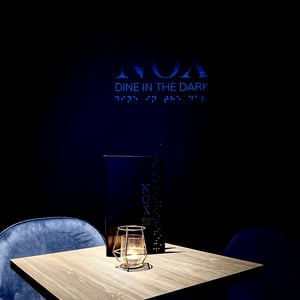 Nox's Dine in the Dark experience has made waves in the fine dining scene, with a novel experience that is unforgivingly original and revolutionary. Intended to replicate the sensory experience (and dilemma) faced by the blind, NOX surrounds you with a blanket of nocturnal darkness, with only your instincts serving as your eyes.
Set in an enigmatic environment, you'll get to focus on the flavours presented before you, fully engaging your senses as you take in the finer nuances of the prepared ingredients.
True to the experience, the dishes are not revealed to you before your arrival, making this an incredibly exciting (and suspenseful) dining experience.
Address: 83 Club St, Singapore 069451
Contact: 6298 0708
Operating hours: 6pm to 10.30pm on Tuesdays to Sundays
Website
Cloudstreet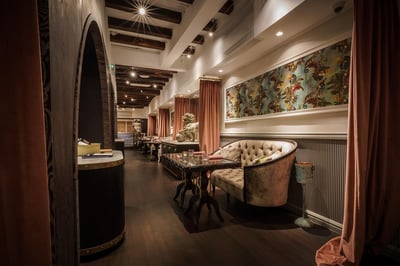 With a wine menu of over 350 labels, Cloudstreet aims to provide the most comfortable, and congenial fine dining atmosphere for you. With a layout that encourages interactions with the chef, you'll get to be up close and personal with the more subtle intricacies of fine dining, serving as witness to the creation of the most marvellous of dishes.
While here, it is ideal that you accompany its exceptional wine list with beef tartar, a Tochigi A4 wagyu or an aromatic curry coconut broth.
Address: 84 Amoy St, Singapore 069903
Contact: 6513 7868
Operating hours: 6.30pm to 9pm on Tuesdays to Thursdays | 12pm to 2.30pm and 6.30pm to 9pm on Fridays and Saturdays
Website
Art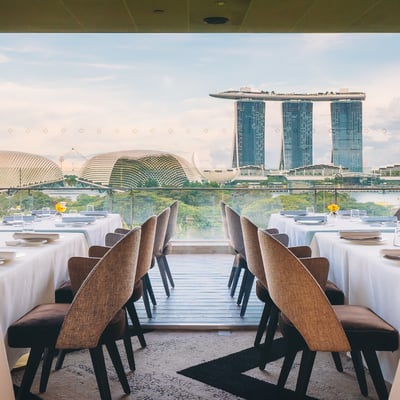 Located at the very precipice of Singapore's National Gallery, with a panoramic overlook of Marina Bay Sands, the name Art best encapsulates the abstract nature of the restaurant's menu.
With tasting menus that boast Italian flavours, the experience is poetically described as a culinary "pilgrimage of Chef Daniel's whimsical stories and delicious memories".
Address: 1 St Andrew's Road, 06-02 National Gallery, 178957
Contact: 6866 1977
Operating hours: 12pm to 2pm and 6pm to 10pm on Tuesdays to Sundays
Website
Colony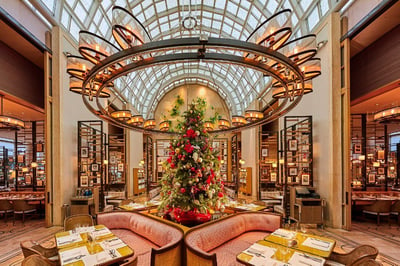 Colony celebrates our communal diversity, with over seven kitchens designed to retell stories of Singapore in the 18th century as a flourishing multicultural trading hub.
Featuring Chinese, Indian, Indonesian, Malaysian and Western dishes, you'll get access to a wholesome range of flavours that have defined our food scene.
For just S$84, you'll get unlimited servings of its menu items, which include fresh oysters, assorted sushi and popiah rolls.
Address: 7 Raffles Ave, Singapore 039799
Contact: 6434 5288
Operating hours: 12pm to 10.30pm on Mondays to Sundays
Website
Osia Steak & Seafood Grill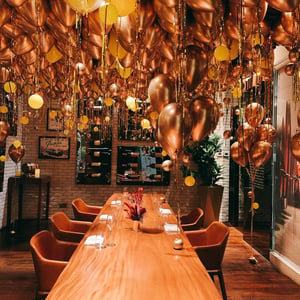 This establishment may be one of the very limited means of access to rare Australian meats and seafood sourced directly from boutique farms. Reputed for being an early adopter of fusion cuisines, Osia embraces novel culinary elements to keep its menu refreshing and contemporarily relevant.
Having reopened after a three-year hiatus, this is the best opportunity to dig into Chef Scott's famed menu, which includes dishes like polenta crumbed foie gras and hot chocolate soup.
Located in the heart of Sentosa, this dining establishment is the perfect way to conclude an action-packed day.
Want to make your trip to Sentosa as meaningful as possible? Here are 7 Full-Day Date Itineraries In Singapore Under S$30 Per Person to consider.
Address: 26 Sentosa Gateway, Festive Walk, #02-140 & 141, 098138
Contact: 6577 6560
Operating hours: 11.30am to 3pm and 6pm to 10.30pm on Mondays to Sundays
Website
Ocean Restaurant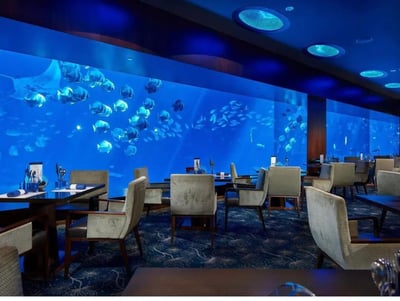 Singapore's first and only underwater dining experience, Ocean Restaurant rests comfortably within the aquatic oasis that is Resort World Sentosa. Witness the glory of our aquatic biodiversity, with the likes of manta rays and sharks looming about. With over 40,000 marine animals inhabiting this oceanic realm, you'll get to bear witness to a whole new life that lay hidden beyond our lands.
Having re-opened on 8 June 2022, Ocean Restaurant has dishes that best accompany this unique experience. Enjoy a seaweed butter John Dory complemented with a rich green bean puree or an oven-baked wagyu beef steak. You should not miss this once-in-a-lifetime dining experience.
Address: Equarius Hotel, 22 Sentosa Gateway, B1M, #B1-455 & 456, Singapore 098136
Contact: 6739 6666
Operating hours: 11.30am to 3pm and 6pm to 10.30pm on Wednesdays to Sundays
Website
Hua Ting Restaurant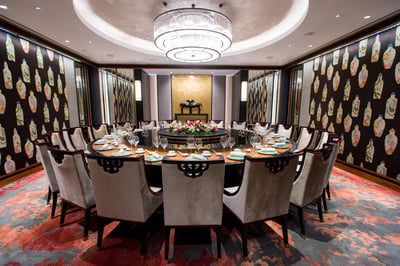 Serving traditional and elevated Cantonese dishes since 1992, Hua Ting has a menu that is proven to be both timeless and authentic.
You can find dishes that best represent this cuisine type, such as roasted duck, abalone and braised birds nest.
Address: Orchard Hotel Singapore, Level 2, 442 Orchard Rd, 238879
Contact: 6739 6666
Operating hours: 11.30am to 10pm on Mondays to Sundays
Website
Cherry Garden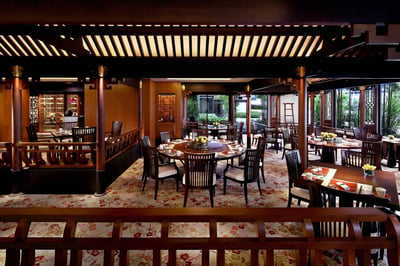 Another unapologetically traditional dining establishment, Cherry Garden seeks to deliver authentic Cantonese dishes with contemporary flairs. Designed to enhance the establishment's feng shui (a Chinese philosophy that revolves around the dynamics between sentience and nature), the layout is fitted to engage diners in animated discourse and sentimental sharing.
Dishes such as the famed Peking duck, fried A4 Miyazaki wagyu beef and wasabi-aioli prawns await you at this humble establishment.
Address: 5 Raffles Ave, Singapore 039797
Contact: 6885 3500
Operating hours: 12pm to 2.30pm and 6.30pm to 10.30pm on Tuesdays to Fridays | 11am to 3.30pm and 6.30pm to 10.30pm on Saturdays and Sundays
Website