3.2 miles per $1 spend / 40 TREATS Points per S$5 spend on local dining, petrol, transport (including SimplyGo, taxi, Grab), hotel bookings via Agoda.com/horizon
2 miles per $1 spend / 25 TREATS Points per S$5 spend on travel bookings and foreign currency transactions (either online or overseas)
Income requirement: $30,000 (Singaporeans/PR), S$45,000 (Malaysia Citizens), $60,000 (Foreigners)
Minimum age: 21
Annual Fee (Waiver): $180 (First 3 years waived)
| | |
| --- | --- |
| Pros | Cons |
| 3.2 miles per dollar on local dining, petrol, taxi fares, hotel bookings via Agoda | 5X TREATS Points calculated in $5 blocks only |
| 2 miles per dollar on travel bookings and foreign currency transactions either online or overseas | Min. S$300 monthly spend to earn bonus TREATS Points |
| 3-year fee waiver of annual fee of $180 (Subsequent annual fee waived with minimum annual spend of $18,000) | Total bonus TREATS Points is capped at 30,000 per calendar month |
| Up to $1 million complimentary travel insurance coverage when you charge your travel fares in full to the card | Limited complimentary airport lounge access and subject to a single retail transaction of $1,000 within 3 months prior to the date of travel |
---
Why should you choose the Maybank Horizon Visa Signature credit card?
#1 Earn miles by eating out, refuelling your car and travelling around Singapore
Maybank Horizon Visa Signature card offers a generous 3.2 miles per dollar (mpd) in local spend (8X TREATS Points per S$5 spend) on dining, petrol, transportation, and hotel bookings via Agoda.com/horizon. This miles earn rate is applicable to all restaurant dining and petrol stations in Singapore – thus, we highly recommend it to locals who head out frequently.
You also earn 3.2 mpd for contactless public transport (bus/train) charges to your card, as well as rides with selected taxi service providers, namely Comfort and CityCab, Premier Taxis, Prime Taxi, SMRT Taxis, Trans‐Cab and Grab.
See also: SimplyGo vs EZ-Link vs EZ-Reload: How to Best Pay For Public Transport in Singapore


---
#2 No annual fees for three years
Although most credit cards offer annual fee waivers to entice new customers to sign up, Maybank Horizon Visa Signature card offers a generous three-year annual fee waiver, equivalent to $540 in savings. The subsequent annual fee of $180 can be waived if you spend a minimum of $18,000 per year. In other words, after the first three years, you'll have to ensure you're comfortable spending at least $1,500 per month if the annual fee is a bugbear.
See also: 4 Types of Credit Cards With Lifetime Annual Fee Waivers


---
#3 Get rewarded for overseas travel spend
The Maybank Horizon Visa Signature card offers 2 miles per dollar (mpd) spent on your vacation. This includes your air tickets, regardless of which airline you choose to book with, be it a budget carrier or a major airline. This 2 mpd earn rate is extended to travel packages with any travel agency — perfect for travellers that still prefer following a tour group when travelling overseas.
You also get 2 mpd on all foreign currency transactions, whether it's on your online shopping purchase or when spending overseas. Lastly, be it a local staycation or a trip overseas, earn 3.2 mpd on your hotel bookings on Agoda.
Read more:
7 Best Credit Cards For Booking Flights and Hotels
9 Best Travel Agencies in Singapore For All Your Travel Needs
Where to Travel in 2023: 7 Best Countries to Visit


---
#4: Enjoy travel insurance coverage of up to $1,000,000
Chances are, you need additional travel insurance for your family members to protect them while in transit to your dream vacation. To do so, you'll just have to charge your full travel fares (including the fares of your spouse and dependent children under the age of 23) to your Maybank Horizon Visa Signature card to get up to $1 million in complimentary travel insurance, in the event of death or permanent disablement. This travel insurance also covers missed flight connections, luggage delay and luggage loss.
The coverage breakdown is as follows:
Up to S$1,000,000 for accidental death or total permanent disability
Up to S$5,000 per person for repatriation of mortal remains
Up to S$400 for missed flight connections
Up to S$400 for baggage delay
Up to S$1,000 for baggage loss
For more details, refer to the policy coverage here.


---
For whom is the Maybank Horizon Visa Signature card best for?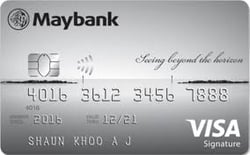 Whether you take public transport, ride a taxi or book a Grab, the Maybank Horizon Visa Signature will reward you with 3.2 mpd for transport. If you have your own car, you'll also earn 3.2 mpd on top of prevailing petrol station discounts. Beyond transportation, the Maybank Horizon Visa Signature card is also perfect for those that dine out frequently, reaping 3.2 mpd when you pick up the tab.
With the three years annual fee waiver, this card also appeals to users that do not want to pay a fee for the use of their credit card.


---
What charges or fees should you look out for?
Annual fee: $180 (first three years waived)
Cash advance fee: 6% or minimum S$15, whichever is higher
Late payment charge: 5% of the minimum payment due or $100, whichever is higher
Minimum monthly payment: 3% of outstanding balance or $20, whichever is higher, plus any outstanding amount
Foreign transaction fee: 3.25%
Interest on purchases: 26.9% p.a.
Interest on cash advance: 26.9% p.a.
2 free supplementary cards
Eligibility criteria
At least 21 years of age
Minimum annual income for Singapore citizens and PRs: $30,000
Minimum annual income for Malaysia citizens (in employment for at least 1 year): $45,000
Minimum annual income for foreigners (in employment for at least 1 year): $60,000
---
How to apply?
Click on the 'Apply Now' button on this page and complete the application form on SingSaver site. You might need to prepare the following documents for the application process:
Front and back of NRIC/Passport/Employment Pass
Salaried employees: Past 12 months CPF statement (Singaporean/PR) or latest original computerised payslip or latest Income Tax Notice of Assessment and latest original computerised payslip
Self-employed: Latest two years of Income Tax Notice of Assessment
Foreigners: Valid passport, Employment Pass (with at least 6 months' validity), utilities bill or bank statement with residential address, and company letter stating proof of employment of at least 1 year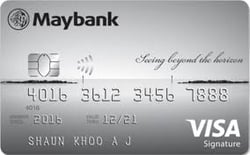 🎁 Maybank Credit Card Welcome Gift: Receive S$100 cash credit when you apply for both a credit card & a CreditAble account and make a min. spend of S$300 per month for 2 consecutive months. T&Cs apply.

Read these next:
Top 6 Air Miles Credit Cards In Singapore
DBS Altitude Card Review: Fulfill Wanderlusts With Expiry-free Miles
UOB PRVI Miles Credit Card Review (2023): Entry-level Pick For Privy Travellers
Why Citi PremierMiles may be the most useful miles card in Singapore
Cashback vs Miles vs Rewards: Which Is The Best Type Of Credit Card For You?