Pros
Lets you earn bonus points upon joining, referring members and transferring money.
You can link up to five Mastercards (including debit and credit cards).
Receive up to 1 InstaPoint for every S$1 spent on foreign currency transactions.
No foreign currency transaction fee, only a small FX spread of 0.25% to 1%.
Businesses can pay multiple beneficiaries in one go in their respective local currencies.
Transfers are fast, within 2 business days.
Cons
There is a minimum transfer amount if you want to remit money. For Singapore, you need to transfer a minimum of S$200.
There is a maximum amount you can transact when you transfer from countries such as India, Malaysia and the USA.
You can't link your Visa credit/debit cards.
InstaPoints are only available for foreign currency transactions.
There's no wallet function, so while you can remit money, you can't store and covert foreign currency.
Revolut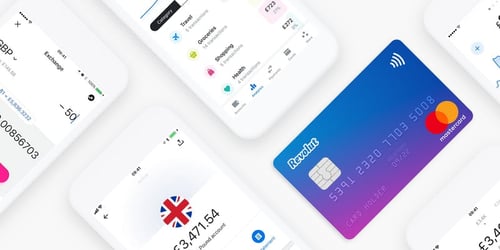 Like Wise and YouTrip, Revolut works like a debit card where you'll need to make top-ups to your account before you can convert and spend in a foreign currency.
Fans of Revolut will always rave about the 20% cashback when they use their Revolut cards for MRT and bus rides in Singapore. But it's also one of the best multi-currency cards to use for overseas spending.
For starters, you can convert, make payments, withdraw, transfer, and receive money in 28 currencies without interbank transaction fees.
Similar to Instarem and YouTrip, you won't be charged any foreign exchange fee when converting most currencies. But note that this is limited to S$5,000 per month if you're on the Standard Plan.
But perhaps what makes Revolut one of the best travel cards is that you can create free virtual cards for one-time usage. This helps to prevent others from stealing your credit card information as you can dispose of the virtual card after making a payment.
You can also request for a free physical Revolut card, which can be used for over-the-counter purchases where digital payments aren't accepted. You're also allowed to withdraw up to S$350 a month from overseas ATMs.
However, note that you'll be charged 2% of the value of the amount withdrawn after exceeding that limit. You also can't make ATM withdrawals in Singapore.
Another downside of Revolut is that you'll incur a higher foreign exchange fee if you convert money outside of foreign exchange market hours (i.e. weekends). This ranges from 1% to 2%.
If you foresee yourself spending, exchanging or withdrawing cash overseas often and in sizeable amounts, you may want to consider signing up for the Premium and Metal paid accounts that are priced at S$9.99 and S$19.99 a month respectively. These accounts will give you access to higher exchange and cash withdrawal limits, among other additional features.
Pros
The physical card can be used for Visa and Mastercard payments, including in Singapore.
No foreign currency exchange fee (for most currencies) if you exchange S$5,000 and below per month (Standard plan). After that, you'll be charged a 0.5% fair usage fee.
For an additional layer of security, Revolut offers the option to turn on location-based security to safeguard against fraud.
You can create a free

disposable virtual card

for single use, which prevents your card details from being stolen.
You can withdraw up to S$350 per month in cash at overseas ATMs, but will be charged 2% of the value if you exceed the limit.
Supports up to 28 currencies.
Cons
Certain currency exchanges made outside of foreign exchange market hours, such as on weekends, will incur a flat-rate surcharge (ranging between 0.5% to 2%).
Any currency exchange of more than S$5,000 per month will incur a flat 0.4% fee (applies to Standard Account holders only).
Limited to five ATM withdrawals per month (Standard Account holders only).
You can't make ATM withdrawals in Singapore.
Revolut card is free, but a S$19.99 delivery charge will apply for express delivery.
Wirex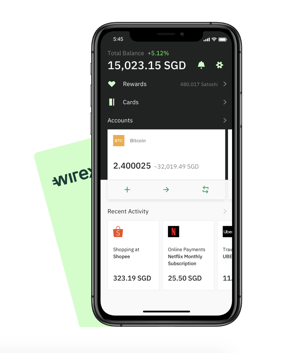 Like the other digital multi-currency accounts listed here, Wirex offers the option to transact in 150 traditional currencies and exchange up to 12 traditional currencies.
But what makes Wirex standout? It offers the option to exchange, hold and spend in 8 cryptocurrencies, namely Bitcoin, Ethereum, Litecoin, XRP, Wirex Token, Dai, Nano and Stellar Lumens.
Through Wirex's app or webpage, convert traditional currency and cryptocurrency however your heart desires – currency to cryptocurrency, cryptocurrency to currency or cryptocurrency to cryptocurrency. Not to mention, if you transact using cryptocurrency you get to earn actual rewards! Store, spend and earn up to 1.5% back into your Bitcoin account when you transact with Wirex's travelcard.
Pros
The ease of exchanging, holding and spending traditional currency or cryptocurrencies (and earn rewards) all in one app.
Withdraw up to US$300 (approximately S$408) in cash per day at any overseas ATM, without transaction fees.
No cap or additional charges on the amount of traditional currency exchanged.
Cons
Limited number of traditional currencies – only 12.
If you have funds stored in your account and do not transact for more than 9 months, Wirex will charge you a dormant fee of US$5 (approximately S$7).

Conclusion
While these digital multi-currency accounts serve a similar primary purpose, they aren't built exactly the same. Some of these accounts offer more foreign currency exchange options, while others have a higher cash withdrawal limit.
If you're a frequent traveller and often send money internationally, Wise is probably for you as it offers the most currency support. That said, it charges a small conversion fee for each transfer.
Meanwhile, Revolut and YouTrip both don't charge foreign transaction fees. However, the former charge a higher exchange fee on weekends, while the latter only allows you to transfer money to other YouTrip accounts while you need to pay S$5 for each ATM withdrawal.
On the other hand, Instarem Amaze works differently from the rest as it doesn't have a digital wallet feature. This means that instead of making top-ups to your account, you make payments via your linked Mastercards, allowing you to earn credit card rewards like cashback or miles from your associated cards.
However, the downside to Instarem Amaze is that you can't store and send money in foreign currencies. Plus, it doesn't support Visa cards or ATM withdrawals.
Lastly, Wirex offers a seamless way for you to store fiat currencies as well as cryptocurrencies. But it only supports 12 traditional currencies and isn't licensed by MAS.


Read these next:
Essential Shops Open During COVID-19 Circuit Breaker
26 Best Restaurant Takeaway Deals During Circuit Breaker
From Travel Insurance to Flight Hygiene: 5 Questions About Post-COVID-19 Travel
4 Reasons Why Multi-Currency Accounts Are Essential To Digital Nomads and Wanderlust Chasers
What Is YouTrip Card And How Does It Work?