Contrary to popular belief, personal loans can be used for more than just hospital bills, car and home repairs, and other financial emergencies. In fact, it's even possible to take out more than one at a time.
Before getting a personal loan (especially more than one), it's important to have a good understanding of what it is. We run through what you can use personal loans for, how much you can borrow, and how many personal loans you can have at once.
---
What is a personal loan and why would you need one?
A personal loan is a type of unsecured loan that enables you to borrow money without having to put any of your assets (such as your home or car) as collateral. This means that if you fail to repay your personal loan, the lender can't take your assets. However, failing to repay your personal loan will do some serious damage to your credit score.
Aside from financial emergencies like paying for medical bills and home repair work, people take out personal loans for a variety of reasons, including:
So how does a personal loan work? It's pretty simple.
Let's say you want to borrow S$10,000 from a bank at a 5.79% annual interest rate with a repayment period of five years. Your personal loan is amortised, meaning your repayments would include the principal loan amount plus interest. You may also need to pay a processing fee of about 2% the principal loan amount.
Here's a breakdown of this example:
| | |
| --- | --- |
| Description | Amount |
| Personal Loan | S$10,000 |
| Annual Interest Rate | 5.79% |
| Loan Tenor | 5 years (60 months) |
| Processing Fee | S$200 |
| Monthly Repayments | S$215.00 |
| Total Cost of the Personal Loan | S$12,900.00 |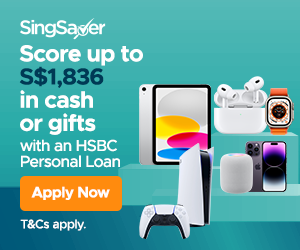 SingSaver Exclusive Promotion: Receive an Apple iPhone 14 Pro 256GB (worth $1,836) or Apple Watch Ultra GPS + Cellular, 49mm (worth $1,210.20) or an Apple iPad 10th Gen 64GB + Apple AirPods Pro 2nd Generation bundle (worth $1,047.65) or PlayStation 5 Digital Version (worth $669) or Apple HomePod (worth $429) or S$50 Cash via PayNow when you get approved for a min. loan of S$10,000 with tenure of 3 to 5 years. Valid till 31 July 2023. T&Cs apply.
---
How many personal loans can you have?
The answer is 'it depends'. You can certainly take out more than one personal loan, but the determining factor depends on the unsecured credit borrowing limit implemented by the Monetary Authority of Singapore (MAS), which is up to 12 times your monthly income.
Unsecured credit includes credit cards, personal loans, student loans, personal lines of credit, and any other type of interest-bearing unsecured debt. Exceeding this limit for three consecutive months means you will be unable to access further unsecured credit.
Banks and financial institutions (FI) may let you borrow up to six times your monthly income for personal loans.
Let's say your monthly income is S$5,000 and have a good credit score with no other unsecured debt. Based on your monthly income, you'll be able to borrow up to $30,000 for a personal loan. Hypothetically, you could get five or six loans of S$5,000 each or two loans of S$15,000 as long as you're within the borrowing limit.
Keep in mind that banks and FIs will factor in your aggregate outstanding debt (unpaid credit card balances, other personal loans, etc.) and your credit score when determining your borrowing limit.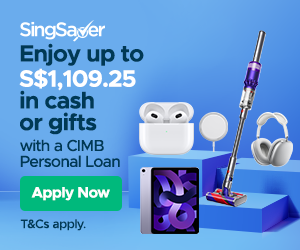 SingSaver Exclusive Offer: Receive an Apple iPad Air 5th Gen 256GB WiFi (worth S$1,109.25) or Apple AirPods Max (worth $806.45) or Dyson Omni-glide (worth S$699) or Apple AirPods Gen 3 + MagSafe Charger Bundle (worth $331.05) or up to S$1,020 cash when you apply for a CIMB Personal Loan with a tenure of 3 to 5 years. Valid till 2 July 2023. T&Cs apply.
---
Are there eligibility requirements to have multiple personal loans?
Aside from your credit score, eligibility for multiple loans also depends on your residency status and annual income.
The maximum amount you can borrow depends on the requirements below. Keep in mind that although banks and FIs can choose to offer you up to six times your monthly income, it's not always a guarantee. You may be offered just two to four times your monthly income, depending on your financial situation.
| | | |
| --- | --- | --- |
| Borrower's Annual Income | Singapore Citizens (SCs) and Permanent Residents (PRs) | Foreigners Residing in Singapore |
| Less than S$10,000 | S$3,0000 | S$500 |
| At least S$10,000 but less than S$20,000 | S$3,0000 | S$3,000 |
| At least S$20,000 | 6X monthly Income | 6X monthly Income |
---
Managing multiple personal loans
Managing one or more personal loans can be a challenge. If your monthly financial obligations are very manageable and your debt-to-asset ratio is low, you are probably in a better capacity to manage multiple personal loans.
If you have multiple monthly financial obligations and your debt-to-asset ratio is 50% or greater, you will need to re-evaluate your finances to reduce that number.
Here are some ways you can manage multiple personal loans better:
Managing multiple loans is doable if you understand your finances, create a budget, and stick with a repayment plan.
If you need to get one or more personal loans, make sure you select a loan package that provides a low annual interest rate and minimal processing fees. Remember, you may adjust your loan tenor to reduce the financial impact of your monthly repayments.
Read these next:
Your Go-To Personal Loans Guide in Singapore (2022)
Four Types of Personal Loans: What You Need to Know
Personal Loans: A Beginner's Guide
Top 6 Myths About Personal Loans, Busted