---
Summary of Product
1. High Medical Coverage
Singlife offers up to unlimited coverage for overseas medical expenses and emergency medical evacuation (Travel Prestige Plan).
2. Rental Vehicle Excess Cover
Embedded in the base plan across all plans, this coverage covers the excess or deductible which You become legally liable to pay in respect of loss or damage to the rented private vehicle during your trip, up to a benefit limit of S$2,500.
3. Loss of Frequent Flyer Points
If you purchase airline tickets, entertainment ticket or book accommodation using frequent flyer points or similar reward points, and is subsequently cancelled due to the events for which you are covered, Singlife will pay back the retail price at the time it was issued, provided the loss of points cannot be recovered from any source.
4. 24-hour Worldwide Emergency Medical Assistance
Help when you're travelling and in need. An experienced medical emergency assistance coordinator will deal with your enquiry and make sure that where necessary, hospitals are contacted, medical advisers are consulted and necessary medical fees are guaranteed.
5. Automatic Extension of Cover
The policy will remain in force for up to 30 days without any extra premium if the return journey is prevented due to public transport delays or due to an accidental injury, illness or quarantine.
6. Child Minder
Provides additional accommodation and travelling expenses for your close relative or friend to accompany the child covered under this policy home if you sustain death or become hospitalised overseas during your trip.
7. COVID-19 Coverage During Your Trip
With Singlife extending COVID-19 coverage to their travel insurance policies, you'll be protected against overseas medical expenses, emergency medical evacuation and repatriation due to COVID-19. What's more, overseas quarantine allowance, trip cancellation or postponement and trip interruption due to COVID-19 are also included. Do note that you'll have to be fully vaccinated to qualify for this cover.
8. NEW Rainfall Protection
Singlife also recently rolled out their new rainfall protection that provides a payout of up to S$150 should your trip be affected by excessive rainfall. This is applicable only for single trips (minimum 3 days) where more than 50% of the trip duration is affected by rainfall levels of >6.4mm in a 24-hour period.
---
Pros and cons
| | |
| --- | --- |
| Pros | Cons |
| Full terrorism cover | No cover for any Golfing Equipment, Water Sports Equipment and Winter Sports Equipment. Coverage for such equipment can be purchased as an optional add-on |
| Covers loss of frequent flyers points | No cover for pre-existing conditions |
| Trip cancellation for any reason other than those being specified - coverage will be 50% of your travel and accommodation costs | Exclusion applies if you are travelling against the travel advisory issued by Ministry of Foreign Affairs of the Republic of Singapore (regardless of your nationality) |
| Replacement Traveller (For Business Travel only) for Plus and Prestige Plans - additional transport and accommodation expenses incurred to replace one traveller to take over Your business Trip | |
| Free extension includes coverage against COVID-19 during your trip | |
| Rainfall protection that provides up to S$150 payout | |
---
Policy exclusions
The list of exclusions for this policy include the following:
Pre-existing medical condition
Any loss, injury or damage due to the influence of alcohol or non-prescription drugs or medications
Claims arising from mental problem or insanity
Suicide or attempted suicide or intentional self-inflicted injury, while sane or insane
Any claim that results from a medical condition planning to get medical treatment for during your trip
Any sports equipment and personal mobility device (PMD) that is damaged while it is being used
Dangerous sports and leisure activities with a high inherent level of risks (eg. bungee jumping, parachuting, free flying, zip lining, flying fox, marathons, outdoor rock climbing, cliff jumping)
Any claim for a medical condition if any insured person has travelled against the advice of a doctor
Delayed departure for any claim caused by an event (including Catastrophic event, strike, riot or civil commotion) that existed, was planned or occurred before you bought your policy or booked your trip, whichever is later
The full list of exclusions is available in the policy wording.
---
Types of plans
Singlife provides three tiers of plans with different coverage and pricing - Lite, Plus, and Prestige. For more details, please read the full list of benefits and exclusions in the policy wording.
| | | | |
| --- | --- | --- | --- |
| Plan Type | Cancellation | Medical Coverage (Overseas) | Loss of Baggage |
| Lite | S$5,000 | S$250,000 | S$3,000 |
| Plus | S$15,000 | S$2,000,000 | S$5,000 |
| Prestige | S$20,000 | Unlimited | S$8,000 |
Add-Ons/ Optional Riders - (1) Oversea Wedding & Photoshoot; (2) Golf Holiday; (3) Winter Sports; (4) Adventurous Water Sports.
Singlife Travel Lite Plan
Singlife's Travel Lite Plan is good for travellers who are looking for average coverage with decent pricing. In terms of travel inconveniences, Singlife's Lite Plan offers a benefit limit of S$500 for baggage delay (at S$100 for every six hours of baggage delay while overseas and S$150 after 6 hours of delay when arriving in Singapore). Personal accident coverage is S$50,000.
Singlife Travel Plus Plan
Singlife Plus Plan offers a relatively high medical coverage of S$2,000,000, which is above industry average. For baggage delay, the benefit limit is at S$1,000 (capped at S$200 for every 6 hours of baggage delay while overseas and S$150 after 6 hours of delay when arriving in Singapore), which is similar to the Lite Plan. Personal accident coverage is S$100,000.
Singlife Prestige Plan
Singlife Travel Prestige Plan is the one with the highest limit out of the three types of plan - its unlimited overseas medical expense limit is suitable for travellers who are travelling to places where medical treatment/ hospitalisation due to accident is going to cost an arm and leg.
Additional coverage such as Rental Vehicle Return (up to S$500), Home Contents (up to S$15,000) and Domestic Pet Care (up to S$1,000) are embedded in the Prestige base plan. These are usually add-ons for other insurers. Baggage delay benefit limit is at S$2,000 (payable at S$200 for every 6 hours of baggage delay while overseas and S$150 after 6 hours of delay when arriving in Singapore). Personal accident coverage is S$500,000.
---
Pricing
We will look at pricing comparison across various plans (basic/ mid-tier/ top shelf) for both Single Trip and Annual Trip. We recommend you to check out Singlife Travel Plus and Singlife Travel Prestige (its Mid-Tier and Top-Shelf plans) for their above market average benefits at low pricing!
Basic Plan
| | | |
| --- | --- | --- |
| Trip Type | Singlife Travel Lite | Industry Basic Plan Average |
| 1 week Asean | S$34.20 | $26 |
| 1 week Asia | S$42.34 | S$32 |
| 1 week Worldwide | S$62.77 | S$46 |
| Annual Asean | S$198 | S$149 |
| Annual Asia | S$213 | S$208 |
| Annual Worldwide | S$261 | S$282 |
Mid-Tier Plan
| | | |
| --- | --- | --- |
| Trip Type | Singlife Travel Plus | Industry Mid-Tier Plan Average |
| 1 week Asean | S$52 | S$33 |
| 1 week Asia | S$65 | S$41 |
| 1 week Worldwide | S$98 | S$59 |
| Annual Asean | S$281 | S$206 |
| Annual Asia | S$309 | S$242 |
| Annual Worldwide | S$381 | S$332 |
Top-Shelf Plan
| | | |
| --- | --- | --- |
| Trip Type | Singlife Travel Prestige | Industry Top-Shelf Plan Average |
| 1 week Asean | S$72 | S$47 |
| 1 week Asia | S$91 | S$58 |
| 1 week Worldwide | S$143 | S$80 |
| Annual Asean | S$392 | S$269 |
| Annual Asia | S$431 | S$310 |
| Annual Worldwide | S$557 | S$430 |

---
How to make a claim
To make a claim, please call +65 6460 9391 for Singlife's claims assistance helpline. Alternatively, click here to access their claims portal.
---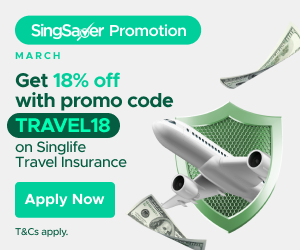 SingSaver Exclusive Promotion: Enjoy an 18% discount when you use the promo code TRAVEL18 for single-trip travel insurance plans only. Valid till 31 March 2023. T&Cs apply.
---
Protected up to specified limits by SDIC.
Note: This is only product information provided. You may wish to seek advice from a qualified adviser before buying the product. If you choose not to seek advice from a qualified adviser, you should consider whether the product is suitable for you. Buying an insurance product that is not suitable for you may impact your ability to finance your future healthcare needs.
If you decide that the policy is not suitable after purchasing the policy, you may terminate the policy in accordance with the free-look provision, if any, and the insurer may recover from you any expense incurred by the insurer in underwriting the policy.
---
Read these next:
5 Reasons Travel Insurance Is Extra Important On Cruise Ships
Cruise To Nowhere: Is It Worth Your Money And Time?
Travel Insurance Promotions and Discounts
Best Money Changers In Singapore With The Best Exchange Rates
5 Best Ways To Shop for Travel Insurance