---
Things to note about pre-ex travel policies
1. Pre-ex travel policies cover four main areas
Coverage for pre-existing conditions in travel insurance plans mainly covers four areas: overseas medical expenses, hospitalisation cash, emergency medical evacuation and repatriation of mortal remains.
Unless otherwise specified, the other benefits included in your travel plan will not apply when you need to make a claim due to a pre-existing condition.
As an example, if you need to cancel your trip due to a particularly bad eczema flare-up, you may not be able to get a refund for your plane tickets or pre-ordered attraction tickets, even if your travel insurance plan offers trip cancellation benefits.
You will only be able to receive reimbursement if your plan specifically allows it, as is the case with NTUC Income Enhanced PreX, highlighted above.
2. You cannot use them to seek medical treatment overseas
Pre-ex travel policies will only cover your medical expenses in case of a medical emergency arising from a pre-existing condition.
However, if you choose to go for treatment overseas, your pre-ex travel insurance plan won't cover you, and your claims will be voided.
Instead, what you need is a worldwide medical insurance plan that would cover you when seeking medical consultation and treatment in another country.
3. There are restrictions and limitations to note
Like with all insurance plans, pre-ex travel insurance comes with restrictions and limitations, and it is important to familiarise yourself with them, so as to avoid voiding your coverage.
At a very basic level, all pre-ex plans require that pre-existing conditions must be stable and under control.
This means that you should ensure you have sufficient medication with you at all times; this means bringing extra. If a relapse occurs because you ran out of medication halfway through your trip, your insurer may deny your claim.
Another precaution to take is to get permission from your healthcare provider – in writing – clearing you for your trip. Otherwise, your insurer may withhold coverage if they deemed you not medically fit for your trip.
Some insurers may also impose a limit on the duration of your trip for travellers with pre-existing conditions. If your policy contains this clause, be sure to observe it stringently, or your policy may be voided.
4. When in doubt, go for higher coverage
Yes, pre-ex travel plans will cost more, but the whole point of getting one is to ensure those with pre-existing conditions can travel with peace of mind.
This means that you should always err on the side of caution, and go for a plan with higher coverage. When it boils down to it, having more insurance than you need is always better than having less, and then scrambling to make up the difference from your own pocket.
But that doesn't mean you should blindly splurge on the most expensive and extensive plan you can find either. Make an estimate based on your own past experience, or check with your healthcare provider and/or insurer for guidance.
---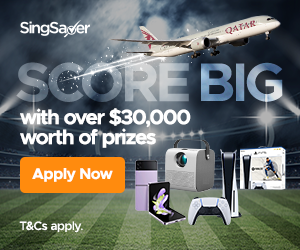 SingSaver Exclusive Promotion: Apply for our exclusive credit card, travel insurance, car insurance, personal loan, investment, savings account, and priority banking deals to get up to 3x chances in our Score Big Grand Lucky Draw!
Over S$30,000 worth of prizes are up for grabs, including 3x return trips to Qatar (worth S$8,100), 30x Lumos Ray Projector (worth S$8,100), 3x Samsung Galaxy Z Flip 4 (worth S$4,194), 1x Sony PlayStation®5 + FIFA 23 bundle (worth S$889), 1x Sony PlayStation®5 (worth S$779), and other awesome gifts (worth S$9,500).
Valid till 18 December 2022. T&Cs apply.
---